If you're the kind of crochet enthusiast who loves keeping track of trends in the yarn crafting world like we do, then we have no doubt you're already familiar with the way ponytail hats have swept the pattern boards in the last few years. We'd never tried one until earlier this fall and now we're completely obsessed! We can't stop saving crochet patterns in all kinds of designs to try as soon as we can.
Just in case you love the idea of crocheting ponytail hats just as much as we do, if not more, here are 25 fantastic patterns and designs for you to choose from!
This pattern gives you a subtle knotted twist that's quite simple to do but still looks impactful. We love the unintentional eyelet detail that results all the way around!
Would you rather create a hat that's just chalk full of texture and has some striping? Then this design is definitely the one for you! We love the way the stitch subtly changes with each stripe just like the colour does.
Just in case you love fanned out stitches that look quite intricate even though there not, here's a pattern that will let you work with precisely that! We appreciate the contrast between the body of this hat and the twisted rib band at the top and bottom.
4. Shell Stitch ponytail hat by Mary Maxim
Here's a pattern for the shell stitch lovers out there! We love the way this stitch looks incredibly fancy, as though it might be very intricate and difficult, but it's actually quite manageable with a bit of practice.
Here's a lovely crocheted ponytail hat that's a little more fit for beginners! The stitches are clean and structured thanks to the ribbing and the weight of the yarn, but they're still impressive to look at because of how neat the overall effect is.
6. Bibbity Bobbity 3-in-1 hat by Celina Lane
Would you rather make a ponytail hat with a little more funky personality (even though they're already such an awesomely quirky garment)? Then maybe the way this hat bubbles along each ridge would be a little more up your alley!
Yarn work hats are for wearing in winter, after all, so why not work with that theme? This pattern shows you not only how to swap colours to create stitch designs mid-pattern, but also how to embellished further into the base colour afterwards as well.
8. One Hour ponytail hat by Sewrella
Are you actually looking for a pattern that's so quick and easy to do that you could make it as a gift for a friend in a day? In that case, we'd absolutely suggest taking a look at how this wonderfully striped and simply stitched ponytail hat was made!
9. Three Colour ponytail hat by Ingrid Geerings
Just in case you love the colour striping idea but you'd like a little more stitch variation because you're feeling up for a challenge, here's a hat that's got a little more detail! We adore the way the colour from the row above peeks down into each stripe for contrast.
10. Quick and Easy ponytail hat by Amanda Saladin
Are you still thinking about how much you liked the idea of a pattern that's quick and easy but you don't think striping is really for you? Then we'd definitely suggest taking a look at how this pattern used variegated yarns and simple stitches to get a neat colour change instead.
Just in case you'd like to make matching coordinated hats for you and your little one, here's a pattern with stitch counts and sizing catered to both of you! We love the way the stripes in these two hats alternate oppositely.
Plaid lovers rejoice, there's a pattern out there catered specifically to you! What says fall more than getting your flannels and plaid shirts out, right? We love the way this hat mocks the colour fade of some squares seen in two colour tartans by actually using three to create the effect,.
Are you convinced that you like the simple striping hat but you're also wondering whether you might have the time and skills to add a simple embellishment to make it a little more flirty and girly? Then we'd totally encourage you to take a look at how this pattern outlines a lovely crocheted flower to stitch on at the end!
14. Crochet Ribbed ponytail by Naztazia
Do you like the idea of adding a bit os sassy embellishment to your ponytail hat but you're just not sure the crocheted flower is your style? Then perhaps you'd get along a little better with a folded rim and a button instead!
15. Super Simple ponytail hat by Amy Lehman
Here's another super simple ponytail hat pattern that would make a perfect project for beginners! We actually printed this pattern for our kids and guided them through the process of crocheting their very first hats for themselves. They were thrilled!
16. It's All About the Messy Bun hat by June Nemeth
Not every hat that features stripes has to involve an actual colour change by working with two yarns! Instead, consider working with a self striping yarn that changes shades all on its own as you go, like this pattern with a lovely twisted stitch texture suggests.
17. Headhuggers ponytail slouch hat by Vallies Kids
Do you tend to wear your ponytail lower on your head so it doesn't pull, so you've been looking for a hat that has a lower ponytail hole? Well, if you also love wearing comfy slouch hats in the fall and winter, then we're convinced this fantastic cinching pattern is the one for you!
When we started talking about ponytail hats with more character, did your mind picture something a little more novelty than just a stylish accent embellishment? Then we think perhaps you'll get along a little better with something like this fantastic cat ears ponytail hat!
19. No Grinch's ponytail hat by No Grinch Here
Do you actually prefer working with a slightly thinner yarn when you crochet? Then perhaps you'd prefer to make this pattern that's created on sock weight yarn! We love the way the stitch type and the thinner yarn gives impressively textured stitch definition.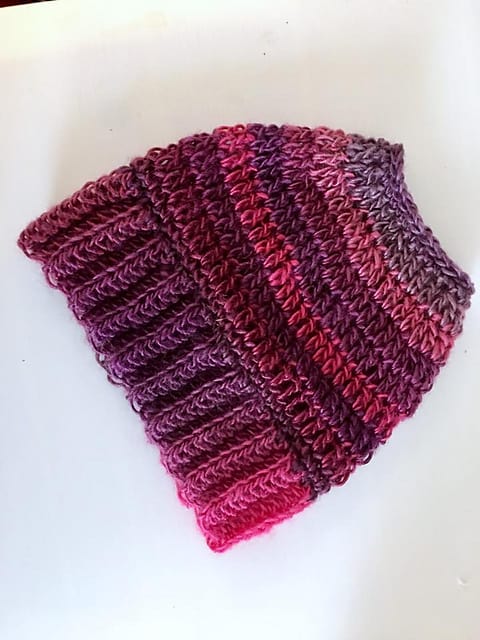 Maybe you're the kind of chilly person who likes to wear their hats down a little lower over their forehead, especially when it's windy out? Then you just might be the perfect person to make this fantastic hat that has a slightly longer warm, ribbed brim!
Do you live in a place that's a little warmer in the winter so you can afford the slight breeze that comes with wearing a hat with features like eyelets? Then we'd definitely suggest taking a look at this fantastic hat with a horizontally ribbed brim and a texture that's a little more like mesh!
Just in case you're still thinking about how much you'd love to wear your ponytail lower on your head even with a hat on but you're not a fan of the slouching style of hat we showed you earlier, here's an alternative that fits more like a beanie but has a hole in the back rather than the top!
Are you still looking for a hat that has a bit of extra style of personality but neither the button nor the crocheted flower quite did it for you? In that case, we think perhaps this brim over one eye with a ponytail hole lower in the back might meet your mind's image a little better.
Are you the kind of simple details lover who appreciates a classic technique and likes to stick with it? Then we think you'll get along quite well indeed with the way this pattern establishes a ribbing and just keeps on going from bottom to top!
Linen stitch lovers rejoice, because there's a whole ponytail hat pattern full of your favourite stitch out there for you! This subtle texture looks fantastic whether you choose a solid or a variegated colour, which is part of why it's so great.
Do you know a fellow crochet enthusiast who adores making hats in the fall and winter and has had their eye on ponytail hats for a while now but hasn't chosen a pattern or tried one yet? Share this post with them so they have all kinds of options and inspiration!