Natural Homemade Hair Treatments
We like to take care of our hair all year round, but we find that it's especially essential in the winter! Dry weather affects the ends of what hair and cases them to split and can make the hair elsewhere brittle and more prone to breakage. Store bought hair treatments, however, don't always give our hair what it needs, so we usually prefer to keep things as natural as possible. That's where homemade hair remedies come into play.
Check out these 15 awesome hair-friendly treatments made from natural ingredients that you probably already have sitting around your house, all ready to be mixed!
1. Mayonnaise hair treatment
Do you have extremely curly hair that gets irritated by dry weather? Some curls become particularly brittle in the colder months, so it never hurts to give them a gentle helping hand when it comes to moisture. Check out this natural hair treatment from Naturally Curly that's made with mayonnaise! It might sound a little weird to be putting sandwich condiments on your head, but we promise it'll make a great difference.
2. Cocoa powder colour booster
Perhaps you've been dying your hair for many years, but you're trying to give it a break so it doesn't become too damaged or experience breakage? That's a scenario where natural hair remedies can help you out as well! Whole Living suggests creating your own colour booster from French vanilla yogurt, olive oil, and a healthy helping of sweet smelling cocoa power!
3. Lavender leave in conditioning spray
We don't always use leave in conditioners because, for some hair types, they can make things feel a bit greasy. In the winter, however, we don't mind making some exceptions to ward off dry split ends! When we do use leave-ins, we prefer to use sprays because they're lighter and don't weigh our hair down. This moisturizing recipe from Paul A. Parrish is great for hair moisture, but it's also nice and calming because it smells like lavender!
4. Strawberry hair mask
This hair mask recipe from Free People is chalk full of beneficial ingredients that will help your hair survive the winter. Both honey and coconut oil are antibacterial and will help to lock in the moisture that your hair does manage to absorb. As if that's not enough, the whole recipe smells of delicious fresh strawberries… because it's made of delicious fresh strawberries!
5. Aloe vera shampoo, conditioner, and mist gel
Did you stock up on a whole bunch of aloe vera gel last summer when you got that terrible sun burn, but you over estimated how much you needed, so now you just have bottles of the stuff sitting under your sink? Put it to good use on your hair since your skin doesn't need it anymore! Daily Curlz guides you through the process of making aloe vera shampoos, conditioners, and misting gels in case you want a little less coverage.
6. Sea salt clarifying shampoo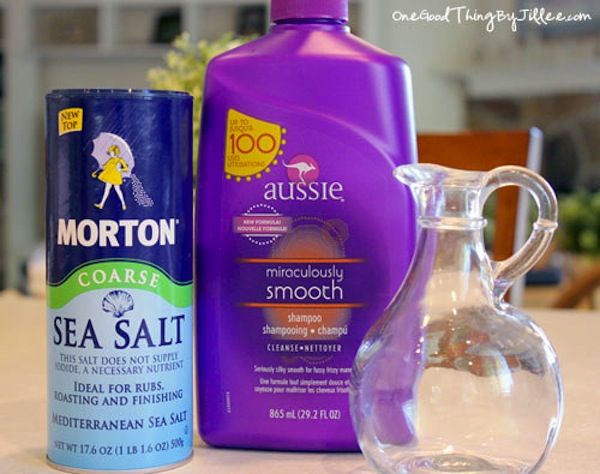 Are you happy with the effects of your regular shampoo but you'd like to amp up how thorough of a scrub your scalp gets in order to promote the healthy production of proper hair oils? Then clarifying shampoo is exactly what you need, but you can make those easily at home using that shampoo you like and a handful of coarse sea salt! Check the whole idea out on One Good Thing by Jillee.
7. PH-balanced leave in conditioner
Is your hair brittle or damaged from dying it, so you're careful about the chemicals and ingredients that go into the shampoos you use? Then pH-balanced formulas are what you really need. That might sound like something fancy that you need to purchase at a salon, but Black Zulu is here to show you how it can be done at home using castor oil, jojoba oil, and aloe vera juice.
8. Strengthening mask
Are you so tired of broken hairs that you're on the hunt for something to finally give your dry winter strands a helping hand? Then you definitely need to check out this strengthening recipe from You Beauty. It uses bananas, eggs, honey, and an oil of your choice to infuse each hair with moisture and coat it with vitamins for a bit of extra strength.
9. Apple cider vinegar rinse
Are you actually a regular user of different hair products and masks but you find that, even though they're beneficial, some kinds create a build up on your hair that makes it feel a little greasier than usual? Even if you don't use things like masks, a rinse is a good thing to do a couple times a year just to make sure your strands stay clean. LiveNaturallyLove suggests making your rinse out of apple cider vinegar!
10. Ginger and lemon dandruff control
Does your scalp get dry and flaky in the winter but you're not sure that store bought brands really do the trick for your sensitive skin? Then homemade recipes are probably a better idea for you. In order to keep your scalp both cleaned and moisturized, Good Housekeeping suggests making a treatment from ginger and lemons. It's a bonus that the whole thing smells great!
11. Avocado scalp saver
Have you been looking for a moisturizing scalp treatment but you need something a little bit more intensive than lemon juice? Then, believe it or not, regular old avocados, just like the ones you eat for lunch, will do the trick! The Beauty Department guides you through the process of making a blended green scalp mask that you'll be tempted to make avocado toast with.
12. Coconut oil deep conditioner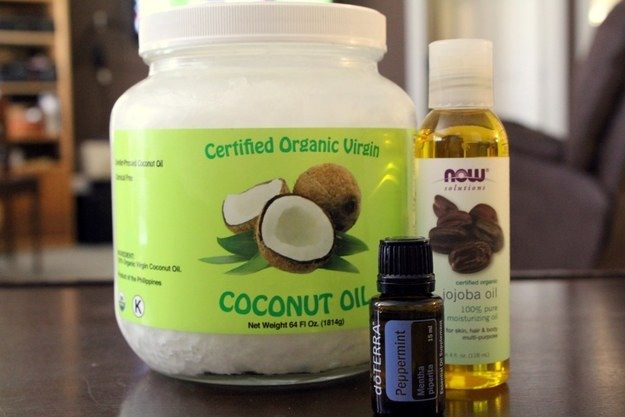 Coconut oil is always beneficial for your hair. In fact, it's useful and beneficial for most things, but hair is no exception! You can take it to the next level, however, by adding a few additional oils to soothe, sanitize, and moisturize the skin to the maximum. Homemade for Elle suggests using peppermint and jojoba oil with your coconut oil.
13. Egg and olive oil protein hair mask
Your hair and scalp produce natural oils that are full of healthy proteins already themselves, but in the dry, cold months of winter that production can wane a little bit. If you'd rather keep your hair luscious and healthy throughout the entire year, try this recipe from DIY Confessions! It's made of olive oil and eggs for maximum protein coating.
14. Hair ligtening serum
Do you remember in your teens when fashion magazines would give away beauty tips that were easy to do at home? We always used to read about lemon juice hair lightening serums, but we forgot about them after high school! Free People is here to remind you about the technique, but with the added ingredient of honey for a little extra power. Winter is no reason to avoid a natural set of highlights, right?
15. All natural dry shampoo
Have you been trying to wash your hair a little less this winter in order to stop it from drying out? That's a great idea, but we know it doesn't always look great the second day, which can make you self conscious. Instead of giving in, try some dry shampoo that will make for a quick morning! Body Unburdened shows you how to make it with natural ingredients that you probably already have at home.
Do you know someone whose hair has been bothering them all winter? Share this post with them to help them find an all natural DIY solution!