Creative Eye Makeup Ideas for Date Night
Even if you're not a big makeup wearer on a regular day, date nights are a special occasion! Sometimes it's fun to get a little bit dressed up for a night out with someone new. You'll look and feel great!Check out these great date night makeup looks that are much easier to do yourself than you'd think!
1. Natural makeup with strong lips and brows
Light, well blended foundation and natural matte colours on the eyes contrast well with strongly filled out brows and a dark lip. The overall effect is minimal but with standout features.
2. 1960s eyeliner
Statement eyeliner is a great way to make a strong, stylish impression. This vintage liner shape will show off your individuality but sense of timelessness.(Source: Fashion Mag)
3. Strong lower lashes
Most people putting on regular daytime makeup forget about their lower lashes in favour of boosting their top ones. For date night, however, applying mascara and some subtle liner to your lower lashes will frame your eyes and draw attention to them.(Source: Elle)
4. Highlighter and a healthy glow
Subtle shimmery highlighter along the bridge of the nose, the tops of the cheeks, and the Cupid's bow of the top lip gives your skin a healthy, sun-kissed glow that's totally alluring.(Source: Fashion Mag)
5. Purple eyes
Adding a pop of colour around your eyes is a great way to keep someone's gaze, but too bright a colour might look a little obnoxious for date night. Purple, however, is a perfect balance between colourful and sultry.(Source: Websta)
6. Black and silver smoky eyes
Silver on the lids, pearly white on the brow bone, and black shaded in from the outer corners along the crease is a great sultry look for date night. The effect is especially impressive with a black waterline, blended black lower liner, and a lush false lash.(Source: Websta)
7. Soft pink lids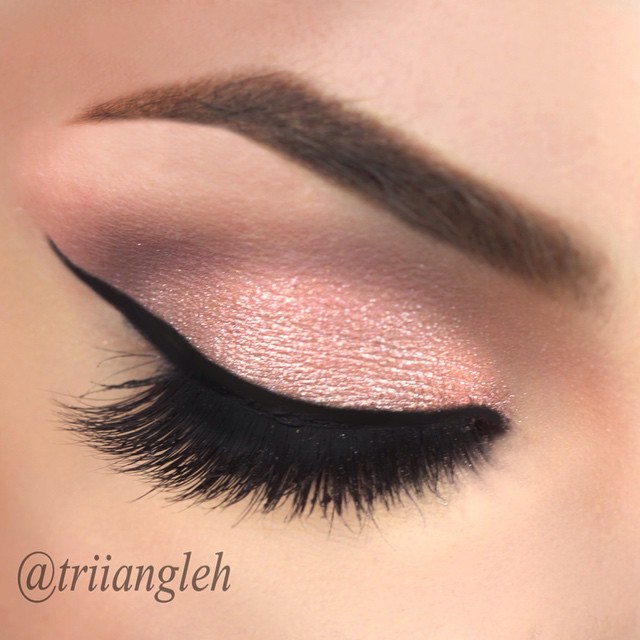 A shimmery pink across the lids and up onto the brow bone keeps your eyes looking bright and lets a solid black winged liner stand out without looking too stark.(Source: Websta)
8. Pink lower liner
Lining under your eyes with a light pink or peach colour makes them look bright, like a wide-eyed animation.(Source: Websta)
9. Dark neutral crease
Keeping a light shimmery colour on your lid and below your eyes but shading your crease with a neutral to dark brown deepens their appearance and makes them look wide and introspective.(Source: Websta)
10. Bold, alternative colour
Are you feeling a little more bold than regular date night makeup calls for? Add an eye-catching pop of colour by lining along the top of your regular black wing with another bright colour that suits your outfit!(Source: Websta)
11. Black and gold smoky eye
Do you like the idea of a smoky eye but wish it had a little more colour? Go ahead and add some! Blending the colour out into black gets the same effect but with some flair.(Source: Lash Factory Cosmetics)
12. Smoky sparkle
If bright coloured makeup isn't your thing but you still want to jazz up your smoky eye, try using shimmer, sparkles, or glitter! These will keep you looking extra bright and glamorous.(Source: Saris Ordaz)
13. Hot pink eyes
Some people shy away from using shades of pink on their eyes, but when you blend it with black and silver, pink becomes an intensely gorgeous shade that makes your eyes pop.(Source: Fashion and Stylles)
14. Subtle greens
If you like the idea of incorporating colour but you're not sure brights are the way to go, try blending a subtle mossy green into a neutral or taupe corner in stead.(Source: The Wonder Forest)
15. Dramatic white liner
Sometimes keeping the shadow and features simple but getting dramatic with the eyeliner is the most effective look. Apply white eyeliner along the bottom waterline and across the top of your black wing to get a wide-eyed, almost vintage looking style.(Source: Lady Life Hacks)
Do you know someone with a big date coming up? Share this post with them for a little bit of makeup inspiration!