15 Crafty Ways to Upcycle Broken Earrings
We've been huge fans of long, dangly earrings pretty much our whole lives, since we got our ears pieced as little kids. We've also learned, however, that wearing them comes with a certain fashion risk that can definitely be disappointing. Have you ever broken an earring while you were trying to put it on or felt it fall onto your shoulder half way through the day because one of the silver rings holding it together gave way? Heck, we've even gotten home after work before and found that our earring was actually broken all day but we didn't notice because the broken piece was caught in our hair! Whenever a favourite pair breaks, we feel a little bit of dismay at the prospect of not being able to wear them anymore and we can never quite bring ourselves to throw them out… which is how we recently found ourselves with a rather large bag of damaged earring pieces that we've hoarded over the years. Because we're avid crafters, however, we looked at that bag as DIY potential and started searching for cute, creative ways to upcycle the sparkly pieces rather than wasting them!
Just in case you're as interested in the idea of upcycling broken earrings as we were, here are 15 of the very best ideas, designs, and tutorials we've come across so far in our mission to reuse ours.
1. Vintage jewelry wreath
Whether it's costume and dangling earring pieces, old rings, or vintage broaches, making a beautiful upcycled jewelry wreath is always a fun time. That's why we've actually made so many in several different styles in the past! One of our favourite wreath aesthetics, however, was this particular design featured on Trendy Quest. We love the way they created a sort of style contrast by balancing the glitz and glamour of the broken earring pieces with some burlap wrapping that's almost rustic chic.
2. Glitzy key pendant
Now, we understand that, at first glance, it might not seem like a project involving upcycled keys and necklace pendants really has anything to do with broken earrings, but that's where Running With Sisters comes in with their cute, creative embellishment idea! They guide you step by step through the process of using pieces of broken earrings to fancy their key "pendants" up a little bit before they string them onto ribbon and wear the and we love that because most of our broken earring pieces are the perfect size to fit on the top of the average house key.
3. Bracelets made from broken earrings
Do you recall those little jewelry rings we were talking about at the very top of our list? The ones that occasionally come separated, letting pieces of your earrings detach? Well, did you know that you can actually buy those in crafting stores for the purposes of either fixing your broken jewelry pieces… or even making brand new ones from scratch? There are definitely some pieces we've opted to fix and keep wearing before, but usually we collect the broken pieces and then use the rings to make something new, just like Dishfunctional Designs did here when they turned several broken earring pieces of matching aesthetics into a brand new bracelet.
4. Jewelry encrusted box
If you're a big enough jewelry lover to have a whole collection of broken earrings as it is, then we have a feeling you might be one of the few people who has the materials to make this absolutely stunning upcycling project featured on Crafty Grammy! They guide you step by step through the process of using broken earring pieces to decorate the top of your jewelry box (or any other trinket or organizational box you use) until it becomes a wonderfully impressive rhinestone encrusted decor piece.
5. Broken earring clock
Are you feeling very enthusiastic indeed abut the prospect of embellishing all kinds of things in your life with broken earrings in order to give them a little bit of sparkle and pizzazz? Then we'd absolutely suggest taking a look at the way Vintage Dragonfly gave their simple alarm clock a little bit more glamorous personality than it had before! Of course, an early morning alarm will still be a rough experience, but we think we'd mind it much less if the thing waking us up with this sparkly and fun.
6. Broken earring photo frame
Perhaps you very much enjoyed the rhinestoned frame idea that you saw on the clock above this but you're just not sure that you have an old clock in that style and you were hoping not to buy something new for this particular project? We can understand the desire to keep an upcycled project fully repurpose! That's why we'd like to present you with this fantastic jewel encrusted broken photo frame idea featured on Victoria Rose Cottage!
7.  Earring hair pins
Have you perhaps always been the kind of person who adores taking the time in the morning to style your hair, but you work very early in the day so you're always looking for ways to glam the look up a little bit without taking a very long time? Then we have a feeling these earring encrusted hair pins from The Crafted Life might be right up your alley! They're both simple to make and incredibly easy to use in styling.
8. Big cocktail rings from vintage earrings
Are you the kind of costume jewelry lover who has always adored a slightly more eclectic and attention grabbing aesthetic, so many of the earrings you have both in your active collection and in your bag of broken pieces are quite large? Then it sounds to us like you have the perfect materials already for making awesome upcycled costume jewelry rings, just like Crafts Unleashed did here!
9. Hair chopsticks from dangly earrings
Now, we did begin talking about dangly earrings specifically at the beginning of this post, and we know that a lot of the project options we've shown you so far have actually dealt mostly with chunkier piece and studs rather than hanging beads and hoops. That's why we were so pleased to come across this project featured on Instructables that actually uses dangling earrings specifically, just to give ourselves all kinds of options! Take a look at their tutorial to learn how to make beautifully embellished hair chopsticks with decorative dangling earring ends.
10. Gauzy ribbon necklaces with broken earring pendants
Do you have a particularly large pair of earrings that you completely adore but that have fallen off their posts or come detached from their hooks and you're just not sure making something like a ring or a rhinestoned frame is the right project for a broken piece that size? Then perhaps you'd prefer to try your hand at the way Running With Sisters made theirs into a sizeable necklace pendant instead!
11. Costume earring bracelet charm
Rings, necklaces, and frames aren't the only things you can make with sizeable broken earring pieces! We're actually huge fans of bracelets when it comes to accessorizing, so it only makes sense that we'd absolutely love this bracelet and broken earring project featured on Make It, Love It too. They show you how to affix the broken earring piece onto a base bracelet in order to make a brand new accessory that's got a little more personality than it had before.
12. Jewelry embellished paintings
In addition to being a jewelry enthusiast, are you also a lover of garage sale combing and thrifting because you love to find kitschy old decor pieces and vintage hidden gems among the piles of old things? Then we think we just might have found the perfect project for you! Check out how RosePetals817 transformed a lovely old framed painting into a stunning mixed material art piece by gluing small pieces of old broken jewelry into the frame in strategic places.
13. Broken earring charm bookmarks
Perhaps you actually do have a quite a large collection of broken earring pieces but they are all different shapes, colours, and sizes and you just can't picture including them in one larger project together, since they don't match at all? Well, if you're also a total bookworm as well as a crafter, then we think perhaps we've found precisely the kind of project you'd prefer! Take a look at how Intimate Weddings used earring pieces, end clasps, and different types of ribbon to make lovely decorative bookmarks with pretty bejewelled ends.
14. Fancy broken earring hand mirror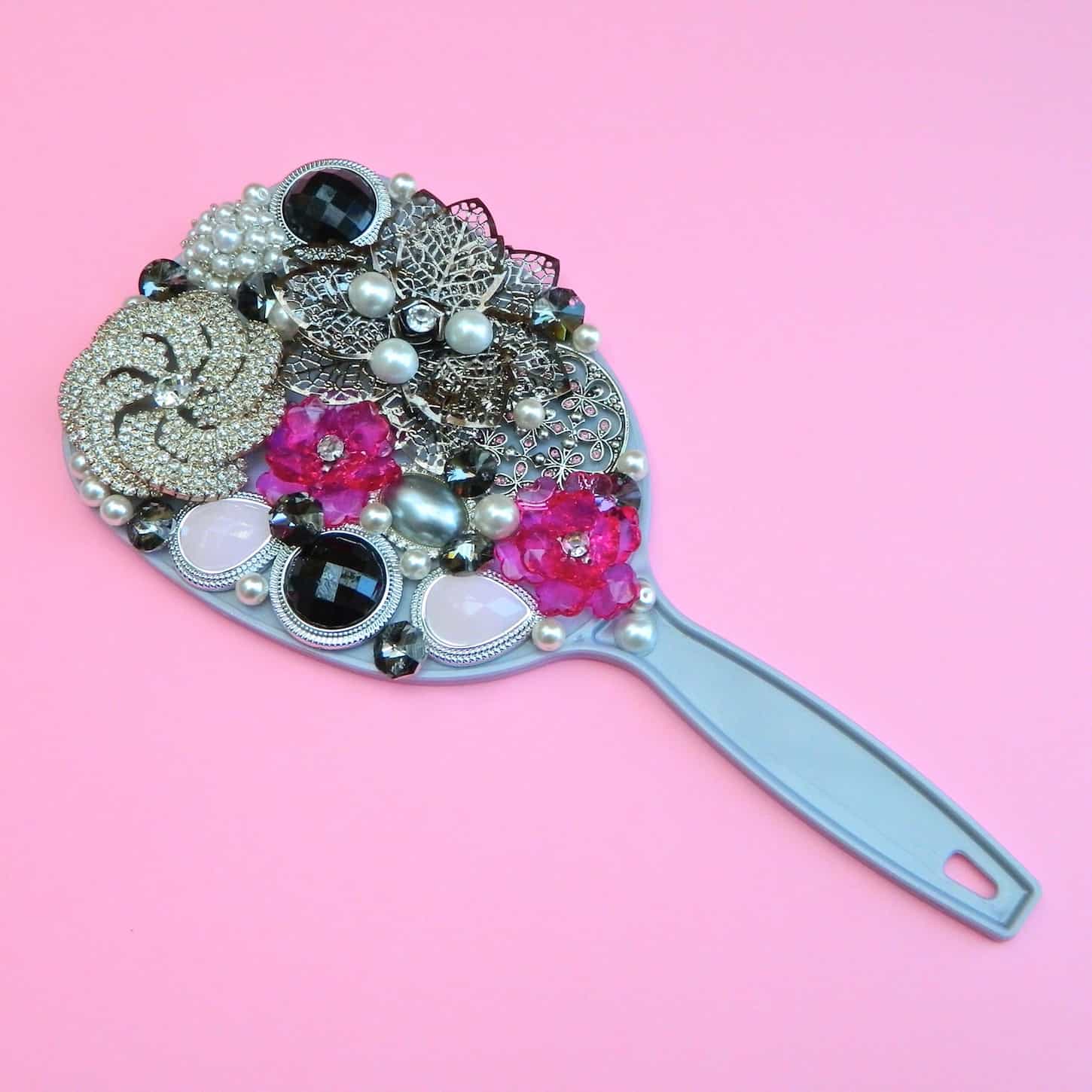 Are you still feeling completely enamoured with the idea of gluing earrings and broken earring pieces all over a surface because you absolutely adore the kitschy, eclectic look it results in, but you don't have many framed clocks or photos lying around, so you're just not sure that's quite the project idea for you? Well, perhaps you'd prefer this almost vintage looking hand mirror project idea instead! We can't get over how strangely glamorous this piece by Mark Montano looks in the end.
15. Costume earring fridge magnets
Maybe the broken earring pieces you've got to work with would look the best individually like we showed you in the bookmark craft above, but you're simply not an avid reader and you don't think bookmarks would really get used in your home? Then here's an alternative idea for you that will still get you that individually decorative feel! Meegan Makes guides you step by step through the process of creating lovely fridge magnets, each glued to the back of a large upcycled costume jewelry piece for a simple but surprisingly effective and impressive project.
Do you have another friend who adores crafting and upcycling things but has always had an eye for vintage style as well? Share this post with them to give them all kinds of creative new ideas to try their hand at when it comes to their broken earrings and other damaged jewelry pieces!