30 Cool Football Cakes And How to Make Your Own
When it comes to making novelty cakes, we'll take just about any excuse to get creative. Whether it's a theme for someone's birthday because it's something they like or whether it's a specific holiday or special event, we'll happily make some kind of awesomely shaped or decorated cake. That's why we decided to gather as many inspiration designs as we could when our son recently asked us for a football shaped birthday cake!
Just in case someone you love adores football just as much as our child does, if not more, here are 15 of the best themed ideas, designs, and tutorials that we came across in our search.
1. Hand drawn logo cake
If you've never tried out how fun it can be to write and hand draw on fondant with markers containing edible dessert ink then we're sorry to tell you that you've been missing out! We'd say this fantastic football team logo idea outlined on Alaskan Mama Vlogger is the perfect time to give it a try.
2. Football cake and field theme stand
Sometimes presentation is just as important as the cake itself! That's why we thought this idea from Happy Go Lucky for printing yard lines and covering a tub with them to make a field themed cake stand was such a good idea. It really completes the look.
3. Rounded football cake
Are you feeling skeptical about your cake carving skills because you've never tried it before and you don't have time for a redo if it goes horribly wrong? Well, just because you're working with a football theme doesn't have to mean you make the shape realistic. We think this simple, rounded football cake outlined on Kitchen Concoctions is very cute indeed.
4. Easy no-carve football cake
Are you actually intent on getting the shape right but you're still feeling skeptical about carving? In that case, we'd definitely suggest taking a look at how Erin Gardner made it happen just by making three simple cuts in straight lines and pushing the sides of the cake together!
5. Easy angled football cake
Just in case shape and dimension is actually quite important to you, here's a tutorial from Bake Like A Pro for icing the laces of the football closer to the side to make the ball look more rounded like it's tipping forward, even though it's sitting flat.
6. Football surprise cake
Just in case you love following fun baking trends just as much as we do, here's a themed "surprise cake" that's so cool your kids will hardly believe it! Bird's Party shows you how to make the cake hollow so Skittles spill out when you cut into the football.
7. Smooth buttercream and fondant football cake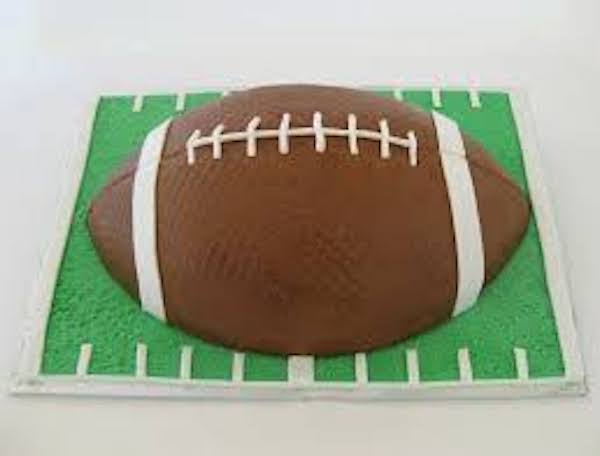 Just in case you've got the shape down but you're feeling determined to get the texture right (while also making sure it looks very neat and well done indeed), here's a useful butterceam and fondant tutorial featured on Cake Supplies Plus.
8. Star tip piping football
Have you been trying to practice your different icing and piping skills so you can make all kinds of fun themed cakes? In that case, we'd definitely suggest taking a look at how The Beachy Blonde created their football's details using a star tip on their icing bag to get that unique texture.
9. Candy football game cake
Just because a cake is football themed doesn't mean it actually has to be shaped like a football! We love the way Spaceships and Laser Beams used all different kinds of candy to turn a regular sheet cake into a colourful football field.
10. Football cake on dyed shredded coconut grass
The Mike n' Ike "stitching" on this football is cool and all, but the part we're particularly interested is the craft that the ball appears to be resting on! Heather Bock shows you how to make edible "grass" by dying shaved coconut using green food colouring.
11. Simple football pitch cake with figurines
Were you very interested indeed in the idea of making a football field themed cake but you're a beginner in the world of cake decorating and you want to keep it even simpler than the candy idea? Then we'd definitely suggest taking a look at how Bunny Kitchen used figurines to decorate their cake.
12. Football cupcake cake
Just like some of these other techniques, you're missing out on some fun if you've never made a cupcake cake before! Check out how Cake Whiz arranged and iced cupcakes to look like a football that people can simply grab a piece of and go.
13. Football cake pops on forks
Where there's an awesome kind of cake, there's usually a corresponding awesome cake pop version of the recipe and we are not made about that! Check out how Home Is Where The Boat Is made these funny little football cake pops.
14. Football and Field Cupcakes
Are you in love with the idea of making football themed cupcakes but you'd rather serve them individually? Then check out how Sprinkled With Jules decorated their cupcakes to look like footballs and green fields with sprinkle crowds!
15. Mini football grasshopper cake
Just in case you're intent on the football theme but you're still skeptical of your carving and decorating skills, here's a design that's a little easier for beginners! Check out how Martha Stewart made these delicious cut squares of grasshopper cake with chocolate footballs on top.
16. NFL chocolate dipped marshmallow cupcakes
Speaking of chocolate footballs, here's a cupcake version with a delicious chocolate candy on top! What's even better, though, is the way The Cake Blog chocolate dipped a whipped marshmallow topping for a double treat.
17. Green yard line cupcakes
If you're lucky enough to stumble across little football shaped birthday candles like Bakerella did, try making something like their fun yard line cupcakes!
18. Stadium seating football cupcakes
Are you actually still thinking about what we said when we talked about how presentation can be just as important as decor in some cases? Then we think you'll enjoy the way Handmade in The Heartland made their cupcakes some "stadium seating".
19. Field cake with cookie footballs on top
If you've ever been a fan of cake ideas that combine treats in one place, this one's for you! Besides making a field cake complete with yard lines, Food Network also shows you how to decorate football themed sugar cookies and embellish your cake with them.
20. Carved football cake with extra cake balls
Have you carved your football cake and iced it but now you're not sure what yo do with the rest of the cake and you don't want to waste it? Check out how The DIY Lighthouse paired their football cake with some bite sized cake balls!
21. Touchdown cake with cookie players
Are you a part of the kind of avid football family that your kids will know what it means if you ice a play right onto the cake? Then we'd definitely suggest checking out how Style and The Suburbs did just that and turned some Nutter Butter cookies into players!
22. Bite-sized cake footballs
Did we really catch your attention when we started talking about bite sized cake balls but you can't help wishing they were football shaped or slightly more on theme too? Then we think you'll get along quite well indeed with these mini cake footballs featured on Celebrating Everyday Life.
23. Home state field cake
Just in case you've been practicing your icing skills and you want to show them off but you're also a diehard hometown boys supporter, here's a guide from Cake Central for making a field inspired cake that's themed after your state team!
24. Field and crowd cheering cake pops
Just in case you'd rather make some cake pops that are a little more creative than more footballs, here's an adorable idea from Good Housekeeping! They show you how to ice a field, make a sprinkle crowd, and then add speech bubbles so it looks like the sprinkles are cheering.
25. Football cake with chocolate covered football strawberries
Were you intrigued by the idea of surrounding your cake with something when you serve it like you saw with the bite sized cake balls but you won't have sponge leftover from your football cake? Then maybe you'd get along better with these chocolate dipped strawberry footballs like Tasty Kitchen made instead!
26. Team banner and yard line cake
Here's another cute yard line cake for your consideration, but this time Pink Peppermint Design shows you how to make a cute DIY team banner as a cake topper too.
27. Football jersey cake
We know we've talked a lot about football shaped cakes, yard lines, and sprinkle crowds on cake fields, but those aren't actually the only themed cakes you can make when it comes to football! Check out how Cakes Decor used carving, fondant, and icing to carefully make an awesome football jersey cake.
28. Fantasy football team draft cake
Here's another creative icing concept for those bakers who are confident in their ability to make patterns with piping but still want to stick to a regular sheet cake design! Check out how Karlie Bakes turned their cake into a fantasy football league draft.
29. DIY edible glitter football helmet cupcakes
Are you actually considering keeping the cupcakes themselves rather simple but trying your hand at making custom DIY cake toppers? Well, if sparkles are your thing, we'd suggest taking a look at how The Sweetest Occasion made these funny little football helmets covered in edible glitter.
30. Vegan, dairy free chocolate and coconut football cupcakes
Besides putting that awesome coconut grass idea we showed you earlier on our list to great use, this recipe from Texanerin Baking is also fantastic because it's vegan and gluten free, meaning everyone can enjoy these cupcakes!
Have you made football themed cakes before that you were very happy with indeed? Tell us all about what you did or link us to photos of your finished cake in the comments section!