15 Delicious Specialty Coffee Recipes for Fall
When fall time comes around and the chilly weather starts to roll in, there are few things we love more than a tasty warm drink. We love all kinds of hot beverages but we find that because our work schedules are so busy in the fall, when everyone is just starting to gear up for the holidays, there's one kind of drink that takes the cake above all others: coffee! As much as we love a simple, everyday coffee with some milk and a bit of sugar, it's nice to treat ourselves every once in a while. Fall is a time of seasonal aromas and amazing taste blends and we see no reason not to incorporate the autumn elements we love best into just about any aspect of our lives that we can. That's why we've been so obsessed with fall flavoured coffees lately!
Just in case the idea of a sweet, flavoured beverage that really satisfies your craving for both a treat and caffeine appeals to you as much as it does to us, here's a list of 15 of our very favourite fall coffee recipes that somehow magically just taste better around this time of year.
1. Fall cinnamon pumpkin blend
If you ask us, cinnamon is definitely a fall flavour, especially when it comes to coffee. We're not sure why we feel that way precisely, since there are plenty of other cinnamon flavoured things that we drink and eat all year long, but coffee and cinnamon in the fall just makes sense to us! Add to that pumpkin, which is undeniably the champion of the autumn season, and you've got a thoroughly fall flavour that can hardly be beat. Coffee Cow shows you how to make an awesome latte using these two flavours, topping it with whipped cream and fall sprinkles.
2. Salted caramel latte
Just like cinnamon, caramel is one of those flavours that we enjoy all year round, but really enjoy in the fall. We love the way it sweetens the coffee perfectly so that we don't need to add any sugar, but without making it too sweet so that the drink tastes overwhelming. Refinery 29, however, suggests adding a salted element to that to really offset the taste of the caramel in a complementary way. We like making our salted caramel drinks into creamy lattes.
3. Pumpkin spice latte with whipped cream and fresh cinnamon
By now, we've all heard of the wonder of pumpkin spice lattes in the fall thanks to big, delicious coffee shop chains and their recipe trend catching on, and boy are we ever glad it did. Sometimes, however, it's nice to enjoy your favourite coffee in the comfort of your own home, especially in the morning! That's why we were glad to find a homemade recipe so that we can make our own versions of whenever we please. People Food guides you through the process of making an aromatic pumpkin spice latte topped with whipped cream and cinnamon.
4. Caramel chocolate hazelnut latte
We've already told you how much we love caramel, but that's not the only sweet flavour we love in a fall coffee or latte! Chocolate and hazelnut taste absolutely delicious in coffee as well and we enjoy them in our drinks all the time too but until recently, we'd never thought of combining them with other things! Imagine how intrigued we were, then, when we first came across this caramel, chocolate, and hazelnut latte recipe from Life Through Preppy Glasses! It's an awesome way to get a lot of flavour and even some sweetness without making things too sweet. We've tried this recipe made with almond milk before as well and we highly recommend it!
5. Peppermint mocha
For us, peppermint is actually a flavour that mostly reminds us of winter and Christmas, but sometimes, towards the end of fall, we start to get excited for the holidays as the weather gets colder and colder. We're no stranger to a delicious peppermint latte in October or November, before all the coffee shops quite make their crossover from pumpkin spice lattes to peppermint based drinks like mochas. Lattes, Life, and Luggage entirely agrees and shows you how it's done.
6. Vanilla, earl grey, and lavender latte
Are you actually more of a tea drinker than a coffee addict, but you still find yourself craving thicket, creamier drinks that will satisfy you more in cold weather in a way that your regular milky tea just doesn't quite do on a chilly fall day? Then try making yourself a tea latte instead! We quite enjoy just about any tea latte, especially if it's made with Early Gray tea, but sometimes we like to really treat ourselves and add some extra flavour that will complement the taste of the tea well. This vanilla and lavender version of your average Earl Gray latter from Batdorf Coffee is pretty much irresistible.
7. Pumpkin pie latte
Are you pretty much obsessed with pumpkin spice lattes to the point that you almost feel guilty about how many you've had and you've been wondering if you should change things up a little bit, but you just love the pumpkin flavour so much? Well, just because you want to try something new doesn't mean you don't have to completely get rid of your favourite taste. This pumpkin pie latte, for example, is a sweeter version of the regular pumpkin spice latte that has less of the "spice" element because it's not quite as heavy on the cinnamon as most other recipes. It's more like a dessert, just like the pumpkin pie you'd eat after Thanksgiving dinner. Check the whole ingredients list out on Good Taste!
8. Creamy vanilla Chai tea latte
Have you been drooling over the few vanilla options we've shown you on this list so far, but you actually like your vanilla flavouring better when it's combined with something that's got a bit of spice, just to get that well rounded, full flavour? In that case, we have a feeling you'll love with vanilla chai latte recipe from Show Me The Yummy! This might not actually be a coffee recipe (unless you decide to put an extra espresso shot in the way you would for a "dirty chai"), but it'll sure keep you warm on a chilly fall day.
9. Vanilla biscotti latte
Are you still intrigued by the vanilla idea and you're also still convinced that you'd enjoy it best in combination with something else, but you want to choose a flavour that's quite mild so it doesn't overshadow the vanilla and it can still stand out? In that case, we have a feeling this vanilla biscotti recipe from Pop of Style will be right up your alley. It tastes every so slightly like sweet cookies, making it the perfect accompaniment for an afternoon baked treat.
10. Salted caramel mocha latte
Are you still feeling kind of enamoured by the salted caramel latte we showed you earlier on our list, but you're the kind of coffee lover who loves to pile as much flavour as possible into your drink as possible? Then why stop at just the salted caramel? We love the way Mom Advice decided to throw some cocoa into the recipe too to transform it into a mocha latte rather than just a regular coffee, milk, and flavoured syrup concoction. Believe it or not, we still don't find this recipe too sweet despite all that flavour thanks to the way the salt balances the caramel and mocha out!
11. Pumpkin spice frappucino
Are you still thinking about how much you love pumpkin spice lattes but the fall weather in your city has been unseasonably warm this year and you're just not sure you're quite ready to quit your iced coffees until the autumn season gets a little chillier? Well, that doesn't mean you can't still enjoy your favourite seasonal flavour! While we do enjoy a good iced coffee or latte, there's just something about very strong, rich flavouring like pumpkin that we think suits better with a thicker drink, like a blended cream and ice coffee. That's why we were so excited to stumble upon this pumpkin spice frappucino recipe from Virtually Homemade!
12. Caramel Canadian maple latte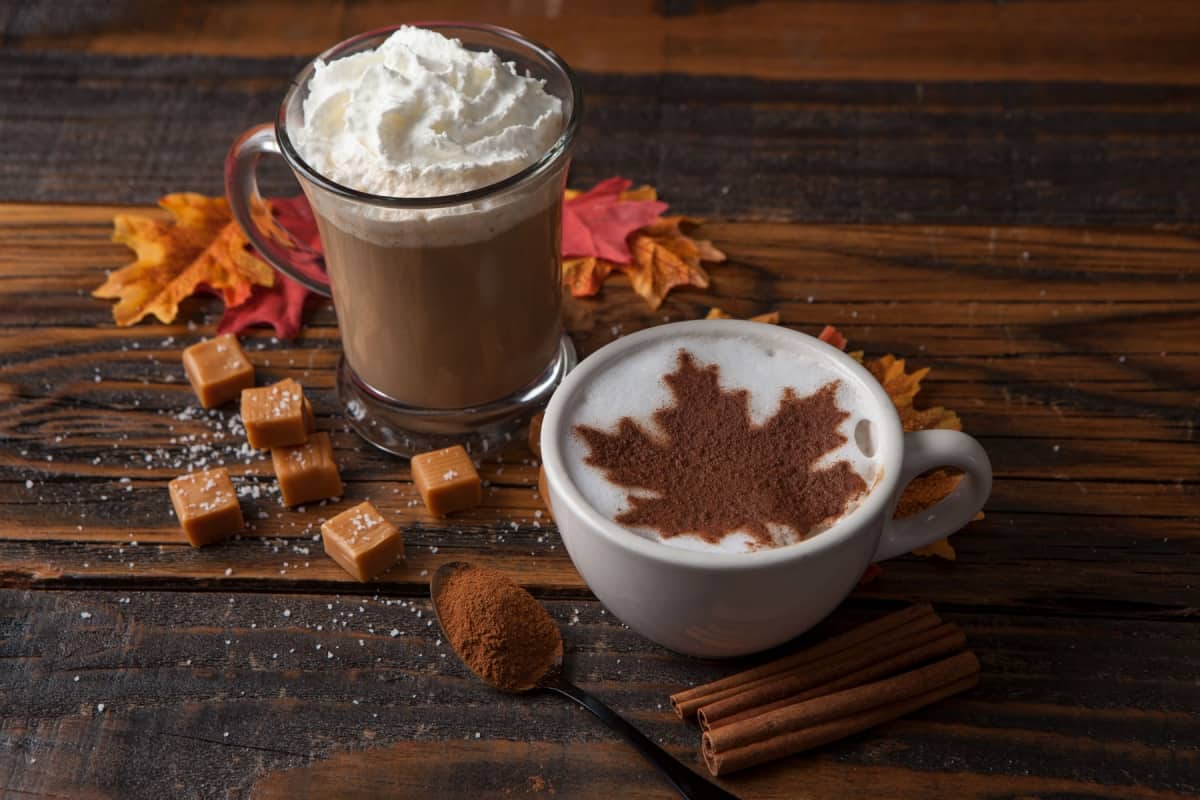 Okay, we know we've talked a lot about caramel in fall coffee recipes already, but there are just so many wonderful blends and flavour combinations to try that we can't help but show you as many as we can possibly find! This delicious idea from Nugget Market, for example, combines caramel with the rich, sweet flavour notes of Canadian maple syrup. You'll find hints of salt and cinnamon in there as well, just to make sure you really get the full experience.
13. DIY pumpkin spice creamer for regular coffee
Are you the kind of health conscious person who only drinks full on lattes sometimes because they have a much higher fat content than regular coffees, even when you pour some creamer in them? Perhaps you're actually a little bit sensitive to dairy and, even though you don't find that a normal mug of coffee with a splash of milk or creamer in it bothers your stomach, an entire latte is just too much? In that case, we have a feeling you'd do better to try this deliciously flavoured homemade coffee creamer recipe from Crunchy Creamy Sweet! Making a creamer that tastes just like a pumpkin spice latte and using it to sweeten and lighten your regular coffee gives you the seasonal flavour you want without you having to consume all that steamed milk.
14. Pumpkin Chai latte
Have you been scrolling through our list thinking about how, even though each of these recipes has looked delicious so far, there are a few combinations of flavours that you'd love to try together but haven't seen as an actual recipe yet and you'd feel more confident making your own with some guidance rather than just winging it? In that case, here's a recipe that's so fall we can't believe we didn't think of it before! Live Simply shows you exactly how to make a delicious pumpkin Chai latte that tastes just like fall in a cup.
15. White chocolate pumpkin spice mocha
Have you spent most of the time that you were reading this list thinking about the flavoured mocha recipe we showed you before, but wondering whether it might taste better made with pumpkin flavouring rather than caramel, just to really create a cool flavour contrast? Well, Will Cook for Smiles actually one-ups that and gives you an even cooler pumpkin mocha experience… one made with white chocolate instead! It's perfect for people who love fall flavours and want something that's more on the sweet side and less on the rich.
Do you know a fellow DIY enthusiast who loves coffee almost as much as they love making things themselves and also can't get enough of trying out new seasonal recipes? Share this post with them to give them all kinds of delicious ways to combine their favourite things!