15 Awesome DIY Toy Car Projects
When we were kids, there was nothing we and our siblings loved more than playing with toy cars. There were just so many awesome games and DIY race tracks you could create using only your imagination and the world around you! As we got older, however, we started tinkering with the cars and other materials to try and make new, even cooler toy car accessories that would take our games to the next level. At some point we even started trying to make our own versions of the cars themselves! Now that we're older, we were happy to discover that our kids love playing with toy cars just as much as we ever did, so we've been looking for ways to help them make awesome accessories and such for their Hot Wheels.
Just in case your kids love both crafting and playing with toy cars just as much as ours do, check out this list of 15 awesome car themed DIY projects that you can make all together!
1. Battery powered plastic bottle car
If you've visited our site before then you already know that we'll take literally any opportunity to turn a DIY idea into an upcycling opportunity! It'll come as no surprise, then, that this list of toy car projects is no different then usual. For example, check out this totally awesome DIY pop bottle car from RajKumar's DIY! Instead of just making a craft that goes along with your kids' Hot Wheels, this shows you how to help them make an actual car using plastic bottles, bottle lids, and a battery powered fan to propel the "car" across the floor when it spins.
2. Sewn toy car carrier
Have you recently found awesome cartoon fabric featuring your kids' favourite characters or super heroes and you've been looking for a particularly "kid-like" project to use it for, since you're not sure it's really practical for anything else you'd make? Then it sounds like the perfect material for a toy holder, particularly a case for toy cars! Crazy Little Projects shows you the perfect pattern for sewing a cute little folding case full of pockets that are the perfect size for sliding toy cars into so they can be carried around easily from play date to play date or stored neatly away between playtimes.
3. Electric wood and elastic band car
Perhaps your kids are a little bit older and they're more interested in the idea of building their own car, but they'd rather build a structure that actually resembles a vehicle instead of just attaching wheels and a fan to a water bottle? In that case, we have a feeling you're going to love this very hands-on wooden car idea from Motivation to Learn! They show you either how to make the pieces or where to find them, as well as how to put them together and rig up a cog-wired battery that will make the wheels turn. This project is definitely creative, but it's also a great opportunity for your kids to get geared up about science and physics.
4. Light up Hot Wheels wall display
Have you been redoing your kids' bedroom or play room for a while now but you're still keeping an eye out for awesome toy storage that will actually contribute to the décor so they feel encouraged to use it and put their toys away properly each day? Then we have a feeling you'll love this DIY light up car bumper idea from Arts & Crackers! They show you how to create the shelf, hang it up, and stack it with cars so the toys are up off the floor and no one hurts themselves stepping on little metal pieces or things with wheels.
5. DIY big cardboard box cars
Are your kids so obsessed with their toy cars that they're constantly telling you how much they wish they could get right inside the toys and drive them around themselves? Well, this isn't quite the same as shrinking your kids down in the style of the movie Honey, I Shrunk The Kids, but it's pretty much the closest you'll get! Word of Mouth guides you through the process of cutting, gluing, and painting cardboard to create a totally impressive race car that your kids will actually be able to sit in.
6. Mini cardboard box and disposable plate car
Perhaps you love the idea we just showed you above, but you'd rather make a simplified version that your kids can actually make themselves? Then you might do better with a concept that's a little more fun and kid-friendly! Blah Blah Magazine suggests this cute, boxy design featuring details made from construction paper and plastic plates. Our kids don't need the fanciest results in the world, they just enjoy the process of making their own things!
7. Cardboard box toy car wash
Perhaps your kids' favourite toy cars are bigger than Hot Wheels, so they won't fit in all the cool toy accessories that come sold with those, but are also too small for them to actually get into? Well, that doesn't mean you can't make them some awesome extras for when they play cars! We love the way The Weisse Guys use a cardboard box an some thin packing foam cut into strips to create a medium sized "car wash" that toy cars of all sizes will fit through. We love that the foam looks just like the soapy brush curtains you drive through in an actual life sized car wash!
8. Toy card caddy with numbers and a road
Did you really like the car pocket idea we showed you above but you'd rather make one that's designed with details that will actually help your kids play and learn as they pack and unpack their cars each time? In that case, perhaps you'd prefer this awesome home sewn car holder from Tranquility Spot instead! They show you how to put numbers on the pockets to help your kids learn about counting and organizing and they also show you how to sew a road on the underside of the flap, applique style, so the kids have somewhere to drive their cars while they're amusing themselves in the car on a long drive or somewhere else where there isn't really already an area for them to play and get creative with
9. Rain gutter and cardboard box toy car jump
Are your kids a little bit older and always trying to build things themselves these days? Our oldest youngsters have started trying to rearrange our furniture to create tracks and jumps for their cars recently but side tables and armchairs don't exactly give them great angles to work with. Instead, help them build an actual Hot Wheels jump by making this rain gutter and cardboard half pipe setup from Frugal Fun 4 Boys with them! Just make sure they don't shoot their cars down the ramp with too much speed near your china cabinet.
10. Cardboard box toy car parking garage
Have you been trying to think of creative ways to help your kids store their cards so that maybe they'll actually put them away at the end of the night rather than leaving them all over the floor, but you'd prefer something more cost effective than a wall mounted car-themed shelf? In that case, perhaps this upcycled cardboard box parking garage is a better idea for you! Besides being easy enough that your kids can help you make it, we like the idea of letting them roll all over their vehicles in to park at night just like when a city goes to sleep in real life. Find some guidance for making it happen on All Things Reintjes.
11. Magnetic matchbox car storage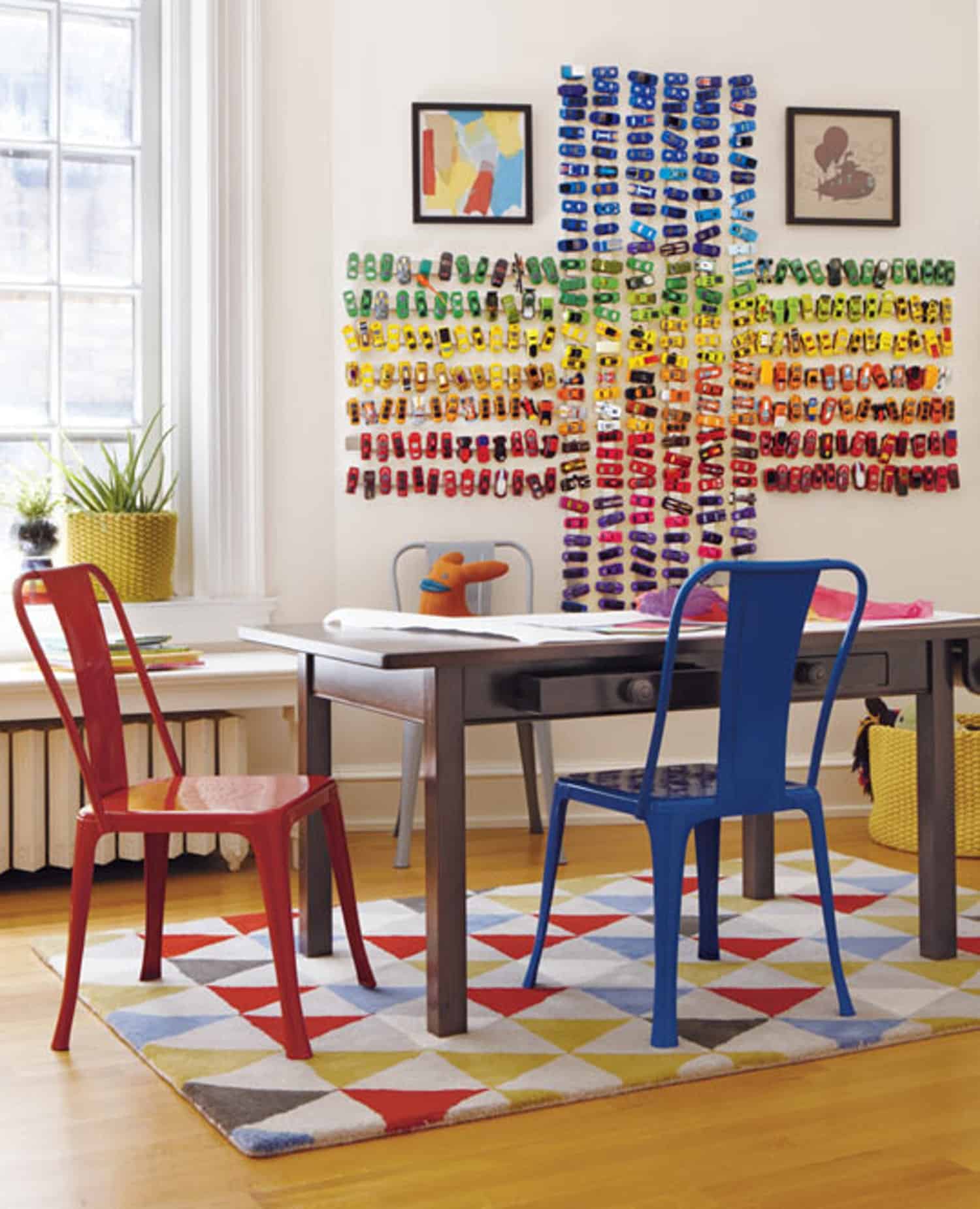 Have you always been totally obsessed with Hot Wheels and dinky toys all your life to, so the toy car stash your kids are amassing right now is actually just building on your own collection from years ago, giving you a house full of little metal vehicles? Then you're basically the perfect candidates for this amazingly kitschy and totally unique car display idea from Honest to Nod! They show you how to attach magnetic strips to your wall that will let you stick the cars there and let them hang out, making them a cool décor pieces as well as a toy.
12. DIY wooden push cars

Have you actually been looking to try your hand at a new woodworking project lately because you have a little bit of experience but you could use some practice when it comes to carving and creating smooth edges or rounded corners? Then we have a feeling you might really love this wooden push car idea from Jaime Costiglio! They walk you step by step through the process of creating these simple, old fashioned wooden cars from scratch in a way that will make you feel incredibly accomplished by the end of the project.
13. Cardboard toy car racing game
Were your kids rather intrigued by the drain pipe and cardboard jump idea but you're just not ready to have the shooting small metal things off of ledges at alarming angles around your breakables? Well, we can't say we blame you, so maybe you should help them make this more harmless ramp game instead! They'll still get to watch their cars speed around at neat angles, but it's more of a racing game than a height jumping goal, making it a lot safer even though it's still a lot of fun. Check the whole concept out on Frugal Fun 4 Boys!
14. DIY car table
Are you actually quite experience at woodworking, or at least furniture alteration and restoration, and you've been looking to tackle something a little more challenging for the kids' play room? In that case, maybe you're the perfect person to take a shot at making this awesome toy car table top complete with painted roads, a wooden cityscape, and even some car storage drawers underneath! Find the full instructions for making an awesome table of your own on I Am Momma, Hear Me Roar.
15. Rubber band powered toy car
Have your kids gotten to the age where they're intent on tinkering with just about everything to see how it works? Our oldest kids are going through the phase as well and it's amazing to us not only what they can create out of a few simple unconventional DIY tools, but also how long the tinkering will keep them busy! They were actually just making this rubber band, popsicle stick, and Styrofoam car the other day, which is part of what inspired us to look up more cool toy car crafts and DIY projects. Get the full details for this one on How To Raju if you think your kids would love the idea too!
Do you know a fellow crafter who's kids are completely obsessed with toy cars just like ours, if not more? Share this post with them to help them combine that with their love of DIY projects so they can make their own super fun car themed toys together!