Adorable Christmas Themed Knitting Patterns
Don't get us wrong; we're the kind of avid yarn crafting lovers who knit almost feverishly all year round. There's just something about the holidays, however, that get us particularly in the mood for knitting new things and we find we actually knit faster around this time of year too! Lately, we've been really into the idea of knitting things that are actually holiday themed, since Christmas time affords us so much knitting time and is one of our favourite things to do when we have time off.
Just in case you love the idea of knitting adorable Christmas themed patterns this holiday season just as much as we do, if not more, here are 15 of the best designs, ideas, and patterns we've come across so far!
1. Miniature beaded Christmas tree
Are you really feeling the idea of taking a break from the usual socks and sweaters you're often found doing and creating something little and decorative just for the season? Well, particularly if you like the sound of adding beads on at the end, we think you might get along very well indeed with this miniature knitted Christmas tree pattern from Amanda Berry!
2. Festive friends doll pattern collection
Are you actually so into the idea of knitting miniature plush Christmas things that you're feeling up to the challenge of making a whole range of things for your loved ones? In that case, we'd absolutely suggest taking a look at how Knitting by Post created a pattern series that helps you make a full cast of usual Christmas characters! We can't even begin to try choosing a favourite between them because they're all so sweet.
3. Christmas robins and a yule log
Just in case you love the idea of knitting a plush miniature holiday character but you're just not sure you need more Santas or snowmen dotted around your house, here's a festive animal idea instead! We adore the way Clare Scope-Farrell knit these two plump little robins with lovely red bellies, complete with their own snow covered log for them to sit on!
4. Knitted advent calendar
If you're going to knit something from scratch for the holidays, would you rather make it something interactive that you and your family can use together? Well, that might not sound very typical of a knitting project, but we promise it's possible with this adorable knitted advent calendar idea outlined in full detail on Rowan!
5. Looped knitted Santa hat
In our house, there are always Santa hats lying around for the entire month of December. The kids replace their winter toques with them to wear to school. Someone ends up wearing one to the office party. They go missing and people are scrambling to buy another one before their next fun holiday event. This year, instead of trying to find the cheap store bought ones we got last year or buying new ones, we decided to knit this adorable Santa hat pattern with a looped trim for every member of the family! Thanks goes to The Yarn Loop for this one.
6. Knitted Christmas crackers
If your family has ever participated in the tradition of setting off Christmas crackers after dinner on Christmas day, then we have a feeling you'll feel just as enthusiastically as we do about these adorable knitted Christmas crackers outlined step by step on Knitting by Post! Sure, they don't crack or pull open, but that doesn't mean they aren't still a whole lot of fun as a cute, soft homage to the real thing.
7. Knitted stocking with a frill
Christmas stockings have always been a big deal in our house. Everyone in the family has at least two, right down to the dog and cat, and they alternate which one they choose to put out each year. Every once in a while, though, we like to gift everyone new ones after the old ones have had a few annual rounds. Last year, we actually knit everyone in our house variations of this adorable knitted stocking pattern from Plymouth Yarn!
8. Christmas pudding knitted hat
Were you feeling very enthusiastic indeed about the idea of knitting a holiday themed hat but you've already done thew hole Santa hat idea before and you'd prefer to try your hand at something else instead? In that case, we'd definitely suggest taking a look at how The Yarn Loop made this absolutely adorable little toque that, thanks to some simple colour work, looks just like a Christmas pudding!
9. Christmas pudding cushion
Maybe you really like the idea of making a knitted Christmas pudding but you've already made your family members so many funny novelty hats this year that you really don't think you'll be able to convince any of them to wear another one? In that case, we'd absolutely suggest taking a look at how The Crafty Knitter made this plush knitted Christmas pudding shaped cushion instead!
10. Mini knitted mittens ornaments
Have you already knitted your entire family new mittens for Christmas and now you're finding yourself itching to keep doing them because you love the process so much but no one around you really needs another pair? Then maybe you should swap to making them in miniature instead! We adore this little knitted mitten ornament project from Red Heart Yarn.
11. Knitted Christmas ornament
If you're going to knit a Christmas ornament, would you rather make one that's a little more classic, like the rounded glass baubles you love so much and have scattered all around your tree? In that case, we'f definitely suggest taking a look at how Lion Brand made this lovely rounded ornament featuring simple stripes of holiday colours that even a beginner could handle.
12. Colourful Christmas ornaments

Are you completely set on the knitted tree ornament idea but you can't help wondering whether there's a pattern out there that can challenge you a little more when it comes to shape and colour work detail? Well, we're pleased to report that that's exactly what Patons Yarn has to offer here!
13. Knitted angel ornaments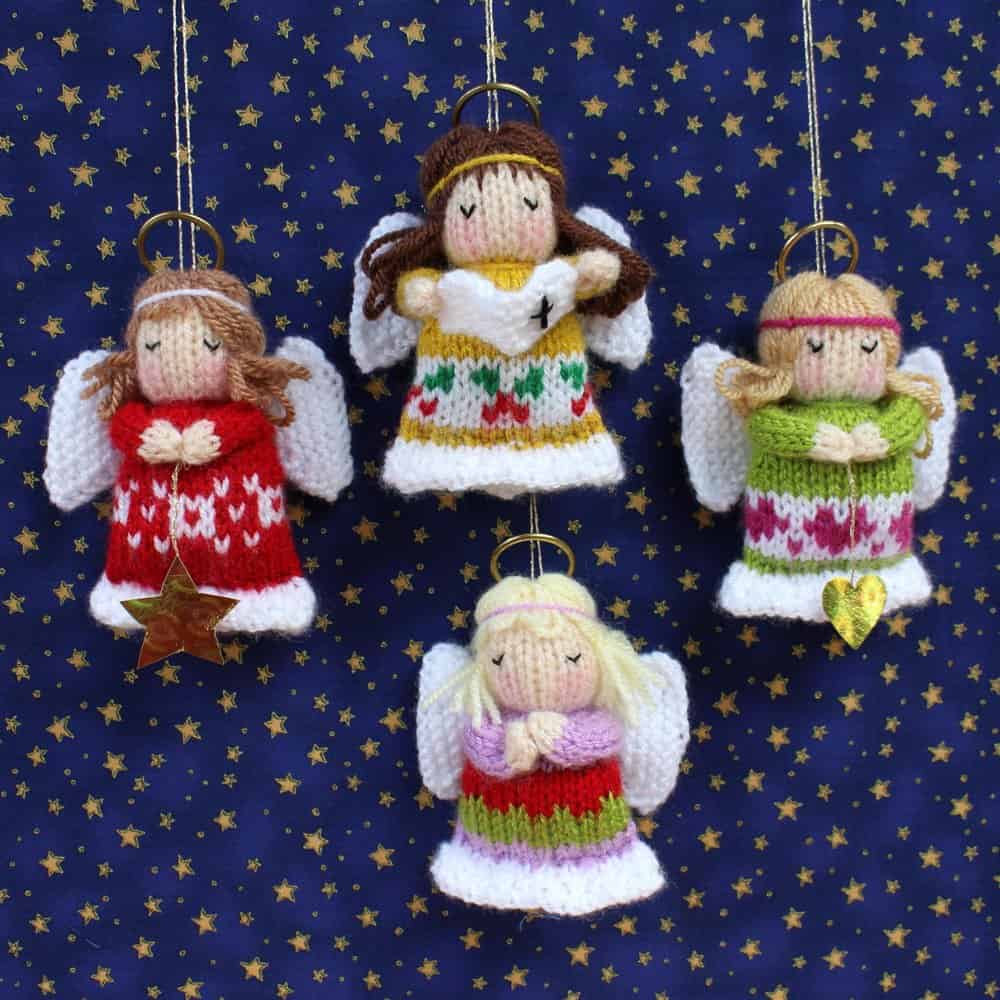 Maybe you liked the idea of a knitting a little Christmas angel when you saw the pattern pack of character dolls earlier on our list but you were actually kind of set on making something a little smaller than what you saw there? In that case, we'd absolutely suggest taking a look at how Dollytime made these lovely little angels that look fantastic hung from Christmas tree branches.
14. Christmas tree hat
Just in case you actually haven't had enough of novelty Christmas themed ornaments yet this year, here's another design for you! Gina Michelle guides you step by step through the process of making a ridged Christmas tree hat that looks adorable on people of any age. We love that they used sparkly crafting pom poms as embellishments to look like ornaments!
15. Knitted snowman
Just in case we really caught your attention with the prospect of knitting a snowman in that pattern pack idea as well but you're just not sure the finished result is quite kitschy enough for you, here's an alternative that has a little more character and even shares a hobby with you! We can't get over how adorable this knitted snowman who is also knitting is! Cascade Yarns walks you through the exciting stitch patterns and unique construction, as well as the steps for embellishing the finished piece.
Do you know of another avid knitter who adores making seasonal things but who could use some inspiration when it comes to great Christmas knitting patterns? Share this post with them to give them all kinds of awesome holiday patterns to try!