15 Red Christmas Decor Ideas That Will Light Your Traditional Style Fire
Whether you're trying to bring some traditional vibes back into your seasonal home styles or you're already a fan of the favorited holiday color, we're here to shine a light on the shade that Rudolph's nose glows. These 15 red Christmas decor ideas will surely light your traditional style fire and have you ready to revamp some of your home's frequented spaces. Let's have a look – from tutorials or just remixing inspiration!
1. Filled Lanterns
While searching on Pinterest, we fell upon this gorgeous little set up. Grab your outdoor lanterns and then fill them up with some of your red ornaments! It's a quick and easy way to add some feel-good tradition to your Christmas decor.
2. Berry-Inspired
You can fashion your holiday dining room table around some winter berries to really infuse some more red into the season. We found this scene on Home BNC with tons of other great ideas to sift through!
3. Presents on the Step
At Elle Decor we caught a glimpse of this staircase idea. Grab some faux presents and add them to the walk to the bedrooms. This works especially well if you can see your steps from the front door – as a way to create a cohesive style when your guests walk inside.
4. Peppermints & Candy Canes
Mommy Decorates utilizes the season's most popular candy as style inspiration. Fill up apothecary jars with peppermints and candy canes to add some red and add some festive, kid-friendly charm to the house too.
5. Cozy Throw Pillows
Extra throw pillows throughout the season are an absolute must. And, this is the easiest way to add a festive color to the mix. We spotted this peek at A Thoughtful Place.
6. Textural Front Porch
On Sutton Place shows off beautiful, front porch Christmas decorations that we're swooning for. They've incorporated a lot of red into their design and we love all of the varying textures as well. Use it as a catalyst to revamping your own space!
7. Gallery Walls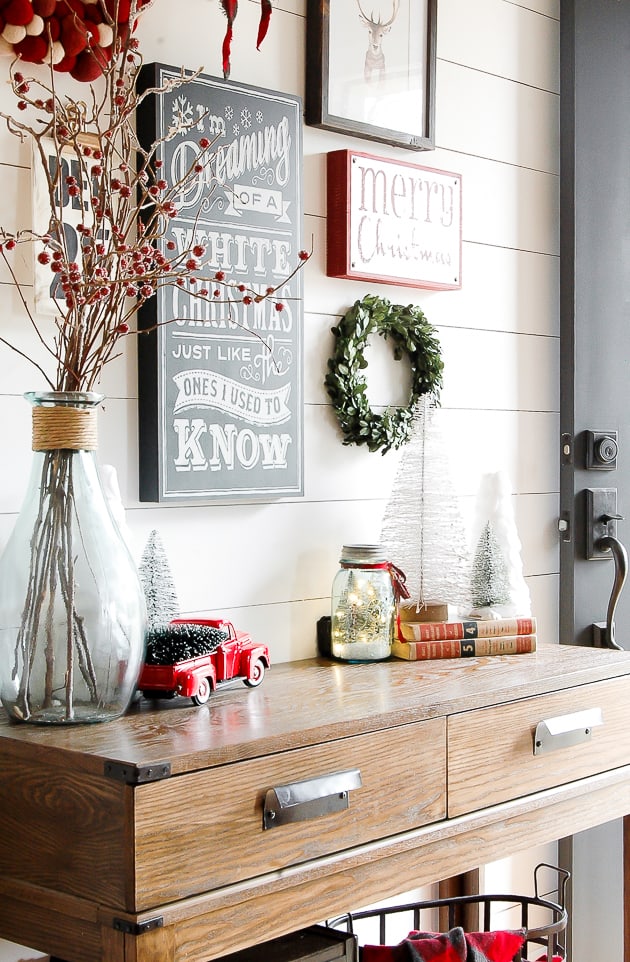 Even your gallery walls can incorporate some Christmasy reds. Check out this nook at Little House of Four for some much-needed and gorgeous inspiration.
8. Classic Stockings
You could go super classic and snag some red stockings. The Budget Decorator displayed how to make this happen without spending too much but also in a way that's super chic and stylish. Details after the jump.
9. Bead Garland
At Inspired by Charm you can have a peek at some more inexpensive and easy decorating tips. And that includes using some red bead garland in and around the house. On the tree, on the mantle, or even on the foyer dressing the coat hooks.
10. In the Bedroom
This YouTube video has a lot of fun ideas in store for you, but we love this bedroom sneak peek especially well. If you're looking to add some cheer into your personal space, don't be afraid to buy or make some festive bedding and switch out the artwork in there too.
11. Wreath Backdrop
In your home office or even in the foyer, you can add a red backdrop to your wreath. This adds a pop of vibrant color and an easy clean up as well. Thanks for the inspo Pinterest!
12. Bathroom Accents
Even your bathroom could have a few festive and fun accents to spruce up the festivity. Some towels and berries twigs is really all you need to give it a push. Check out Our Thrifty Ideas for more.
13. Kitchen Ribbons & Wreath
Pinterest gave us this beauty as well and the idea works especially well with lighter walls and cabinets. Wreaths tied up with red ribbons creates a gorgeous and festive contrast.
14. Plaid Blankets
Just like the throw pillows, some extra cozy blankets can help set the scene as well. We love the plaid pattern and traditional colors for the holiday season. And Craftberry Bush has more inspiration if you follow the link!
15. All Red on the Tree
If you visit A Thoughtful Place again, you'll get a glimpse at this living room. The red theme is such a beautiful sprinkles throughout the neutral space and keeps it both fresh and traditional.