Simple Christmas Gift Ideas for Coworkers
We are absolutely that person at the office that brings the most holiday cheer of any employee and shares it with those around us whenever we can. We do our best not to overdo it, but few things make us happier at work around this time of year than taking advantage of the Christmas spirit to brighten the days of our coworkers. That's why we've decided to make them little gifts this year! Choosing something simple and appropriate enough to make for several people that you work with professionally, however, can be a challenge. Even so, we found a wonderfully surprising number of fantastic suggestions far and wide across the Internet!
Just in case you'd really like to make your coworkers cute holiday presents this year too, here are 15 of the best ideas and designs we've come across in our search for inspiration so far.
1. Christmas tumbler full of treats
If you can find a Christmas themed water tumbler that your coworkers can reuse in the office, you'll be able to make this adorable filled favour idea from Stretching a Buck in no time! They have plenty of suggestions for holiday treats and snacks to fill it with and your coworkers will appreciate the sentiment and also benefit from being given something that's actually really useful.
2. Grinch pills
Maybe you're working on a budget but you still really want to show your coworkers that you appreciate them and wish them good cheer? In that case, we have a feeling these funny "Grinch pill" favours will be a little more up your alley! Popsugar suggests a design for customizing the case of peppermint flavoured Tic Tacs, which are nice and cheap but always good to have.
3. Tassel and pom pom notebooks
Would you rather stick to making things that you think your coworkers might actually use but the tumbler idea isn't quite DIY enough for you? In that case, we'd definitely suggest taking a look at how Projektila made these adorable embroidery thread and leather string bookmarks that work great for marking places in all kinds of things, whether it's a work text or whatever they like to read on their lunch break.
4. Sugar cookie sack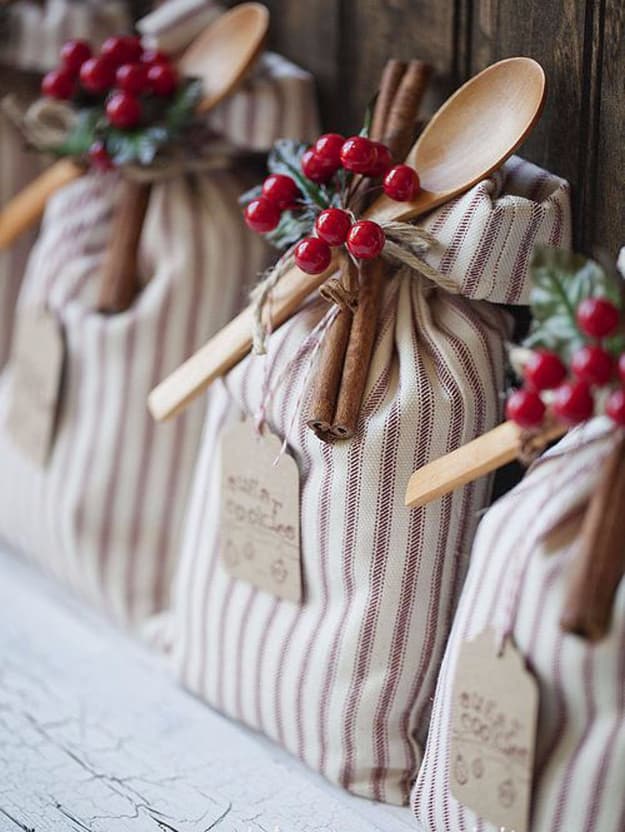 If you're going to put together some kind of nice gift from scratch, would you rather make your coworkers something they can share with their families? In that case, we'd definitely suggest taking a look at how Celebrate Creativity put these fantastic sugar cookie making kits together! So long as you know everyone's allergies and can work around the, this idea will make it nice and easy for them to go home, mix up the ingredients you provided, bake, and enjoy.
5. Scrabble coasters
Whether you choose to follow suit with the wine theme you see here or change it up and go with winter words or work terms, we think this Scrabble tile coaster idea from The Gourmet Gab is a classic! once again, it's nice that your coworkers will get something they might actually use on their desks, but you also get to upcycle and have fun with some word play.
6. DIY leather cord roll
Are you actually feeling very crafty indeed and looking to make something using your sewing skills because you have only a few coworkers and lots of time to get crafty with for once? In that case, we'd suggest taking a look at how Brit + Co. made these super organizational and convenient cord rolls! These will help people in your office stop their various chargers getting tangled in drawers.
7. Lovely fabric scrap coasters
Are you actually very intrigued by both the desk coaster idea and the concept of doing some simple sewing for your coworkers but you're just not sure which one you like better? Well, who says you can't do both? We'd absolutely suggest checking out how DIY Joy made these fantastic simple coasters from scrap fabric.
8. Dip mix ornaments
Have we really caught your attention talking about different ways to put ingredient packs together so your coworkers can make something yummy with their families later on, courtesy of you, but you're just not sure the sugar cookie idea is the one for you because people in your office seem to prefer savoury things? Perhaps you'll have better luck with something like these glass ornaments filled with the ingredients for making delicious dip! Get the full instructions for making your own on Sprinkle Some Fun.
9. Sharpie paint pen glasses
What if you loved the idea of giving your coworkers some kind of glass to us but you'd rather customize the design yourself rather than just buying a pre-made cup and filling it? In that case, we'd definitely suggest taking a look at how they created these lovely holiday inspired gold patterned glasses using simple Sharpies! Get the details step by step from Heart Love Always.
10. Indoor S'mores kit
Are you actually stilling finding yourself thinking about the sweets making kit as you scroll but you're still just not sold on the sugar cookies concept? Then maybe you'd prefer to help your coworkers make some holiday S'mores instead! We love the way My Baking Addiction presented their gift laid out so nicely in such a beautifully themed box.
11. DIY poured glitter candle
Just in case you really are feeling the vibe of making your coworkers something entirely handmade but you really want it to be fun and Christmassy for you to make as well, here's a fantastic technique from Something Turquoise that shows you how to make glitter candles! We love that you can create them in all different colours for the holidays.
12. Dried fruit potpourri
We love air fresheners, but we also know that not everyone can stand the store bought kind without getting a headache. That's why we were such big fans of this natural dried fruit pot pourri idea featured step by step on E-How! They show you a great, simple to make blend that will make the whole place smell like Christmas in a pleasant, subtle way.
13. Homemade spa kit
Have you actually been scrolling through our list hoping to find a gift idea that will help you help your coworkers relax a little better over the holidays? In that case, we'd definitely suggest taking a look at how Homey Oh My made and gifted these fantastic, gentle lavender scented miniature bath bombs and put them in a spa kit!
14. Easy burlap treat bags
Just in case you'd actually rather give your coworkers a nice little portion of the holiday candy you know they love most but you're still intent on making it DIY somehow, here's a fantastic presentation concept that's a lot of fun to put together! Check out how A Homemade Living made these adorable burlap candy sacs embellished with ribbons, sprigs of cranberry, and pine cones.
15. DIY sweater mittens
Just in case you're still thinking about how much you loved the idea of sewing for your coworkers (but so long as you're sure you're up for the challenge, depending on how many people you work with), here's a lovely DIY idea that will keep people feeling your appreciation for the rest of winter! Take a look at how The Renegade Seamstress created these fantastic mittens by upcycling old sweaters!
Have you made other kinds of awesomely creative coworker gifts that you don't see on our list but that were a huge hit when you gifted them? Tell us all about how you did it or link us to photos of your finished work!