Easy Vegan Appetizers Recipe Platter Idea with Three Dips
This Vegan Appetizers Recipe Platter features three delicious dips and lots of veggies! There is a bright and earthy Beet Hummus, salty and rich Olive Tapenade, and creamy Sun Dried Tomato Dip accompanied by the freshest vegetables around.
They say you can tell how good a restaurant is by the quality of their crudités platter. The best platters have the freshest most flavorful vegetables alongside interesting and diverse dips. With the abundance of spring produce on the way, it is the perfect time to make this impressive dish at home.
Once you choose the ripest and prettiest vegetables you can find, it is time to whip up the dips.
The first dip features even more veggies. The bright magenta beet hummus will win over eyes and stomachs all around. It is earthy, bright, and super creamy. The cooked beets contribute the the silky smooth texture and make it easier to blend.
The tapenade is a nice salty bite. It is best when you make it with high quality olives and great olive oil. Since they are the only 2 main ingredients in this spread, you want them to taste amazing on their own. I recommend buying a variety of olives from the olive bar, and using only extra virgin olive oil.
The sun dried tomato dip, is a welcomed creamy addition. It is sweet and acidic from the tomatoes and the cashews blend up into a creamy spread that is reminiscent of cream cheese.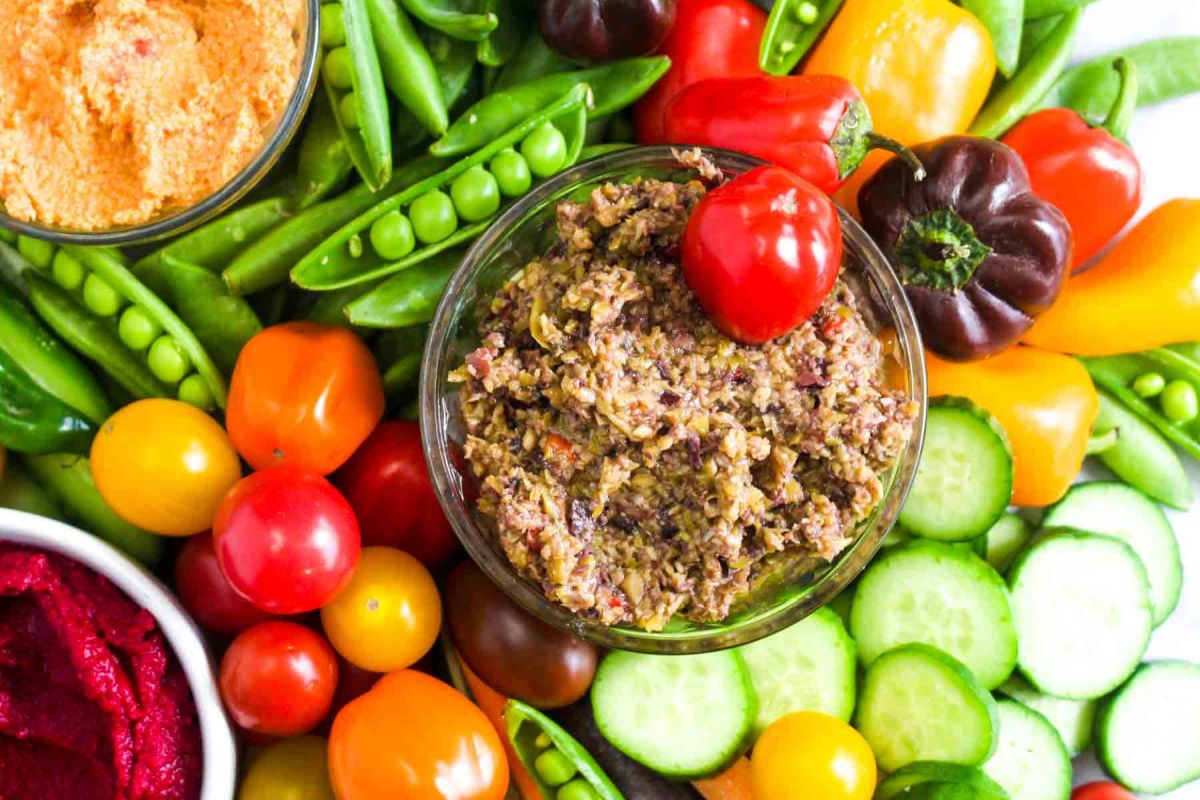 Not only does this Crudités Platter look good and taste good, it is super good for our bodies.
The olives in the tapenade add needed fat to the appetizer. A lot of the vitamins and minerals in the vegetables can only be fully absorbed when they are paired with a fat. Dipping the veggies in the tapenade will make it easier for your body to get the needed nutrients from the vegetables. Add to that the fact that olives can also reduce inflammation and the risk of cancer, and we have one healthy dip!
Beets which add a neon color and tasty flavor to our hummus also pack in the health benefits. They can help the body detox, and are a superpower for our circulatory system. They help build up our blood supply and lower blood pressure.
This veggie packed Crudités Platter is the perfect start to a dinner party. It is also a great appetizer to bring to a potluck or get together. The trio of flavorful dips and crisp veggies will be a welcomed fresh addition.
And if you have any leftovers, we can count the many ways to use them. The beet hummus makes a great snack with crackers. The tapenade can be tossed with pasta for an effortless meal. And the sun dried tomato dip is a divine spread for sandwiches and wraps.
Ingredients for the Vegan Appetizers platter:
For the Beet Hummus:
1 large beet, green tops removed
1 (15)oz. can garbanzo beans, drained and rinsed
1 clove garlic, peeled
Juice of one lemon
1 teaspoon salt
1/2 teaspoon cumin
For the Tapenade:
8 oz. assorted marinated olives
2 tablespoons extra virgin olive oil
1 clove garlic, peeled
For the Sun Dried Tomato Dip:
3/4 cup raw cashew pieces
1/2 cup sun dried tomatoes (drained if packed in oil)
5 tablespoons water
1 1/2 tablespoons white wine vinegar
2 tablespoons extra virgin olive oil
1/2 teaspoon salt
Assorted vegetables and crackers of choice
Directions to assemble the Vegan Appetizers platter:
For the Beet Hummus:
Preheat the oven to 450 degrees. Wrap the beet in aluminum foil and place on a baking tray. Bake for 1 hour, or until very tender. Remove from the oven. Once cool enough to handle, peel the beet and cut into cubes.
Add the beet and remaining hummus ingredients into a food processor, process until smooth, adding a few tablespoons of water if needed.
For the tapenade:
If your olives are not pitted, line them up on your cutting board. Use a meat pounder to gently squish the olives. Remove the pits and discard.
Add the olives and remaining ingredients into a food processor. Process until the olives are broken down into small spreadable pieces. Set aside.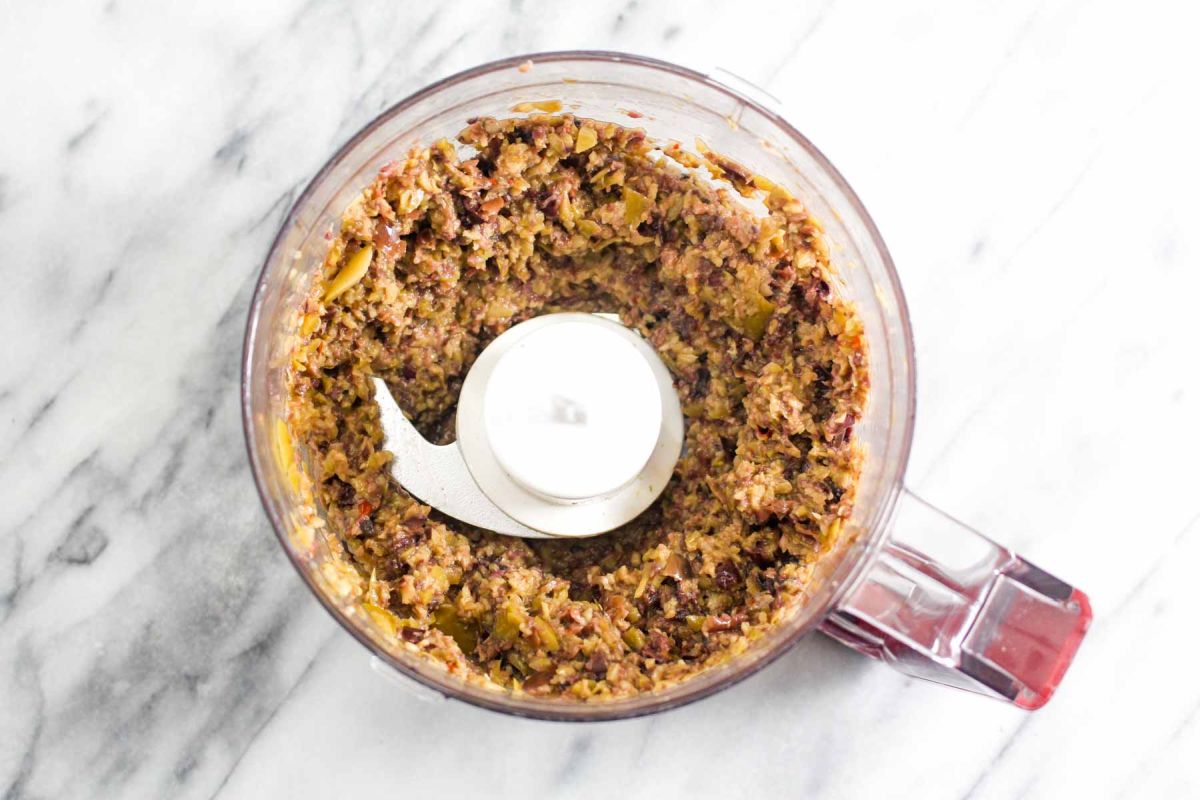 For the Sun dried Tomato Dip:
Add the cashews into a lidded container. Cover with water and soak overnight.
Drain and rinse the cashews. Add them into a food processor along with the remaining ingredients. Process until smooth. Set aside.
Serve dips with veggies and crackers of choice.
This tray with bright and earthy Beet Hummus, salty and rich Olive Tapenade, and creamy Sun Dried Tomato Dip accompanied by the freshest vegetables around is one impressive tray. With all these flavors and textures, it will be gone in a flash!