Chocolate Graham Crackers Recipe For Chocolate Lovers
These Chocolate Graham Crackers are packed to the brim with chocolate flavor. They have the perfect crumbly graham cracker texture and will keep well in your cupboard for weeks! Plus, they are a light and healthy homemade version that are gluten-free and dairy-free.
I have always filed graham crackers as something you buy at the store. I never thought to home make them. They went on the list and were put into the shopping cart. Then one fateful afternoon I made a batch, and unlocked the code to an unlimited at-home supply of the world's best cracker.
Picture this: no waiting for a graham cracker snack until after a grocery store run. No campfires without s'mores, and no more half-complete gingerbread houses because we ran out of graham cracker building blocks.
All is now right in the world.
The secret to the perfect graham cracker texture is in a secret ingredient: almond meal. Almond meal keeps these crackers moist without any preservatives that come in the boxed variety. In addition to moisture, the almond meal provides healthy fats, and protein. Almonds also contain one of the most concentrated natural sources of biotin, which can boost your skin and hair health. I will eat a graham cracker to that!
For absolutely perfect healthy Chocolate Graham Crackers, there are a few tips to follow.
Tip# 1: Whisked away.
Almond meal, an essential ingredient in this recipe, has a tendency to form clumps. To avoid clumpy graham crackers, be sure to vigorously whisk the almond meal and brown rice flour to break up any clumps and combine them well.
Tip #2: Have the patience of a saint.
This recipe has two waiting periods. First, you have to let the graham crackers cool in the oven for 10 minutes. This allows a gentle heat to crisp the crackers up evenly. Second, you have to let the graham crackers cook completely on the baking sheet before eating. This again, is essential to creating the perfect graham cracker texture. If you can make the wait, you will be rewarded with graham crackers that are perfectly crisp.
Ingredients for Chocolate Graham Crackers:
3/4 cup brown rice flour
3/4 cup almond meal
1/4 cup cocoa powder
2 tablespoons psyllium husks
1 teaspoon baking soda
1/3 cup maple syrup
3 tablespoons melted coconut oil
1 teaspoon vanilla
Directions to prepare these simple Chocolate Graham Crackers:
Preheat the oven to 350 degrees.
In a bowl, whisk together the brown rice flour, almond meal, cacao powder, psyllium husks, and baking soda.
In another bowl, whisk together the maple syrup, melted coconut oil, and vanilla.
Add the wet ingredients into the dry and mix until well combined.
Place the dough on a sheet of parchment paper.
Place another sheet of parchment over the top. Use a rolling pin to roll out the dough into a large rectangle, about 1/8th inch thick.
Remove the top parchment (but leave the bottom sheet). Using a pizza cutter or a knife, cut the dough into 2×2 inch squares.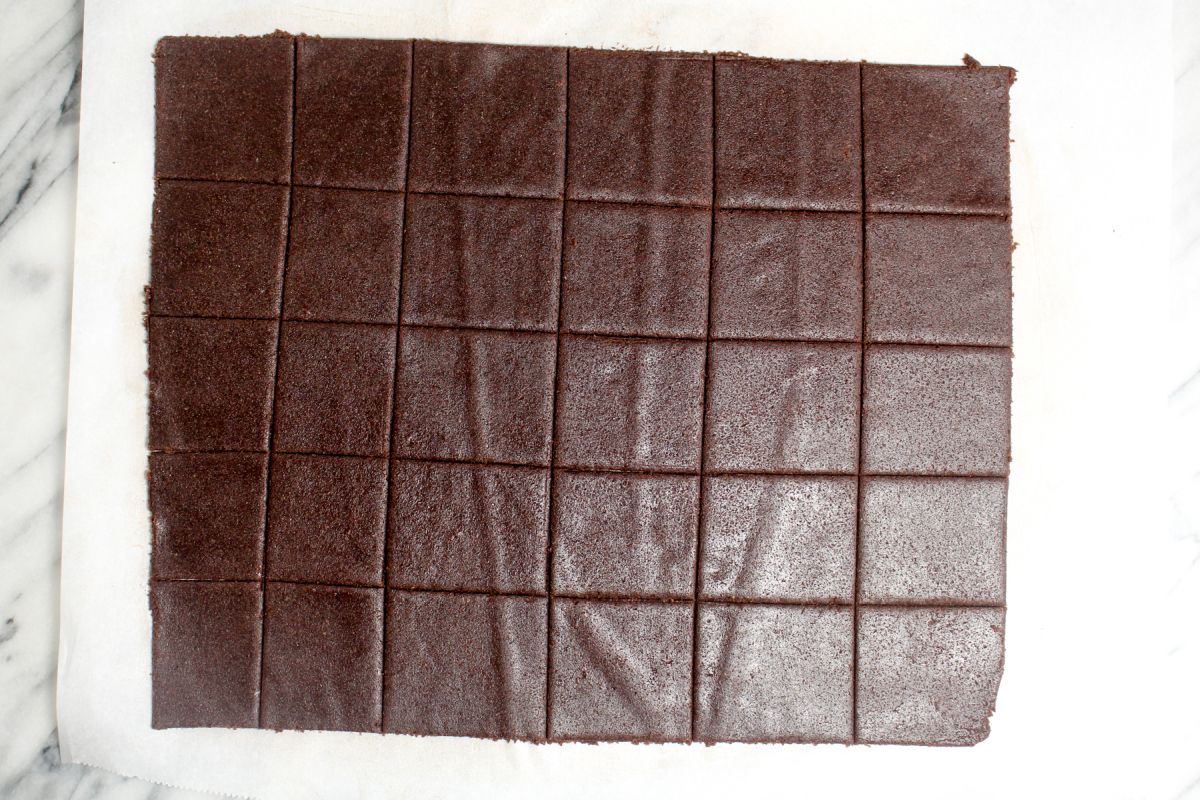 Take a toothpick, dowel, or fork, and prick the top of the graham crackers.
Using the bottom sheet of parchment, transfer the graham crackers onto a baking sheet. Bake for 20 minutes. Shut off the oven, and crack it open. Leave the graham crackers in the vented oven for another 10 minutes. Remove from the oven and allow to cool completely on the baking sheet.