15 Fantastic Cake Decorating Techniques to Learn
We've always had a sweet tooth, so it makes sense to everyone around us that we eventually became avid bakers as we got older. We can bake all kinds of things but lately we've been really obsessed with cakes. The more we make cakes, however, the more we want to make them look just as impressive as we taste! That's why we've been on the lookout for simple, DIY cake decorating techniques of all kinds.
Just in case you'd love to learn about simple but impressive cake decorating techniques as well, here are 15 of the best tactics, ideas, and tutorials that we've come across so far in our process!
1. Trix cereal rainbow polka dots
We adore the idea of decorating the surface of a cake in Trix cereal like little rainbow polka dots for so many reasons! They're brightly coloured, they taste fantastic, and they give each bite a fun crunch that contrasts with the soft sponge of the cake. Get more details on this idea from A Beautiful Mess.
2. Edible glitter stripes
Are you looking for something a little simple and more straight forward that your kids could help you make but that they'll also get a huge kick out of? Well, if you haven't already discovered the joys of edible glitter in baking then you're in for a real treat with this sparkling stripes idea outlined on A Subtle Revelry.
3. Watercolour effect cake
Did you know that you can actually get very creative indeed with classic hand painting techniques but in the baking world? That's right, edible "paints" exist and you can make all kinds of effects and details with them! We adore the way Sugar & Cloth created a look that's simple, fun, colourful, and abstract.
4. Rainbow Twizzler edible garden
Perhaps you're still thinking about the idea of embellishing the outside of your cake with different kinds of sweet snacks but you'd like to stick to candies because you like the idea of making a double treat? Then we think you'll get a huge kick out of the way Handmade Charlotte used strategically cut pieces of Twizzlers to create cutely coloured floral motifs!
5. Edible flowers cake
Since we're on a theme of showing you impressive things that you might not have realized were options because they don't look like you can eat them, here's an awesome edible flowers idea featured on Design Love Fest! They show you how to simply scatter for a lovely looking springtime inspired cake.
6. Rainbow chocolate paint splatter cake
Have the options for using paint and glitter made you feel kind of inspired and intent on getting your kids in on the decorating fun? Then we have a feeling you're going to love this super crafty and extra colourful idea outlined step by step on My Name is Yeh! They show you how to mix bright icing to perfect texture for super fun paint splattering.
7. Colourful berry covered cake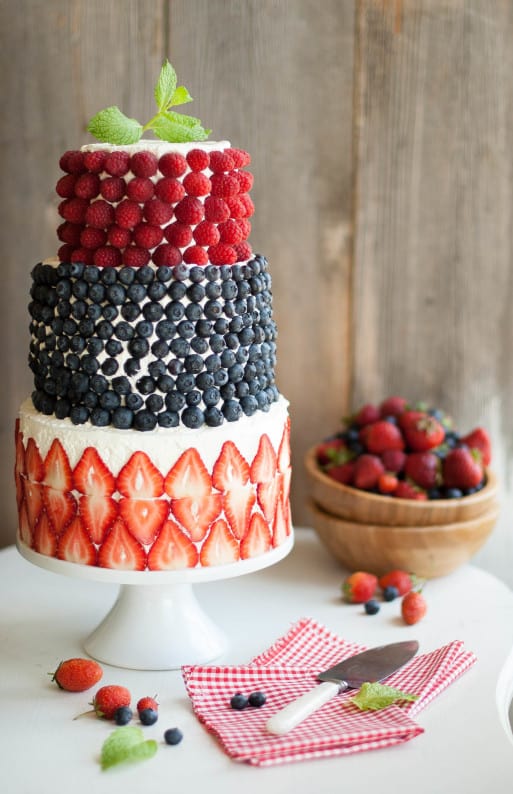 Just in case you'd rather add a bit of extra colour and flavour to your cake without covering it in candy and layers of more icing, here's a simple decorating idea from The Kitchen McCabe that berry lovers will rejoice over! They used thinly sliced strawberries, whole blueberries, and fresh raspberries to give their layers from personality.
8. Multi-coloured star tip icing
Just in case the decorating skills you've been looking to improve upon the most actually are your icing skills, here's a tutorial for some star shaped piping that's stunning to look at but simpler to do than you might think! The Cookie Writer guides you step by step through the process of creating little peaks with a star shaped piping tip. we love that they worked in a range of shades from the same colour family!
9. Embroidery inspired sprinkle cake
If you've got lots of patiences and you're feeling ready to really impress your friends, grab the coloured sprinkles and take a look at how Clockwork Lemon created this lovely faux embroidered cake by strategically arranging sprinkles in floral patterns and details across the top to look like stitches!
10. Simple rainbow petal cake
If you're ever seen layered petal cakes before then you already know just how impressive they look, but did you know they're also easier than they look to do as well? We can't get over how stunning and cheerful this rainbow petal idea from The Cake looks. Their tutorial teaches you how to make it happen for yourself too!
11. DIY ombre mosaic cake
Just in case you're still looking for a watercolour inspired idea because you'd prefer to have some other kind of creative element on top of the colour wash effect, rather than just painting on the base icing, here's a fantastic mosaic idea! The Proper shows you how to make it step by step, in detail, using edible paper and food dye to get the effect beautifully and safely.
12. Garden cake with strawberries and edible rocks
Would you rather create a full concept cake rather than just embellishing one you've make and iced? Then perhaps you'd get along a little better with something like this fantastic garden cake outlined step by step on In Katrina's Kitchen! We love how they used crumbled cookie for dirt, candy rocks for realistic effect, and strawberries buried into the cake with their stems still on to make them look like crops planted in the ground,
13. Frosting roses
Are you actually still scrolling through our list and thinking about how you'd enjoy learning even more piping, icing, and frosting techniques but you've already tried the star tip idea before? Then maybe it's time to learn how to make lovely frosted rosettes instead! See how they're done in more detail on The Girl Inspired.
14. Fork and spoon icing textures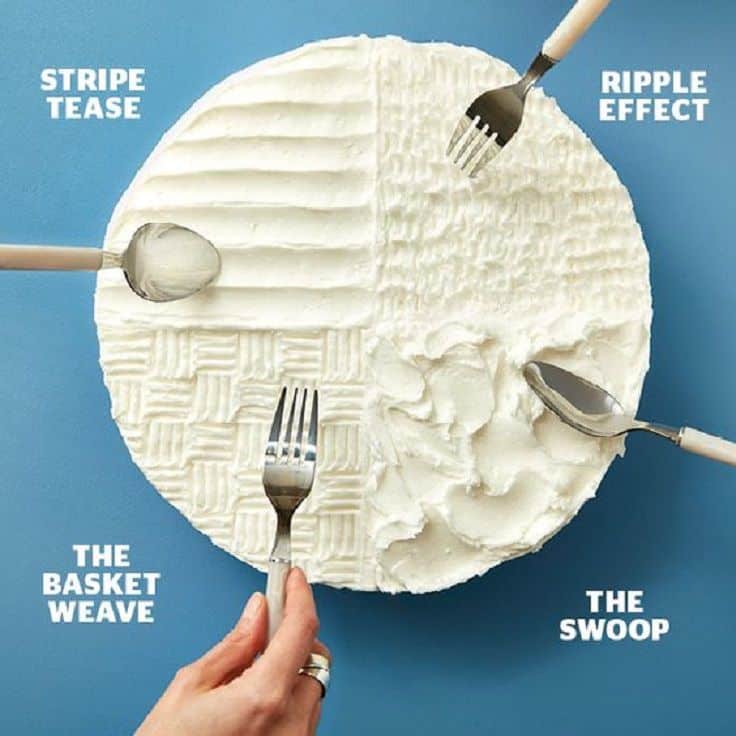 Maybe you've put down your icing base already and you'd like to keep it subtle and simple rather than decorating it very heavily but you're also still convinced that some visual texture and detail might be a great idea? In that case, we think you might get along a little better with some of these easy fork and spoon techniques outlined step by step on Today's Parent! They show you four different types of marks to make in your icing that look rather impressive indeed once you're done.
15. Piped peak cupcakes
A star tip isn't actually the only kind you can use to make yourself awesome texture peaks when you're icing something! We love the way The Girl Inspired created these ultra textured peeks that are striped delicately all the way around.
Do you know another awesome cake decorating technique, tip, or trick that you've used before and liked but that you don't see here on our list? Tell us all about it or link us to photos of your previous work in the comments section!