30 Ideas to Use String Lights In Your Bedroom
In this modern era, people have been looking to decorate their bedroom in a stylish and exciting way. Although it is a private space for each person in the house, they also want it to be inviting and friendly. It's why so many people have turned to string lights.
String lights can be used in various ways to decorate your bedroom. For example, you can hang them from the ceiling or around the edges of the room. You can also use them to create a border around your bed or light up a pathway to your bed.
Best Ways to Use String Lights in Your Bedroom
There are many different string lights that you can use in your bedroom. You can find LED lights, fairy lights, and even stars that light up. It's also possible to choose between white or colored lights.
String lights are a great way to add personality to your bedroom and make it feel more like home. They are also a great way to relax after a long day at work. So, if you are looking for a new way to utilize string lights in your bedroom, check out the following suggestions!
1. To the Edge of the Wall – String Lights for Bedroom
One way to decorate your bedroom with string lights is by attaching them to the edge of a wall. For example, the image above shows a single edge behind the bed, displaying colorful string lights that go to a small mirror in the center. However, you can skip this step to hang the string lights all around the edge of the wall.
It's also possible to hang the string lights this way anywhere else aside from above your bed. It's an excellent way to decorate an empty wall with lights and is cheaper than making an accent wall. Besides, it's interesting, beautiful, and adds some fun mood lighting.
2. Simple Headboard with Lights
One of the best ways to decorate your bedroom is with a simple headboard with lights. For example, in the image above, the wooden headboard is filled with red lights that create a soft and intimate glow in the room. This lighting style gives off a relaxing vibe and helps you unwind after a long day at work.
If you want to make this type of string light headboard for your bedroom, ensure that you have enough space behind your bed for it. Furthermore, you will need LED lights or fairy lights because these give off less heat when turned on for an extended period of time.
3. LED Vine Hanging Lights for Bedroom
Another type of string light that you can use in your bedroom is LED vine hanging lights. These small lights are shaped like a grapevine and come in green. They are easy to stick to the sides of your wall, and you can overlap them if necessary. Once stuck on, they will illuminate similarly to real vines in a garden setting.
The LED vine hanging lights also work well in bedrooms that already have an existing jungle theme or rooms that resemble a forest with trees. In fact, they add another layer of decoration to these types of bedroom themes because it creates a more realistic look.
With these LED vine hanging lights for your bedroom, not only do you get pretty lighting but also a touch of green in your room. It works particularly well with natural wood since the greenery makes the bedroom seem animated.
Watch the YouTube video tutorial posted by Yen N for more inspiration!
4. Room Decor Lights with Hanging Photos
If you want your bedroom to look distinctly cozy and pretty, room decor lights with hanging photos are the best choice. In particular, these types of string lights come with small clear bulbs that are perfect for a shabby chic look. They also have the added function of being able to hold photos in between the light strings.
To set up these lights, you will need to find a bunch of photos that you really love. Afterward, use a hole punch to make small holes in the top edge of each one. Then, feed the string lights through the hole so that the photo is visible on the front side.
You can then hang them up around your bedroom however you like. Behind the bed looks amazing, but if this isn't an option for you, then you can choose any other free wall.
Room decor lights with hanging photos are a fantastic way to add some sentimental value to your bedroom, especially if you're an outgoing person with plenty of friends. Or, you can showcase photos of your family or significant other. Furthermore, they are pretty and unique, and they can change the atmosphere of a room in seconds.
5. Romantic Bed Canopy with Lights
If you want a romantic night's sleep with your partner in a bedroom cozy enough to feel like a dream, then a bed canopy with lights is the perfect choice for you. To make a bed canopy, all you have to do is place a clear sheet over the top of your bed, and then add a hanging set of string lights.
Alternatively, you can throw the string lights on a bunch of pillows on top of the bed to make it look like a cloud. With this canopy, you and your partner can cuddle underneath the sheets while watching your favorite movie or reading your favorite book.
The best part about a bed canopy with lights is that it can be made from scratch in just a few minutes using some common household items. You don't need any special skills or knowledge, and you can even customize it to fit your own personal style.
Just imagine how gorgeous a string light canopy looks in a bedroom with a rose flower theme. You can also spread rose petals on the floor to add a little bit of charm to this setting.
6. White String Lights in a Tent for Kids
If you want to create a fun and festive bedroom for your kids, using white string lights is the way to go. In particular, these types of lights are perfect for creating ambiance in a tent placed in a child's bedroom.
If you don't already have a tent like this, you can buy a cheap one from any store and then add the string lights around the outside for a magical look. Or, you can place them inside the tent to add a magical glow while you read a fairytale to your children.
Kids love being surrounded by magical objects, and nothing is more magical than a tent covered in fairy lights. With this simple trick, you can turn any bedroom into a whimsical wonderland that your children will adore.
7. Hanging Christmas Lights in Bedroom
If you're looking for an easy way to decorate your bedroom with lights for Christmas, then hanging string lights is the perfect option. To make this simple project, all you have to do is find a good spot on the wall or on a shelf where you want the lights to go and then hang thin wire with clip hangers around it.
Afterward, simply run the wire across the top of the wall or the rim of the shelves, making sure there are no gaps in between each strand. Clip one end of your string lights onto these wires, turn them on, and voila! Your bedroom will now look like a magical winter wonderland so that you can wait for Santa Claus in style.
Besides, you can make your lights resemble stars by making them blink on and off to create a starry night effect. Or, you can use this trick for ankhs, hearts, or any other festive shapes to celebrate the Christmas season.
8. Wrapped Around a Painting – Twinkle Lights in Bedroom
If you want to turn your bedroom into a gentle and relaxing place that will help you fall asleep at night, then using twinkle lights is the way to go. In particular, these types of lights are perfect for adding an extra layer of light around photos or paintings in your bedroom.
To accomplish this look, all you have to do is pick the right painting to hang above your headboard. Or, you can find two matching frames with clips on top. Afterward, hold one end of the string lights behind the painting in one frame and clamp it there with the clip.
In the following step, attach the wire to another clip that's linked to another piece of string lights. The lights should be wrapped around the back of the photo in the other frame so that they are tight against each other.
At this point, you can turn on the twinkle lights in your bedroom and enjoy the romantic atmosphere, whether you're on your own or wish to share the moment with your significant other!
For more inspiration, check out the Instagram post published by @interiordesignshome.
9. Starry Night – Bedroom Lights Decor
If you're in the market for some bedroom lights decor that will transport you to another world, then decorating your ceiling with starry night lights is the way to go. It's perfect for creating an ethereal and dreamy atmosphere in the most relaxing room of your home.
To achieve this look, all you have to do is find a large canvas or posterboard and paint the sky with blue and white stars. Afterward, use a black light to make the stars glow in the dark.
Once you've finished painting your starry night masterpiece, simply hang it up on the wall above your bed and plug in your string lights. Turn off all of the other lights in your bedroom so that the only light comes from your canvas or poster board.
On especially clear nights, you can even try to turn on the lights so that they twinkle like real stars. This will make your bedroom decor look even more realistic, allowing you to drift into sleep with ease!
For more inspiration, watch the YouTube video guide posted by Handy Dad TV!
10. Separate Corner – String Light Ideas for Bedroom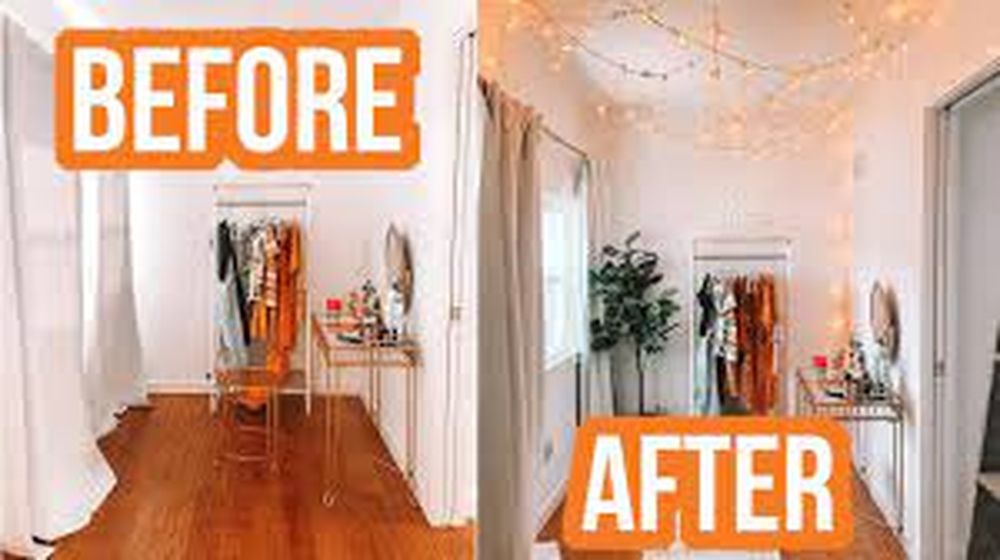 If you want to add a touch of elegance to your bedroom without going over the top, then try using string lights in a separate corner. It's ideal for creating a warm and inviting atmosphere that will make you feel right at home. At the same time, you won't have to worry about having trouble falling asleep due to the lights since they will be far enough from your bed.
To get started, find an empty corner in your bedroom where you can hang some fairy lights. Next, use wire to create a square or rectangle shape on the wall that's about two feet wide.
Afterward, use clips to hang the string lights inside of this wireframe so that they are evenly spaced out. Finally, plug in your fairy lights and enjoy the calming ambiance that they create!
For more ideas, be sure to watch the YouTube video guide from Steffy's Pros and Cons!
11. Short Strings of Lights All Over the Bedroom
Short strings of lights can be used all over the bedroom to create a whimsical and fun atmosphere. It's perfect for people who want to add some personality to the most intimate room of the house without going too crazy. Plus, using short strings of lights is an easy way to make your bedroom look like it's been professionally decorated.
To get started, purchase a few packs of small LED string lights. Then you can use a hot glue gun to adhere the lights to various items in your bedroom. You can attach them to the wall, ceiling, headboard, or any other object that you please.
The best part about this type of bedroom decor is that you can change it up as often as you like! If you get tired of one look, simply take down your string lights and try something new.
We discovered this awesome idea of string lights for the bedroom on Instagram, courtesy of @dori.home, so be sure to check it out!
12. Tapestry Wall – Hanging Lights for Bedroom
Hanging lights in the bedroom is a great way to make almost any wall look like it belongs in a late-night hot spot. The best part about this type of light decor is that you can create various effects, depending on which tapestry you decide to hang above your headboard. Or, you can pick any other wall in your bedroom.
To get started, choose a tapestry and hang it on the wall. Then, clip your string lights to the tapestry evenly. You can arrange the lights on a single side of the tapestry or go all around it.
Next, plug in your fairy lights and be sure to turn off your bedroom's regular lights. Once you get a feel of how everything looks together, you might be interested in adjusting the lights. For instance, you can move them up or down until they reach the perfect height for creating romantic lighting.
What's great about this idea is that, if you get tired of the same old tapestry, you can always change it with something else. There are a variety of tapestries available for purchase, allowing you to design your bedroom decor based on whatever mood you're in.
We found an excellent idea about hanging lights in the bedroom with the help of a tapestry wall on YouTube, thanks to Amanda Love Santos, so be sure to check it out!
13. Headboard Garland – Indoor String Lights
Pair your string lights with some fabric garland. This will punch up the femininity and whimsy without too much fuss. THere's more inspiration like this that can be found with our friends at Homedit.
14. Bed Canopy with Lights
Apartment Therapy shows off how to pair those string lights with your bed canopy. A piece of light fabric and some sparkling white twinkles come together to create a romantic and warm space for you to enjoy. This is especially nice to utilize in a dorm room.
15. Heart-Shaped Indoor String Lights
Of course, you can create some wall art out of them as well. We found this heart-shaped piece while perusing with our friends at Decoist. Even the most novice of crafters can make this happen.
16. Wrap-Around String Light for Your Bedroom
We're really digging these larger string lights found at House Beautiful. Use them to wrap around your headboard for a breath of fresh air and some extra lighting while you read at night. Again, even the most novice crafters, DIYers, and designers can make this happen.
17. Photo Hangs on White String Lights
We really love this idea for dorm rooms or teenage bedrooms. Grab some clothespins to hang some of your favorite memories or Insta snapshots. Check it out at We Heart It.
18. Tapestry – Hanging Lights for Bedroom
Over at Dormifyyou'll find some more magical inspiration. Instead of cloth tapestries, think about using your string lights in tapestry form. Hop on over now and see how they made it happen.
19. Bedside Table White String Lights
Even your bedside table could get some twinkly lights as their functional makeover. Not only are you adding light to your nightly routine but a bout of personality too. Check out more inspo like this by visiting Homedit.
20. Circling the Mirror Christmas Lights in Bedroom
Lady Scorpio 101 has a lot of wonderfully innovative ideas and this is one of them! Have you ever thought about adding some extra whimsy to your vanity area or chest of drawers. Well, you can easily do that too.
21. Ceiling String Lights for Your Bedroom
Talk Decorwent with a ceiling installation for their string lights. We love how it gives this kids' bedroom a pop of extra pizzazz and an illusion of being outside. Grab more details on the how-to after the jump.
22. String Lights for Your Bedroom – Mix with Flowers
Urban Outfittersshowcased a quick peek of how a customer paired their floral garland with string lights – and we love it! You can hang this one the wall for textural reasons, wrap it around a headboard, or cover the top of your dresser with it!
23. All-Around White String Lights for Your Bedroom
You can easily outline your bedroom with some string lights as well. It amps up the lighting and the romance without breaking the bank. Take the leap to Home Trendingsfor a closer look.
24. Gallery Wall White String Lights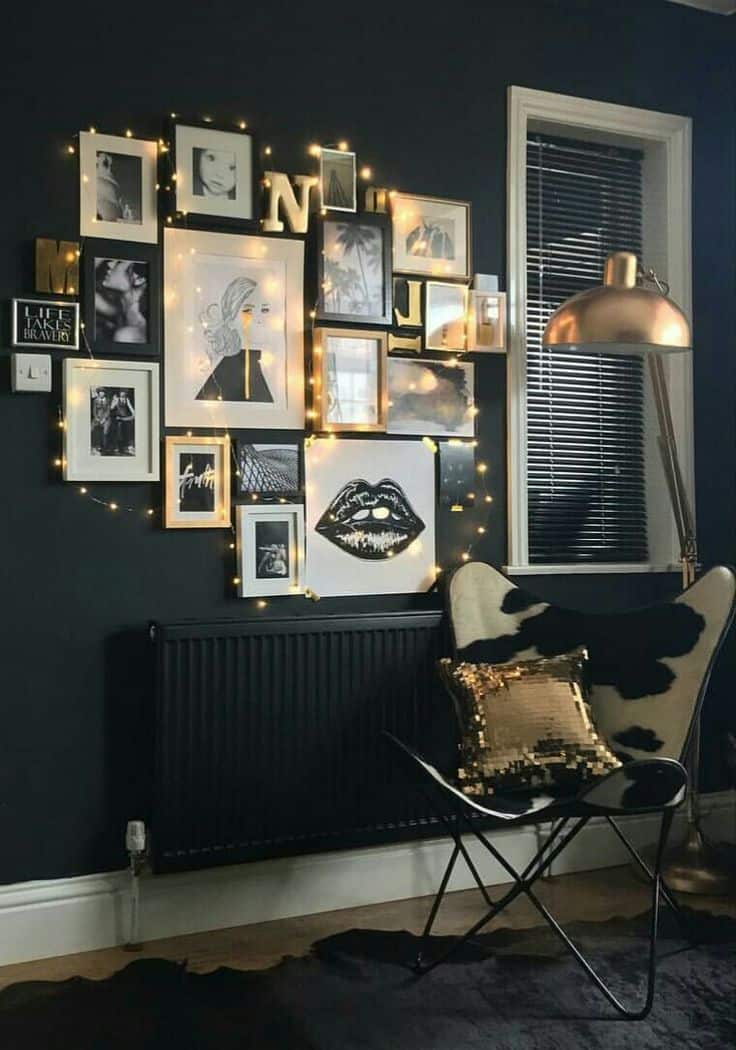 Pinterestalways has the more unique and innovative ideas – and we're living for this one! If you already have a gallery wall installed, highlight it even more by wrapping some twinkle lights around the design. It really helps to create a focus.
25. Scalloped Hanging Lights for Your Bedroom
Head on over to Talk Decorfor a peek at this scene. We love how the designers decided to scallop the sting lights near the ceiling. It gives the illusion of more height and adds that bout of whimsy we love.
26. Trace Outlines with White String Lights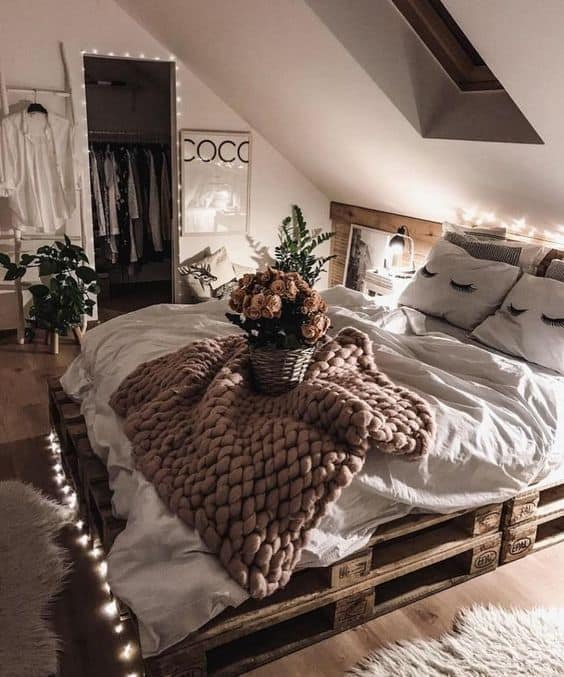 We found some more outlined pieces at FOURLINE DESIGN. If you take a closer look, you'll see how string lights were used to highlight the closer door and the bed. Again, this is just another easy-to-install option to take a peek at.
27. Hello White String Lights on the Wall
Similar to the heart we saw above, this idea Dormifycould help make a personalized difference in your bedroom as well. Map out "hello" or even your name if you're feeling extra creative! It helps with lighting, ambiance, and interest on the walls.
28. Ladder with White String Lights
A Beautiful Messadded some string lights to a ladder in the corner. This idea can easily be adapted to a bookshelf or coat rack that may be nearby. It helps especially if its already a bare piece that needed some fluffing.
29. Slanted Indoor String Lights
For rooms with a unique shape, highlight it! Make that slanted or dropped ceiling a point of interest by outlining it with the string light you have on hand. We found this fun peek at Pinterest.
30. White String Lights Intertwined with Standing Mirror
And finally, we found this corner at Knot and Nest Designs. Your stand-up mirrors could use an extra punch of light as well. Wrap your mirror in twinkle lights – especially if your room doesn't get great lighting!
Final Thoughts on String Lights in your Bedroom
Adding string lights to your bedroom can really transform the look and feel of the space. Whether you decide to use them in a specific corner or all over the room, they are a great way to add some personality and elegance. Plus, using string lights is an easy way to make your bedroom look like it's been professionally decorated.
There are many ways in which you can use string lights in your bedroom. The best part is that they don't have to cost you an arm and a leg. And it's an excellent choice if you feel like getting creative when decorating your bedroom.
What are your favorite ways to hang string lights in the most intimate room of the house? Feel free to share your thoughts with us in the comment section below!