Picture Day Hairstyles: 15 Cute Easy Hairstyles for School (Back to School)
Shopping for supplies and new fall outfits has commenced. But what finishes off a first-day-of-school look more than a new backpack or new shoes? Your hairdo does of course! Thankfully, we've compiled a quick list of 15 easy, back-to-school hairstyles to give you some fresh ideas and inspiration.
1. Top-Knot Half Up
A casually-cute, messy top knot could definitely set off your back-to-school style right. Perfect for the first day or school, check out thisYouTubevideo for all the details. We love how it can be paired with nearly any kind of outfit too, from jeans and a tee to a flirty sundress!
2. Crown Braid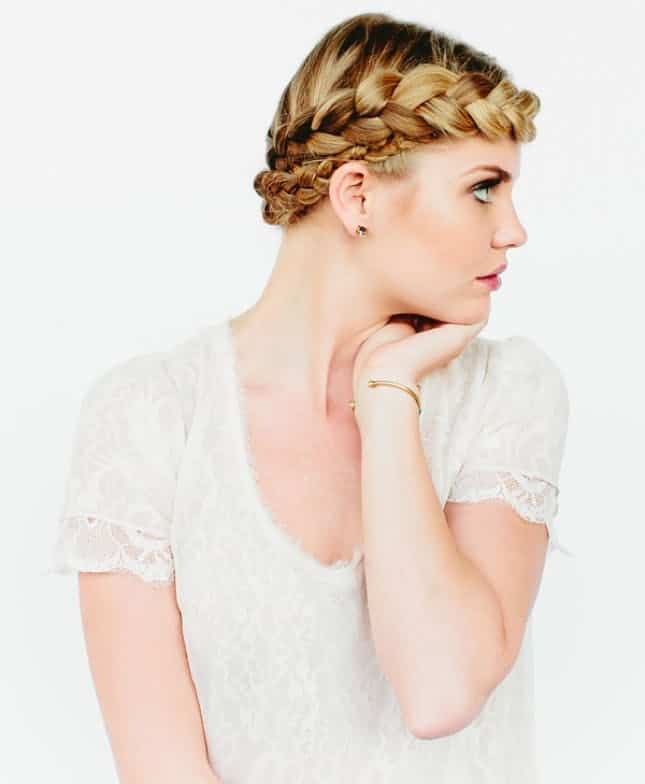 If you have more of a bohemian style, then you'll definitely want to check out this fun crown braid. Follow along with the tutorial over at Once Wed. You can even accessories the look with floral pins to really top off your fun and flirty first day of school ensemble.
3. Upside Down Braid Bun
Get your hair up and out of your face in style with this upside down braided bun! All you need to know on how to create it is over on YouTube. But think of all the possibilities you'll have when this hairstyle is masters. Friday night football games or Wednesdays at school just got more stylish in the tresses department.
4. Loose Waves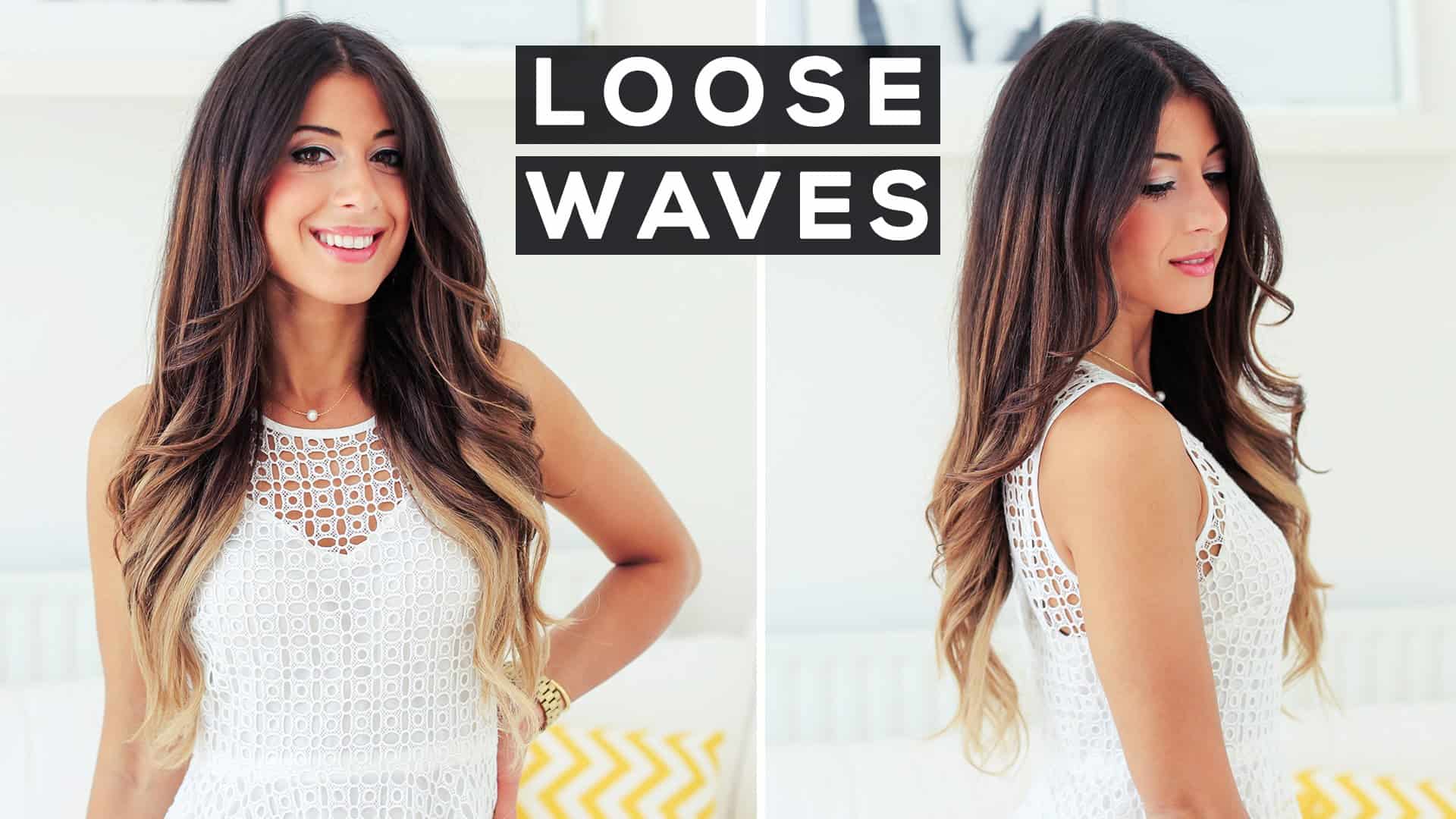 Hop on over to YouTube and learn how to keep you locks down and romantic with some loose waves. This is a more simple style but one that's just as versatile – if not the most – when it comes to pairing with school outfits. Picture day or a regular Monday, this hairstyle will always work.
5. Pigtail Buns
Paper & Stitch went with something extra-fun and charming! Learn how to get your hair up in youthful pigtail buns for the pep rally! Add some color or fashion your bangs around the design.
6. Sleek Ponytail Braids
You could also dress up your simple ponytail with some braids as well. Catch the details and the how-to over at our favorite hair inspiration, Kassinka. This is really great for those that have extra-long locks.
7. Messy Top Knot
Instead of just a half-up to knot, go for the entire thing! Check out the tutorial over at Merrick's Art and learn how to perfect the "messiness" of it all. Again, you can easily dress this look up or down depending on what you need.
8. Simple Straight
There's some great tutorials out there that will help you with straightening your hair as well. Like this one, YouTube, for example. Follow along and experience how chic and posh you'll feel on that first day of school.
9. Half-Up Twist
Here's a hairdo that has a bit more of a romantic style. Soft waves and a delicate twist, you can grab the tutorial for it at Hair Romance. Top off your maxi dress and jean jacket with this girlish look.
10. Half-Up Double Top Knot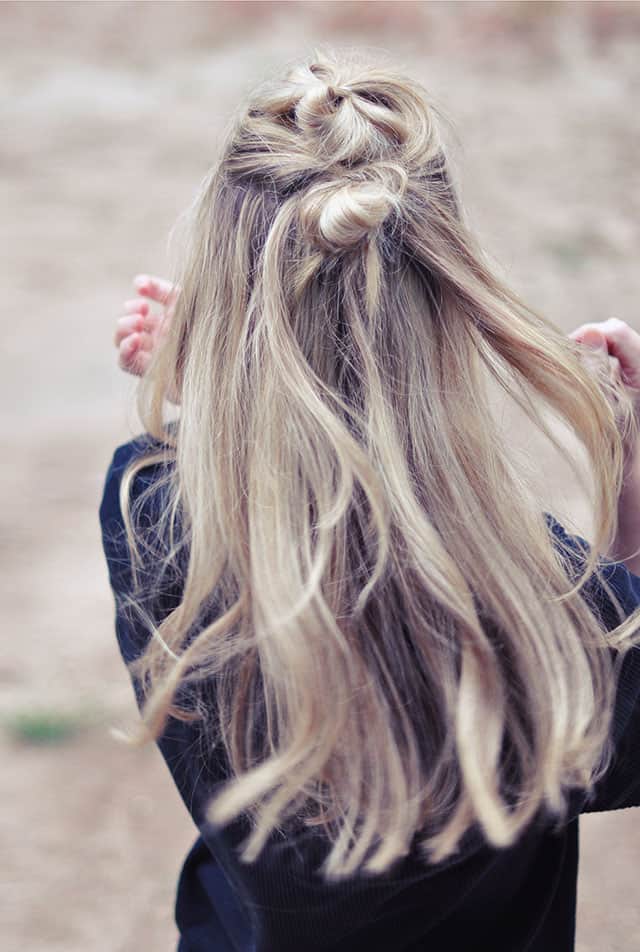 love maegan gives us another fun half-up, half-down do that we're loving. This funky design includes two messy knots and it makes for another versatile look that we can use all year long. From basketball games to the big debate, it'll look great!
11. Boho Braids
Kassinkaalso inspired us with some simple boho braids. Leave your hair down and wild, but add some easy braids to the mix. It pumps up the style just a bit and does so in a way that anyone can recreate.
12. Straight Low Ponytail
Perfect for the first day or to make a good impression while presenting your science project, this sleek ponytail will look good on everyone. Follow along with more inspiration over at Babble. And in the meantime, think about how easily this hairdo can be accessorized.
13. Beach Waves
Maybe you're more of a relaxed, beach wave girl. If so, learn how to perfect that style over at YouTube with the fabulous tutorial. For those that are more casual and carefree, this is definitely the hairdo you'll want to try out.
14. Textural Low Bun
Sometimes you just want an easy, go-to hairstyle that will work with whatever outfit you choose but won't take forever to recreate in the mirror. And this low bun from Style Craze is just that. With the added texture, it's both stylish and simple to pull off.
15. Messy Fishtail Braid
And finally, we urge you to check out just one more YouTubetutorial. This messy, fishtail braid is such a fun way to start up the school year. It's fun, it's flirty and it pairs well with all of your trendy outfits.