25 Cute Medium Haircuts and Hairstyles for Girls (2023 Edition)
Medium length hair may seem limiting, but in reality, it allows you more options than any other length! Depending on the haircut you choose, you can achieve a number of different looks – anything from flirty to bold to romantic.
Are Medium Length Hairstyles For Me?
When styling medium length haircuts you should be paying particular attention to what you've been blessed with by mother nature — in this case, the volume of your hair. The ends need to remain smooth so that they don't look dry and stick out unappealingly.
Another thing to remember is the use of strong hold hair styling products for medium length hairstyles. That's because with a weaker degree of fixation mid-length haircuts won't look or be what some would call … durable.
If you're answering yes to the above, it's clear that medium length hairstyles are for you — just ask yourself if you really are prepared for that change.
Best Medium Haircuts, Our Favorites
So which one is your style? Or which one do you think will look best on you?
Read on to check out 25 of our favorite medium haircuts, and see how we answer questions about the strengths, and cons of each one.
1. Wavy Blond Haircut
Make a statement with this platinum blond haircut that falls just above the shoulders when curled. The side swept look gives it a glamorous, chic sort of vibe. Head over to Feel & Flourish to find out how to accomplish this look with your own hair.
2. Medium Haircut With Bangs
If straight hairstyles are more your thing, give this beautiful long bob a try. The blunt cut bangs give it a super unique feel, while the gently curled ends keep it refined. Make your way over to Short-Haircut.com to see this and other styles with bangs.
3. Wavy Ombre Mid-length Haircut
Like the first style, this one is wavy – but these waves are much more relaxed and casual looking. And the ombre hair color really shows off the curls. The long, side swept bangs add an extra bit of texture to this medium length cut. Head over here to check it out.
4. Medium Straight Haircuts
For a super professional look, go for this ultra-refined straight haircut that hits just below the shoulder. The ends are curled under just slightly, and there is very little layering and no angling. Make your way over to Kensington Way to find out more about this whole look.
5. Beachy Waves Medium Length Haircuts
This choppy cut is perfect for anyone looking for a medium length style that's low maintenance. The cut is blunt, and the quick and easy waves are styled with your fingers. Head on over to The Beauty Department to find out how to recreate this look on your own hair.
6. Curly With Bangs
Girls with curly hair can rock bangs too! This haircut creates a rounded, soft look that will frame the face and create a warm look. The bangs are not cut bluntly, further adding to the soft style. Make your way over to Daily Makeover to check out this and lots of other inspiration.
7. Layered Medium Cut
This layered look has the ability to give fine hair some serious volume, and it will frame your face perfectly. The front of the hair is angled a bit to further boost the volume. Make your way over to Makeup Tutorials to see this and many other flattering medium length styles.
8. Flirty Waves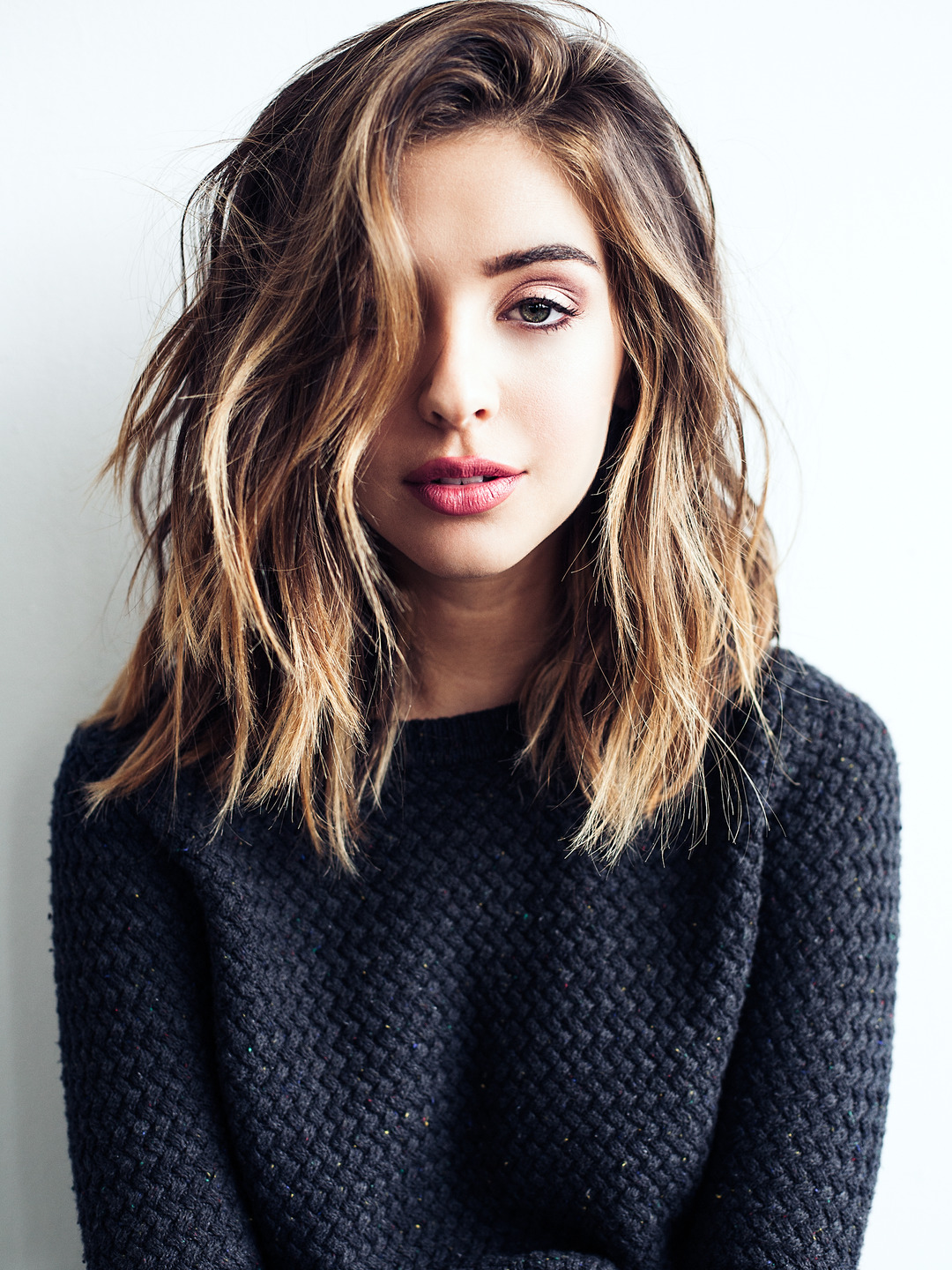 Cut piecey layers into your hair to achieve this flirty look with loose curls. The relaxed vibe lends a surfer girl feel, further accentuated by her pretty highlighted brown hair color. Head over to Next Management to find out more about this lovely model.
9. Super Layers
This look involves a number of different elements – the cut has a ton of layers, giving the top of the hair lots of volume and the bottom a more sleek look. Highlights and lowlights also add to the extreme contrast of this unique medium length style. Head over here to see more ideas.
10. High Low Style
This haircut has a fun high low effect, with the back of the hair ending up shorter than the front. Long layers all the way around give it some serious oomph. And one of the great benefits of this style is that if you put your hair up in a ponytail, you won't have shorter pieces falling out. Check out more styles here.
11. Thick Curls
This super curly style is perfect for anyone with waves, and can be achieved by cutting long layers into hair when straightened and then washing it and blow drying it with a diffuser and styling creme. Make your way over to Femme Actuelle to check out this and many others.
12. Thick Retro Bangs
Cut some retro fringe into your tresses if you have thick hair and a love for old school style. The key here is to have your stylist cut the bangs so they run from the top of your head all the way down over your eyebrows. Head over to Daily Makeover to check out this and others.
13. Layers, Layers, Layers
This hairstyle is not for the faint of heart – the layers are cut into the hair starting above the ears, and are so extreme that the bottom layer of hair that remains is quite thin. Make your way over to Makeup Tutorials to find out a bit more about this unique style.
14. Romantic Curls
If romantic waves are more your thing, you might consider giving this style a try. The cut is quite basic, with only a few long layers. The key is to pull the top half of the hair back and leave some wisps free around your face. Head over to Tophair to check out some other ideas.
15. Short Bangs
Go for a slightly alternative look with these super short bangs. They should be chopped off a good inch above the eyebrows for maximum effect. Make your way over to The Chic Site to read more and to check out all kinds of other lovely medium length haircuts.
16. Vintage Waves
This unique style has a decidedly vintage feel, similar to hairstyles that were popular back in the 1950's. The majority of the hair is cut to a uniform length, while long side swept bangs serve to frame your face. Head over to Makeup Tutorials to see this and many other ideas.
17. Sleek and Straight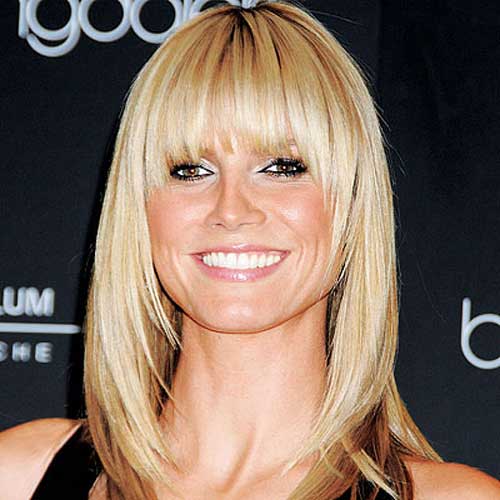 Heidi Klum shows that sleek and straight with bangs is a super trendy look. The key here is to have your stylist cut lots of layers into your hair, and to trim bangs with a fringe sort of style. Make your way over to Bob Hairstyle to check out this and other famous Klum styles.
18. Asymmetrical Cut
If you're looking for an out of the ordinary style, this asymmetrical one might be worth considering. One side is shorter than the other, while the side swept bangs flow down into a longer section on the other side. Check out this and other styles over at Daily Makeover.
19. Flipped Out Haircut
This pretty look is achieved by cutting long layers in the hair all the way around, and then curling the hair outward at the bottom. The top layers are curled inward, creating a flattering, voluminous look. Head over to Tophair to see this and many other ideas.
20. Soft Waves
Here we have a medium length style with pronounced soft waves. The hair is cut a couple of inches below the shoulder, with no layering but some angling around the face. Make your way over to Brookie Babble to find outall about this beautiful hairstyle.
21. Side Swept Bangs
This lovely haircut has a super sleek look with soft side swept bangs. The longer length is flattering with its gently turned-under ends, while the bangs lend a stylish vibe to the look. Head over to GlamRadar to check out this and other fun warm-weather hairstyles.
22. Textured Cut
This style is all about the texture. Layers upon layers are cut into the hair, in addition to long bangs – while blond highlights and brown lowlights accentuate those bold textures. Make your way over to Caroline Receveur and Co. to read more about this fun style.
23. Blunt Shoulder Length Cut
This is another unique hairstyle that would be perfect for anybody looking for a bold statement style. The key to this one is to cut the hair bluntly around the bottom, and to style it by combing the sides back into a voluminous hump on the top. See this and other ideas here.
24. Chunky Waves
This style is unusual in that the back is shorter than the front. This in combination with the long, blunt-cut bangs makes for an interesting look. And the waves add some serious texture. Make your way over to Medium Hairstyles Cuts to see this fun style, and many others.
25. Blunt Long Bob
Actress Krysten Ritter shows off this stylish haircut, a medium length cut with short bangs and curled-under ends. Long layers are the key to getting straight hair to achieve this bouncy look. And don't forget to tousle it a bit!Found over atCoffee and Geeks.
Medium Haircuts Conclusion
Which of the above would look best on you? Do you feel inspired and are you going to try something new? Let us know in the comments below, we'd love to hear from you.