15 Awesome Recipes Made with a Sandwich Press
When it comes to having a satisfying lunch, few things make our day more satisfying than a really good sandwich. We're not necessarily picky about the ingredients of our sandwiches, we just love eating them! Even more than our sandwiches, however, it's possible that on some days we actually just love using our sandwich press. Every time we do, we can't help but think that it has the potential to make so much more than just paninis!
Just in case you're as crazy about your panini press as we are, check out these 15 awesomely delicious recipes that can be made in just about brand or style of sandwich press!
1. Eggplant panini with skinny pesto
Okay, we know the whole point of this post is to give you alternative recipes to just sandwiches that you can make in your panini press, but let's start things off easy, shall we? This eggplant and skinny pesto panini from Food Network is actually our favourite thing to make in our panini press and we just couldn't bear to leave it off the list!
2. Pudgy pie pizza sandwich
If you had to choose an absolute favourite meal out of anything in the world, would your answer be pizza 100% if the time? Well, pizza is absolutely delicious so we sure can't say we blame you! If your cooking appliances are limited because you're moving or you live in a college dorm, however, making an actual pizza in the oven when the craving hits might not be an option. Instead, check out how SLUniverse made this fancy grilled cheese style sandwich filled with cheese and pepperoni so it tastes just like a delicious pepperoni pizza!
3. Panini press brownies
Perhaps what you're craving is actually something sweet but you still only have a panini press to work with? Well, you're in luck because Panini Happy has a delicious brownie recipe that's just as good as any brownies we've ever made in our oven! Their tutorial guides you through the process of using the heated surface of your sandwich press to bake the brownies instead.
4. UFO sandwiches

We're you intrigued by the pizza sandwich idea but you'd rather have a little more meat than just pepperoni? Then maybe you'd prefer this recipe from Tasty Island Hawaii! They suggest pressing what are essentially spaghetti toppings in bread to make a scrumptious pocket sandwich.
5. Panini press ham, apple, and brie quesadillas
Are you looking for a recipe that's a little more health conscious than your average grilled sandwich but still packs a lot of flavour? Check out this delicious ham quesadilla idea from All Day I Dream About Food! The wonderfully contrasting tastes of Brie cheese and apples really amp up the flavour and your sandwich press will crisp the wrap just right.
6. Sweet sandwich maker cakes
Are you still having a sweet craving but the chocolate brownies we showed you earlier are a little bit too rich for your personal tastes? In that case, here's an awesome sweet alternative! This tutorial from Fauzia's Kitchen guides you through the process of making delicious fluffy cakes coated in a fine, mouthwatering layer of granulated white sugar.
7. Panini press hamburger patties

Are you a student wishing you had the space and supplies to host your own delicious barbecue because he summer weather has your hole neighbourhood smelling like cookouts, but the closest thing you've got to a grill is your sandwich press? Well, Family Food Finds is here to show you how to make do with what you've got! They guide you through the process of making surprisingly juicy burger patties on your panini press just like you would on a regular outdoor grill.
8. Panini press ice cream cones
Have you ever walked into one of those adorable boutique ice cream shops and seen them making their own waffle cones in a press, the delicious smell of warm sugar filling the air? Well, you might not have a waffle maker at home, but that doesn't mean you can't make your own mouthwatering ice cream cones at home too! Panini Happy is here to guide you through the steps for making your own cones in just a few simple steps using, as you can probably guess by now, the simple panini press you usually make your grilled cheese sandwiches in.
9. Panini press hash browns
Are you such a breakfast lover that you'll do just about anything to make yourself a hearty plate of eggs, bacon, and hasbrowns even if you don't have a full kitchen at your disposal right now? Then we have a feeling you're going to love this awesomely convenient breakfast prep tactic from Good Cheap Eats! They made shredded potato hash browns on the hot surface of their panini press in just a few easy minutes!
10. Warm vanilla sandwiches
Did you love the idea of making panini press cakes but you really like sweets and would prefer a recipe that has a little bit extra flavour beyond the regular sweetness of normal cake? Then take a look at this fragrant vanilla cake recipe from Simply Sweet n' Savory! You could coat it with finely granulated white sugar or white icing sugar and it will be equally delicious.
11. Panini grilled salmon and asparagus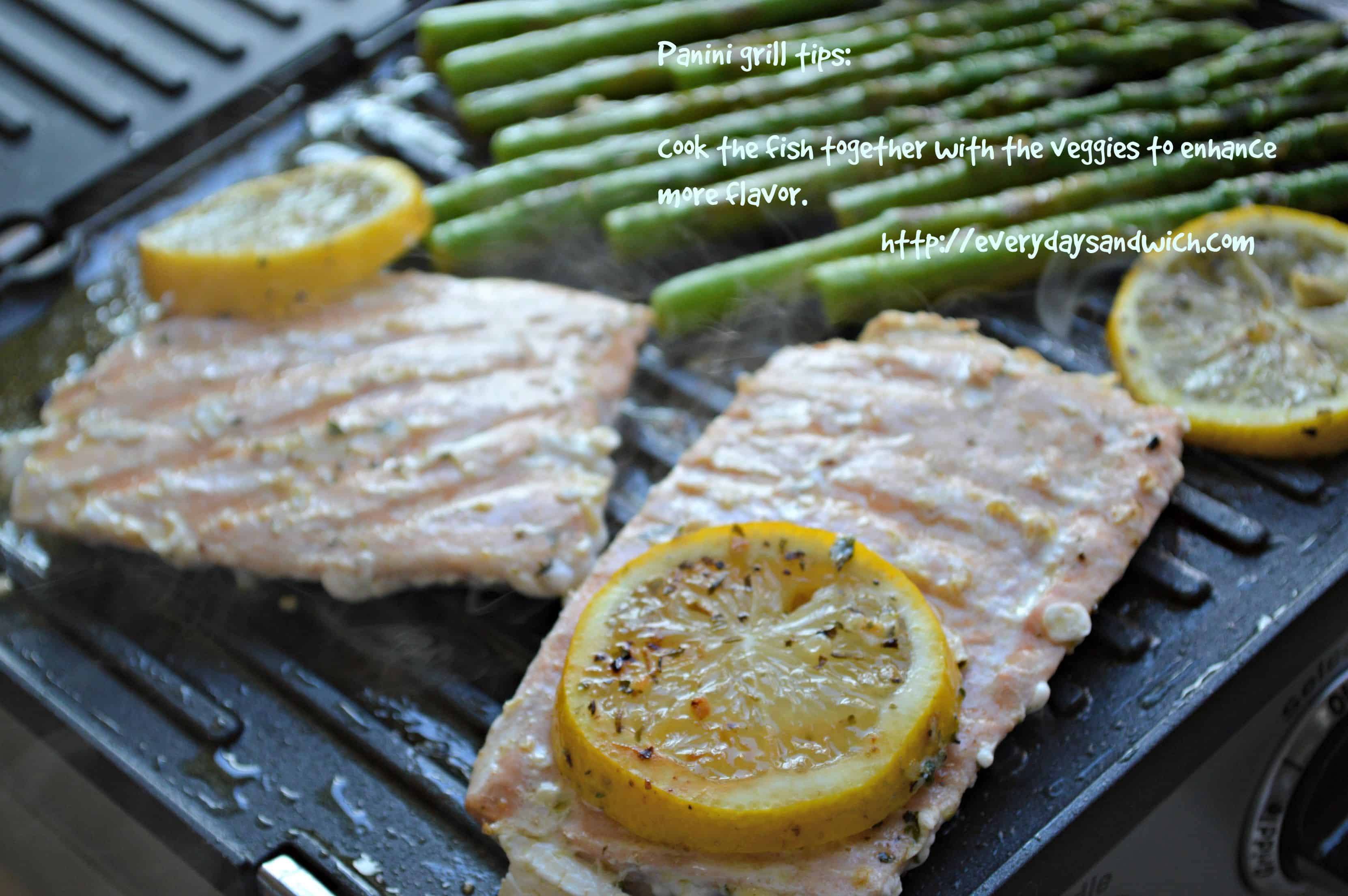 Are you intrigued by all of these tasty treats but in the end you're still looking for something a little healthier than what we've shown you so far? In that case, check out how Everyday Sandwich managed to make an entire delicious seafood meal using only their panini press! You'll be surprised how similar grilled salmon and asparagus taste whether they're made on a proper grill or a sandwich one. The smaller surface area you're working with will help you control your portion sizes and make just enough for yourself so you don't over eat or end up throwing out leftovers.
12. Sandwich maker omelettes
Do you have he kind of sandwich grill that has edges where the pieces of bread are supposed to fit right in for toasting? In that case, you also have the perfect kind of sandwich grill for making omelettes! Check out how Gourmet DIY Shanghai made single serving triangular egg dishes filled with vegetables that grill up perfectly when you close the press.
13. Panini-grilled bacon
While we're on the topic of breakfast, what's a real breakfast without some delicious crispy bacon to go along with the eggs and hash browns we already shows you? Well, lucky for all of us, Panini Happy is here to show you how to fry your bacon perfectly on the very sandwich press you use to make the average sandwich! The best part is that you can get the same amount of crisp on each side of the bacon because you're working with a press rather than just a frying pan.
14. Pillow cakes
Are you still thinking about the grilled cake idea but, if you're going to make yourself a treat that's already unique, you'd rather make it have some extra special flavour as well? In that case, these awesome pillow sandwiches from Priya's Versatile Recipes are exactly what you need! They're topped with a glaze and sprinkle that's got a little more kick and spice than the sweeter recipe we showed you before. You'll feel like you've made yourself a bit more of a delicacy!
15. Sandwich maker donuts
Do you like the idea of making yourself a sweet cake-like dish but you prefer a denser consistency to the fluffy cakes we'veshown  you so far? In that case, this sandwich press donut recipe might be the one for you! Dorm Dishes shows you how to make the batter and grill the donuts in your press, but they also give you a few topping options, like a cinnamon sugar sprinkle or a melted chocolate dip.
Do you know someone who loves their panini press just as much as we do if not more? Share this post with them so they have some awesome new recipes to try! Do you have other sandwich maker recipes that you love to make yourself but you don't see your favourite dish on our list? Tell us all about it or link us to the recipe in the comments section!