Slice Into One of These 50 Baby Shower Cakes and Celebrate!
Cakes are always centerstage to a celebration from birthdays to showers of all kinds! And when it comes prepping for baby, the party is even more special. If you plan to bake and decorate yourself, peek at the recipes and slice into one of these 50 baby shower cakes and celebrate!
1. Pink Velvet Swiss Roll
Garnish and Glaze showcased this gorgeous pink velvet Swiss roll and we can't help but imagine how perfect it would be to celebrate the coming of a beautiful baby girl. It's an enlightened centerpiece and something more unique on the food table!
2. No Bake Strawberry Milkshake Cheesecake
Life Love and Sugar has another special recipe for you to dive into. Celebrate with the sprinkles and the right shade of pink, this cheesecake has it all!
3. Confetti Cake
If you want to get a bit literal with the celebration, you'll want to whip up a confetti cake. Complete with lots of sprinkles, find the recipe at Girl Inspired.
4. Earl Grey Cake
Made with vanilla bean buttercream, visit Country Clever for this unique recipe. Relax, enjoy and add something extra special to the party.
5. Red Velvet Snowball Cake
If you're celebration in the wintertime, add some "snow" to the table. This red velvet snowball cake from Delish could be a great addition!
6. Umbrella Cake
Parenting has a handful of fun ideas when it comes to baby shower cakes. And this one is no exception! Why not whip up an umbrella cake?!
7. Onesie Cake
Then over at Craftsy, you'll find all the directions you need for making an adorable onesie cake. It doesn't matter if a boy or girl is on his/her way, this works!
8. Raspberry Charlotte Cake
Natasha's Kitchen gives us something extra special with this Charlotte cake recipe. Make this the focus of the party and dive into the recipe now!
9. Fairy Cake Bites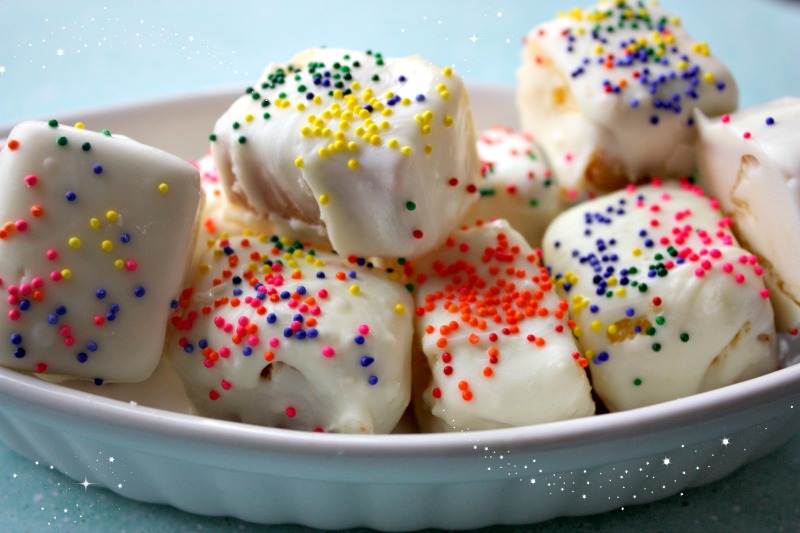 Check out this no bake recipe and have a ball whipping up these little fairy cake bites. All the guests can grab and go for the entire celebration!
10. Lavender Chamomile Cake
Miri in the Village has a really unique recipe for us to swoon over. Provide your guests with an extra special treat with this lavender chamomile cake!
11. Sugar Cookie Dump Cake
Over at Tablespoon you'll find the recipe for this extra bit of sweetness. Top with sprinkles and serve at the party!
12. Coconut Tres Leches
Here's another sweet addition to the celebration. The Cake Blog has all the details for this coconut tres leches cake and it's unique flavor combination.
13. Pink Velvet Cake
There had to be a pink velvet cake added to the list. Check out the classic recipe over at i am baker.
14. Fluffy Homemade Vanilla Cake
Culinary Arts gives us a classic, homemade vanilla cake recipe that can be used for any themed shower. Blue, pink, sprinkles or not … it will always work.
15. White Chocolate Raspberry Cake
Check out Mariah's Please Plates and snag this delicious recipe for a white chocolate raspberry cake. Perfect for springtime events and those with bright tastes.
16. Pumpkin Spice Cake
If you're celebrating in the fall, there's no better way to do it than with a dash of pumpkin. Grab the recipe over at Divas Can Cook.
17. Chocolate Chip Cookies and Milk Cake
Sprinkle Bakes features my favorite cake on the list! Infuse a bit of cookies and milk into the party with this recipe.
18. Mocha Chocolate Cake
For something a bit richer in flavor, check out this mocha chocolate cake from Liv for Cake. Lighten up the celebration with this one!
19. Lemon Blueberry Cheesecake Cake
Cinnamon-Spice & Everything Nice has a unique and delicious recipe that combines classic cake, cheesecake and some of our favorite fruits. Jump over now!
20. Coconut Cake
A classic coconut cake could be exactly what you need to finish off the food table. Check out this recipe over at Cooking Classy.
21. Zebra Cake
If you're having a themed shower – zoo animals perhaps – then you'll want to grab this zebra cake recipe pronto. Visit Reseptit for more.
22. Pear Maple Cake
How does this flavor combination sound? It's a great combination for a fall shower, don't you think? Grab it at The Cake Blog.
23. White Cake
i am baker gives us a beautiful recipe for the perfect white cake. Whether it's a modern or monochromatic scheme, this works for showers too.
24. Chocolate Tiramisu Cake Roll
An Italian In My Kitchen gives us a fabulous roll recipe that looks beautiful on food tables too. Add this unique flavor to the party and have your guests wooed.
25. Cherry Chocolate Chip Cake
Life Love and Sugar presents us with a fabulous cherry chocolate chip cake recipe. It's pink, it's got a dash of chocolate and it'll be a fan favorite among your family and friends.
26. Funfetti Layer Cake
Over at Sally's Baking Addition, you'll find a recipe that's perfect for nearly any type of celebration. Look at all of those festive sprinkles!
27. Salted Caramel Chocolate Fudge Cake
Rincon Cocina has everything you need to make a splash at the party. For chocolate lovers and richer palettes, you'll want to give this one a try.
28. Orange Creamsicle Layer Cake
Hop on over to fresh april flours and snag the recipe for this sherbet-inspired deliciousness. This too fits in with a gender-neutral palette!
29. Black Forest Cake
Natasha's Kitchen makes a gorgeous black forest cake that we cannot wait to try for ourselves. But we see it as a lovely addition to a baby shower too, don't you think?
30. Brownie Butter Cake
For brunch celebrations, you may want to add something similar to the tablescape. Cover it in frosting and sprinkles or some fruit, grab it from Easy Delicious Recipes.
31. Cookie Dough Chocolate Cake
Liv for Cake has something extra special up her sleeves. This cookie dough chocolate cake is an absolute dream and will ignite the party.
32. Lemon Lime Layer Cake
If you want something tart and sweet, check out this lemon lime layer cake from A Dash of Sanity. This too is perfect for neutral showers.
33. Circus Animal Cookie Cake
Here's another themed dessert to share with everyone. Grab this fun recipe over at Beyond Frosting.
34. Peanut Butter Chocolate Cake
The First Year has everything you need to go to make this delicious peanut butter chocolate cake. It'll be the highlight of the evening!
35. Sweet Potato Cake
Here's another fall favorite that we're dying to try – and you can decorate it however you'd like. Check it out at She Wears Many Hats.
36. Creme Brûlée Cake
We're kind of loving this one too. For a more posh and prim party, grab this recipe over at Liv for Cake.
37. Salted Dark Chocolate Layer Cake
And this one has milk chocolate ganache to top it all off. Visit Donna Hay for all the delicious details.
38. Cannoli Layer Cake
If you love a good cannoli, then you'll really love this cake. Life Love and Sugar has the recipe, and don't forget the chocolate chips!
39. Mississippi Mud Cake
This one is a good one to celebrate with as well. It's rich and some may have never even heard of it before. Grab it at Tastes Better from Scratch.
40. Pumpkin Loaf Cake
Here's another great addition for autumn celebrations. Use it for brunch time parties because everyone loves pumpkin! Recipe at Crazy for Crust.
41. Fruit Slice Cakes
Studio DIY has all the details for these festive and fun cakes. Dress up the party with a gorgeous theme!
42. Orange Loaf Cake
If you're looking for a yummy addition to the food table, this orange load from Happy Foods Tube is a great start. Grab the recipe now!
43. Strawberry Limeade Cake
Food Fanatic gives us a funky strawberry limeade cake that will too light up the party. Grab the recipe now!
44. Oreo Brookie Layer Cake
Life Love and Sugar made something exceptionally delicious again. This Oreo brookie layer cake is an absolute dream of a cake, especially if you're pregnant!
45. Carrot Cake
Carrot cake could be your calling as well. Have this classic treat for all your friends to indulge in a bit with the help from My Cake School.
46. No Bake Pink Lemonade Cheesecake Parfaits
If you want to do something a bit more unique, make individual desserts. Check out this recipe over at Homemade Hooplah.
47. Strawberry Cream Cake
Layers of all the most delicious treats: cake, cream, strawberries, find the recipe at Delish. All the guests will want to dive mouth first into this one.
48. Blue Velvet Cake
Slice into something with a bit of boyish charm with the help of Add a Pinch. Blue velvet is the perfect way to celebrate his arrival!
49. Pink Ombre Swirl Cake
Check out Glorious Treats and learn how to whip up this beauty. A bit of ombre style and swirls could really add the right kind of pop and sweetness to the party.
50. Lemon Cake
Martha Stewart has a classic lemon cake recipe that's perfect for your baby shower celebration. It's great for gender neutral themes too because of the yellow pops!