15 Delicious Recipes Made With Yogurt
When it comes to being all DIY and creative, one of our very favourite places to make those things happen in is the kitchen. Don't get us wrong, we love all kinds of craftiness and project making, but there's just something about taking one type of food we enjoy and turning it into different, varied dishes, just to challenge ourselves and make new, delicious tasting things for our families that they've never tried before. Lately, we've been really excited about all the different things you can make out of yogurt! Our kids have always loved yogurt and so have we, so finding new kinds of recipes and dishes to make with it has been a lot of fun, not to mention very tasty.
Just in case your family loves yogurt just as much as ours does, if not more, and you're also interested in the idea of turning it into scrumptious new dishes, here are 15 of the very best and most unique yogurt based recipes that we've had our eye on for a while now!
1. Avocado and Greek yogurt chicken salad
If you're going to try a new recipe with things made from foods that you know your kids really like, would you rather make something that's quick and easy and that they can take in their school lunches? Well, if they also like avocados as well as yogurt, then we think you'll be in a pile of luck with something like this avocado and Greek yogurt chicken salad featured on Foodie Crush! Chicken salad sandwiches are one of our family's favourite things to take in their lunches for school and work, so this has been a pretty popular one for us.
2. Homemade orange creamsicle frozen yogurt
Just because we started our list out with a savoury dish that you'd usually serve as a side of a meal doesn't mean that's the only kind of thing you can make! If you've ever had flavoured or fruit filled yogurts, then we're sure you already know that yogurt also tastes very good indeed when it's made into sweet things. That's why we absolutely couldn't resist including this completely scrumptious homemade orange creamsicle frozen yogurt featured on Serious Eats. We know it's fall now and not everyone likes to eat cold treats this late in the year but, if you ask us, ice cream is a year-round thing because it's just so good!
3. Homemade Greek yogurt in the slow cooker
Are you actually the kind of determined kitchen enthusiast who often finds yourself looking down at the food you bought pre-made at the store and thinking "I wonder if I could make that"? In that case, we have no doubt that, just like us, you've probably wondered whether or not there's a way to make a homemade version of that Greek yogurt from the tub that your kids love so much. That's why we were so pleased to come across this homemade slow cooker Greek yogurt recipe outlined step by step on Daring Gourmet! We love slow cooker recipes a lot because they're simple and low maintenance, which is perfect for our busy lives.
4. Fluffy yogurt pancakes
If you've never tried adding yogurt to sponge style recipes before to give it a little extra flavour and texture then we're sorry to tell you that you've really been missing out! These delicious pancakes, which you'll find instructions for on Taste of Home, are the perfect example of what we mean. Their tutorial shows you how to add yogurt to the mix in order to make them extra fluffy with every single bite. These have actually become our kids' favourite kind!
5. Baked apples with spiced granola and yogurt
Are you perhaps a little bit more of a kitchen connoisseur so you've been searching for something slightly more unconventional, or maybe something that sounds like the kind of breakfast you'd order in a very fancy cafe? In that case, we'd definitely suggest taking a look at how Sugar and Cloth made these mouth watering baked apples that are doused in a homemade spiced granola and a thick layer of Greek yogurt for added taste. This dish is basically a dream if unique texture and flavour combinations are your thing.
6. Roasted Brussel sprouts with Greek yogurt
If we're being honest, part of the reason we love Greek yogurt so much is that sometimes its inclusion in a recipe really is just as simple as… slapping spoonfuls of the yogurt on top of something you've made! That rule goes for both sweet and savoury things but one of our very favourite unexpected things to add yogurt to is actually Brussel sprouts (we know; our parents were shocked to hear that we've finally come around to adoring Brussel sprouts to, even though we're fully grown adults). Foxes Love Lemons shows you how it's done.
7. Creamy whipped Greek yogurt with fruits and nuts
Are you the kind of person who has always been enamoured with the idea that sometimes the best part of a recipe made with a food you love is actually in the way you alter the texture rather than in the way you change the taste? In that case, we feel like you might just be the perfect person to give this creamy whipped Greek yogurt recipe a try. We love that this recipe and tutorial from Serious Eats shows you not only how to whip the yogurt, but also which kinds of fruit and nut combinations taste the best with it. Talk about being truly helpful!
8. Mason jar frozen yogurt cheesecake
Did we actually really catch your eye when we started talking about the frozen yogurt recipe from earlier on our list but you can't help but wonder whether there's an even more unconventional way to enjoy the "fro-yo" you love so much, going above and beyond just mixing flavour into it? In that case, we think you'll really appreciate the way Oh Sweet Basil created a scrumptious mason jar cheesecake that's also a cold treat by making it with frozen yogurt.
9. Frozen yogurt berry bites
When you buy yogurt from the store, is the most popular kind in your household always the kind that has fruit in it, especially if its berries? In that case, we have a feeling that this next recipe will be very popular with your family indeed! Check out how Happiness is Homemade created these frozen yogurt berry bites using actual yogurt and real blueberries or strawberries in order to get a gold treat the whole crew will really love snacking on. Bonus points for how healthy these are!
10. Yogurt smothered breakfast banana split
If there's one thing we love about discovering new recipes, it's finding cooking ideas that are delicious enough to make our kids think they're really getting a treat but that are also nutritious enough to keep us happy about what they're eating, especially in the morning. We're sure it'll come as no surprise, then, that we were very excited indeed to come across this delicious breakfast banana split idea featured on Super Healthy Kids! WE love the way they replace ice cream with creamy vanilla Greek yogurt, just to make sure things stay on the healthy side of yummy.
11. Yogurt peanut butter banana dog treats
Believe it or not, your human family members aren't actually the only people who will really love and get a lot of benefits out of eating yogurt on a regular basis! As Cooking With Janica will show you here, yogurt actually makes for a fantastic ingredient in yummy and nutritious homemade dog treats as well. That's why we were so pleased to come across this awesome yogurt, peanut butter, and banana dog treats! We've made these a few times and they sent our pooches into a tizzy of happy tail wagging each time.
12. Greek yogurt egg salad with dill
Did we actually really catch your attention when we started talking about chicken salad recipes made with Greek yogurt because your kids of never really loved creamy salads thanks to all the mayonnaise involved, but you've actually always preferred egg salad to chicken salad, regardless of how it's made? Then do we ever have some food news for you! Check out how Bowl of Delicious made this absolutely mouth watering egg salad recipe with Greek yogurt and dill, for extra flavour and creaminess.
13. Healthy, delicious homemade mango yogurt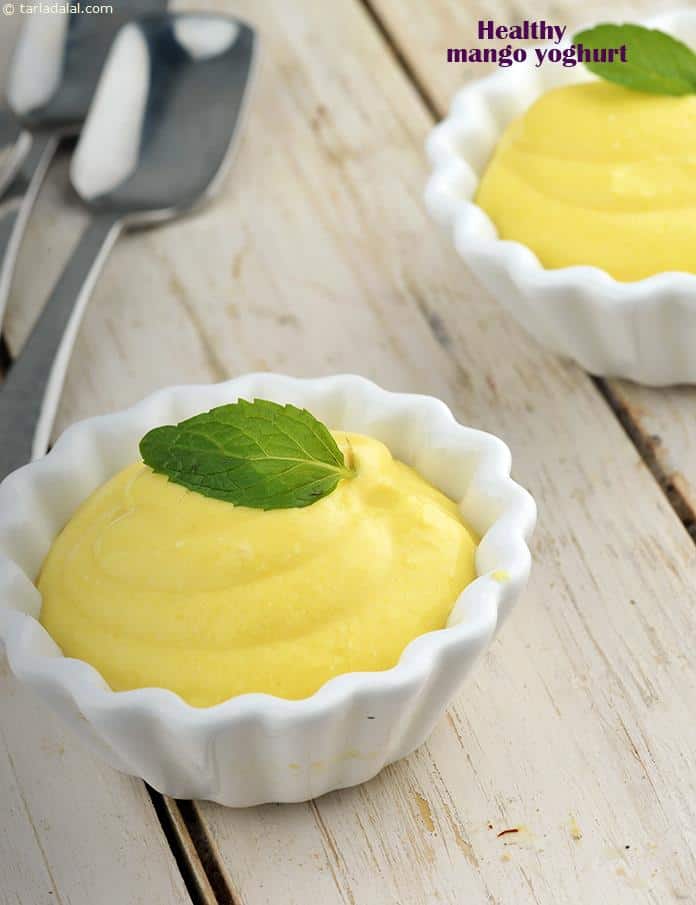 Does the idea of fruit flavoured yogurt actually really appeal to you because of how fresh and flavourful it sounds but you've just never been able to stand the kinds that are sold in stores because creamy foods that also have chunky textures in them, as most fruit yogurts do, simply aren't something you like? Then we have a sneaking suspicion that this deliciously smooth blended mango yogurt idea outlined step by step on Tarla Dalal might be a little more up your alley!
14. Turmeric yogurt chicken
When we started talking about yogurt based recipes, were you actually hoping for some kind of savoury entree element that's a little more classically "main dish", rather than just seeing more suggestions for pouring yogurt over something? Well, as yummy as those yogurt covered recipes can be, we can't say we blame you for wanting to take things a step further. That's why we wanted to make sure we included this fantastic turmeric yogurt chicken recipe outlined step by step on The Lean Green Bean! The yogurt goes between the chicken and its outer coating so that it has some extra flavour and some crunch.
15. Homemade coconut yogurt with berry compote
Are you actually a huge fan of the kinds of store bought yogurts you've had before that include a layer of fruit jam or puree at the very bottom but you just rarely find that they have the kind of berry blend you'd prefer when the yogurt is pre-packaged? Maybe you're really just a huge fan of making things yourself so that you know they're organic and well washed because you're nutrition conscious and you enjoy know where your foods came from. In either case, we'd definitely suggest taking a look at how Minimalist Baker created this homemade coconut yogurt with berry compote.
Have you made other fantastic and delicious yogurt recipes before that you and your family all loved and that you'd definitely make again, but that you don't seen anything quite similar to on our list? Tell us all about what you made and how you did it or link us to the recipe in the comments section so we can all try it out as well!