Awesome Thanksgiving Crockpot Recipes
Are you an avid cook who loves making a home cooked meal on Thanksgiving but, for the first time, you're so absolutely swamped this year that you just can't sacrifice the time to stay home and prepare the whole meal the traditional way like you normally would? We've run into that problem ourselves, so we're option to take care of a few dishes using our crock pots and slow cookers instead of just our singular oven and stove! This way, we can have more things cooking at once in order to make better use of our limited time. That's why we've been on the lookout for all kinds of awesome crock pot recipe options these last few weeks!
If you're feeling just as intrigued as we are, if not more, about the idea of making a few simple crock pot dishes this Thanksgiving, then check out these 15 delicious and easy recipes, flavour combinations, and tutorials that we've come across so far in our search for inspiration and guidance.
1. Crockpot turkey breast
Being the centre of most people's family meal, the turkey is a pretty important part of Thanksgiving! It's also quite possibly the thing that takes the longest to cook, meaning everything else that would use the oven has to be planned around it. That's why we thought this recipe from Together As Family for cooking the turkey in a slow cooker so your oven can be used for other things was such a good idea! The meat turns out just as delicious and tender as the more traditional way.
2. Crockpot green bean casserole
If there's anything we love to get creative with around Thanksgiving, it's a casserole. They just made such fantastic side dishes and we also find that they're a great way to get people trying new things that they might not otherwise choose to eat if they were just prepared normally! Casseroles also make great crock pot recipes. This creamy crock pot green bean casserole featured on Moms With Crockpots is the perfect example of what we mean!
3. Slow cooker apple pecan sweet potato casserole
Have we actually really caught your attention with this whole idea of making some kind of crock pot casserole but you're just not sure that green beans are quite the direction you want to take things in? Then maybe you'd get along a little better with another vegetable! We tried this recipe from Redefined Mom for slow cooker apple pecan sweet potato casserole and it was so good that we're making it again this year as well.
4. Slow cooker mashed potatoes
The turkey isn't the only traditional Thanksgiving staple that you can just as easily (and just as deliciously) prepare in a crock pot rather than on the stove in order to free up a little space for other things! Believe it or not, mashed potatoes actually make a great slow cooker dish as well. Take a better look at this tutorial from Creme de la Crumb to see how easily they can be made with the same classic fluffy texture you love.
5. Slow cooker balsamic glazed brussel sprouts
Did we actually really pique your interested when we mentioned how much we liked to use our slow cooker to prepare side dishes that our kids might not normally eat in an attempt to get them trying new and delicious things at Thanksgiving dinner? Well, this crock pot recipe from Popsugar is actually how we got them eating brussel sprouts! Check out their page to see how these slow cooker balsamic glazed brussel sprouts were made in a really low maintenance and time efficient way.
6. Slow cooker apple raspberry cranberry sauce
In our house, cranberry sauce is pretty popular. Just because we love something in its classic form, however, doesn't mean that we're not also willing to put a fun spin on it sometimes! That's why this delicious sounding crock pot apple raspberry cranberry sauce recipe from Simple Nourished Living caught our eye so well. It's a great way to try out something new without having one extra thing on your stove or in your oven getting in the way of the other classic parts of your meal.
7. Slow cooker butternut squash soup with maple roasted chickpeas
Are you actually from the kind of household where Thanksgiving dinner is an all-day affair spanning several hours and involving many courses? Then here's a fantastic, low maintenance, and absolutely scrumptious recipe that would make a great starter before the main meal! Take a better look at this tutorial on Two Peas and Their Pod to see how they made slow cooker butternut squash soup with maple roasted chickpeas added on top like a wonderfully crunchy garnish.
8. Slow cooker pecan pie
Have we actually still got you feeling quite enamoured with this whole idea of letting the crock pot take care of your of your classic meal elements but your mind has wandered to desserts rather than entree elements and side dishes? Then we think you'll really enjoy learning that even pecan pie can be made in a slow cooker! Get the full details for trying it out yourself on Skinny M's.
9. Crock pot apple sausage stuffing
In our house, the dressing or stuffing is basically the whole reason people show up to the meal. We simply adore it, so we have to make sure we make a very large batch every year! In recent years, however, we've found that it works well to prepare the traditional kind but then also make a second smaller helping of a unique type of stuffing people might never have tried before. This year, we're heavily considering this mouthwatering apple sausage crock pot stuffing outlined step by step on Whole Foods, New Body.
10. Slow cooker pumpkin dump cake
Have we actually got you feeling quite enamoured with this whole concept of making your Thanksgiving dessert in the crock pot but you're just not sure that pecan pie is the dish you want to bring this year? Well, if you're more of a pumpkin lover, then we'd definitely suggest taking a look at how 365 Days of Slow + Pressure Cooking made this slow cooker pumpkin dump cake instead!
11. Slow cooker creamed corn
Maybe we almost had you feeling convinced when we talked about making creamy vegetable casserole dishes in your crock put but you're just not feeling fully convinced by any of the particular veggies you've seen so far? Well, creamed corn lovers rejoice, because Damn Delicious has a similar recipe that's just for you! It also tastes the same (or maybe even better) as it would if you prepared it the way you're probably used to.
12. Crock pot scalloped potatoes
Are you actually still feeling rather intrigued by the idea of making your potatoes in the crock pot but you're wondering whether you might try something different to mashed potatoes this year? Then here's a recipe that the scalloped potato lovers out there might get along with a little better! Check out how Spend With Pennies made theirs in the crock pot.
13. Slow cooker rosemary acorn squash
Is it actually the idea of a squash side dish that you're feeling most intrigued by but, like we said with the potatoes, we're just not sure that the usual mashed side you'd prepare is the way you want to go this year? Then we'd absolutely suggest considering this flavourful and fragrant slow cooker rosemary acorn acorn squash recipe from Fresh Food Perspectives instead!
14. Slow cooker jacket sweet potatoes
Just like we showed you alternatives to squash and regular potatoes where the slow cooker can really help you out, here's another sweet potato alternative recipe that you might get along quite well with in the crock pot! Take a better look at how Recipes That Crock used their slow cooker to make these delicious but simple jacket sweet potatoes.
15. Crock pot cornbread dressing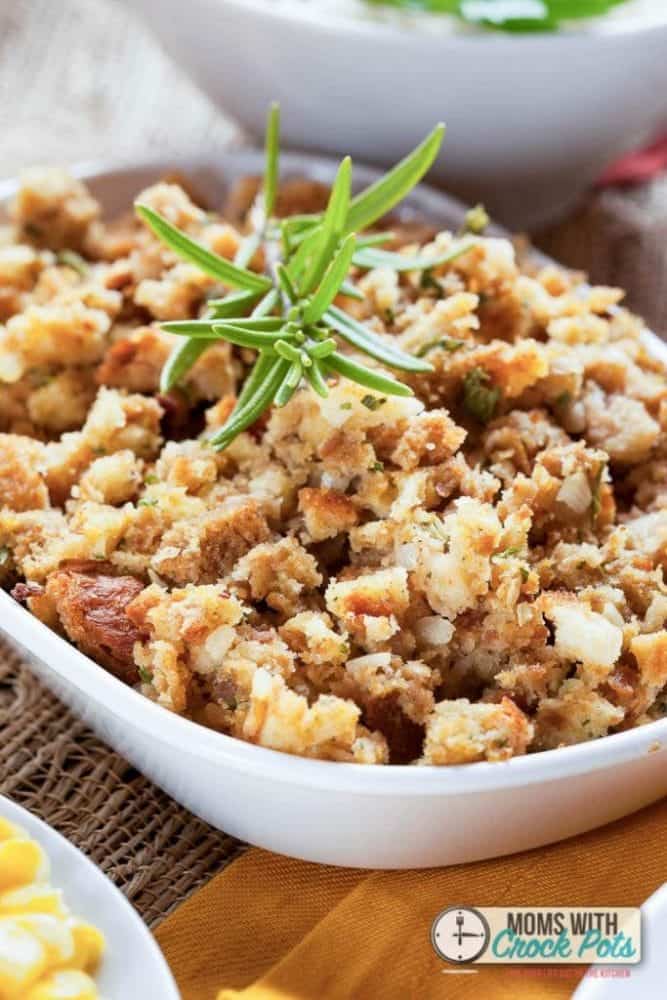 Have we actually still got you thinking about how much you love the idea of making a crock pot stuffing that will go with what's already in your bird and you even enjoy the idea of making it a little bit differently than usual, but you're just not sure that the sausage idea we showed you earlier is quite the idea for you? In that case, we'd absolutely suggest taking a look at how Moms With Crockpots made this slow cooker cornbread dressing instead!
Do you have another favourite crockpot recipe that would make a great Thanksgiving dish for your dinner but that you don't see here on our list? Tell us all about it or link us to the recipe so we can try it out as well!