Best Thanksgiving Turkey Recipes
Even though there's absolutely a standard turkey recipe that usually comes with the traditional Thanksgiving turkey, we often find ourselves wondering whether there aren't other flavours and techniques we can use to take the central part of our harvest meal to the next level. A quick search of other food enthusiasts online lead us to the discovery that, believe it or not, there are actually plenty of different ways to prepare Thanksgiving turkeys to get all kinds of unique flavours!
Are you feeling just as curious as we were, if not more, about the idea of learning how to make an awesome new kind of Thanksgiving turkey that tastes a little different? Check out these 15 amazing ideas, flavour combinations, and recipes that we came across in our search.
1. Maple roast turkey and gravy
Sometimes all you need to take the flavour of something to the next level is just a slight, subtle change in taste that really catches the tastebuds' attention. If you're the kind of person that really enjoys adding a bit of sweet to your savoury then we have a feeling you're going to love this tutorial from All Recipes that teaches you how to make a maple roasted turkey with similarly flavoured gravy to suit the rest of the meal as well.
2. Traditional roast turkey
Are you actually very new indeed to the whole cooking game and this year will actually be your first time preparing a turkey dinner for your family and friends, so you're hoping to keep things pretty plain and traditional and you're really just on the hunt for guidance? In that case, we'd absolutely suggest taking a look at how Food Network documents the whole process for you with all kinds of different tips and tricks for getting that classic, timeless taste.
3. Garlic and herb roasted turkey
Did we really catch your attention quite well when we started talking about differently prepared turkeys that have a subtle but marked flavour, but you're just not sure the sweetness of maple is quite the direction you'd like to go in? Then we have a feeling you might get along a little better with something like this garlic and herb roasted turkey outlined in nice, clear detail on Delish.
4. Roast turkey with Mexican rub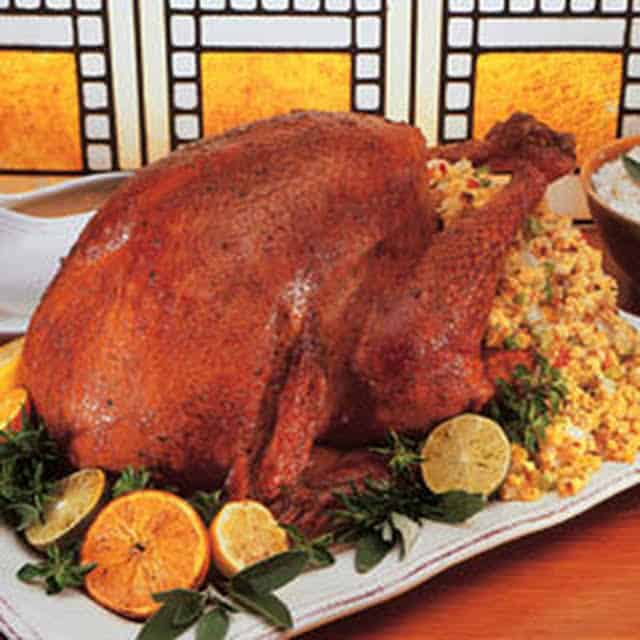 Are you the kind of food enthusiast who actually usually prefers your dishes with a little bit of extra kick since you've always been a spicy foods fan? In that case, we'd be willing to bet that you'll really adore the way Yummly made this roast turkey with Mexican rub! The rub is something they show you how to make and mix yourself before you even start on the bird.