Best Thanksgiving Turkey Recipes
Even though there's absolutely a standard turkey recipe that usually comes with the traditional Thanksgiving turkey, we often find ourselves wondering whether there aren't other flavours and techniques we can use to take the central part of our harvest meal to the next level. A quick search of other food enthusiasts online lead us to the discovery that, believe it or not, there are actually plenty of different ways to prepare Thanksgiving turkeys to get all kinds of unique flavours!
Are you feeling just as curious as we were, if not more, about the idea of learning how to make an awesome new kind of Thanksgiving turkey that tastes a little different? Check out these 15 amazing ideas, flavour combinations, and recipes that we came across in our search.
1. Maple roast turkey and gravy
Sometimes all you need to take the flavour of something to the next level is just a slight, subtle change in taste that really catches the tastebuds' attention. If you're the kind of person that really enjoys adding a bit of sweet to your savoury then we have a feeling you're going to love this tutorial from All Recipes that teaches you how to make a maple roasted turkey with similarly flavoured gravy to suit the rest of the meal as well.
2. Traditional roast turkey
Are you actually very new indeed to the whole cooking game and this year will actually be your first time preparing a turkey dinner for your family and friends, so you're hoping to keep things pretty plain and traditional and you're really just on the hunt for guidance? In that case, we'd absolutely suggest taking a look at how Food Network documents the whole process for you with all kinds of different tips and tricks for getting that classic, timeless taste.
3. Garlic and herb roasted turkey
Did we really catch your attention quite well when we started talking about differently prepared turkeys that have a subtle but marked flavour, but you're just not sure the sweetness of maple is quite the direction you'd like to go in? Then we have a feeling you might get along a little better with something like this garlic and herb roasted turkey outlined in nice, clear detail on Delish.
4. Roast turkey with Mexican rub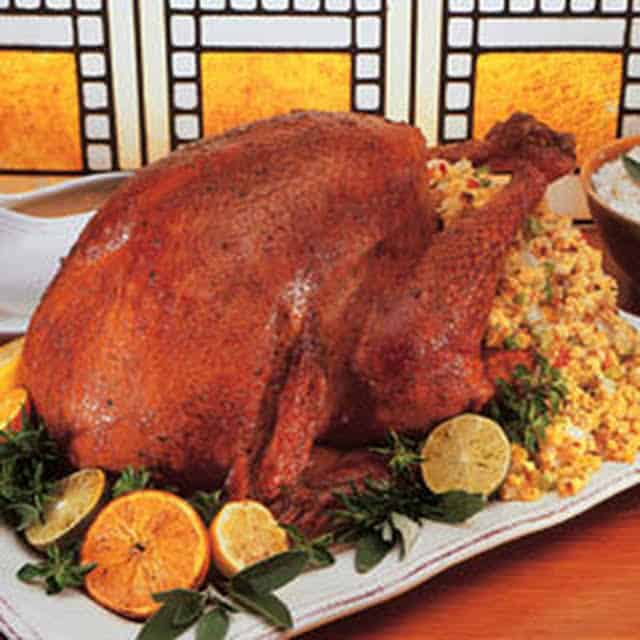 Are you the kind of food enthusiast who actually usually prefers your dishes with a little bit of extra kick since you've always been a spicy foods fan? In that case, we'd be willing to bet that you'll really adore the way Yummly made this roast turkey with Mexican rub! The rub is something they show you how to make and mix yourself before you even start on the bird.
5. Orange and shallot stuffed turkey breast
Do you love stuffing just as much as the next person but you're actually making a slightly smaller dinner just for your closest people, so you're just not sure you need thew hole bird stuffed to the brim? In that case, if you'd rather give your few guests a slightly more gourmet tasting experience, then we thin you simply must take a look at the way Cooking Channel made this orange and shallot stuffed turkey breast faster and easier than you might think.
6. Fried Thanksgiving turkey
Of course, fried Thanksgiving turkey might sound like the stuff of TV land, but we actually tried this recipe last year after we found we simply couldn't kick our curiosity about the idea and we were not disappointed in any way, shape, or form! Luckily, Country Living is here to show you how it's done so you can taste how the technique beautifully magnifies the flavour as well.
7. Maple bourbon glazed turkey with local bacon and dried cherry stuffing
Are you actually having a little bit of trouble choosing between a few of the different recipe elements you've seen so far on our list because several things just look so good to you? Well, who ever said you had to choose? In stead, check out how Girl in An Apron made this mouthwatering maple bourbon glazed turkey with local bacon and dried cherry stuffing. Their one recipe walks you through more than one key element of your entire meal, all in one impressively delicious place!
8. Mayonnaise roasted turkey
Yes, you read that right. This shockingly tasty recipe and tutorial outlined in great detail on She Wears Many Hats really do teach you how to prepare your Thanksgiving turkey using mayonnaise! It is applied all over the surface along with a custom homemade blend of herbs and spices, working like any other turkey rub to make the outside golden, crispy, and flavourful as the bird cooks.
9. Red wine lacquered turkey with spiced butter
Have we really go your attention with all these different rubs and outer treatments for your turkey bird now but you can't help feeling like you might rather make yourself one that has a much stronger taste to it, like something with more of a punch than a spice? Then we think you simply must take a look at how Heather Christo made this irresistible red wine lacquered turkey with spiced butter!
10. Garlic butter baked turkey
Has all this talk of butter involved in treating the outside of a turkey got you feeling very intrigued indeed but you've also seen mention of garlic rub in a different recipe so now you're feeling torn between the two? Well, who ever said that you have to choose? Instead, Check out how Bored Fast Food combined the two in order to make this scrumptious garlic butter baked turkey that's easier to do than it sounds.
11. Red chile and orange glazed turkey
Perhaps you're still feeling rather enamoured indeed with the idea of making a turkey rub that will have a bit of flavour and and bit of kick to it but you just haven't seen the idea that quite has you feeling convinced? In that case, we'd absolutely suggest taking a look at how Country Living made that precise combination happen in this amazing red chile and orange glazed turkey that we actually tried in real life! It was unlike anything we'd ever tasted before, and we mean that in a really good way.
12. Brined turkey breast with Spanish spiced rub and sour orange sauce
What if the chiles you saw in the earlier recipe might actually be a slightly too spicy option for you, even though you do like a recipe with a little jump to it, but you feel like the inclusion of that orange flavour is still kind of calling to you? Then here's a similar but slightly milder alternative for your consideration! Cooking Channel has the whole process outlined in great, clear detail how to make this brined turkey breast with Spanish spiced rub and sour orange sauce happen.
13. Bacon wrapped turkey
Are you the kind of meat lover who will take literally any opportunity you can find to combine more than one kind of meat you love together in one place? Then we'd be willing to bet that you'll be absolutely thrilled to learn more about how Delish made this downright decadent bacon wrapped turkey recipe happen in a way that makes our mouths water just looking at it!
14. Tuscan turkey roulade
In addition to adding a mild flavouring to the surface of your turkey, were you also hoping to get a little more gourmet style creative with the stuffing and how it's prepared as well? In that case, we think this next recipe from Food Network might be right up your alley! They show you how to make a Tuscan turkey roulade that's packed with regional flavour both inside and out.
15. Rosemary roasted turkey
Are you actually still finding yourself thinking about what we said when we mentioned subtle but impactful flavours and how they can improve the taste of turkey without overpowering it? Well, just in case you're still feeling enamoured with the concept but you just haven't found the one that quite speaks to you yet, here's another alternative for your consideration! All Recipes is here to guide you through the process of making a rosemary roasted turkey that's just about as wonderfully fragrant as it is deliciously flavourful.
Have you prepared your turkey in other delicious ways before that were a huge hit in previous years but that you don't see here on our list? Tell us all about it or link us to the recipe in the comments section so we can try it out as well!