17 MORE Winter Macaron Flavors To Try
Swooning over macarons is easy. And swooning over winter flavors, well, we've done that before here. But we're back because there's just something so romantic and indulgent about the season. Check out 17 MORE winter macaron flavors to try in the kitchen. Get your hands dirty and spread the love by gifting a few to family and friends.
1. Snickerdoodle
A favorite holiday flavor and a comfort throughout the chillier months, snickerdoodles are fan faovrites. Michelle's Macarons will guide you through the process of whipping up some macarons that have that same, sweet and cinnamon-infused qualities. Serve them up with a cup of hot coffee.
2. Snowmen
Check out these adorable cream cheese Swiss meringue snowmen macarons! These are the perfect way to gift your loved ones during the winter months – whether it's for the holidays or as a delicious thank you. Grab the recipe at Sumopocky.
3. Hot Chocolate
Just a simple sip of hot chocolate can go a long way. And these bites from Goodie Godmother will satisfy every tummy in the house. The toasted marshmallow filling will really top off this taste quite nicely.
4. Brownie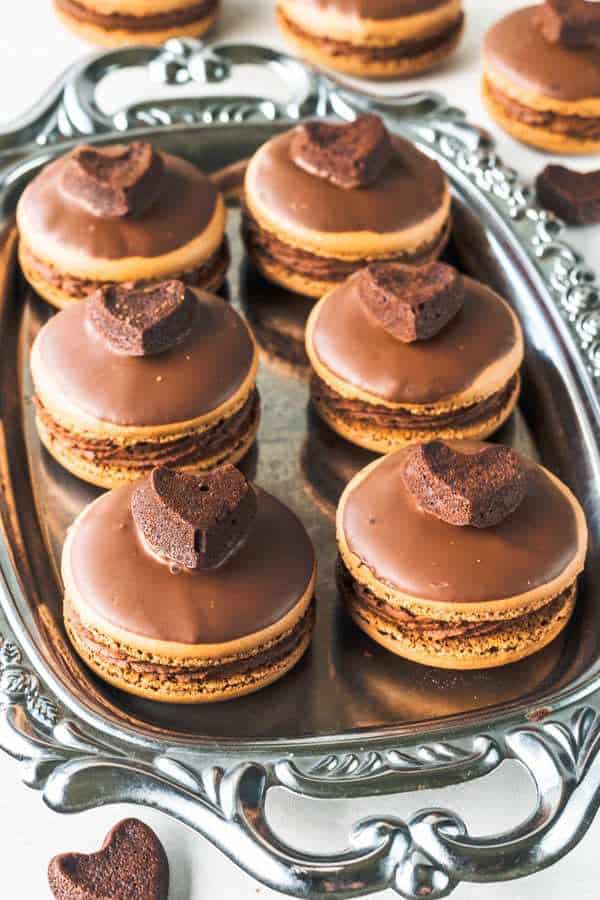 Tis the season of warm and delicious comfort foods. Pies & Tacos will give you all the details behind these brownie macaron bites. A batch of these served up for Valentine's Day could be quite nice, don't you think?
5. Cranberry & White Chocolate
Hint of Vanilla went with a cranberry and white chocolate mix that we're really loving. The sweetness plays nicely with the tartness of the fruit. Sprinkle on a bit of powdered sugar for a scrumptious finish.
6. Blood Orange Walnut
For something a bit outside-the-box, think about going with this idea from A Classic Twist, Combining the sweetness of the orange and the bitter bite of the walnut, it's a wonderfully wintery treat. And the cream inside compliments nicely as well.
7. Apple Pie with Bourbon Salted Caramel
Jam Lab created a macaron that paid homage to a favorite dessert. These bites have all the glory and comfort of a slide of apple pie. But, it's infused with a bit of bourbon, making it an elevated experience.
8. Mocha
Her Cup of Joy went with a mocha macaron and we're craving a taste or two. For our coffee lovers, this is for you! It combines the richness of chocolate with the smoothness of coffee.
9. S'mores
Tried & Tasty loves a good s'mores and this macaron brings the classic flavors to life in bite-sized ways. The toasted marshmallow. The chocolate. And the graham crackers too – nothing is missed!
10. Pomegranate
If you're looking for something fruity, why not include pomegranate? It's the perfect winter bite filled with a tart edge. Pies & Tacos has all the details for those wanting to get their hands dirty with this recipe.
11. Crème Brûlée
The Little Blog of Vegan knows the way to my heart. Creme brûlée is a fan favorite in the dessert department so why not take those same Don't forget to blaze the top for a beautiful crunch.
12. Peanut Butter
Peanut butter is a perfect winter bite because of its comfort and richness too. For those that light a bit of extra protein in their dessert, check out these French cookies. Grab the details at Yummly.
13. Bourbon Bacon
Are you looking for some savory macarons to really add an outside-the-box twist to your night? Over at Jay's Catering, you'll learn how to whip up something with a salty bite. These would be a great Sunday brunch addition!
14. Vanilla Bean with Salted Maple Pecan
BHG went with a vanilla bean and maple combination. Perfect for parties or as DIY gifts to say thank you to family, wrap up a trio of these for all your favorite people.
15. Salted Caramel Cinnamon
Caramel and cinnamon go together quite nicely as well. They're both known as winter favorites but paired together they make a new, favorite macaron flavor. Catch the recipe at Sally's Baking Addiction.
16. Irish Cream
A Classic Twist has an Irish cream creation up their sleeves. Drizzled with a bout of chocolate on top, you'll love one of these at night with a nightly cup of hot tea. These are a great addition to a holiday party as well.
17. Red Wine
And finally, there's something really indulgent and warm about a nice glass of red wine. So why not infuse that same spirit into a macaron. Mildly Meandering did it and let's you in on all the secrets.