Jazz Up Your Walls With Some of These 50 DIY Wall Decals
Start adding bits of pieces of your personality to the walls of the home around you! From the bedroom to the foyer, you'll want to put your stamp or family's style on the house. Check out how to jazz up your walls with some of these 50 DIY wall decals!
1. Black Triangles
Check out how to make some chic, geo triangles over at Babble. And then look at how sweet and funky the confetti-effect gets when put inside the nursery!
2. Confetti
How can you not fall in immediate love with this super innovative confetti dotted wall. We Are Scout has all the details for this look that's perfect for the playroom or even the home office.
3. Lego Star Wars
This one is for the kiddos and they're going to love how creative you become for them. Grab the know-how over at 2 Little Superheroes as you transform your little superheroe's room.
4. Little City
Over at Parents, you'll learn how to make this gorgeous little city decal for your little one's playroom, bedroom or something similar in the craft room. Time to get crafting!
5. Arrows
If you grab some washi tape and take a trip to Over The Big Moon you'll find out how to make these snazzy arrows. We love the trendiness and ease!
6. Eiffel Towers
Girl. Inspired. did something really special with just a bit of inspiration from France. She made an entire wall of DIY-created eiffel towers and we are swooning over it.
7. Animals
Apartment Therapy has something really special over on their site. This removable animal wall decal is built with so much fun and creativity!
8. Handdrawn
You could always do some handdrawn doodles like wehnerhein did and make the entire setup look just as good – and more creative – than a classic wall decal!
9. Herringbone
View From The Fridge has all of the details and directions on how to create a herringbone, decaled wall to really make a wall in your home pop! We love it in the nursery!
10. Mountains
Okay so, technically, this isn't a wall decal but it sure does look like one! Wills Casa will give you a great tutorial on how to make a mountain range with paint!
11. Lines
These lines were made using black gaffer tape and that's really all there is to it. Check out the original over at LuLu Frost.
12. Golden Stars
Making your own wall decals can be a lot easier than you may think. How To Nest For Less shares all the super simple details for these golden stars.
13. Fabric
You can even use fabric to make framed decals on any wall of the house. You'll need to visit Curbly to find out all the know-how you'll need.
14. Washi Wallpaper
Check out how to create temporary, decaled wallpaper using washi tape over at Brit + Co. It's quite stunning, innovative and you can be so unique with the design.
15. Honeycomb
Idle Hands Awake made a chic and removable honeycomb wall decal that could really make a pop or surprise around the dining room, foyer or master bedroom!
16. Fireplace
When the holidays roll around and you live in a space without a fireplace, you may want to follow this innovative and creative decal project from Brit + Co!
17. Artful Wallpaper
Here's another DIY that allows you to create a wallpaper decal so it's easily removable but also a quicker and more creative way to cover an entire wall. And this one is so much fun! (via A Subtle Revelry)
18. Hexagons
Similar to honeycombs in style but not in the way they're creating. We love the funk and trendiness of this beautiful wall from A Sister's Suitcase.
19. Photos
You can even make some snazzy and personalized wall decals out of your very own photos! Follow along over at A Subtle Revelry.
20. Flowers
Check out these popping and colorful wall decals from Babble Dabble Do. These will be a lot of fun creating and picking out colors for.
21. Golden Letters
Make something for your door with the help of the DIY from The House That Lars Built. She even used them to jazz up the mailbox out front!
22. Erasable Frames
Have the entire family get in on the fun with this erasable frames wall decal from I Heart Arts n Crafts. Just look at how creative you can be with the end result!
23. Je T'aime
Camille Styles sets the bar high with seasonal decor by letting us in on the secrets of this Valetine's Day inspired creation. How adorable!
24. Maps
You can use map to create a DIY wallpaper and decaled look with quite a bit of ease. Just visit The Inspired Room to learn how!
25. Clouds
Use these clouds from Project Nursery as some charming inspiration for your next wall art project. Make fabric puffs to fill out an accent wall or create a focal point.
26. Trees
You can use washi tape to create a tree decal for the wall that can easily be turned into jewelry storage! Check it out at HGTV.
27. Picture Frames
Here's another frame decal DIY that we're really loving. There's so much creativity seen here and lots of inspiration to pull from – find it at HGTV too!
28. Reindeer
In the spirit of the holiday season, you may want to add some extra jazzy feelings onto the walls, like some washi tape reindeer from Motte!
29. Cats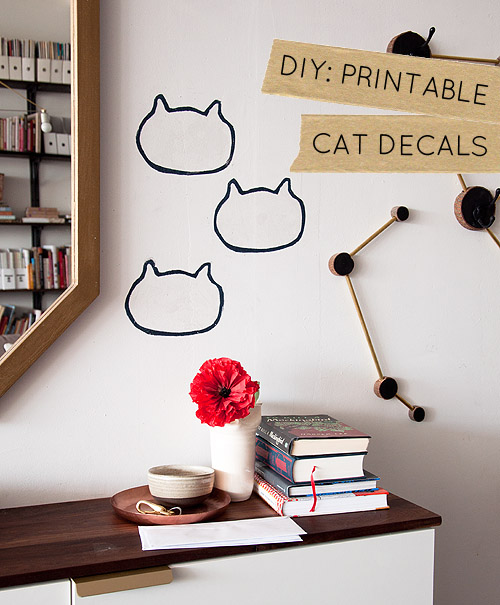 Are these cat decals not the absolute sweetest!? Design Sponge has the details on creating these printable pieces.
30. Folded Heart
Design and Paper created one of the most innovative designs on the list. These hearts will pop off the walls and add a 3-D element as well.
31. Airplanes
Visit Lifehacker to learn how to make fabric wall decals and grab fun inspiration for your little ones bedroom or playroom from this charming airplane!
32. Hearts
Check out this heart accent wall! DIY Candy has all the know-how you need for creating one of these sweet walls inside your own home.
33. Vase
ModCloth has another fun idea being featured. This tutorial is for creating a flower-filled vase right on the wall giving the illusion of a tabletop piece.
34. Full Branches
These full-branch trees can be created with Crafty Moods help and the free, downloadable template. It'd be beautiful in a foyer or living room!
35. Hedgehogs
You can even get really creative and make up entire scenes based on your favorite things. Just look at fun this hedgehog and mushroom are from Delia Creates.
36. Ornaments
The Ribbon Treat did something special for the holidays too. They made ornaments that can be "hung" right onto the wall!
37. Names
Hang your name or a loved one's right onto the wall in a quirky and colorful way! A Kailo Chic Life has all the details on the blog.
38. Pixel Heart
A Beautiful Mess made a wall decal fall of love but with a pixelated finish. This too was made with the help of washi tape.
39. Stripes
Some extra wide washi tape, like you see at HGTV, could spruce up any nook, cranny or door in the house. Just look at these fun and playful stripes!
40. His & Hers
The Pinning Momma shows us how to make these sweet and simple "his" and "hers" wall decals that can be used in so many different ways around the house!
41. Washi Words
Create a beautiful phrase or colorful lettering with the help of washi tape here too. Check out this wall decal DIY over at Designer Trapped.
42. Botanicals
A bit different than paper flower wall decals, these botanical DIY stickers are so creative and refreshing to pull off. The Horticult has all of the major details.
43. Washi Dots
Yet again, washi tape comes into play when making some fashionable wall decals but this time Fellow Fellow turns them into dots! It's easier than you may think, just look!
44. Forest Friends
Sincerely, Kinsey has another one of the most inspirational and creative … and fun … of wall decals. Check out these adorable forest friends!
45. Butterflies
Run over to Popsugar and give yourself a quick lesson on creating some butterflies for your walls. It'll definitely add a beautiful springtime pop for season decorating.
46. Typography
Curbly has another great DIY for fabric typography decals that you can use to personalize any nook or cranny of the house. Snatch up the tutorial now!
47. Raindrops
Run, don't walk, over to A Subtle Revelry and learn how to make these sweet and charming raindrop decals. Create a statement wall or a small focal point in and around your home!
48. Plus Signs
These snazzy plus signs from Everything Emily are one of my personal favorites. They're versatile for a variety of room styles and room functions!
49. Washi Pieces
Using washi tape again, you can create some confetti pieces with quickness and ease. Hop on over to IDA Interior Lifestyle to find our the details of this one.
50. Black Polka Dots
Crazy Wonderful has another super easy and inexpensive wall decal that we're loving. Add some polka-dots to any wall of the house with this easy DIY.