25 Ways To Recycle Those Vintage Suitcases
Scrolling through a foe market, perusing an estate sale, stopping on a whim at a garage sale or hiding in your attic; wherever you a can those gorgeous vintage suitcases, snatch them up! They're perfect for creating and conjuring up a variety of amazing projects. From style to function, they can help out with an assortment around the home.
Let's have a look at 25 ways to recycle and reuse those vintage suitcases below!
1. Dog Bed
Create a dog bed out of one of your old, vintage suitcase finds. This DIY by Shaleah from The Golden Jelly Bean is quite easy and you can make it as comfy, cozy as your pup would like!
2. Side Table
This side table found on My So-Called Craft Life, is incredibly charming. We're loving the pops of colors and unique personality that this piece can give to any home.
3. Doll House
Pretty Prudent has created something quite magical for your little ones. A doll house inside your suitcase is the perfect way to grab and go a favorite toy for holiday and vacation adventures.
4. Chair
Check out this gorgeous accent chair. Perfect for a master bedroom with space to spare, this chair from See Kate Sew is such a romantic, yet unique way to highlight an area that needs a bit of originality.
5. Vanity Cabinet
How can you not be smitten over this eclectic creation found on Covet & Want? We see this idea hidden inside a college apartment or teen's space where organization is key but personality shines bright.
6. Nightstand
You don't have to go with the suitcase's origin to still get that old-age spirit within your DIY project. Instead, you can have it blend it with your current surroundings and still bring in that cozy style like Songbird did with this creamy, white nightstand.
7. Shelves
We found this incredibly inspiration on Upcycled Dzine and it may be one of our favorites of the bunch. This is a great way to highlight a more casual dining space or even a home office, and the best part, it's doable for those starting out in the DIY world.
8. Craft Box
Vintage suitcases are the perfect way to not only organize your crafting or scrapbooking essentials, but it also makes it easier to travel with. Whether you're going to a friends' or a scrapbooking convention across the country, create yourself one just like Amy from Inspire Co did, for a better way to travel.
9. Card Holder
Something Borrowed always has great wedding ideas. If you're having a vintage-inspired celebration – infused with the traveling bug – take a que from this spread. Use smaller suitcases as a means for wedding guests to place your cards! It's not only functional but versatile too, and you get the benefit of styling it any way you'd like.
10. Dog Bowls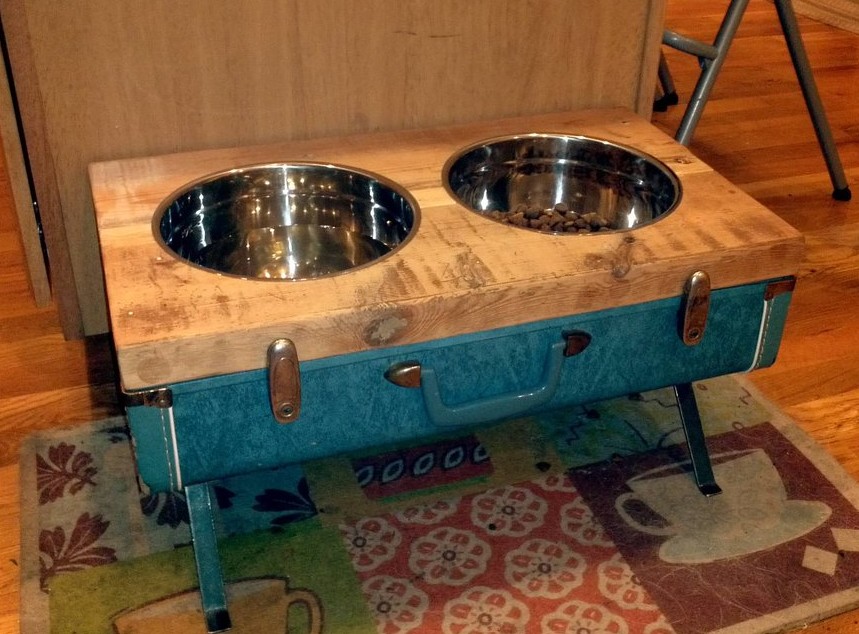 We fell upon this funky project from Imgur and we can't get over how ingenius it is. The DIYer's girlfriend was looking to get her pup's bowls off the floor and this tutorial shows you how he made it happen for her.
11. Fabric Covers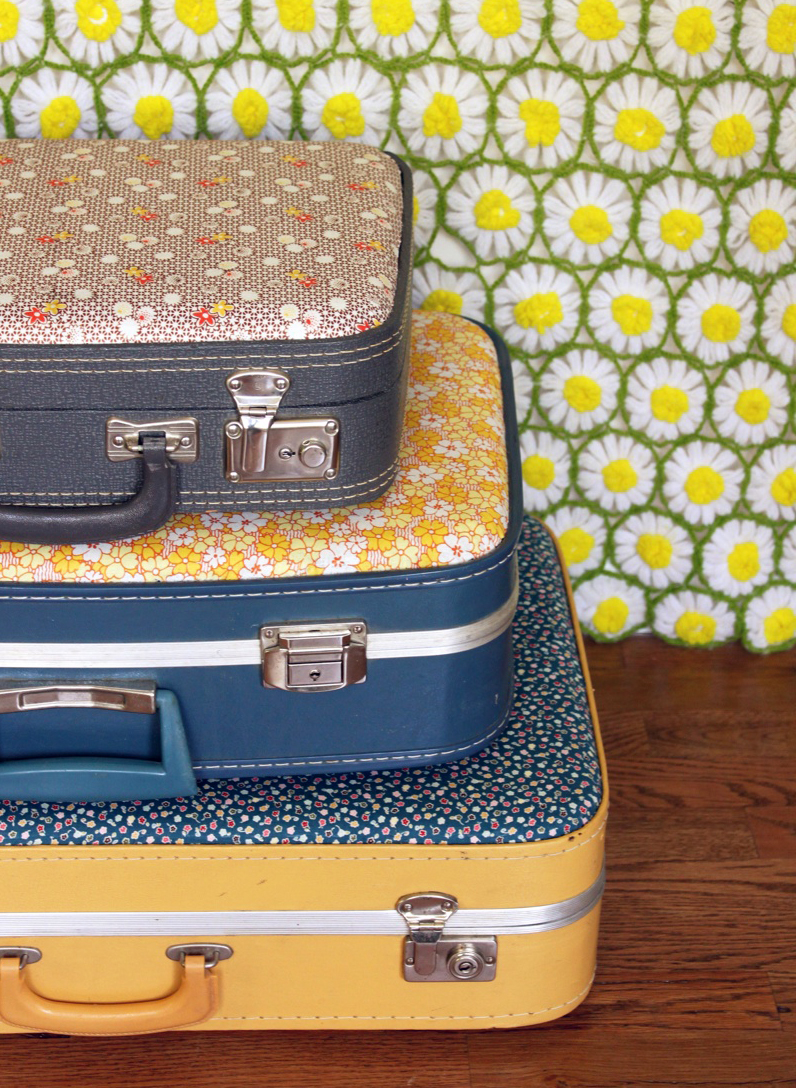 A Beautiful Mess never disappoints us when it comes to inspiration. And this project is no exception. Vintage suitcases can be updated, like these fabric-covered beauties, and used as simple pieces of decor all on their own.
12. Towel Holder
With a bit of organization inside, this idea from Design Sponge goes the extra mile with the addition of a towel hook. We love this idea for your guest bathroom for friends and family to enjoy and you to show off your creativity and unique style.
13. Stacked Piece
Emily is always showing off incredible home ideas at Cupcakes and Cashmere. And how can you not fall head-over-heels in love with the side table she created for her guest room? And all she did was stack and style!
14. Chalkboard
This project is perfect for a variety of events or a way to spruce up the front patio. Becky let us in on how she created this funky piece on her blog Beyond the Picket Fence and we love its simplicity!
15. Coffee Table
Thrifting finds can really turn into some of the best DIY project, up cycled pieces and magical additions to the home. And this DIY from Goodwill by Janeane is no exception. Look how gorgeous this modern meets vintage coffee table is!
16. Fireplace Decor
Maple & Magnolia shows us how vintage suitcases can easily find a home at your fireplace, building and cultivated a style that's cozy and detailed. Paint and change the color of the pieces if you find it necessary, but don't worry, the shade swap won't take away from their charm.
17. Bar Cart
Stumbling upon this DIY at Apartment Therapy from prop designer, Dane Holweger, is a game changer. Create a new look and feel in the dining room or throughout dinner parties as you dive into this tutorial.
18. End Table
Angels in the Architecture gives us a piece that is incredibly funky but also versatile too. From a side table, a foyer piece or even a laptop stand, this DIY can become a springboard for a plethora of ideas.
19. Dessert Table
All the wedding inspiration on Ruffled is priceless for brides figuring out how they want to cultivate and create the day of their dreams. And here's a dessert table that was accented by vintage suitcases, it's an easy way to add a DIY element and feel to your celebration!
20. Dresser
The wonder behind On My Creative Side made some beautiful pieces concerning this vintage suitcase dresser idea. And this has to be our favorite of the bunch! Can you imagine the personality that will fill your guest or master bedroom with the addition of this DIY piece?
21. Kid's Play
Tara Dennis gives us even more inspiration concerning child's play with these adorable idea. A traveling suitcase full of imagination is just what you need for the kids to enjoy on family trips!
22. Sewing Case
Vanessa knows that some of us need a bigger, more enhance sewing kit. And on A Place to Roost she shares how she took a vintage suitcase and used it to her advantage. For avid sewers and crafters, here's a peek at what you can create and how you can organize a bit better.
23. Painted
Concrete Cottage did something really simple but really effective. Jeannie grabbed a suitcase and painted it to her desire and used it as a conversational piece of decor for her home. Now tell us you can't try this DIY out on your own.
24. Bunk Beds
Sometimes we just like to inspire you and when we found these cat bunk bunks from Just Imagine we knew we had to include this project. Cats like to climb, but they also like to cozy up, and they get the best of both worlds with this DIY idea.
25. Breakfast Tray
Mother Earth Living loves to show off beautiful, practical ideas and this is no exception. Feminine charm swirl around this breakfast tray made from a sliced suitcase.