15 Vegetable Casserole Recipes the Whole Family Will Love
In all of our days on this Earth, we've never met a person who hasn't tried some type of casserole before. In fact, most of those people have not only tried them before, but also really liked them! We're huge casserole fans because they're usually very affordable to get the ingredients for, they're easy and quick to make, and they're diverse enough to stay exciting since there are so many different kinds you can make. Above all, however, we actually also find that they're an easy way to introduce more vegetables and new foods to our kids; when something new is served in the form of a delicious family favourite, they're always a lot more willing to try it. Recently, our oldest child decided to try adopting a vegetarian diet while our youngest child is still slightly picky about which vegetables are acceptable. We're finding that making vegetable casseroles have been the perfect way to mange these two things!
That's why we've been keeping our eyes open for new types of vegetable casserole we've never tried before. The more different kinds we know how to make, the less likely our family is to get bored with the concept. Just in case you're feeling interested in discovering some new types of vegetable casserole too, here are 15 of the very best recipes, flavour combinations, and tutorials that we've come across so far in our search for inspiration and guidance.
1. Make-ahead creamy vegetable casserole
What's even easier than a simple vegetable casserole filled with all the usual favourites that you know your family loves? A "make-ahead" version, of course! If you've never tried a make-ahead recipe then we'd suggest starting now, because they're truly the perfect meal prep option for busy families on days where time is short but you don't want to skimp on nutrition. This recipe from Lord Byron's Kitchen for make-ahead creamy vegetable casserole is a great option.
2. Tomato vegetable casserole
Of all the vegetables that you could choose from, has your family always loved tomatoes the most? Well, we can't say we blame you, since we happen to think they taste delicious with just about everything as well. We'd also be willing to bet that you'll get along very well indeed with a recipe like this mouthwatering tomato vegetable casserole featured in easy detail on Spark Recipes.
3. Cheesy vegetable bake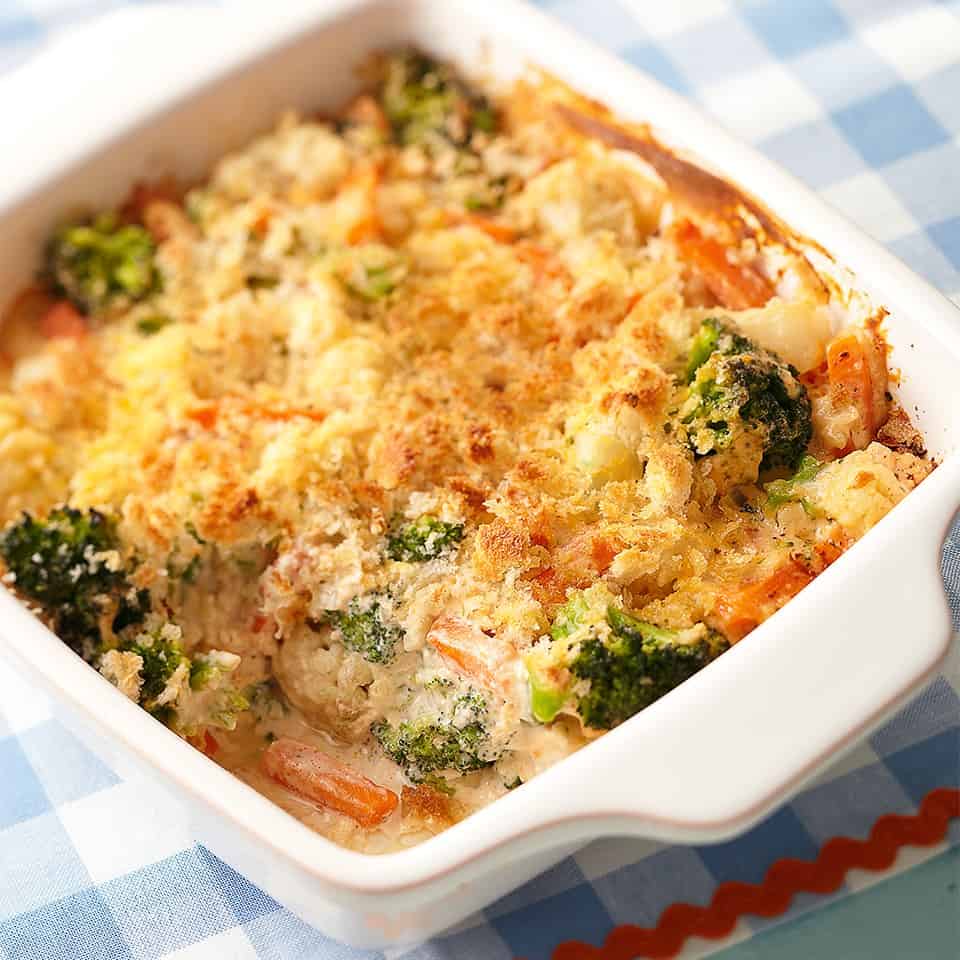 Despite the fact that the vegetables are really the stars of the show in this list and veggie casseroles are a great opportunity to increase how many vegetables your family eats in a day, are you still feeling open to the idea of preparing a dish that's a bit of a treat and prioritizes taste? Well, if you love cheese even half as much as we do then we think you simply must take a look at how Eating Well made this irresistible cheesy vegetable bake.
4. Garden rice casserole
Of course, vegetables and cheese aren't the only things you can put in a good veggie casserole! Sometimes it's nice to have some kind of base element in there, just to make sure the dish is a little extra hearty and filling. That's precisely the kind of recipe First Look, Then Cook has for you here! Take a better look at their page to learn how this garden rice casserole was made.
5. Easy cheesy chicken vegetable casserole
Naturally, just because you're making a recipe that really centres around vegetables doesn't mean that it can't also involve meat, right? We don't just mean serving your casserole as a side dish to your entree meat, either! Instead, try incorporating it all in the same conveniently made (and scrumptious) place by making something like this easy cheesy chicken vegetable casserole featured with a full tutorial on Happy & Blessed Home.
6. Green vegetable bake
Rather than just trying to increase the number of vegetables in general that your family is eating during the week, have you actually been hoping to find recipes that provide more green vegetables specifically? Well, that's a pretty great idea, given the proven health benefits those veggies have to offer in particular. That's why we bookmarked and can't wait to try this recipe from BHG for green vegetable bake!
7. Herbed harvest vegetable casserole
Out of all of the types of vegetables you see in stores, have classic harvest time veggies always been your favourites? Well, if that's true particularly when you serve them in combination with each other then we think you're really going to love what Taste of Home has to offer next: a full, clear recipe for learning how to make an herbed harvest vegetable casserole that's seasoned to perfection!
8. Root vegetable gratin casserole
If you've never tried gratin before and you're a person who enjoys creamy or cheesy recipes then we're very sorry indeed to tell you that you've been missing out on something pretty great. We'd suggest fixing that now by making something like this root vegetable gratin casserole featured in step by step format thanks to Food Wishes! It's the kind of creamy recipe that's satisfying without being too heavy.
9. Veggie enchilada casserole
If you're going to put in all the time and effort it takes to make some kind of delicious homemade veggie casserole, would you rather make something a little more unique or that has an extra kick of flavour? Well, if Mexican food is something you enjoy then we'd definitely suggest taking a good look at how Cookie + Kate made this delicious veggie enchilada casserole that's packed with taste.
10. Easy green bean casserole
Now, we've already talked about casseroles that highlight one specific vegetable and present them even more deliciously than usual, like the tomato casserole above, but what if you'd prefer a different veggie to take centre stage? Well, if you adore green beans above all else then we're pleased to let you know that your patience has paid off! Check out Damn Delicious to see how this easy green bean casserole was made.
11. Vegan broccoli cheese casserole
Just in case we really caught your attention when we started talking about making casseroles with green veggies specifically but you're trying to cook with a vegan diet in mind, here's a fantastic alternative that's friendly for everyone at your dinner table! Fit Foodie Finds teaches you in steps how to make a filling and nutritious vegan broccoli cheese casserole that no one will even notice isn't made with dairy-based cheese; all they'll taste is goodness.
12. Baked cauliflower casserole
Have you actually always been more of a cauliflower person rather than a broccoli person but you can't help thinking that the recipe above would be so great with your veggie of choice in place? Then we'd absolutely suggest checking out how Life Made Sweeter made precisely that happen here. This particular recipe wasn't written specifically to be vegan, but the dairy products you see included are very easily replaced with vegan ones.
13. Roasted summer vegetable casserole
We've shown you casseroles already that are made specifically with fall vegetables, but what if you're really feeling the things that are in season right now when the weather is warmer and fall hasn't come yet? In that case, we have a feeling that this fragrant and flavourful roasted summer vegetable casserole outlined in detail on BBC Good Food will be right up your alley.
14. Mexican bean vegetable casserole
Has the thing that piqued your interest the best so far actually been the idea of making a casserole packed with Mexican flavour, but you're the kind of person who always likes to consider more than one option before you make decisions? Well, if you also like beans alongside your veggies and warmed cheese then we think you're going to get a real kick out of this Mexican bean vegetable casserole featured nice and clearly on Damn Delicious!
15. Easy sliced summer vegetable casserole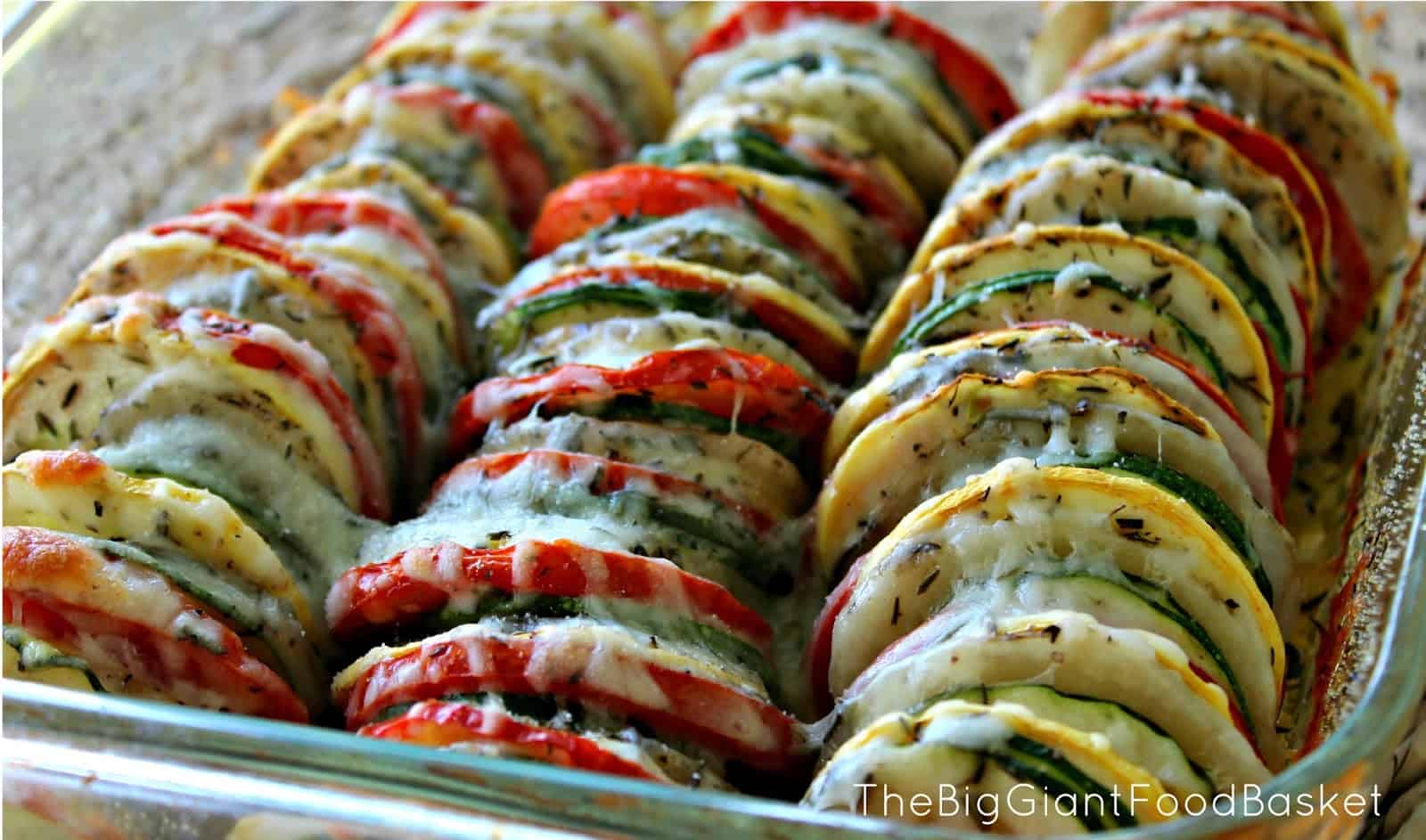 Have you found yourself still thinking about the idea of making a whole casserole from summer vegetables but, for whatever reason, you aren't sure you're feeling 100% sold on the one we showed you above? Then here's one more alternative for your consideration before we sign off! Food From the Heart teaches you step by step how to make a very cheesy and fresh tasting easy sliced summer vegetable casserole in just a few simple steps.
Do you know another foodie who has been looking for delicious ways to up their family's veggie intake but also really loves making casseroles more than just about anything? Share this post with them so they have all kinds of delicious options to choose from and try!