13 DIY Mailboxes To Add New Layers To Your Curbside Appeal
You don't have to settle with what came with your house. Traditional designs may not suit your vision for your home or your personal tastes and that's perfectly okay! Because there are some ways around what we're used to seeing in every neighborhood. These 13 DIY mailboxes add new layers to your curbside appeal. That's right! You can create your very own or at least give your existing essential a makeover with just a few solid tips. Who knew there were so many ways to style a mailbox?
1. Modern Farmhouse
This modern, farmhouse style mailbox is a top to bottom makeover that you can finish off in an afternoon. Even our novice of DIYers can handle getting this job done and without too much stress. Check out the details by visiting our friends at Living Letter Home.
2. Contemporary Art
If you're really feel ing adventurous why not try your hand at turning your mailbox into a piece of contemporary art for your home? That's exactly what we're seeing happening over at The Homestud! And just imagine the finished product if you added a slick coat of paint to the end!
3. Paint & Vinyl
If you don't want to build, you may just want to decorate – and that's okay too! Decals and vinyl pieces (grab your Cricut!) can really help with that transformation. Check out LollyJane for some inspiration and helpful tips.
4. Copper
Copper home additions are all the rage right now. We love that chic and sophisticated rose gold finish. And Sand and Sisal took that trend to heart and used it on their mailbox. And you can too – take the leap and grab the deets.
5. Cedar Design
This cedar mailbox from Family Handyman is another amazing idea that will certainly level up your curbside appeal. We love this idea for those with more traditional sights but still want a mailbox that is different from their neighbors. It's a chic, homey design.
6. For Packages
This isn't as a replacement to your traditionla mailbox – instead, it's something that you can make if you're one to receive a lot of packages at home. It'll keep them safe throughout inclement weather and when you can't grab them in time because you're away from home. You can visit the plans and follow the tutorial at Home Talk.
7. Breadbox
For smaller cottages or beach homes, you may want to install a smaller mailbox. It has a beautiful vintage quality and it's so easy to add on to your porch. And this one is made from a breadbox that we found featured on Ikea Hackers.
8. From Scratch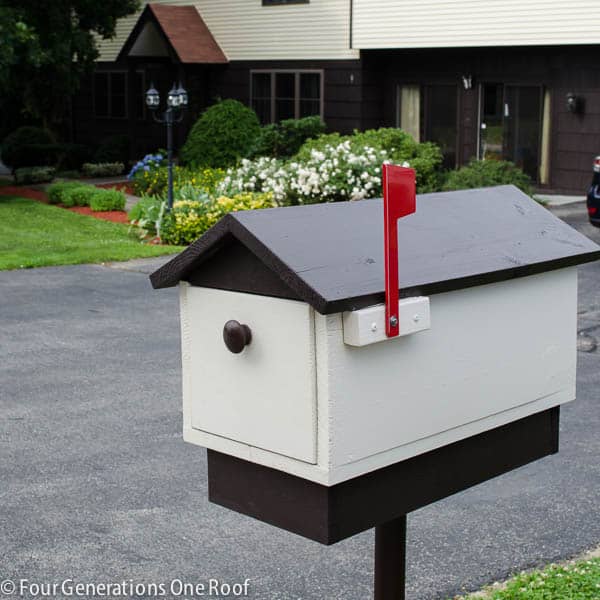 Maybe you have to start from scratch, and that's okay! We have Four Generations One Roof to help you out. Use these plans to get yourselves started and then you can reroute the overall style to fit your vision. Or even go with colorful pops of blues or reds for paint!
9. Clean Lines
The Homestud has another stunner up their sleeves for us to try. This one mixes modern style with traditional quality quite nicely. We love its clean lines and simplicity making for a lovely addition to more minimalistic homes.
10. Climbing Plants
Sometimes just planting a few greens can make the biggest different to the space. Even some of these beautiful, climbing florals from Lowe's can do the trick. They work great on more unique designed mailboxes or traditional ones as well.
11. VW Bus
How amazing is this VW bus mailbox? If you're on the quirkier side, you may want to follow suit. All you have to do is check out this YouTube  video to learn all you need to know to get it done.
12. Painted House
How adorable is this painted home mailbox from Pretty Handy Girl? For those with a love for cottage style and homey qualities, then why not turn your mailbox into a bigger project. Even if it's not a working mailbox it can become quite the topping to your landscaping.
13. Ombre
And finally we have the ombre mailbox from Embrace My Space! This is a wonderful – and easy – way to bring some contemporary personalization to your mailbox. And we love the sparkle to the pole!