Upcycling Old Thrift Shop Knits
As avid knitters, there's just something that always draws us to the knitwear section of any thrift shop or store, even if the piece there weren't done by hand. There's a part of us that wants to put every knitted garment to good use, even if that means changing its form. That's why we've been considering upcycling some of the knitted pieces we've collected throughout the years that don't get worn anymore, whether they were purchased or handmade! We've been keeping our eyes peeled for all kinds of ways to upcycle old knitted pieces, from sweaters to scarves and beyond.
Are you feeling just as intrigued as we were, if not more, by the idea of turning your old kitted garments into something else? Check out these 15 fantastic ideas, designs, and tutorials we've come across so far in our search for inspiration and guidance!
1. How to recycle an old sweater into yarn
Whether it's an old homemade piece or something you bought, have you got an old knitted sweater that you adore the colour and yarn quality of but that just doesn't fit anymore or simply hasn't been worn in years? Well, what if we told you that you could quite easily turn that yarn into something else knitted that you might actually wear? Take a better look at this tutorial from A Common Sense Life for deconstructing knitted garments back into yarn balls that you can re-knit to see what we mean!
2. Sweater to cute lampshade
Are you the kind of knitwear lover who proudly displays your favourite hobby in your home whenever you can and would absolutely knit just about every piece of decor and furniture you owned if you could? In that case, we think you just might be the perfect person to give this sweater turned lampshade project outlined step by step on Amber Oliver a try!
3. Upcycled sweater Christmas ornaments
Is your favourite old wool sweater that never gets worn anymore actually made from more of a felted wool than a knitted one? Well, that's useful for upcycling as well! We'd encourage you to take a look at how Swoodson Says made cut sections of their own old wool sweater into lovely little embellished Christmas ornaments in just a few simple steps.
4. Christmas wreath from an old wool scarf
Perhaps it's not actually a sweater at all that you have to upcycle but rather an old knitted scarf that doesn't get worn anymore but that you still appreciate the pattern and colour of? In that case, we think you might have better luck making something like this knitted door wreath featured in detail on One Fab Day! We like that you don't have to cut into the knit and risk unraveling things to make this project happen; you'll just do a bit of simple wrapping.
5. Kids' leggings from an old sweater
rather than just making something decorative, would you actually much prefer to turn an old knitted garment into another wearable garment that might be of use this winter while the weather is cold? In that case, we'd be willing to bet that you'll really appreciate the way Eyeland of Lovely quite easily turned the sleeves of an old sweater into the legs on a pair of cuet knitted toddler leggings!
6. Infinity scarf from an old sweater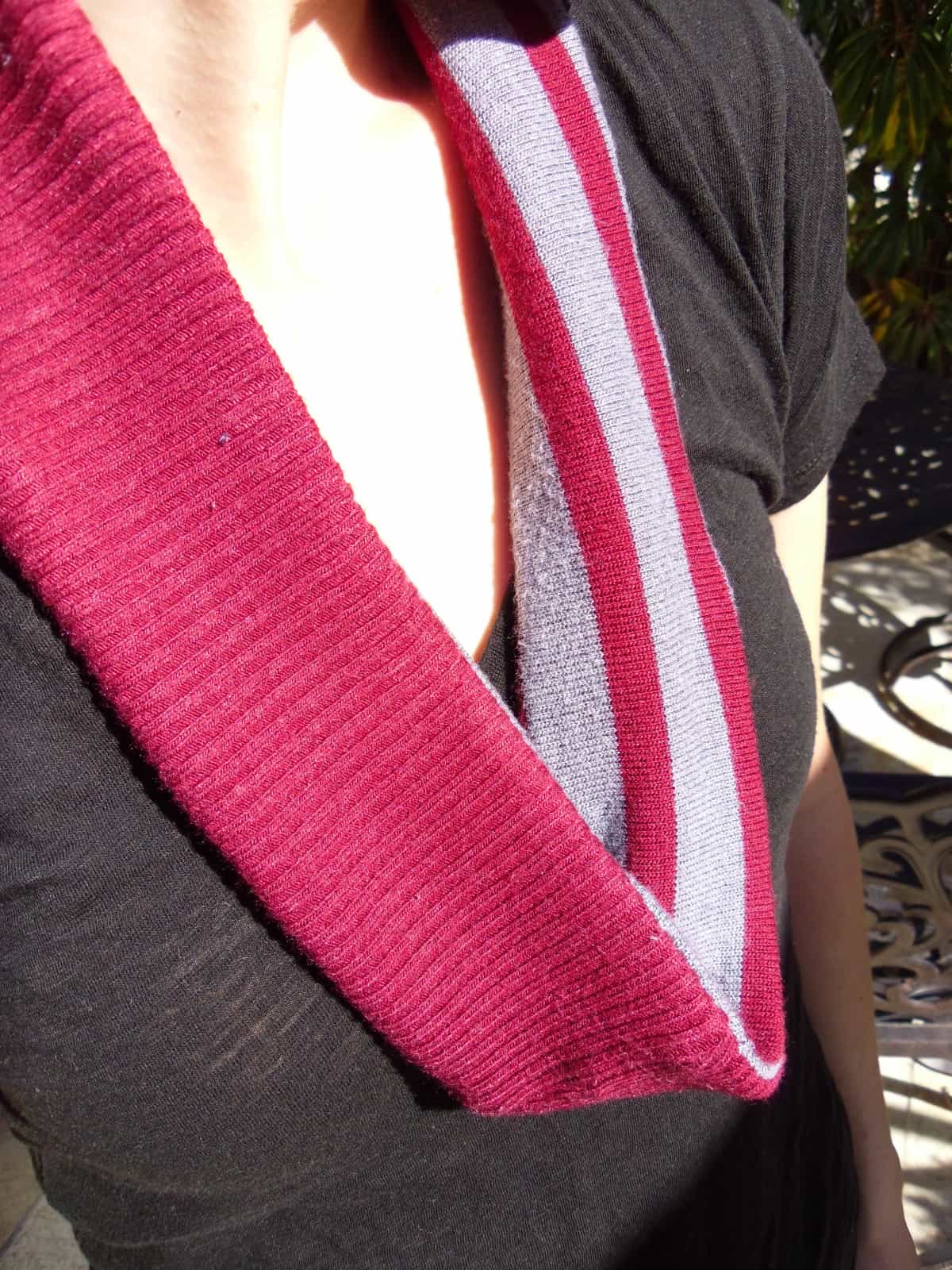 Have we really caught your attention now with this whole idea of turning an old knitted garment into a different kind of knitted garment that you might wear more often? In that case, we have a feeling that you'll really appreciate the way The Runcible Spoon turned the mid-section of an old knitted sweater into a lovely infinity scarf in just a few surprisingly simple steps!
7. Christmas sweater stocking
If you're going to be doing any crafting around this time of year and putting in the time and effort that takes, would you much rather make something rather holiday specific, just to get you even more in the Christmas spirit? In that case, we have a feeling that this lovely knitted Christmas stocking made from an old sweater might be right up your alley! Get the full instructions for making it happen on An Extraordinary Day.
8. DIY sweater pet bed
Like us, are you the kind of animal lover who can definitely be found crafting for your pets just as often as you do so for your human family members? In that case, we're absolutely sure you'll have full appreciation for the way this tutorial from Empress of Dirt outlines the steps for turning an entire knitted sweater into an adorably comfy bed for a small pet, like a cat or rabbit!
9. Lovely mittens from old sweaters
Did we almost have you feeling convinced when we started talking about making something new out of old felted wool sweaters but you're just not sure that your Christmas tree needs any more DIY ornaments right now? Well, if you'd rather create something practical and you're also quite intrigued by the idea of making a new wearable item, then we think perhaps these beautiful mittens made from old sweaters are the project for you! Learn more about how they're done on Calendariu.
10. Recycled sweater wine bottle gift bag
Like so many other people we know, have you been trying to adopt a more green and reused approach to gift wrapping this winter, rather than wasting so much paper around the holidays? In that case, we're pleased to report that we've found a cute tutorial to help you out with that! Check out this guide from Oh My! Creative that shows you the steps for turning an old sweater into a wine bottle bag for when you take a bottle of wine for dinner around Christmas.
11. DIY sweater winter tote
Regardless of whether the sweater you're thinking about upcycling was hand knitted, machine knitted, or wool felted, are you convinced that making something very useful and practical is the best route for you? In that case, we'd absolutely suggest taking a look at how Renegade Seamstress turned their own sweater into a cute tote bag with durable wood ring handles!
12. Button shawl collar scarf from an old sweater
Have you always admired those wonderfully knit shawl collar cowls that you've seen handmade by knitters you know and sold in stores and you're itching to make one yourself but your knitting skills aren't quite that advanced yet? Then we have a strong feeling you'll really appreciate the way Homemade Heather created this one from pieces of an old pre-made sweater! Their guide shows you how to make cuts without unravelling everything and how to carefully put the buttons on.
13. Upcycled sweater boots
Did you get a real kick out of the idea of turning the sleeves of an old sweater into something wearable and useful but you don't have a toddler in your life to make leggings for? Then perhaps you'd rather make something for yourself! Take a better look at this tutorial from Trash to Couture that shows you how to make cozy boot socks for the winter, complete with an anti-slip bottom.
14. Re-upholstered sweater chair
Have we actually still got you thinking about how much you love the idea of incorporating knit pieces into your home decor scheme but you're just not sure the lampshade idea is quite the one for you? In that case, we'd absolutely suggest taking a look at this cute chair cushion alternative instead! Hometalk shows you how to make some simple upholstering happen.
15. Sweater to cable knit skirt refashioning
Just in case you're still feeling quite intent on making something wearable but you just haven't found the piece that suits how much you like to dress up, even when it's cold out, then here's one last suggestion before we sign off! This tutorial from My Poppet Makes that guides you through the steps for turning a sweater body into a skirt is actually one of our favourite things we upturned in our whole search.
Have you turned your old sweaters, scarves, and knitted pieces into other awesome DIY things before that you don't see here on our list but were very happy with? Tell us all about what you made and how you did it or link us to photos of your finished work in the comments section!