Fun and Unique Yarn Crafts
In our house, yarn crafts are a daily activity. Many different members of our family knit, crochet, and cork, so there are always plenty of yarn ends and spare scraps lying around for other creative projects too, since someone's always finished another project up. That's why we've been on the lookout for unique and creative projects to use our scraps for, just to make sure it all gets used rather than being thrown out or cluttering up our space!
Just in case you love the idea of making awesome, fun, and simple crafts out of yarn just as much as we do, if not more, here are 15 of the best ideas, tutorials, and concepts we've come across so far that involve something other then knitting and crochet.
1. Yarn wrapped letter quote plaque
Are you most interested in crafts that involve using yarn with other supplies in order to make something cute, custom, and decorative? Then we have a feeling you'll get along very well indeed with the way Makes and Takes used a frame and some raised wooden letters from the craft store to make this lovely yarn wrapped quote plaque that's very colourful and cheerful indeed.
2. Extra simple yarn dolls
If you're going to do a bit of extra crafting outside your regular hobbies, would you rather make something your kids can help you with and then continue to play with when it's all finished? In that case, we'd definitely suggest taking a look at how Be Brave, Keep Going made these fantastic yarn dolls that look just like the homemade toys from days of auld that kids would have actually made and played with once upon a time.
3. Nail and yarn wall art
Maybe you loved the idea of creating some kind of letter based wall art for your home using yarn but you're just not sure the previous idea was right for you because you'd really like to keep the yarn as the central focus? In that case, we'd definitely encourage you to take a look at the way Jen Loves Kev made a fantastic statement quote right on their wall using nail and yarn wrapping techniques.
4. Boho framed yarn fringe wall art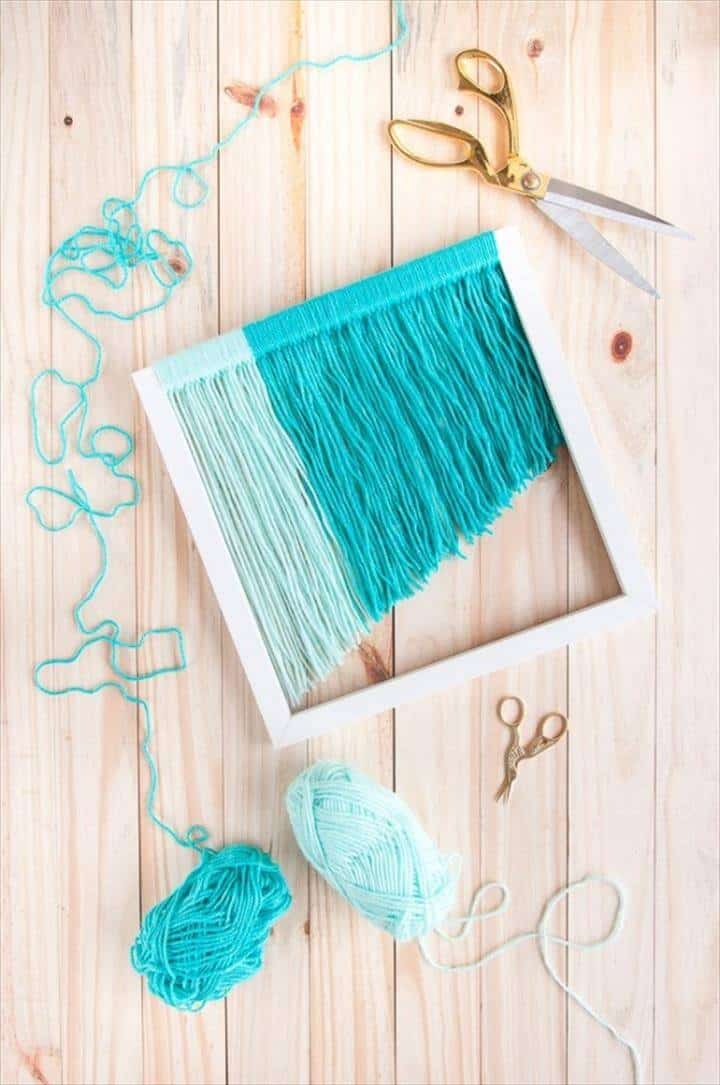 Are you actually feeling quite good about the idea of making some kind of wall art from yarn and a frame but perhaps it's the lettering that didn't really strike your fancy? In that case, we think you might get along a little better with something like this Boho chic inspired yarn fringe frame outlined step by step on A Parde Indecisa! We love the way they created a fading colour ombre, but you could use any colours you please.
5. DIY yarn pendant light
If you're going to get crafty with yarn, would you actually rather create a piece for your house that's both decorative and functional, but also a little more unique that what you'd usually see in main home spaces? Well, if your kitchen or living space features pendant lights, then we'd definitely suggest taking a look at how Place of My Taste used glued yarn wrapping techniques to create an awesome lamp shade.
6. Funky yarn ends bowl
Perhaps you're feeling quite enthusiastic indeed about the concept of making a hard decorative piece from your soft, colourful yarn using glue and drying techniques, but you don't actually have any pendant lights that need shades right now? In that case, we think perhaps this dried and moulded yarn ends bowl featured on Marrose might be a little more up your alley! Their tutorial shows you how to make it happen step by step.
7. Yarn woven trinket cups
Maybe you're looking for some kind of slightly more skilled yarn techniques project that you could help your kids make in order to introduce them to yarn crafts slightly before they're ready for things like proper knitting and crochet? In that case, we think you'll get a real kick out of the way Fave Crafts did some simple, colourful yarn weaving in order to make these trinket cups that work great as mini planters or pen holders on your desk.
8. No-sew twirly yarn coasters
Perhaps you're loving the idea of getting your kids involved in the process of crafting with yarn scraps but you're still looking for something that is simultaneously a little more simple and a little more practical, or something you'll actually use? Then we'd suggest showing off their handy work by making these adorably twirled and spiralled yarn coasters from The Studio and showing them off when guests come over!
9. DIY knotted yarn headband
Do you have some of that flatter, woven yarn that was extremely popular a few years back but that hasn't quite trended back into style yet, so you're looking for a way to use your leftovers? Well, if you love wearing pieces of your own making as much as we do, we think you might also enjoy the way Consumer Crafts outlines this adorable DIY yarn hairband that features a Celtic knot on one side.
10. Yarn wrapped cereal box picture frame
Did we catch your attention pretty well when we started talking about yarn crafts, frames, and wrapping techniques but you're kind of just looking for something a lot simpler than what you've seen so far? In that case, we'd definitely suggest taking a look at how Hazel and Company made these adorable upcycled cardboard and yarn wrapped frames with their kids! Its the perfect way to display their own drawings and paintings; art begets more art!
11. Easy yarn flower embellishments
Maybe you've actually knit or crocheted something already that could use a little extra character or embellishment and you're looking for something simple that's also made of yarn to add to it? Well, if you're a lover of all things floral, perhaps this tutorial from Crafts Unleashed will give you what you need! They show you how to make adorable looped flowers with button centres.
12. Yarn and nail wooden wall art
Have we actually still got you thinking a lot about the idea of using nails, yarn, and wrapping techniques to make awesome images and letters but you're just not sure you can handle a project that's on quite so large a scale as the wall quote version we showed you earlier on? In that case, we'd definitely suggest taking a look at the way Creme de la Craft made this lovely floral yarn and nail art on a smaller wooden backing instead, mounting it on the wall upon finishing.
13. Trellis yarn necklace
Did we really catch your attention when we started talking about different kinds of trendy yarn from years past that don't often have patterns written for them anymore, but the kind we showed you before isn't the kind you have? Well, if you happen to have any trellis yarn in your stash, then we think you simply must look at the way Just Another Hang Up turned theirs into a lovely, multi-layered necklace.
14. The crazy complicated yarn friendship bracelet
Of course, if you've made different kinds of friendship bracelets before, this fantastic woven bracelet design isn't actually that complicated. It is, however, extremely impressive when you wear it! Rather than using embroidery floss like many of the bracelet books and tutorials you'll find suggest, take a look at how Hey Wanderer made theirs using thin scrap yarn.
15. Easy looped yarn rug
Do you actually have quite a bit of scrap yarn in the same colour and thickness left but you'll never end up knitting or crocheting it all together because it's from different dye lots you've used over the years? Then maybe turning it into a project where dye inconsistency won't be noticed is the best idea for you! We love the way Handmade 4 All used yarn to create an awesomely colourful looped floor mat with a cheerful heart in the middle.
Have you made other fantastic crafts and projects from yarn that you really enjoyed but that you don't see on our list? Tell us al about what you created and how you did it or link us to photos of your finished work in the comments section!