15 Unique Wall Painting Ideas
We've been redoing the rooms in our houses lately, slowly working our way through each one and choosing themes, aesthetics, and décor schemes that vary from the others but still suit the place over all. It's an arduous process that involves a lot of decision making, but it's so satisfying when we finally decide on things like main colour and primary décor elements! We've learned through this process that, even though painting the walls is quite a permanent thing, it can also be one of the best ways to create visual interest in a room that really commits to the look and impresses visitors. There are more things you can do with a great blank wall, however, than just paint it a single solid colour or give it a simple contrasting trim. Sometimes a blank wall that's all ready to be painted is a great opportunity to create a big art piece in the middle of a room.
Just in case you're feeling as adventurous as we have been with our painting lately, here are 10 awesome wall painting designs that are full of colour, texture, patterns, and general style over all, and totally aren't as hard to create as they look!
1. Starburst ombre wall
Are you caught between the idea of creating a bold geometric pattern and the concept of creating a pretty colour ombre that will let you enjoy all different shades of your favourite hue at once? Well, since you're the one doing the decorating, technically no one can make you choose between the two! Instead, we've found a way to combine the two and give yourself a cool starburst shaped ombre wall. See the design in more detail on The Projectory!
2. Wall stenciling
Is your idea of wall art a simple stencil created with a roller, as long as you can find one in a picture or pattern that you really enjoy? We don't blame you; stenciling is one of the easier techniques on our list but it's also one of the most satisfying because it gives you such neat, clean edges when it's done properly. Beautiful Havens has some great tips and tricks for you! The best part is that their tutorial teaches you how to make the stencil itself from scratch rather than just buying one, meaning you can completely customize if how you please!
3. Light switch and socket art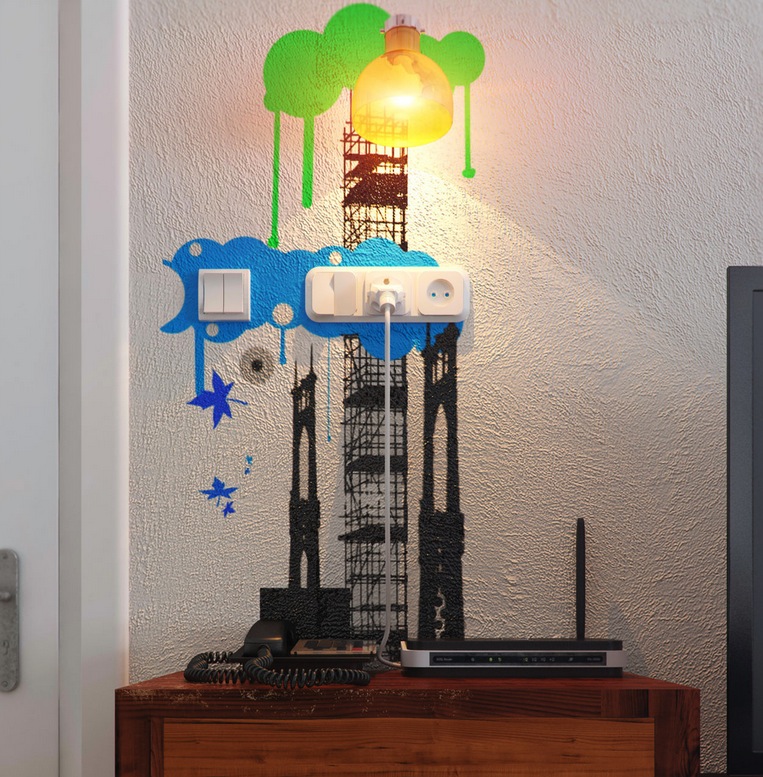 Have you always been a talented artist, particularly when it comes to hand painting designs and patterns, and you'd absolutely love to put those skills to work in your wall painting scheme but you're just not sure how to incorporate the things you're picturing without making the room look too wild? Then we have a feeling you'll like this awesomely bright and detailed suggestion from Home Designing! Painting just around the light switch or electrical socket gives the room a unique twist without having the bright details you create overwhelm the rest of the décor and take over the room as a whole. It's like hanging a painting that draws the eyes to one spot, only it's painted right onto the wall instead!
4. Textured world map
Have you always been an avid traveler and loved telling all your friends, families, and visitors about your latest adventure, watching them hang on your evert word as you describe each new place you experience? Then why now make your love for world travel evident right away in your décor? We love the way Cosmos Up created this stunning hand painted world map as a central piece on their wall, adding texture like terrain on the continents using sponging techniques.
5. Simple cherry blossom branch
Have you always loved the idea of making your indoor space look just like the great outdoors, but your work schedule is so busy that you know you could essentially never keep luscious green plants alive and thriving in between shifts? Then try painting some plant life into your room instead! Sure, you could just get some fake plants made of silk or plastic, but the artist in you will enjoy painting things like this lovely little cherry blossom branch from Sbajema much more.
6. Water colour wall
When you started thinking about making a creatively ainted wall in your home, were you actually picturing something a little more abstract or perhaps something that looks a lot more like an actual painting technique that you might find on a print, art paper, or canvas? Then maybe it's time to put those old water colour skills to good use!
7. Brushed bristle effect
Are you mostly interested in the idea of giving your wall a sort of visual texture, even though you want it all to be one colour so things don't look too crazy? In that case, there are almost countless ways that you can make inventive little marks in the paint to give it a little bit more appeal than just a regular solid paint job. One of our favourite texturing techniques is this idea of using a wicker broom to create very thin brushed lines! It really is as simple as brushing the bristles of a broom down the wall from ceiling to floor before your paint fully dries.
8. Hand painted vines and bright flowers
Were you very intrigued by the idea of painting dainty plant life across your walls but you loved it so much that the cherry blossom branch we showed you before won't really suffice because you want even more than that? Well, there's nothin stopping you from painting flowers and vines all across your walls, is there? We love the way The creative imperativedid so, but we're especially appreciative of how they added many more blossoms than you saw before and let things twirl and curl artistically, showing off that it was clearly hand painted. This design is also a great opportunity to use lots of colours to brighten the place up!
9. Poem stanza wall
Have you been thinking about the stenciled text wall art we showed you earlier in this post since you first laid eyes on it and, even though perhaps the world map idea isn't the one for you, you'd still love to create big, lovely word art directly on your wall? Then check out this stunning feature on Home Designing! Instead of creating shapes with single words, they chose a beautiful cursive font and a lovely, meaningful quote and stenciled it above the bed like a second headboard.
10. Patterned roller painting
If you've never seen a patterned paint roller then you are in for a big treat! Patterned rollers are paint rollers that have little designs and pictures moulded into their surface similar to the way a stamp does. Behind that, there's a second roller that you dip into the paint. The patterned roller, which is what makes contact with the wall, also brushes against the secondary roller to pick up paint and then stamps it onto the wall as you pull down, just like you see here in this wall art from DIY Make It. These are a great way to create a smaller, more detailed pattern than a stencil will allow for, and they also make it easier to repeat the pattern in a more uniformed manner!
Do you know a fellow creative soul who's looking for a way to make their next paint job a little more unique? Share this post with them for a little bit of inspiration!