15 Unique Wall Painting Ideas
We've been redoing the rooms in our houses lately, slowly working our way through each one and choosing themes, aesthetics, and décor schemes that vary from the others but still suit the place over all. It's an arduous process that involves a lot of decision making, but it's so satisfying when we finally decide on things like main colour and primary décor elements! We've learned through this process that, even though painting the walls is quite a permanent thing, it can also be one of the best ways to create visual interest in a room that really commits to the look and impresses visitors. There are more things you can do with a great blank wall, however, than just paint it a single solid colour or give it a simple contrasting trim. Sometimes a blank wall that's all ready to be painted is a great opportunity to create a big art piece in the middle of a room.
Just in case you're feeling as adventurous as we have been with our painting lately, here are 10 awesome wall painting designs that are full of colour, texture, patterns, and general style over all, and totally aren't as hard to create as they look!
1. Starburst ombre wall
Are you caught between the idea of creating a bold geometric pattern and the concept of creating a pretty colour ombre that will let you enjoy all different shades of your favourite hue at once? Well, since you're the one doing the decorating, technically no one can make you choose between the two! Instead, we've found a way to combine the two and give yourself a cool starburst shaped ombre wall. See the design in more detail on The Projectory!
2. Wall stenciling
Is your idea of wall art a simple stencil created with a roller, as long as you can find one in a picture or pattern that you really enjoy? We don't blame you; stenciling is one of the easier techniques on our list but it's also one of the most satisfying because it gives you such neat, clean edges when it's done properly. Beautiful Havens has some great tips and tricks for you! The best part is that their tutorial teaches you how to make the stencil itself from scratch rather than just buying one, meaning you can completely customize if how you please!
3. Light switch and socket art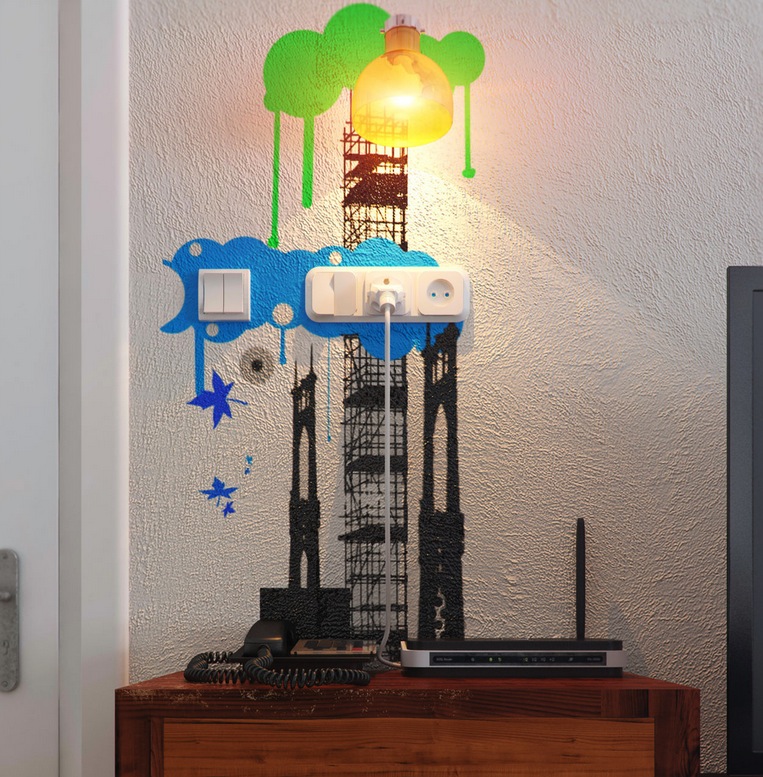 Have you always been a talented artist, particularly when it comes to hand painting designs and patterns, and you'd absolutely love to put those skills to work in your wall painting scheme but you're just not sure how to incorporate the things you're picturing without making the room look too wild? Then we have a feeling you'll like this awesomely bright and detailed suggestion from Home Designing! Painting just around the light switch or electrical socket gives the room a unique twist without having the bright details you create overwhelm the rest of the décor and take over the room as a whole. It's like hanging a painting that draws the eyes to one spot, only it's painted right onto the wall instead!
4. Textured world map
Have you always been an avid traveler and loved telling all your friends, families, and visitors about your latest adventure, watching them hang on your evert word as you describe each new place you experience? Then why now make your love for world travel evident right away in your décor? We love the way Cosmos Up created this stunning hand painted world map as a central piece on their wall, adding texture like terrain on the continents using sponging techniques.