Delicious and Unique Cream Puff Recipes
When it comes to the world of baked goods, we are well versed in finding delicious homemade recipes to try at home with our family. We like to think we're also good at enjoying all things in moderation and making sure we get proper nutrition, of course, but that doesn't mean we don't enjoy a good baking session on the weekend so we can have mouth watering sweet treats after dinner for the rest of the week! Which kinds of baking we love most, however, tends to go through phases; one month we'll be completely obsessed with trying different kinds of unique homemade doughnuts and the next we'll be looking for recipes that will help us make all different kinds of seasonal pies instead. So, what's our most current baking obsession, you ask? Well, lately we just can't seem to get enough of making sweet, flaky cream puffs.
Just in case you're feeling just as enthusiastic as we are about the idea of making all different kinds of cream puffs at home, if not more, here are 15 of the very best and most unique recipes, flavours, and tutorials that we've come across so far in our search!
1. Vanilla pastry cream puffs
If you've ever had a regular, classic cream puff than we're sure you're already familiar with how the fluffy dough that the scrumptious cream is wrapped in is quite sweet and pleasant, even if it's not particularly flavoured. What if you're the kind of thorough, gourmet-loving baker who adores as much flavour as you possibly can to your homemade recipes, though? In that case, we think you just might be the perfect person to give this vanilla pastry cream puff recipe featured on Incredible Egg a try!
2. Strawberry cream puffs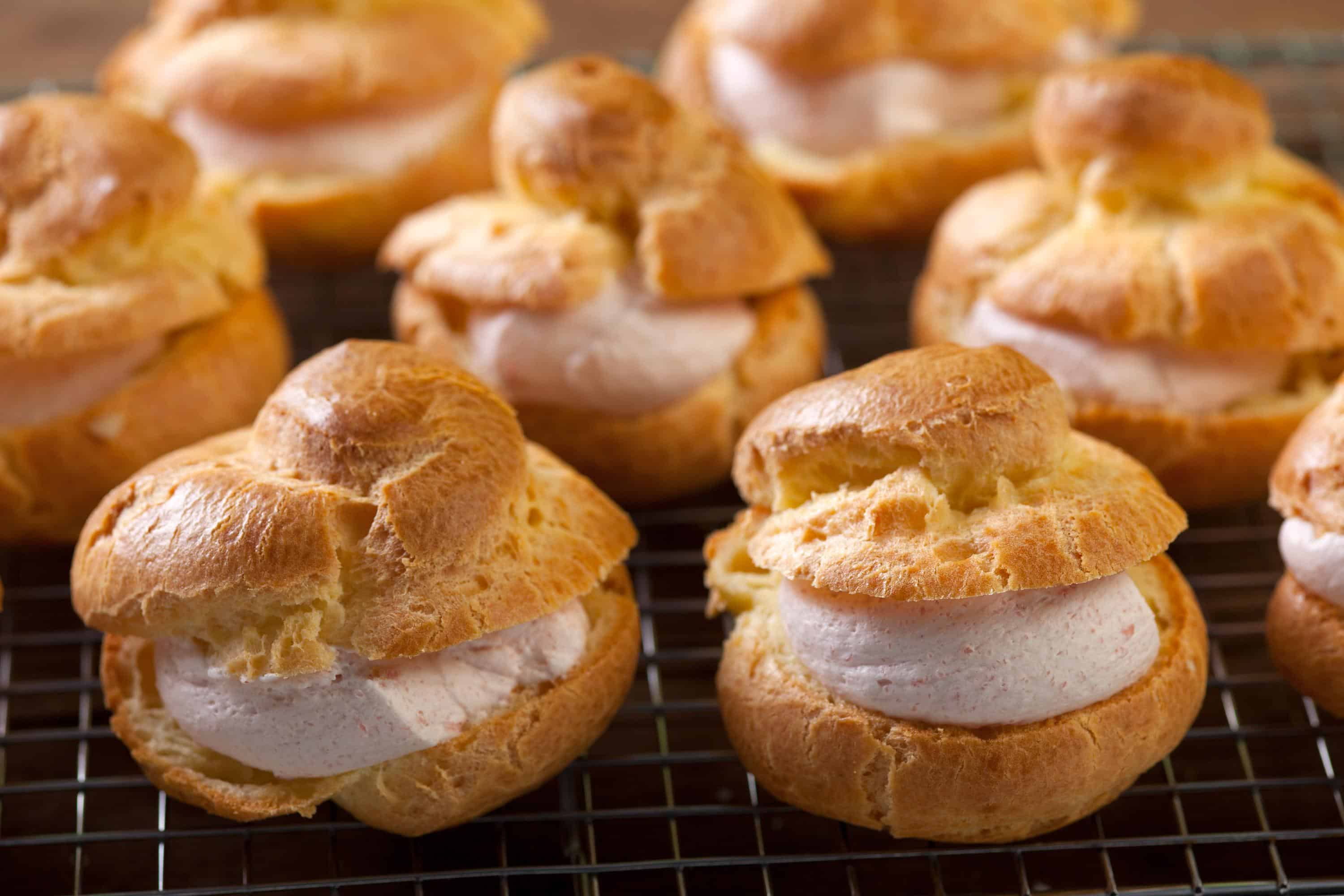 Did we really catch your attention when we started talking about cream puffs that taste like they have a little more flavour to them but you're just not sure that vanilla is really quite what you're looking for? Well, if you've ever been a berry love, then we're pleased to tell you that Chow Hound has a great alternative for you! Take a look at their recipe to learn more about how their fresh tasting, flavourful strawberry filling is made.
3. Gougeres, or savoury cream puffs
Well, we know we said we'd be talking all about the deliciously sweet, slightly more classic kind of cream puff that you're probably used to in this post, but we also said that we'd try to get unique with the recipes, right? That's why we couldn't resist including this savory cream puff recipe on our list once we saw it! We had some trepidation at first too, but our kids wolfed these down like their lives depended on them. See how delicious gougeres can be made in your kitchen too on Barbara Bakes.
4. Cream puff doughnuts
Did we kind of perk your interest up a little bit at the very top of this post when we started talking about unique homemade doughnut recipes, but you're still feeling quite intent on making something that involves cream puffs because you really do love them? Well, if you ask us, it sounds like a combination recipe might just be the answer to your dessert wishes! Take a look at how Spoon, Fork, Bacon made it happen.
5. Mango cream puffs
Perhaps our mention of strawberry flavoured cream puffs piqued your interested because you've always loved baked goods that involve delicious fruit flavours, but berries have actually never really been your favourite? Well, if you're looking for something slightly more tropical, and perhaps even uncommon as far as cream puffs are concerned, we'd definitely suggest checking out how this fragrant mango version was made! Get the full details on Hispanic Kitchen.
6. Cream puffs with mascarpone cream
Perhaps you're actually becoming quite experienced in the world of homemade baked goods and now you're looking for simple ways to up your game a little, challenge yourself, and make something truly impressive? In that case, we absolutely think you should take a look at how Hot Eats and Cool Treats made these scrumptious cream puffs that have mascarpone cream in the centre!
7. Gluten free cream puffs
Have you actually been scrolling through recipes for classic treats like cream puffs in order to find alternative ways to make them because someone in your family or circle of friends has dietary restrictions? Well, that doesn't have to mean they can't enjoy cream puffs at all along with the rest of you! We'd suggest trying your hand at these wonderfully yummy gluten free cream puffs featured on Faithfully Gluten Free because that taste no different than the kind you're used to, they're easy to make, and they're tummy-friendly for everyone.
8. Lemon cream puffs
Just in case you're still kind of drooling over the idea of making mouth watering fruit flavoured cream puffs, here's another alternative for those of you who prefer citrus flavours over anything else! Tastes of Lizzy T guides you step by step through the process of making fresh lemon cream puffs where the lemon flavour of the cream in the middle contrasts perfectly with the subtle sweetness of the fluffy pastry on the outside.
9. Crispy shell Pai Shu cream puffs
If you're going to venture into the world of making your very own cream puffs from scratch, putting in the time and effort it takes to do so, would you actually be interested in finding recipes from other countries so you can see how other people interpret and enjoy your favourite teat? In that case, you simply must take a look at how these fantastic Japanese cream puffs, or Pai Shu, are made! Get the full details for making both the filling and the crispy shell on Little Japan Mama.
10. The ultimate cream puff cake
What if you've been feeling creative in the kitchen lately, especially in the baking department, but rather than changing up the flavour of the treat you love so much, you'd actually rather just find recipes that will help you enjoy that classic flavour in new ways? Then perhaps a cream puff cake would be right up your alley! Get the full details for making it happen on Inspired By Charm.
11. Pumpkin pie cream puffs
We've talked a little bit about cream puffs that have other flavours by this point on our list, but what if the fruit route isn't at all the direction you were hoping to go in? Then maybe another, slightly more subtle combination recipe that adds a bit of extra taste would be preferable for you! A Farm Girl's Dabbles guides you step by step through the process of making little creamy puffs that taste like pumpkin pie, just in time for fall.
12. Boston cream puffs
Did we kind of catch your attention when we showed you the cream puffs doughnuts idea because you do love a good doughnut and always have, but your favourite kind has always been Boston Cream? In that case, we have a feeling you're going to adore this Boston Cream doughnut inspired cream puff recipe outlined step by step on Baker By Nature. If you ask us, the idea of covering a cream puff in a topped layer of melted chocolate is positively decadent!
13. Salted caramel cream puffs
Are you the kind of sweets lover who actually prefers a little bit of a contrast flavour when you enjoy a good dessert, just to keep things from getting a little too sweet? Then we'd be willing to bet that you're a fan of treats that are salty and sweet! Now, we don't commonly see sweet and salty cream puffs in stores or in bakeries even though we think it kind of sounds like the perfect idea, so we're sure you can imagine how excited we were when we came across this homemade recipe for that very thing from Worth Whisking!
14. Choux au craquelin
We've already shown you several English and a Japanese way to enjoy your favourite puffed baked snack, so why not continue our tour around the world and go to another new place with a cool new recipe? This time, we're headed to France so I Am A Food Blog can teach us how to make whiskey cookie cream puffs, or choux au craquelin! The slightly crunchy outside balances perfectly with the creamy centre.
15. Matcha cream puffs
Are you actually still feeling quite intrigued by the idea of making cream puffs that have a little bit of extra flavour but you'd also prefer to keep it pretty subtle? Well, if you've ever been a green tea lover, we have a feeling you're going to be very into this matcha cream puff recipe featured in detail on Miss Hangry Pants! We love that, in addition to teaching you how to make the delicious matcha cream filling, they also show you how to make possibly the perfect puffed pastry.
Do you have another absolute favourite kind of cream puff that you make all the time and that your family loves to gobble up immediately, but that you don't see anything quite similar to on our list? Tell us all about how it's made or link us to the recipe so we can all try it out as well!