15 DIY Ideas Trending At Greenery-Inspired Weddings
Extra bouts of greenery are all the rage in the wedding world right now. From the chandeliers to the bouquet, flowing, fresh greens are the biggest trend. And, we're thinking that you can take that idea and infuse them into your DIY work for the wedding day. Here are 15 DIY ideas that are trending at all of those greenery-inspired weddings. Take a peek!
1. Greenery Wreath
The Lovely Little Things starts our green journey off with this fabulous greenery-filled wreath project. You can dress doors, backdrops, mantles, and more with one or a set of these beauties. Take the leap and follow the easy tutorial!
2. Fresh Greenery Garland
Julep made some fresh greenery garland for their celebration. And we just happened to snatch it up and feature it here because of all the ideas that it sparked. There are so many different ways to incorporate something similar for a wedding, at the altar, reception, or on the tables!
3. Greenery Centerpiece
Check out this stunning, DIY centerpiece we found hanging out at Afloral. It's lush and voluminous, perfect for rounding out the reception tables. Head on over now and learn how to put these beauties together yourself.
4. Greenery Globe Light Garland
The Merrythought has a beautiful garland DIY up their sleeve as well. We love how delicate and romantic this design is. It'll look just as pretty on the walls as it would on the tables, chairs, or banisters.
5. Copper Greenery Rings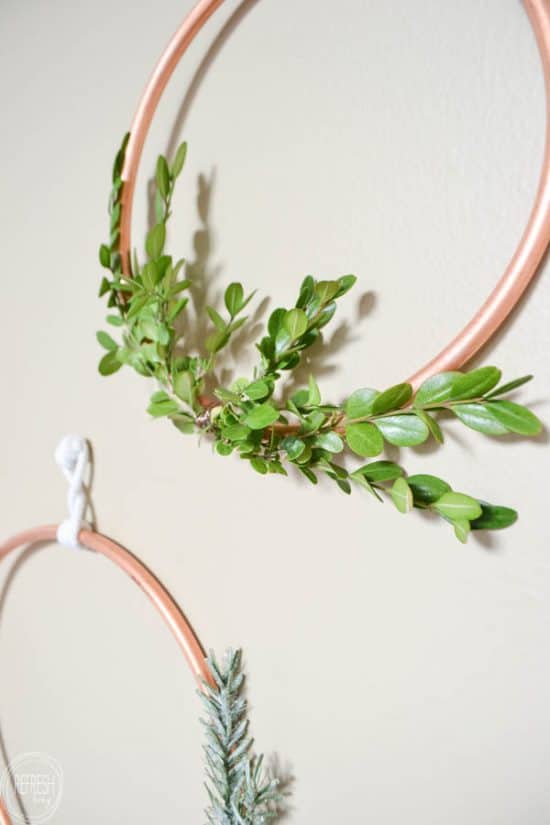 Refresh Living combined copper and greenery to make these modern pieces of art for the walls of your wedding. Hang them at the altar, around the sweetheart table, or anywhere else that needs a bit of jazzing up. They're perfect for year round decorating as well.
6. Simple Table Greenery
Here's a simple greenery garland that can highlight any table for the party. Check out all the details by hopping over to The Merrythought. You can grab your bridesmaids and get to work on this project by the weekend!
7. Greenery Chargers
You could add a bit of green to each of the place settings as well. Learn how to make some chargers to really liven up the reception. Check out the tutorial by visiting The Rustic Woodbox.
8. Greenery Bridal Bouquet
YouTube has a lot of great follow-along DIYs to choose from as well. We particularly love this bridal greenery bouquet. Check out the details and create your very own piece to walk down the aisle with!
9. Holiday-Inspired Greenery Wreath
If you're getting married around the holidays, maybe add a bit of that flavoring to the party as well. This Christmas-inspired piece from Practically Functional could work in any part of the reception. From the doors to a backdrop to snap some photos, it's a versatile style!
10. Greenery Mobile
Arin Solange featured this DIY greenery mobile and we fell in love. Although meant for a baby's nursery, you could use these as hanging centerpieces at the reception. It's quite simple to recreate and not too hard on the wallet either.
11. Green & Floral Ampersand
Weddingomania grabbed some florals and greenery to make this stunning ampersand. Use this idea to create any initial for the party! And highlight the cake or sweetheart tables with its liking.
12. Greenery Arch
You could create a wedding arch as well. Utilize it at the ceremony or as a lively Photo photobooth at the reception. Once Wed will give you all the know-how on how to make it happen.
13. Greenery Hoops
Little Inspiration went with a hoop design as well. This time all you need to grab are some embroidery hoops to get yourself started. We love the natural, boho inspiration behind these beauties.
14. Green Boxwood Backdrop
Cake & Confetti had this gorgeous DIY up their sleeve and we knew we had to feature it here too. How amazing would this be for the bride and groom to exchange vows in front of? Or how great it would be as a photo-op for the guests at the reception?
15. Lush Greenery Garland
Finally, Floral brings some more of our green dreams to life with this lush, green garland. Check out the easy-to-follow steps and use some of these around the ceremony to liven up the place. If you're looking for a natural escape in terms of decor, this is where to start.