15 Great Tips to Get You Ready for Fire Pit Season
The moment spring arrives, we start getting excited for fire pit season. By this point in the year, over the May long weekend specifically, we're always crossing our fingers in hopes that the weather will be dry enough to get a decent fire going during our first few cottage weekends of the season. Either way, we make sure that we're prepared by this point to have a safe and enjoyable fire pit season, just to make sure that things stay fun rather than becoming stressful or dangerous due to carelessness.
Just in case you love fire pit season as much as we do but you'd also like to make sure you go about it all the right way, here are 15 very helpful (and very smart) tips and tricks for getting ready and making the most of your fire pit this spring!
1. Run all your safety checks before the first grill
We now how tempting the idea of a first grill of the season can be, and we've often felt the urge to throw things right onto the grill and get cooking the moment the weather warms up, but there are a few things you should do before you get down to business making delicious entrees! Latin Touch tells you why and how you should do a few critical safety checks on your grill in advance of your first cookout.
2. Review your safety and usage manual
You might think that you remember how to use your grill perfectly after last year but, if you live in a wintery place like us, chances are good that you might have forgotten a small detail or two in the last ten months or so! It might sound like overkill, but we can honestly say that reviewing our manual and safety notes, just like Simply Meat Smoking suggests, has saved us from ruining the first few meals we've thrown onto the grill countless years in a row, especially in years when we've updated features or bought a new grill entirely.
3. Tips for building your own safe gravel based fire pit
When you think of "grilling" for the spring, do you actually think of a more rustic style metal grill placed on top of a fire pit rather than just using a barbecue? Then perhaps it's time for a brand new, safer pit to put that grill on! Hedberg Rocks guides you through the process of gravel based fire pit with a cylindrical metal tin siding encompassed in rocks, making your grilling process solid and safe.
4. Make an organic perimeter fire pit
Have you always been wary of including metal in your fire pit plans and you'd rather make a more organic pit that you can actually roast things over in a more old fashioned way? In that case, we think you might prefer to take a look at the way Laura Catherine made a fire pit with a completely rock lined perimeter! It's a solid, smart way to build a fire that has a very small chance of getting out of control while you cook over it.
5. Build a garden fire pit
If you're going to go to the trouble of building a fire pit from scratch, would you rather go with a more classic design like the ones you grew up roasting marshmallows over? In that case, we have a feeling you'll really appreciate this simple, matter of fact tutorial from Instructables for building a regular, above ground garden pit! If we're being honest, we're actually surprised how few simple steps this pit actually requires.
6. Concrete tree rings pit for $50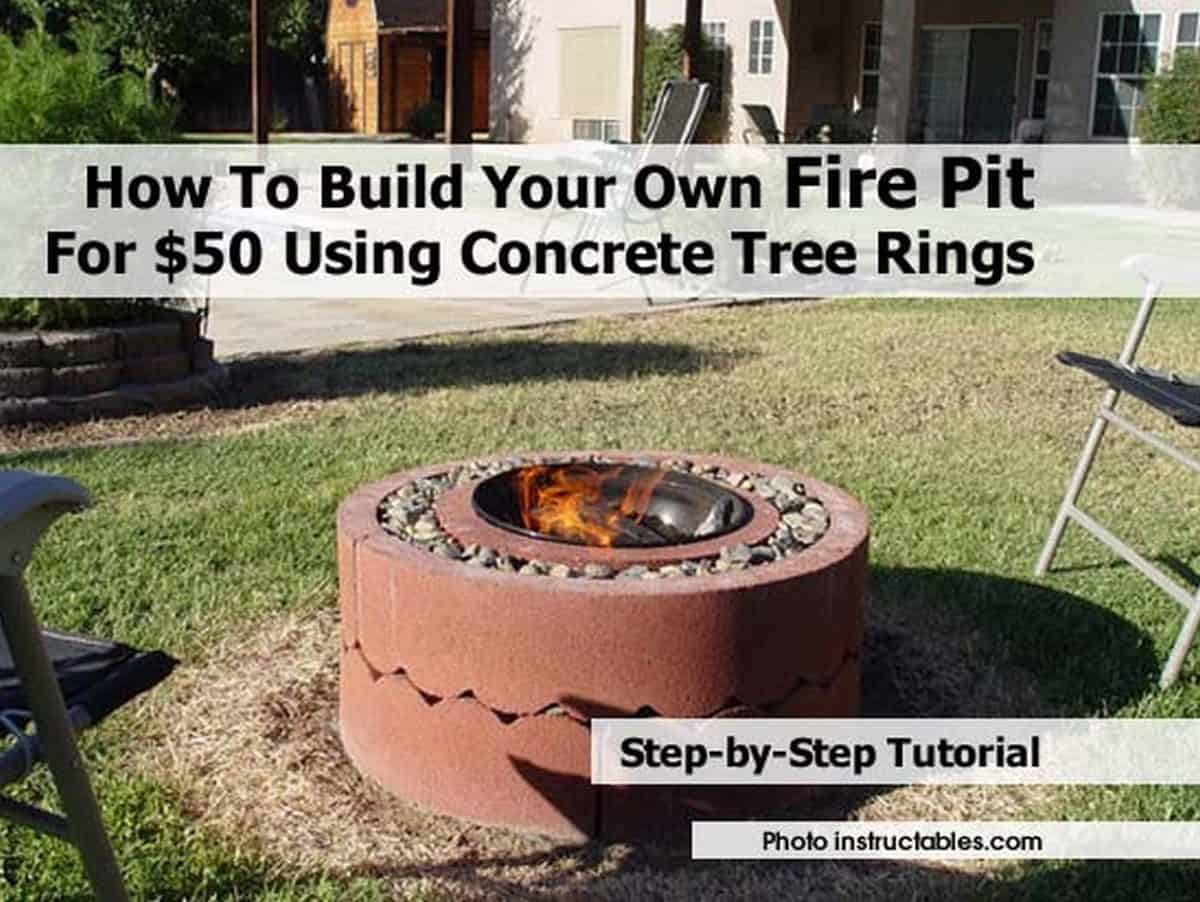 Are you working on a bit of a budget, so you're going to need something a little cheaper regarding material costs than what we've shown you so far? Perhaps you're actually just interested in more of a modern rustic aesthetic if you're going to build a rather large piece in the middle of your yard. Then we definitely think you should take a look at the way this tutorial from Instructables outlines a fire pit made out of large browned concrete rings! We like the way the stone filling adds an earthy feel.
7. Portable indoor fire pit
Do you actually live somewhere that gets quite chilly at night all year round, so you've been dreaming of a way to enjoy your beloved fire pit nights indoors? Perhaps you actually just love a crackling fire at night so much that you'd like to have the option inside and outside! Then we have a feeling you'll appreciate this very cool tutorial from Design Sponge that teaches you how to make a glass encased fire pit that's both safe to use indoors and portable. This way you can enjoy it in just about any room you please!
8. Fire bowl style outdoor pit
Perhaps you have an old fashioned grill that you love the vintage look of but that you know doesn't work anymore, so you're hesitating over the idea of getting rid of it? Well, have you thought about upcycling the piece to get a brand new but vintage inspired fire pit instead? If you haven't, we absolutely encourage you to take a look at how Outdoor Mancave created a standing, log filled fire pit using the bottom half of an old fire bowl style grill!
9. Miniature tabletop fire pit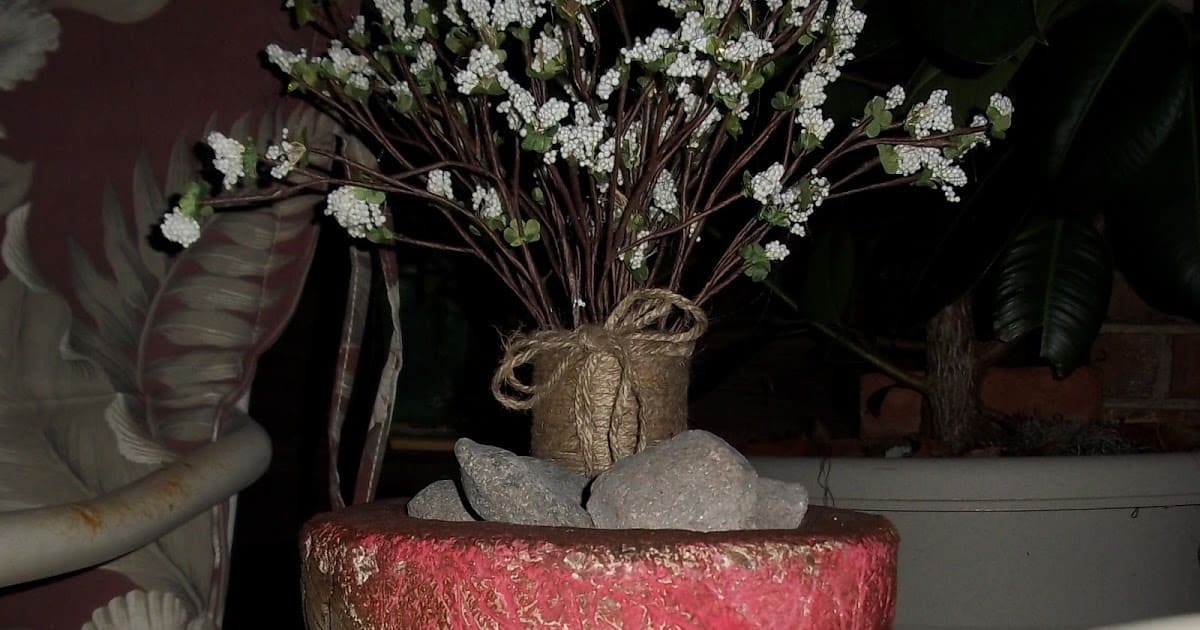 The stone piece you see in the picture might not look like a fire pit at first glance, particularly since they've dressed it up between uses as a pot holder for a pretty spring plant, but we promise you this is actually a miniature fire pit style grill! Glenda's World guides you step by step through the process of making a very neat little grilling experience for your family by making your own tabletop fire pit that's perfect for grilling small snacks on the patio.
10. Miniature DIY terra cotta pot fire pit
Were you a huge fan of the idea of making a tabletop fire pit but you actually live in a very small space and you've been on the lookout for an even littler version of the idea? Then we think perhaps we've found the perfect tutorial for you! Tastefully Frugal shows you how to make an adorable mini fire pit from a terra cotta pot, tinfoil, and safe burning coals like the kind you'd use in an actual barbecue, just in case you decide to grill snacks over top.
11. Try out some new fire pit recipes
Now that you've got a good idea of how to take care of your barbecues and grills and how to make a new fire pit of your own if you prefer, it's time to build a list of delicious snacks that you can make on those things! This particular list gives you a whole bunch of delicious ideas for snacks and meals that are best cooked over a fire pit, no matter what size. See how each delicious thing is made on Brit + Co. !
12. Campfire banana boat S'mores
Did we really catch your attention when we started talking about deliciously unique grill meals but your favourite thing to make over a fire pit is dessert and you just haven't seen one that quite struck your fancy yet? Then here's one of our absolute favourites for your consideration! The Ktchn shows you how to make a delicious grilled banana S'more right inside the peel, eliminating the need for dishes around the fire.
13. Delicious fire pit pizza
Would you prefer a grilled meal that's on the savoury side rather than sweet? Then why not try out a classic favourite, just made a little different so you can put your grill to good use and cook it all together with your family outside? We're huge fans of the added flavour that making this little pizza over the grill actually adds, so we're pretty grateful to have found it, with full ingredients list and cooking instructions, on I Am A Homemaker!
14. Learn how to use your fire pit's grill grate
Perhaps you actually live in a home that already has a fire pit built in to the patio, but you've never tried grilling over it because you weren't sure how to use the grill cover? Well, with some careful instruction like what you'll find on this guide from Eagle Bay Pavers, giving it a whirl is one of the only ways you'll learn! Check out how they made perfectly grilled chicken and sausages over an open fire.
15. Campfire cinnamon roll-ups
In our house, the most popular thing to make over the fire pit or the grill has always been roasted marshmallows. Throughout the spring and summer, however, we'll admit that our kids do seem to tire of just eating endless marshmallows after a little while. They love the process of roasting them on the stick so much, however, that they'll still do it all seasons long, so we decided to find them some alternatives. Their favourite was this cinnamon roll stick idea featured on Almost Supermom! It works over fire pit and grills of all kinds.
Do you know someone who loves fire pit season just as much as we do, if not more, and who's always looking for new ways to amp up their experience for the summer? Share this post with them to help them get ready for the warm nights ahead!