15 Ways To DIY Your Summer Table Decor
Summer  has sprung and it's time to sprinkle a bit of the season around your home! Start with your tables and get a little creative while you're at it. We've compiled 15 ways to DIY your summer table decor below. From fresh to faux flowers, to neutrals and pop of bright colors, there are tons of way to add your own stylish flair! Let's take a peek, shall we?
1. Doily Vases
Simply Classic Home took some doilies and dresses her their mason jars with them. With that small trick, you too can bring to life a new vase for your fresh flowers this summer. Round out your dining room table with some tulips and fun textures.
2. Flower Garland
You could always add a bit of flowers right on the table. Create some garland! You can use faux or real, depending on how long you want it to lasts. Thank for the gorgeous inspiration Style Me Pretty!
3. Pineapple Vases
Sugar & Cloth created some fun and sassy vases out of pineapples and you can too! Whether it's a way to simply bring summertime to the table or your dressing it up for a celebration, this is a super easy route to take.
4. Watering Can
Martha Stewart used an old watering can to ignite a summertime vibe to the dining room. We love the simplicity here too and how it adds a certain antiquity to the entire tablescape. Fill it with fresh or faux flowers and … voila! … you've got a beautiful scene.
5. Veggie Vases
You can make veggies out of your vases too! Just grab a few and start cleaning them out. We're loving this innovative and unique idea from Brit + Co.
6. Pom Pom Twigs
Stick some pom moms on a couple of sticks to create this simple piece of sunshine. Add some color to the table with this kid-friendly craft! Check out the details by visiting Wayaiulandia.
7. Gradient Egg Cups
These egg cups are super fabulous. Gradient colors that highlight the season beautiful, you can learn how to bring these to life by visiting out friends at A Beautiful Mess. We love the idea of planting succulents inside as well!
8. Sand Bottles
Sand art was super big in the 90's and it's definitely making a comeback. Check out this fun idea we found at Ruffled. Add some nostalgia and color to the dining room table with this fun bit.
9. Glass Bottles + Wood Planters
Style Me Pretty showcased this beautiful setup and we snatched it up to show you all. Grab a wooden planter and some old glass bottles to easily recreate the design. Then a few fresh petals or even faux bits could really jazz it up.
10. Fabric-Covered Vases
I Heart Nap Time covered some bottles with fabric to create some bud vases that are just too cute! Charming and colorful, they fit the bill nicely for the summertime. It's also really easy, even for novice crafters, to bring to fruition.
11. Floral Vase Cluster
Miracle Gro grabbed a bunch of tiny vases and brought them together to create this magic. We're loving the colors mixed with gold, creating a glam version of classic summer decor. Dress up the dining room table with something similar before your dinner party!
12. Decorative Balloons
Oh Happy Day grabbed some balloons and went to work! With a bit of washi tape, you'd be surprised how you can create an innovative setup for your family and friends to enjoy. It's a summertime celebration with this helium-inspired garland!
13. Tea Can Vases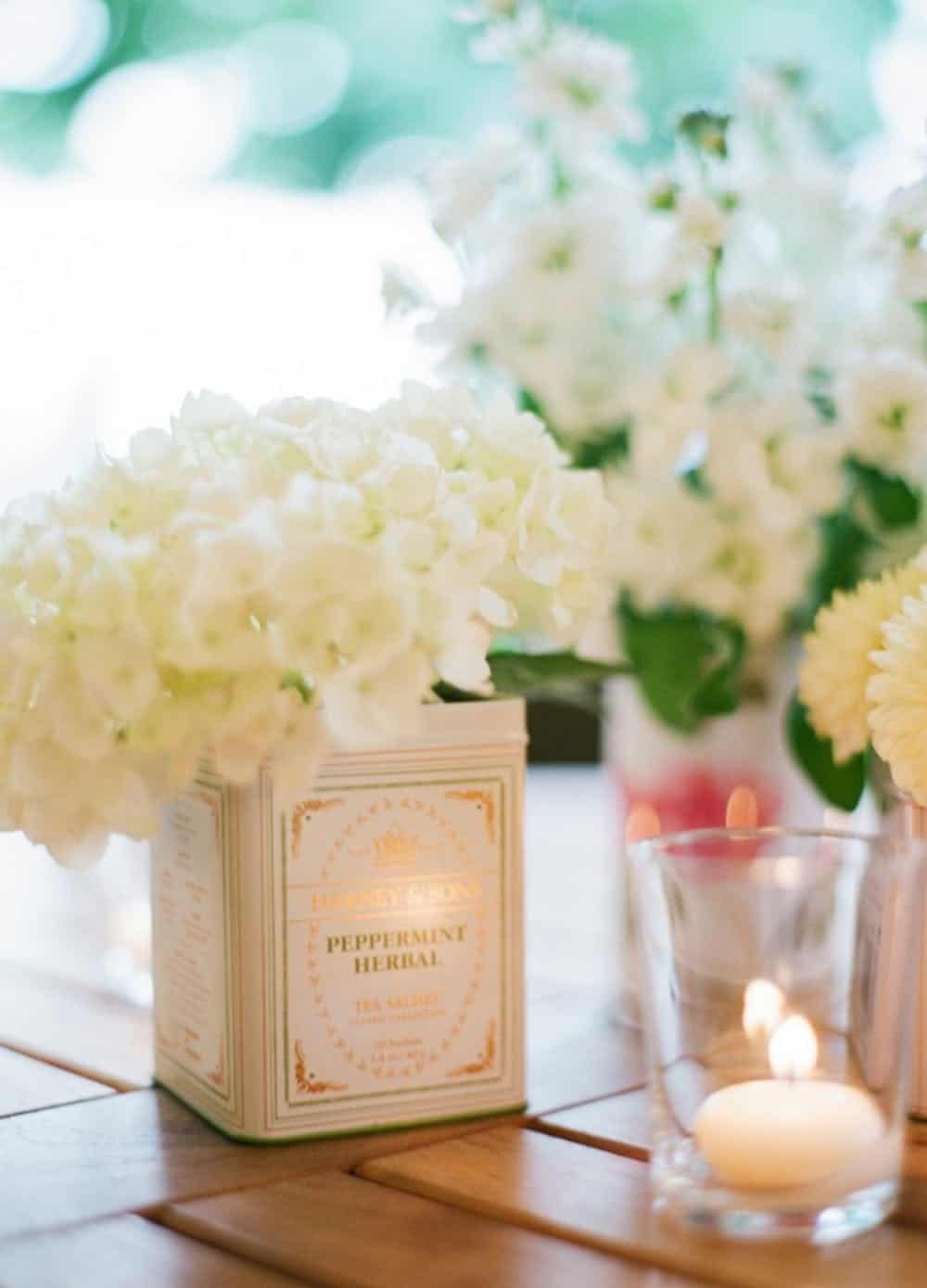 Style Me Pretty gave us some inspiration again and this time it involved tea cans. If you have any left over, keep them and use them as vases! For those that like a bit of vintage style, this one is for you!
14. Gold-Dipped Bottles
The Wedding Chicks showcased this easy beauty as well. All you need are some old glass bottles and some gold paint to make it happen. Dip, dry, and fill with some pretty flowers for the table.
15. Paper Flowers
Brit + Co showed off this fun paper flower DIY and we're in love. You can get the kiddos involved and they won't ever wilt. You can keep them around all season long!