50 Toddler Hairstyles To Try Out On Your Little One Tonight!
Kiddos like to wiggle and squirm, especially when you're doing their hair. Half the time moms and dads throw their tot's curls in a ponytail and call it a day because it's easier. But we've rounded up 50 toddler hairstyles to try out on your little one tonight. Jazz things up a bit in the style department, they'll be so excited about it that they'll have to no choice but to sit still for a bit
1. Double Hair Bows
Simply Sadie Jane showed off these tiny hairbows and we fell in love. What little girl wouldn't want to run around with these cuties?
2. French Braids
If you run on over to Babes in Hairland you'll learn how to put some French braid into your little ones hair. But, this is the cheater version, so it's a bit easier!
3. Bang Braid
Maybe you just need to get those little bangs out of her eyes. Heart and Habit shows us how to do a simple bang braid that'll take care of that problem.
4. Three-Twist Ponytail
This three-twist ponytail from Domesticated Me could be fun. It's adds a bit of pizzazz to the kiddo's do without getting too fussy.
5. Braided Side Bun
Put a little braid into her hair and then take it around back to finish off with a side bun. Grab the details at Twist Me Pretty.
6. Waterfall Pull Through Braid
This pretty waterfall braid would be the perfect topping to your little one's ensemble today. Check out how to make it happen over at A Mom's Take.
7. Braided Fauxhawk
This is a toddler hairstyle that's a bit more intricate but full of fun! Whether it's for school or Sunday brunch, this look is such a great addition to all the styles your little one loves. (via)
8. Netted Side Braid
Have you seen this fun, netted design on little ones before? There are so many different ways to utilize the look including a simple, side braided ponytail. (Pinterest)
9. Knotted Mohawk
We're swooning for this knotted mohawk! It's such a fun way to jazz up everyday hair or bring something different to the table when it's time to dress up! (via)
10. Braided Princess Crown
Are you not in love with this romantic little hairdo? Grab a ribbon and braid one right into your little princess' crown. (via)
11. Minnie Mouse Bow
Lilyshop shows us how to make a bow out of hair! Reminiscent of Minnie Mouse, your little one will love it!
12. Low Updo
Today showed off this easy, low updo that works for all kinds of styles and looks. At school, at church or even for more formal events, it's a winner!
13. Boxer Braids
The Shopping Mama showed off this easy and adorable boxer braids that you'll have to learn how to recreate create for your little girl! Jump on over and grab all the details now.
14. Bubble Braid Pigtails
If you take a peek at this YouTube video, you'll learn how to make these bubble braid pigtails for your kiddo. Just follow along and start practicing.
15. Triple-Ring Pigtails
Positively Oakes featured this adorable, triple-ring pigtail idea that we find rather charming. Don't forge to top off your look with bows!
16. Tinkerbell Bun
Sincerely Jean shows us how to get a Tinkerbell bun done. Whether you use the hairdo as an everyday look or alongside a Halloween costume, it's adorable no matter what!
17. Upside Down Dutch Braid
Check out this upside-down dutch braid from Bite of Delight. We're swooning for this topknot with an extra bit of style.
18. Waterfall Twist
This waterfall twist won't only be a gorgeous look at your little one but it'll look great on you too! Start practicing this evening! (via)
19. Heidi Braids with a Bow
Over at A Cup of Jo you'll get insight on how to recreate these Heidi braids for your kiddo. And you can't forget the ribbons!
20. Double Twist Back
These double twist backs are so much fun. Leave the hair down or you can even top it with a ponytail when all is said and done. (via)
21. Simple Twist
Sometimes simplicity is key and all you need is the right kind of information. Girly Do Hairstyles will help you with that and give you the low down on this simple twist back.
22. Criss Cross Elastic Pigtails
Thanks to Pinterest we found lots of great inspiration. And these criss cross pigtails definitely stuck out to us!
23. Hairline French Braid
This low French braid is a fun take on a classic look. It adds just a bit of pizzazz to your kiddo's everyday. (via)
24. Three Top Twists
We're loving these top twists from Girly Do Hairstyles too! Curl your ends or leave the tresses straight for different finished looks.
25. Criss Cross Applesauce Braids
Visit Skunkboy Blog and learn how to make these criss cross applesauce braids. They work for both medium and long hair.
26. Hippie Braids
We're loving these laid back hippie braids too. Check it out over at The Shopping Mama for all the details.
27. Chignon
Today also showed off how to make a chignon in your little one's hair. It's a more sophisticated look for when it's time to dress up!
28. Mickey Mouse Ears
How about making some Mickey Mouse ears for your gal to dawn? It's easy to do and tops off any outfit quite nicely. (via)
29. Same Side Lace Braid
A simple lace braid can be pretty too. And it's easier than you think to learn how to do – easier than a french braid! (via)
30. Double Pigtails
Doubled pigtails could be cute too. Check out all the details and inspiration over at Craft Envy!
31. Valentine's Day
One Creative Mommy turned hair into a festive homage to Valentine's Day! Visit the link and grab the tutorial today!
32. Links Pigtails
These links pigtails we found at Girly Do Hairstyles takes a classic hairstyle and makes it a bit more innovative and fun. It's perfect for a playdate!
33. Heart Braided Crown
Here's another hairdo that involves hearts. Whether she dawns it on Valentine's Day or just because, it's a fun way to top off the day's look. (via)
34. Clip Accessorized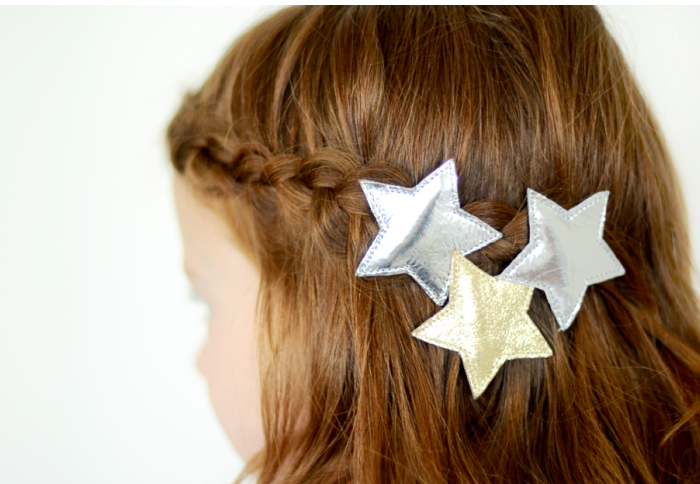 Just adding some new clips to the hair is a great way to jazz things up. Braid it and boom – grab the inspiration at Small Fry.
35. Fishtail Braid
Thanks to Pinterest we got re-inspired by a simple fishtail braid. Accessorized with a bow, you've got a new do for your little one to dawn any day of the week.
36. Braided Ribbon Pony
This braided ribbon ponytail we found on Instagram is quite inspiring too. It's a simple hairstyle, it's easy to do but will look different depending on the ribbon chosen.
37. Braided Headband with Ponytail
There's to sections to this hairstyle. You'll be braiding a headband right into her hair and then finishing it off with a ponytail! (via)
38. Mermaid Pony Braid
We're absolutely swooning over this mermaid ponytail found at Small Fry. Hop on over and snag all the details.
39. 3-Rope Twist Buns
Check out this twisty buns we found on Instagram! Three cute toppings to your little gal will bring a fun bout of personality to her look.
40. Netted Top with Fishtail Ponytail
If you check out this YouTube video, you'll find another two-parted hairstyle to love. Nets on top and a fishtail on the bottom, it's fresh and fun!
41. Sweet Roll
This sweet roll from Small Fry may be our personal favorite of the bunch. And it can be worn with or without the accessory!
42. Top & Bottom French Braid Ponytail
Instead of French braiding just one side – do both! Top and bottom braids can make a fun, textural look. (via)
43. Crown of Messy Buns
We're loving this idea from Craft Envy! Mini buns all over your little one's head can be quite charming. You can even add tiny bows!
44. Loopy Bun
Babes in Hairland featured his loopy bun and how to recreate it at home. Again, this is a look that can go with or without the accessory.
45. Braided Ballerina Bun
Here's another personal favorite of ours from Bite of Delight. And we have a sneaky suspicious that the little girl in the house is going to absolutely love this braided ballerina bun.
46. Twisted Rope Braid
Check out this twisted rope braid from The Shopping Mama! It's the perfect summertime or vacation hairdo.
47. Three-Ring Ponytail
Here's a three ring ponytail that can top off your sport's uniform or playdate nicely too. Grab the details at April Go Lightly.
48. Flower Braid
Turn a braid into a flower with some help from Today! Big or small, it's such a fun and feminine look for your little one.
49. Gibson Tuck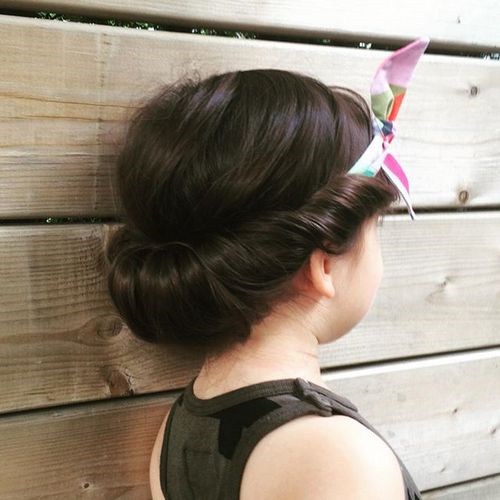 Folder shows off this gibson tuck that adds a bit of vintage styling to your babe. Learn how to make this happen – and don't forget the headband too!
50. Top Knot with Bow
And finally, over at Kojodesigns learn how to put a top knot into your toddler's hair without any fuss. Of course, you've gotta have a bow too.