60 Pretty Hairstyles To Experiment With At Home
Messy, formal, bohemian, or something chic for work, our list of hairspiration has it all. Grab your brushes and combs and start experimenting by the weekend.
There are so many tutorials our compilation of 60 pretty hairstyles that will help change up your daily look and give your something new to look forward to every day.
Tons of Pretty Hairstyles
If you're unsure on what to do with your hair next, we have a few suggestions for you. Ok, more than a few, but we think they're all pretty hairstyles nonetheless.
1. Cute Coachella Braid Hairstyle
Brit + Coshows off how to make the perfect braid for a Coachella weekend. Check it out now after the jump!
2. Twisted Updo
Brit + Co gives us a super chic updo that you can do in 5-minutes. Twists and turns, it's a fun textured look for the weekend!
3. Formal Hairstyle Big Bun
Check out thisPopSugartutorial and learn how to get your hair into a trendy, big bun for your next date night. It works for special events too!
4. Quick Hairstyle with Braiding Hair
This sweet waterfall braid is so easy to recreate. Jazz up your everyday hair with some more help from PopSugar.
5. Pretty Hairstyle with Lace Braid Updo
Wonder Forest gives us a gorgeous updo to try and conquer and we're in love. Whether you're a bride, a bridesmaids or going to an event where you want to impress, it works!
6. Formal Hairstyle – A Simple Chignon
Check out Lulu's if you want to learn how to make a simple chignon. It's perfect for longer or medium length hair.
7. Pretty Hairstyle with Quick Waves
Brit + Coshows us how to go from flat to wave in under 10 minutes. Fall along with this easy tutorial and have an everyday look that rocks.
8. Messy Twist Pretty Hairstyle
VisitLulu'sto learn how to recreate this messy twist style all on your own. This one is pretty easy to embellish too!
9. Pretty Hairstyle with a Classic French Braid
A Beautiful Mess will teach you all how to create a classic French twist in a pinch! Visit now and add this to your style repertoire.
10. Nice Hairstyle with Textured Double Braid
Give yourself personality and texture with this pretty textured braid. Visit Lauren Conrad to find out all the details.
11. Cute and Simple Hairstyle – the Knotted Half-Updo
Check out this knotted hair half-updo over at Lauren Conrad. It's sweet, it's subtle and it adds a bit extra to your everyday look.
12. Red Carpet Hair
If you're as inspired by Emma Watson as we are, then you'll really love this DIY hairdo. For a more formal event, use her fashionable, red carpet look at inspiration and visit Brit + Co to learn how.
13. Another Half Knotted
Visit Brit + Co again for the directions behind this funky little hairdo. Half up, half down with some knots and untamed tresses, it's such a fun look!
14. 5-Minute Braided Bun
We're swooning for this romantic braided bun hairstyle. And the best part is that it will only take you five minutes to complete. Hop on over to A Beautiful Mess for all the details.
15. Cute but Easy Hairstyle – Flat Iron Curls
A Beautiful Mess also has a great tutorial for creating some kinky, spunky curls! With the help of your flat iron, you too can make these for yourself.
16. Lightly Tousled Updo
Brit + Co shows off this 5-minute summer updo too. With a bit of tousling, you too can create another funky way to wear your hair any day of the week!
17. Hairbow
Give yourself a hair bow in the most literal sense. Lulu's has all the details you need to complete it, and just think of how adorable this would be on your little one!
18. Simple Waves & Braids
This simple, classy and a bit bohemian style can be recreated with some help from Free People and Lindsey Pengelly. It's such a great look for longer-haired gals, every day or more formal!
19. Pretty Hairstyle – Double Dutch Braid
Lauren Conrad has this sweet tutorial up their sleeve as well. It took can be styled more casually or with a bit of glam for an important event.
20. Sleek Braid
Cupcakes and Cashmere bring us a light piece of hair inspiration. A sleek little braid can really top off any outfit quite nicely, don't you think?
21. Pull Through Braid Pretty Hairstyle
Over at Kassinka, you'll find this beautiful pull through braid tutorial that's perfect for us with longer, thicker hair. It's such a romantic and easy look!
22. Scarf Bun Ready Easy Hairstyle
Use a scarf as your newest hair accessory in this Brit + Co tutorial. This is great for the office or for a casual date night, just add a pop of color to the top of your look.
23. Cute Hair Up Style
Lulu's has another romantic updo that we're swooning for. It's chic, it's sophisticated and it too works for the office or Saturday night dinner dates.
24. Styled Low Bun
A Beautiful Mess shows us how to easily style a low, messy bun. This is a great look for those with longer or shorter hairstyles, so it's really versatile!
25. Pretty Hairstyle with Beach Waves
Hop back on over to A Beautiful Mess and learn how to create some perfect hair for your next festival weekend. Funky waves that aren't too perfect, it's such a sexy and easy look to conquer.
26. Half-up Bun
PopSugar has all the details on hair's latest trend. If you want to add a fashionable do to your list, then this half-up bun needs to be a part of your weekly routine.
27. Faux Bob
Check out Brit + Co and learn how to create this faux bob. With some genius tricks, you'll find out how easy it truly is to do.
28. All Twisted Updo
You'll have to visit our trusty inspiration source, Brit + Co, for this one too. Create a bunch of funky twists for this youthful style!
29. Ultimate Textured Updo
If you're looking for something a bit edgier, you'll want to check out this textured updo from Brit + Co too. Waves, tousled, braids and more come together to create the overall look.
30. Beautiful Hairstyle Twisted Bun
Here's another type of twisted – or swirled – bun that we think you need to dive in and learn how to create. It's so sweet and simple, it's a perfect look for any day of the week. Thanks Lulu's!
31. Tucked Braid Updo
Visit A Beautiful Mess for all the details concerning this intricate, tucked braided updo. Embellish it or wear it casually Monday morning to class.
32. Uneven Part
Brit + Co gives us a great way to pump up our everyday look with ease. Instead of your standard part, go with an uneven one which will add an extra bounce of volume!
33. A Braid within A Braid
Check out Free People again if you want to learn how to make a braid within a braid with your own hair. Again, the longer and the thicker … the better!
34. Ponytail Full of Braids
For some extra fun in your ponytail, visit Kassinka again! Fill it up with braids here and there for a textural and interesting twist on a classic look.
35. Relaxed Wavey Hair
Soft, wavey hair – like we see at Cupcakes and Cashmere – is such a versatile look. All year long you can pair it with your everyday work ensembles or weekend outfits.
36. 5-Minute Beach Waves
You could get some beachy waves in just 5 minutes too. Check out Wonder Forest for the easy details and start experimenting by the weekend!
37. Fishtail Updo
Here's a great tutorial from Cupcakes and Cashmere. This fishtail updo is quite chic and extra feminine for those feeling rather sweet.
38. Side Fishtail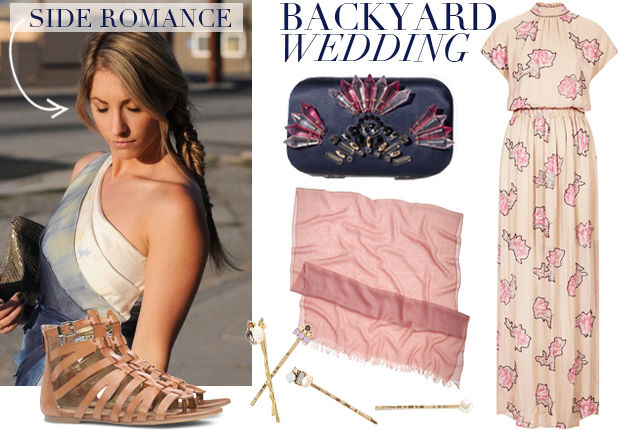 You could always take your fishtail braid to the side as well. It's a bit more romantic and we love it with something more dressy, thanks again Cupcakes and Cashmere!
39. Cute Hairstyle – The Crisscross Ponytail
A Beautiful Mess gives us another way to get our hair up off our necks but with style. This crisscross ponytail is so much fun!
40. Concealed Bangs
If you want to learn how to conceal your bangs for a day, you'll need to visit Brit + Co. Freshen up your look and surprise yourself!
41. Big Wavy Curls
Who doesn't love Cara Loren's big wavy curls? Well, check out her tutorial and learn how to get them for yourself!
42. Editor Pony
The "editor pony" featured at Lauren Conrad is the perfect way to walk into school any day of the week. It's smart and it's stylish!
43. Nice Hairstyle – The Dragon Braid
If you're a fan of Game of Thrones, you'll love this work since it's rather reminiscent of the show. Visit Free People for the "dragon braid" details.
44. Flat Iron Wave
We learned how to do flat iron curls and at Refinery 29 we can learn how to do flat iron waves. It's subtle but it's you a great amount of texture.
45. Sleek Double Ponytail
This neat and chic look can easily be recreated. Just check out Byrdie for the step-by-step details and top off your modern ensemble for the weekend.
46. Festival Knot
If you want to wear your hair up and out of your faceto the festival, wear it in a knot! Just visit A Beautiful Mess to start practicing.
47. Boho Side Braid
This look from Wonder Forest is also a great idea to wear at any outdoor events like festivals or even as a bridesmaids. And again, it's perfect for longer, thicker hair.
48. Fishtail Headband
Here's another funky and fun hair idea from Brit + Co. Create a headband with your own hair, just learn how to braid it correctly!
49. Overnight Hair
Learn how to get a great hairdo while you're sleeping! Refinery 29 has all the details and steps you need to make it happen.
50. Wavy Side Bob
We have another under 10-minute hairdo that you'll wanna learn how to … do. Brit + Co has the directions, visit now!
51. Formal Hairstyle Braided Updo
One of the coolest updos we've seen is pretty simple, making use of a couple of loose braids and blending them all together in an updo at the base of the neck. It's just lovely!
52. Nice Hairstyle with a Fishtail
If you want a hairdo that you can put together in a few minutes only, but that looks absolutely fabulous, this fishtail braid is the one to go for. We just love how it looks, and it's not overly complicated to make once you get the hang of it.
53. Pretty Hairstyle Layered Braid
If you want a hairdo that doesn't take a lot of time to make, but looks fabulous. You can use it in formal and informal situations, so it's a go-to hairstyle no matter what you need.
54. Pretty Pink Hairstyle
If you have colored ombre hair, you can definitely work on this loose updo. It's not too pretentious, but it can really go with an evening dress if you desire.
55. Dramatic Cute Hairstyle
If you're looking for a cute hairstyle that's easy to maintain, this wavy short bob is absolutely fabulous! The rich hair color may also be the right choice for you, if you want a change.
56. Cute Simple Hairstyle
We have another cute idea for you that involves a messy bun. It's super cute and rather easy to get done. Plus, you can use it on a regular basis or on special occasions.
57. Formal Hairstyle
If you have a big event incoming, you may want to look get a formal hairstyle done. This one is super cute, as the hair has a bit of volume in the front, there's a little braid circling the bun in the back. It's just such a pretty hairstyle.
58. Hairstyle with Braided Hair
This one hairstyle is absolutely pretty and will go fabulously with a party dress. It's perfect for weddings and proms and pretty much any other occasion that requires dressing up.
59. Nice Hairstyle Updo
Another really cute updo that you can accessorize is this one. You'll need a lot of hair spray to make the hair stay in place, but we're sure you'll manage just fine.
60. Bridal Pretty Hairstyle
Whether you're the one getting married, or you're in the bridal party, or attending the party, this one hairstyle is just fabulous. As you see, the model is wearing a tiara, but you can go without if you want, or add something even prettier than that. We love all the natural curls and the way they're gathered at the back of the head.
Final Thoughts on These Pretty Hairstyles
We all have trouble figuring out what we need to do to make our hair look pretty, but with so many pretty hairstyles we may now have a few extra ideas on how to make it all work. We also have a bunch of ideas for the next time we visit the stylist ahead of a big party, which is always great.