If you've ever been to a party or special event and seen the way that the dance floor lights catch the mirrors of the disco ball as it hangs high above the crowd, then we probably won't need to tell you why we love disco balls so much. In fact, even if you've only ever seen a disco ball in full light, rather than in action at an event, you already know just how awesomely eye catching they can be on their own.
Disco balls might not be the most common crafting and DIY theme in the world, but that's never stopped us before! Check out these 15 awesome projects that harness the beauty and personality of the disco ball so you can enjoy them at your next party or even just as decor in your very own home.
1. Disco ball door wreath
Do you love themed door wreaths as much as the next person but you feel like you've seen them in just about every design under the sun and now you're a little bored? Well, prepare to have your mood turned around, because A Beautiful Mess is here to save the day! They've designed a shining door wreath that's certain to catch the eyes of passers by no matter what time of year you hang it up because it's made of reflective tinsel and- you guessed it- miniature disco balls! We love this idea because you can find literally everything you need for affordable prices at your local dollar store.
2. Disco ball succulent planter
Have you always loved having a little bit of greenery around your home, but you think plants look so drab sitting there in orange or brown pots with no colour on them? We supposed painting the pots is always a cute option, but just in case you'd really like to glam things up a little bit, check out these idea from A Bubbly Life instead! They've hollowed out a simple disco ball from the dollar or party store and carefuly nestled a resilient little succulent plant right in the top.
3. Disco ball hairband
Are you the kind of party host or party goer that doesn't just dress up a little bit for a special occasion- you go all out? Then we think you'll love this hilariously gaudy little head piece suggestion from A Subtle Revelry! If ever there was a chance to use the word "gaudy" in a positive, admirable sense, it's here. We acknowledge that making and wearing a hairband out of actual miniature disco balls seems silly, but it looks so darn cute that we love it anyways.
4. Disco ball cake bites
Maybe you're very into the idea of creating your own DIY projects themed around disco balls but your particular handy skills actually life in the kitchen? Well, we certainly don't suggest trying to cook or bake with mirrors, of course, but you can certainly craft adorable desserts that emulate the disco balls instead! Check out how Aww Sam created these awesome disco ball cake bites using edible silver icing.
5. Disco ball balloon anchor
If you're anything like us, you agree that any good party absolutely needs balloons. Where there are party balloons, however, there have to be balloon anchors as well, unless you've made the decor choice to let your balloons float freely as they please! If not, we certainly recommend A Bubbly Life's suggestion of tying your balloon ribbons to the look in the top of a disco ball! What's better than something functional that's also automatic (and awesome) decor?
6. Disco ball inspired skirt
So, we've covered crafty decor pieces and even baking, but what if your particular DIY skills don't fall into either of these categories so far? Are you more of a textiles and sewing kind of handy person? Then never fear- Brit + Co. is here! Their cute and fairly easy skirt tutorial teaches you how to measure your size, make a pattern, and choose or create a fabric that emulates the mirrors on the outside of a disco ball. What's wrong with actually turning yourself into the thing you love?
7. Disco ball Christmas ornaments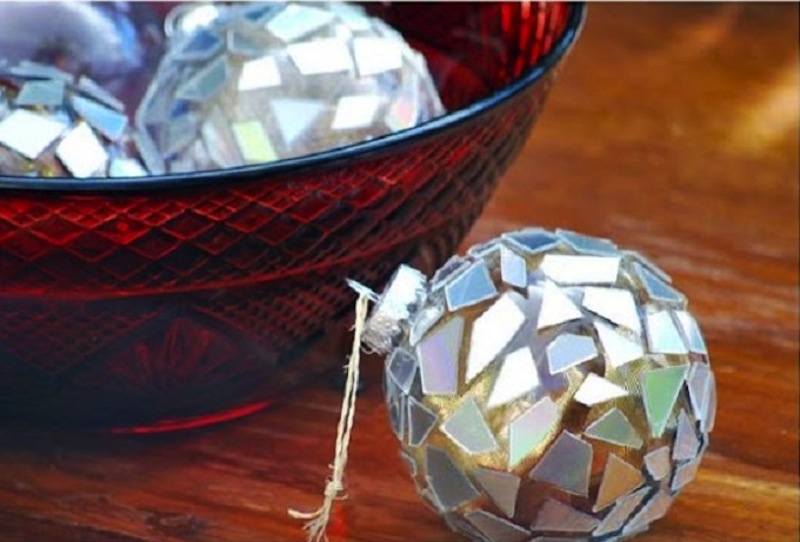 We've shown you a number of crafts that are made using disco balls, but what if you'd rather start from scratch and actually make the disco ball inspired things yourself rather than buying and altering something that was pre-made? Then check out this hanging ornament tutorial from DIY Crafts Tutorials! They guide you through the process of creating a disco ball effect from reflective cut pieces of old CDs.
8. Disco ball inspired helmet
Do you have a lot of patience, a steady hand, a the flashiest style of anyone you know? Are you an avid biker or do you own a moped, motorcycle, or other helmet-wearing vehicle that you'd like to make a little more stylish looking? Then you're the perfect person to start making your own disco ball helmet, just like this one from Cool Crafts! Evenly cut mirrored squares are easy to find at your local crafting store or online.
9. Disco ball heart box
Perhaps it's not you with the flashy, disco-inspired style but rather a friend? Then the small mirror pieces we mentioned above are the perfect tool for glamming up the presents you plan to give your friend for their birthday or any other occasion! Check out how Lovely Indeed used them to make a reflective heart shaped gift box full of delicious chocolates.
10. Disco ball pumps
Perhaps you're looking for another flashy accent piece to go with the outfit you're planning around the awesome disco ball headband we talked about earlier on this list? Then DIY disco pumps are an absolutely perfect way to tie the look together! A Matter of Style guides you through the process of altering a pair of old heels to make a new style that we guarantee you can't buy in the average store.
11. Disco ball jack-o-lantern
If you're anything like us, then you always have your eyes out for holiday themed crafts even if it's currently nowhere near that time of year. That's why we simply couldn't resist including this totally awesome disco ball jack-o-lantern on our list! A Bubbly Life shows you how to "carve" it. Talk about a unique party aesthetic for Halloween!
12. Disco ball drink stirrers
Have you been browsing this list hoping to find some disco ball DIY crafts that, while still flashy, are a little more on the subtle side than disco ball headbands and jack-o-lanterns? Then take a look around at your local stores for the very miniature kind and pick up some kebab sticks while you're at it so you can make these simply glamorous little drink stirrers from Minted!
13. Disco inspired party backdrop
If you ask us, there's not such thing as "too much disco" at a disco inspired party. That's why we fell so in love with this disco ball photo backdrop from Oh Happy Day! They show you how to make one of your very own and hang it up in a prime spot for adorable photo opportunities all night long. It'll put a flashy spin on the memories you make with your friends.
14. Disco letter art
We absolutely love it when we find an idea that's useful for both special occasions like parties and regular home decor, depending on your personal style. That's how we feel about this disco ball letter art from A Ruffled Life! Personally, we'd built these letters in all kinds of fun messages for a gathering with our friends and then just never take them down because they're so much fun.
15. Plentiful disco ball centre piece
Have you always had a thing for unconventional centre pieces when you host dinner parties or throw surprise dinners for your friends' birthdays? Then we have a feeling you'll be quite into this Horn of Plenty inspired tablescape idea from Studio DIY! Rather than filling the horn with vegetables that spill out across the table, they've chosen to display disco balls of all different sizes and the effect is so cool that we can hardly keep our eyes off it.
Do you know someone who loves the cheerful reflection of disco balls even more than we do? Share this post with them for a little bit of glam inspiration!