50 Elegant DIY Thanksgiving Decor Ideas
Thanksgiving is an American holiday that has grown in popularity outside of the United States. People around the world are beginning to recognize that Thanksgiving is not just for Americans or people living in North America but is instead a time to reflect on what you're thankful for.
Now, thanks to this newfound appreciation of all things Thanksgiving, many people are decorating their homes for this American holiday. You may have noticed, however, that many of these decorations are quite expensive and difficult to make yourself!
We've prepared a guide that has some lovely ideas you can use to decorate your home in a Thanksgiving fashion without spending a fortune or hours on end crafting something by hand.
Thanksgiving Decorations
Seeing that we've already been fully embraced by autumn and that Thanksgiving is just around the corner, you probably know what time it is!
That's right, it's time for semi-homemade recipes like the ones your grandma taught us to make (no offense grandma, you're the best)!
But it's also time for some semi-homemade Thanksgiving decorations! So gather up all of those empty food containers, yarn, burlap, construction paper, and leftovers, and let's get started!
We're positive that you'll be able to find at least a few decorations that will help you set a warm, cozy mood for your Thanksgiving dinner without significant effort or breaking the bank.
1. Mini DIY Pumpkin Thanksgiving Place Cards – Thanksgiving Decorations
If you're all about keeping everything neatly organized, then you're probably one of those people who like to name their utensils and then put them back into the drawer. Well, we've got something that's not only cute but will also save you some time: Mini DIY Pumpkin Thanksgiving Place Cards!
Not only do these look super festive, but they can also serve as a place card for your Thanksgiving dinner!
All of your guests will be grateful for a spot on your table and will think you went above and beyond just because you put a little more effort into this place setting than usual (which, as we all know, is some empty flour sacks with their names written on them).
You will need mini white pumpkins, some gold metal floral wire, scrapbook paper (the patterned one works best), a hole punch, round nose pliers, some white cardstock, and a rectangle die cutting machine (optional).
If you want a list of comprehensive step-by-step instructions and some helpful photos to guide you through the process of crafting these DIY pumpkin Thanksgiving place cards, you should check out the guide we attached above.
2. Beautiful DIY Thanksgiving Centerpiece – Thanksgiving Home Decor
Let's keep things classy. This table has already been set, the cloth is white with a gorgeous lace edging that you just can't help but touch (don't worry, it doesn't need to be washed), and there are several lit candles all around.
It would be such a pity if there was nothing on this clean table to distract people's attention from the food.
I bet you're thinking that the tablecloth alone is enough, but then the edges of the table would probably still be bare. Plus, tablecloths rarely double up as nice decorations, no matter the occasion. Well, here's something you could do to seal the deal: a DIY Thanksgiving centerpiece!
You just need a piece of scrap wood, a few mercury glass votives with tea lights, a paintbrush, a bottle of gold liquid leaf, a few oak leaves, 3 small pumpkins, and a bunch of assorted artificial floral accent stems.
Votives alone already look fine, but adding some autumn leaves around them will make sure everyone knows what season it is when they enter your home.
The crafting process should be easy enough to figure out on your own, but if you need detailed instructions and helpful photos, you should check out the guide we've attached above.
3. DIY Thanksgiving Garland With Acorns – Thanksgiving Ornaments
When it comes to autumn, Thanksgiving, and why not even Halloween, garlands are paramount if you want to make a warm, cozy atmosphere in your home.
This goes especially if the garland is made of little lights; unfortunately, the one we're gonna tell you about today doesn't have lights in it, but it looks chic and will definitely bring a Thanksgiving-appropriate setting into your home.
Traditionally, garlands were made by Native Americans in celebration of Thanksgiving, but they're also popularly used during Christmas time. If you choose not to use them only around the holiday seasons, then they can also serve as beautiful ornaments year-round.
This DIY Thanksgiving garland with acorns is exactly what it sounds like, and doesn't require too many materials to be crafted. You just have to source a long piece of suede cord, some acorns, a bunch of acrylic gemstones, a bottle of golden liquid leaf, a pair of scissors, a paintbrush, and a hot glue gun.
If you'd take a quick glance at the photo above, you'd probably figure out how to put together this festive Thanksgiving garland on your own.
However, it would be far easier just to access the tutorial above where you can find not only detailed instructions on the crafting process but also helpful photos that will guide you through it.
If you're feeling creative, you could try to wrap some battery-powered festive lights around the garland. You'll end up with a nifty, elegant decoration for your Thanksgiving dinner that gives a nice, warm feeling to the atmosphere through its warm led lights.
4. COVID-19 Pumpkin – Thanksgiving Aesthetic
Who knew?" someone will say. "That pumpkin actually looks like it's wearing a mask!" Yes, well, it's because your pumpkin WILL be wearing a mask. Although Thanksgiving is all about connecting with others and being grateful for the blessings in your life, it's not a reason to be less responsible.
And your guests should be impressed by how creative you are, not only because the guest of honor should never be underestimated but also because, well, there is always room for creativity, especially during this time of the year.
Pumpkins are pretty enough to deserve an article to themselves. We'll discuss pumpkins in more detail another day (how excited are you? We bet very!), but today we're gonna focus on this COVID-19 pumpkin that has just the right side to become a really cool DIY Thanksgiving decoration.
It will certainly bring something unique to any Thanksgiving meal and you can even use it as a centerpiece itself. You just need to take an ordinary pumpkin, carve it however you see fit, put a face mask on it, and voila!
You've got yourself an excellent one-of-a-kind festive decoration for this autumn season that will not only look nice but also act as a reminder of the need to be responsible nowadays.
5. Decorative Crates – Thanksgiving Home Decor
And if you want to fill your home with some last-minute Thanksgiving vibes, then your best bet is to make use of nice decorative crates.
Just like pumpkins, these crates look lovely enough on their own and they will certainly find themselves a good place in your home; but apart from looking nice, they can also be used for storing additional festive decorations or even the utensils that you might need during the feast – just put them away when not needed.
You can spray paint them red (or any other color, for that matter) and decorate them yourself with autumn-themed decals or simply leave them as they are; either way, these sturdy little crates will definitely bring something special into the atmosphere of your Thanksgiving dinner.
Now, if you don't want to bring your crates into the dining room during Thanksgiving dinner, then you can always use them as storage for any dry food that you're planning to keep outside the fridge.
In order to make them look nice enough for a festive table setting, all you need is some gold spray paint and a hot glue gun.
The application flocking on the top of this crate will give it an elegant classic appeal and make it perfect for any Thanksgiving-themed decoration.
6. Homemade Craft Box – Thanksgiving Decoration Ideas
A craft box is a perfect idea for storing additional Thanksgiving decorations. Since you're already putting up all these decorative crates full of festive elements, why not make good use of them and store your other decorations in them as well?
We admit that this might be a fairly extravagant display; but if you want to go all-out with your DIY Thanksgiving decoration, then what's the point of otherwise?
If you don't like excess (in which case, why are you reading this?), then try to be healthier with the rest of your holiday decorating – but we still think a little bit of extra effort can transform a regular dinner into an occasion to remember!
It may not be as big as a real craft box, but this decorative wooden box is a great thing to have around the house. Apart from making a really nice Thanksgiving decoration, it can also serve for storing other stuff whenever you need it to do so.
Some people even use it as an organizer and store their stuff (such as makeup) inside. There are many different types of organizers that you can get these days – but this one here is definitely simple as well as stylishly attractive enough to warrant an elegant place at your Thanksgiving dinner table.
What's more? The jute handle gives it a rustic feel that echoes the Autumn atmosphere perfectly!
7. Box Shelves – Cheap Thanksgiving Decorations
If you want to up the ante with your DIY Thanksgiving decoration, then why not try making some box shelves?
These are also known as cube shelves and they're incredibly easy and inexpensive to make: all you need is a few wooden planks and some nails.
Don't forget about glue and paint if you want them to look nice enough for an extravagant Thanksgiving dinner!
The important thing here is to measure each plank precisely so that you get perfect cubes – or at least cuboids that will resemble actual boxes.
If it's your first time building such a project on your own, then take it slow and don't be afraid of looking clumsy during the process; just adjust the measurements until the cubes fit snugly into each other without leaving any space in between.
There are many possibilities for decorating cube shelves like these. You can paint them red and/or green (just not the cubes themselves; instead, use some stencils to make leaves or vines on the sides of your cuboids) and leave it at that.
Or you could go all-out and fill each shelf with pure autumn joy: pile dried flowers onto each one and arrange their jars all around the dinner table!
Make sure to put a candle somewhere within this arrangement as well – we're sure that even your Thanksgiving turkey will become irresistibly enticing as soon as such scents start emanating from your DIY Thanksgiving decoration!
They look great all by themselves thanks to their minimalist style; but since they're made out of wood, they fit really nicely into any rustic Thanksgiving theme that you might have going on.
In addition, they can also be used as a beautiful centerpiece for your dinner table – simply put some pumpkins next to them and ta-da!
But what about when it's no longer Thanksgiving? Well, you can always use these boxes as a decoration for your living room or even turn them into a side table.
This is a great option if you're having a larger dinner with friends and family since it makes it easier to serve everyone their drinks. If you want to go the extra mile with this Thanksgiving decoration, then make sure to paint the boxes in autumnal colors such as orange and brown!
8. Maple Leaves Wreath – Outdoor Thanksgiving Decorations
If you're looking for something more original than boxes, then may we suggest making a maple leaf wreath?
Apart from being an amazing Thanksgiving decoration (especially if you make it yourself), it's also incredibly easy to make; all you need are dried leaves and some glue!
You can find these in any craft store that offers autumnal-themed supplies – just keep in mind that not all of them have dried maple leaves.
Since the leaves are dried, they won't wilt or turn brown after several days. They also look especially neat once put inside of a jar filled with water – just make sure to change it regularly so that your guests can actually drink from these glasses without worrying about getting sick.
As for the colors, don't be afraid to go crazy here! Orange and red are great options because they're considered traditional colors for autumn, but you could always try green if you want to achieve a minimalist look.
You can turn this Thanksgiving decoration into a wall piece by simply gluing the leaves onto a painted black circle made out of paperboard or cardboard.
Or you could go one step further and actually use an actual wood circle as your base so that the wreath fits perfectly around the doorknob! Just attach string to the back of the collet and you're good to go!
The great thing about this Thanksgiving decoration is that it can be used anywhere in your house – even outside (just make sure to bring it back in before Autumn ends).
It looks absolutely stunning when placed against a rustic-looking wall; but if your interior design style is more sophisticated, then feel free to place it onto an elegant console or side table.
9. Pumpkin Zucchini Wreath – Thanksgiving Ornaments
If you know your veggies, then you probably already have a secret fascination with zucchini. Well, if that's the case, then you are in luck! Because our next Thanksgiving decoration is made entirely out of this delicious squash!
As it turns out, pumpkins aren't the only things that can be turned into wreaths – zucchinis can do that too! So if you're looking for something unusual to adorn your home during the fall season, then go ahead and turn some of these into Thanksgiving decorations!
The great thing about this craft is that it doesn't require too much effort; all you need are six zucchinis (that should make enough for one wreath), green paint, an old wire hanger, and a bit of creativity. Simply cut the zucchinis into circles, paint them green and glue them onto the wire hanger – voilà!
Once you're done gluing, it's time to decorate the wreath with some autumn leaves or other such objects. You can go all-out by making designs out of your leafless branches; but if you want to keep things simple, then just hang one of these on your door and call it a day.
If you don't like painting (or don't have enough time for that), then simply leave the pumpkins as they are – this will give your Thanksgiving decorations a rustic note which we loved!
Basically, whatever technique you decide to use, make sure to place this decoration outside your home; not only will it bring joy to the little trick-or-treaters, but also spread some autumnal cheer!
Do you want more variety in your wreath? Then may we suggest mixing the zucchinis with small pumpkins on the same wreath? If you do that, you can skip painting the zucchinis altogether as long as you buy different-colored veggies.
However, note that using pumpkins will make your Thanksgiving wreath heavier, so you may want to use a thicker frame.
10. Golden Acorn – Modern Thanksgiving Decor
Our next Thanksgiving decoration is perfect for people who don't like the autumnal vibe. Well, it's not exactly for those of you who hate fall with a passion, either. It's like a transitional phase between frowning at pumpkins and filling your front yard with them.
Jokes aside, what makes this golden acorn decoration interesting is that you can actually make it yourself (it's not too difficult either)! Basically, all you need are some acorns and gold spray paint; if there's no store in your area which carries acorns or a park where you can just pick them up, then you can simply order some from the Internet.
First, use a natural-looking brown color to paint them so that they really resemble real nuts. Once the paint has dried up, just grab your spray paint and cover the entire thing – but remember to do this outside!
Make sure to get rid of any leftover paint by rubbing the acorn nut with a bit of sandpaper before putting it back inside its shell.
Alternatively, you could use the photo above as a reference and paint the nut in a weird color (for instance blue), and only paint the cap golden.
You can either try your best to avoid detaching the cap before finishing your artistic experiment, or you can remove the cap, paint it golden, then use a glue gun to re-attach it to the nut.
The great thing about this craft is that it can be used both as an elegant DIY Thanksgiving decoration and as part of your homemade Halloween costume. So if you're looking for an interesting DIY project, then why not give it a try?
11. Chestnut Wreath – Thanksgiving Decor Ideas
Our next Thanksgiving decoration is perfect for people who are trying to avoid being too festive. If you want to decorate your entrance with the spirit of fall, but have nothing against skipping pumpkins altogether, then why not try chestnuts?
Although they may resemble oversized pecans, they are very different in taste – so if you want to use them as part of your Thanksgiving decoration, then be sure to check whether your guests can eat them before placing this wreath on the door!
Basically, all you need are some shelled chestnuts and a piece of wire – or you can just place the nuts directly on your door if they don't come in their shell. In fact, this saves you even more time as you don't have to remove the shells from each nut.
As far as the crafting goes, it's pretty similar to what we did with zucchinis. Just take the chestnuts and glue them onto a wire hanger; make sure that some of these nuts overlap each other (it will give your wreath a more eye-catching appearance).
Once you have covered an entire circle, put some glue on the edge of the nut, then place another one next to it.
If you're feeling especially creative this year, you can try blending in various other seasonal nuts such as walnuts and hazelnuts on your wreath.
Make sure that you leave enough space for your "secondary" nuts to shine on their beauty. Otherwise, they'll look like they're being smothered by chestnuts, and you wouldn't want that.
This Thanksgiving decoration is not only beautiful but also very simple – which makes it perfect for people who don't have too much crafting experience.
Oh, and if you happen to have leftover chestnuts/hangers/wire after this project is finished, then why not repurpose them as Christmas baubles? That way they won't go to waste!
As you can see, the result is absolutely adorable and just perfect for an autumnal Thanksgiving decoration! All in all, bear in mind that this craft is rather easy and requires only a few supplies – not to mention it will help you save some bucks too.
12. Painted Leaves – Outdoor Thanksgiving Decorations
This next Thanksgiving decoration is perfect if you're excited about autumn but don't want to go overboard with all the colors and glitter. Instead, this craft will highlight the beauty of the season in a more delicate way – and it still looks amazing when placed on your doorstep!
All you need are some dry autumn leaves (which shouldn't be too hard to find) and some oil-based paints in fall colors (you can buy them online or use watercolor pencils).
First, paint your leaf one color; leave it somewhere to dry up completely, then add yet another layer of color. Continue doing this until you get the desired effect that captures not just the richness of the fall itself but also its subtlety.
Then again, why stop at leaves? If you want to make this Thanksgiving craft even more festive, then why not try painting the trunks or branches as well?
In fact, you can create a whole autumn forest if you feel like it – and who knows, maybe all those small details will grow into something special for next year.
As far as finishing touches go, you might want to use some wire hangers. This way your painted nature elements will look more "tree-like". Plus, they'll be easier to hang on doors/tables/whatever surface you prefer.
There you have it: a perfect elegant DIY Thanksgiving decoration for people who would like to give their guests a subtle autumnal message without going overboard with pumpkins, zucchinis, and wreaths.
13. Thanksgiving Assorted Wreath – DIY Thanksgiving Decorations
The next Thanksgiving decoration that we have for you is a simple but beautiful wreath. And, what makes it so special? Well, apart from its festive design, this craft doesn't need any hangers or wire to stand up – which means you won't have to spend too much time hanging it somewhere. You can just place it directly on your door! Isn't that great?
If you want the holiday feel without all those complicated steps and materials, then how about trying out this Thanksgiving decoration as well?
Since the main idea behind the whole "wreath" concept is, well, that they're circular in shape; you can make one with any leaves/nuts/flowers you find outside (obviously not during winter).
We've mentioned that you won't need any wire or hangers for your wreath's frame, and you probably wondered why. Well, as you can see from the photo in the example above, you can use twigs and branches to create a round frame to build the rest of your assorted Thanksgiving wreath on.
As far as other supplies go, you might want to try some metallic markers (which can be bought cheaply at any local craft store). They will make the design more festive and plus, it should "pop" against your wreath's colors.
However, if this is beyond your budget then just stick with regular markers – they'll work just fine!
The best thing about Thanksgiving assortments is that they're easy to make and you don't even have to spend too much on materials. Plus, there are plenty of tutorials online which show you how to put together one yourself.
So what are you waiting for? Why not give it a try today? After all, the result looks so beautiful that people might even mistake it for a professional decor job!
14. Cinnamon Stick Napkin Holder – Thanksgiving Home Decor
If you're planning on hosting a Thanksgiving dinner and want to add some of your own decorations, then why not try out this easy yet elegant craft? What we like the most about it is that it doesn't need any paints or markers – just cinnamon sticks and napkins!
We know what you're probably thinking: why would I ever need napkin holders made from something I can eat?
But, hear us out (no pun intended): these homemade crafts look so elegant and refined that people might not realize they're edible. Plus, if you go with light-colored sticks (not brown) then even your guests will forget they're looking at some spices!
How does one make such a thing? Well, first off get yourself some napkins and then some cinnamon sticks. If you want to go with 20 as the number of sticks, then you should aim for around 6-7 napkins (or more if they're smaller).
Afterward, all you have to do is roll your napkin, put two or three sticks on it, then use some yarn to bring the whole thing together – and there you have it: a new Thanksgiving decoration!
You could also try placing some dried leaves on top and tying them together with some twine – but, feel free to experiment and be creative!
And if your guests ask what those things are then just say that they're autumn/Thanksgiving decorations made from natural elements. After all, that's exactly what you're aiming at.
What's great about this decoration is that it's very festive but simple at the same time; plus, not only will it make your dinner table look good but it will also fill your home with an amazing autumnal scent!
Since most of us already have all of these materials at home anyway (cinnamon sticks) why not give our suggestion a try?
15. Assorted Leaves Napkin Ring – Cheap Thanksgiving Decorations
If you're looking for a Thanksgiving decoration that is simple, rustic, and cheap then this craft might be a perfect fit! Not only does it require no paints or markers but it can also be easily made from all kinds of leaves – even dead ones.
All you need are napkins, some assorted leaves (which can be either fresh or dead – but if the latter is your choice then they have to be dry), and a stapler.
We know it sounds crazy, but trust us on this one: all you have to do is put the leaf on top of your napkin, staple it around three sides so it stays in place, then flip the whole thing over!
Afterward, just flip it back again and voilà: you have an elegant Thanksgiving decoration that will look great on any table – especially when placed alongside other crafts made from natural elements. Since this craft is so simple, you might wonder how it can get any better?
Well, get creative with the leaves you use. For example, if your house has lots of maple trees then why not go for some red/orange leaves which will make your decoration stand out even more (and give it a Halloween look)?
Or what about getting some purple ones to match your autumn-themed dinner ornaments? And if all else fails then just use brown – there's nothing wrong with that!
So why not try our suggestion if you're hosting Thanksgiving dinner and want to add some extra decor to your table? It's cheap yet beautiful and will make your guests think twice about where they should be placing their utensils – something which is bound to make them smile.
16. Autumn & Christmas Chestnut Wreath – Cheap Thanksgiving Decorations
If you want to go all out with your Thanksgiving decorations then this craft might be a perfect fit for you! Not only does it look rustic and elegant but it also requires no paints, markers, or stickers which means that it's simple to make from scratch.
All you need are some chestnuts, a wreath base (which can either be bought or homemade), a drill, a knife or saw (if you decide to go with a wreath base that isn't round), green leaves, and yarn.
Afterward, just put the chestnuts in place, put green leaves (dried bay leaves also work) between each pair of chestnuts, and use the yarn to fasten them together – ta-da: you now have an autumn-themed decoration made from natural elements!
You can now use a piece of red ribbon to hang the wreath on your door if you want to. Alternatively, you could just nail the wreath to the door if you're gonna go with the store-bought wreath base instead of building it yourself from wire.
What we love about this craft is how beautiful it is yet simple at the same time – plus, it will look great no matter where you decide to place it.
Furthermore, the fact that it has the dark, reddish-brown color of the chestnuts and the red ribbon contrasted by the green of the leaves turns it into an equally appropriate Christmas wreath.
Thus, whether it's Thanksgiving or Christmas this craft will suit your purposes perfectly.
17. DIY Acorn Decorations – Thanksgiving Ornaments
If you're looking for a Thanksgiving craft that is cheap, simple, and can be made with materials found in nature then this one might just be the perfect fit! After all, it requires no paints or markers – which means that you'll only need some acorns (preferably with their shells still intact), washi tape, and hot glue.
All you have to do is put washi tape around the shell of each acorn then use hot glue to attach them to your wall or door – ta-da: an autumn-themed decoration made from natural elements that will appear elegant yet rustic at the same time.
They look great when placed next to other Thanksgiving decorations made from natural elements such as our previous suggestion.
So why not try it out if you're hosting Thanksgiving this year? You can use some red or yellow washi tape to give your acorns some extra color so that they match the autumn-themed dinner decor.
Alternatively, you could have your kids turn acorns and chestnuts into simple animals, such as mice, and bees. They'll surely love your little experiment and you'll end up having beautiful decorations to showcase at your Thanksgiving dinner.
What's also great about this craft is that it really does look like something out of a fairy tale. It perfectly captures the spirit of autumn and you'll adore having these cute acorns around during Thanksgiving – not to mention how much your friends will appreciate them too!
18. Tansy Flowers Bouquet – Thanksgiving Decorations
It's not unusual to see Thanksgiving centerpieces that consist of various flowers and plants – but if you want something more elegant and that can be made with natural elements then this craft is a perfect alternative!
All you need is some tansy (Tanacetum balsamita) flowers, a vase or jar with water, and some rope. Afterward, all you have to do is put the tansy flowers in the jar together with their stems submerged in water as shown in our picture.
Finally, tie the rope around the neck of the vase/jar and you'll surely make everyone at your Thanksgiving feast feel relaxed as they gaze upon those beautiful, yellowish-green bouquets!
What we love about this craft is that it's so simple yet elegant – plus, the tansy flowers will surely last for a long time if you use proper flower preservatives.
Furthermore, this decoration represents autumn so beautifully and it goes well with Thanksgiving decor items such as pumpkins. Thus, it could be the ideal centerpiece because the earthy yellow color of the tansy flowers will look great contrasted against any other autumn-themed dining table decor.
So why not try this out during your next Thanksgiving dinner? We're sure that everyone would love to receive one of these cute bouquets as a parting gift!
19. Autumn Wedding Arch – Outdoor Thanksgiving Decoration Ideas
If you're planning on tying the knot during Thanksgiving but want to include some romantic autumnal elements in your wedding ceremony then this poetry-inspired craft is perfect for you!
Furthermore, it's very simple and inexpensive to make – all you'll need are some autumnal flowers, twigs from a tree to serve as the arch, and wire.
Tie the flowers together using wire so that they look like bouquets and attach them to the twigs. Continue by tying some wire around the bottom of each flower so that it looks like their stems are buried in the ground – this is important because it ensures that your flowers won't fall out during the ceremony.
Finally, attach each bouquet to each arm of the arch then put it on top of a small pedestal – you can use any type of pedestal but we recommend that you use something lightweight just in case there's high wind at your wedding venue.
What we love about this craft is that it's very romantic and delicate. It perfectly captures autumn and will surely make your wedding ceremony much more memorable because people will be reminiscing over those gorgeous bouquets the next time they see acorns or chestnuts.
Furthermore, we adore how you can incorporate poems as headings for each of the flowers as well as for the arch itself. Thus, it makes a great centerpiece and focal point for your wedding altar!
20. String Art Pumpkin – Thanksgiving Decoration Ideas
This is another craft that focuses on Thanksgiving centerpieces but can also be used for Halloween. After all, it's a jack-o'-lantern made from string art – what could be more perfect for the most spooky holiday of the year?
Furthermore, string art is one of the easiest DIY crafts that you can make and it doesn't require any special tools or techniques. All you'll need are some strings, a piece of plywood (preferably large-sized), and a pencil.
Afterward, all you have to do is draw the outline of your pumpkin on the wood according to our picture, then start stringing away – just use different colors for an extra pop!
You'll need a picture of a pumpkin or you could just draw one yourself if you're an aspiring artist, woodworking tools such as jigsaws and chisels, various colors of string, nails, and screws to hold your frame together, and finally some paint.
To make this craft you'll have to sketch out your image onto a piece of plywood. Then cut the lines making sure that they are deep enough so that when you place each string in between each crossed line it won't fall out easily. Continue by nailing the string into place then painting your pumpkin masterpiece.
Alternatively, you could try to find a unique design that's also easy to replicate and use an actual pumpkin as your canvas. So, instead of using plywood to create a string art pumpkin design, you can create a heart pattern out of pins and string straight on the pumpkin.
What we like about this craft is that it's perfect for either Halloween or Thanksgiving – plus, it's very easy to make and there are no complex steps involved.
Thus, making it great for people who don't have time to do more complicated things but still want something eye-catching at their gatherings. Plus, if you get tired of looking at your pumpkin you can always decorate with other colors of string so you'll never get bored!
21. Chestnut Acorn Decorative Bowl – Thanksgiving Table Decor Ideas
Acorn & chestnut crafts are perfect for fall time because they capture the essence of the season perfectly. Plus, you can use them to make all sorts of things.
For instance, if you don't want to use them as inspiration for your Thanksgiving decor, then you could always try making a decorative bowl since it's both easy to do and doesn't require much effort on your part.
Besides, what could be a better centerpiece for Thanksgiving than a bowl filled with acorns and chestnuts?
If you love nature and appreciate its beauty, then this craft is perfect for you. It's not too complicated so that anyone can give it a try!
In fact, the only materials that you'll need are some acorns or chestnuts (you can even use pinecones, but they're not as effective), mod podge – which is basically glue-, water, disposable bowls, and brushes.
Start by putting your nuts in separate bowls. Then add your mod podge and about two cups of water to make a potpourri-like consistency and stir well until there aren't any lumps left (this shouldn't take long).
Afterward, it's time to start applying the mixture to the nuts. Make sure that you use a brush with long bristles so that you can get into all of the nooks and crannies of your acorns or chestnuts.
Simply put them somewhere to dry once the excess has dripped off – this should take about 24 hours. Then display proudly in either your home or at Thanksgiving gatherings!
If you don't want to spend much time on this craft, you could always buy faux nuts instead. Nonetheless, we think that there is something very quaint yet almost magical about using real nuts for these types of crafts!
Because they're mostly associated with nature and autumn, they make incredible decorations for fall parties like
22. Pumpkin DIY Vase – DIY Thanksgiving Decorations
If you like DIY crafts and autumn, then you'll definitely love this pumpkin vase! Plus, it's very quick to make and doesn't require any special skills.
So even if someone has never done anything like this before, they can try and still end up with a great-looking vase that will add instant charm to Thanksgiving gatherings.
All that it takes is three ingredients: pumpkins, water, and glue for the outside of your pumpkin, plus glitter, paint, or spray paint, depending on what look you want to achieve.
Start by carving out the inside of the pumpkin so that your flowers have somewhere to sit. Then create a mixture of glue and water (about 1/4 cup should do) and brush it onto the outside of your pumpkin evenly. After that, sprinkle glitter on it to give it some added sparkle (this is optional, so if you're not into glitter, you should skip this step).
Once you're finished with this step, just put your pumpkin outside where it can dry. It will take about an hour (or longer if it's windy or rainy) to dry completely.
And there you go! You now have a beautiful vase that was quick to make and doesn't require any skills whatsoever. If you carved the pumpkin into a jack-o-lantern, you won't be able to pour water in the "vase," as it will all drain through the holes, but you could still place dried or artificial flowers in it.
Regardless of whether you choose to decorate with natural leaf arrangements or not, we think that this is certainly one way that everyone can keep their gatherings festive while staying true to their artistic tastes.
Last but not least, you should note that the inside of the pumpkin will start to rot at some point, so maybe don't bring this decoration inside. Placing it outside will keep it fresh for longer, and you'll also avoid the fruit flies that will inevitably spawn at some point.
23. DIY Bottle Lights – Thanksgiving Aesthetic
This craft is not only incredibly cheap but also very easy to make, and it looks really good too.
The first thing that you'll need to do is find some old bottles – either wine or beer bottles are fine. You can even use glass jars if you want instead of the actual bottle because the effect will be almost exactly the same.
However, if you can't find any old bottles, then just buy some nice new ones from the store. Once you've found your bottles, clean them thoroughly and remove all labels/glue and everything else that could keep light from shining through the glass.
Now you can either leave them as they are or glue their bottoms to a piece of scrap wood if you want to group them up and keep them together.
Make sure you don't choose opaque bottles, since you're gonna slide some lovely little lights down these bottles and you want them to give a nice glow, not a barely noticeable flickering.
We suggest buying some small battery-powered string lights and gently sliding them down the neck of each bottle. Make sure you don't buy strings lights that are too long, else you're gonna have a hard time making them fit through the bottle's tiny opening.
Now flick the switch, light them up, and that's about it! You're the proud owner of some simple yet elegant DIY Thanksgiving decorations that you can also use for many other occasions (such as birthdays, festive dinners, Christmas, you name it).
Another way you could go about crafting these nifty decorations would be to remove the bottom of the bottles and glue the lights to the walls of the bottles so that they don't move around. Removing the bottom of the bottles would also enable you to hide the controller.
If you're not exactly thrilled about the prospect of cutting glass, you can find special string lights that have a cork-shaped controller, so you can easily put them in a bottle without the controller hanging around and messing with the decor. Happy Thanksgiving!
24. White Pumpkin Dinner – Thanksgiving Home Decor
This Thanksgiving decoration is great for those of you who love simple, no-fuss decorations.
To begin with, we suggest searching around your house and finding some old plates and cutlery because the idea is to sit down and enjoy a candlelit dinner at this lovely rustic-looking table.
You can keep this table setting forever (or sell it off on eBay if it turns out to be a crazy hit) and even place Christmas ornaments around it for other festive occasions. It doesn't get easier than that!
You can find plates and cutlery on sale for next to nothing (even at your local thrift shop, yard sale, or flea market), and you don't even need many of them; we suggest that you do this as a group activity with friends and family.
Once again, make sure the plates are clean and free from dirt and dust. Remember: no one wants to eat dinner off some dirty dishes!
Now all you have to do is place those lovely white pumpkins around the table in such a way that it looks like they're dropping by for dinner as well. You might want to use little ornaments or decorations here too, or just subject your guests to a pumpkin octet – whatever floats your boat.
Last but not least, light up some candles (you can either buy them or make them using simple supplies like beeswax and other flammable materials), place them in candlesticks around the table, dim the lights to your desired level and enjoy an evening of candlelit pumpkin dinner!
25. Golden Black White Pumpkin – Cheap Thanksgiving Decorations
This next decoration is a bit more time-consuming, but it's well worth it if you have the patience.
All you'll need for this project are white pumpkins and golden paint or gold spray paint. You can actually pick whatever colors work for your home decor, but we decided to go with black since it pairs so nicely with both gold and white.
The first thing you're going to want to do is put down a nice little base of black paint on each pumpkin (you don't have to be neat about this because there's gonna be a lot of work from now until the end).
Next, take your spray paint or your gold paintbrush and begin covering even the darkest spots on those pumpkins with as much gold as they can hold.
The idea is to have your pumpkin look all golden, shiny, and beautiful when it's all said and done. And since you're painting them manually instead of just spray-painting them, there might be some minor accidents here and there which will only add to the rustic vibe of this project. Once again, don't worry if you make a mess or two – it simply adds character!
Now that your pumpkins are all nice and golden, it's time for the finishing touch. Place each one in the center of a small vase filled with water (make sure they fit nicely) and place green leaves around them – bam! You've got yourself an elegant Thanksgiving decoration that can also work as a centerpiece at any other festive occasion.
More Elegant Thanksgiving Decorations
26. Fresh Thanksgiving Decorations
Take a cue from this stunning centerpiece that uses a unique color scheme. Most Thanksgiving decor includes various shades of orange and yellow, so this pale green and beige tablescape feels thoroughly modern and elegant. Make your way over to Sand & Sisal to find out how to make your own.
27. DIY Wheat Wreath Thanksgiving Decoration
Create a beautiful wreath out of wheat for your front door! The wheat has an unmistakableThanksgiving feel, but in an elegant, understated way. And it's really quite simple to make! Be sure to attach a burlap bow to add a bit of rustic appeal.Head over to Daisy Mae Belle for the full tutorial.
28. Woodland Style Thanksgiving Decorations
Woodland style is making a comeback, especially in holiday decor. It's a fresh new way to give your home a festive feel without going overboard and risking a cheesy, overdone look. Check out Life, Lockets and Lace to find out how to create agorgeouswoodland Thanksgiving theme on a budget.
29. Pumpkins and Candles Outdoor Thanksgiving Decorations
There's nothing particularly earth-shattering about this idea… just a festive, elegant way to decorate for the holidays. Start with some colorful chrysanthemums (they're hardy in cool weather) and then scatter a few pumpkins and lots of candles up and down your walkway. Learn more at the Rattlebridge Farm blog.
30. Feathers – Cheap Thanksgiving Decorations
Feathers are on trend right now, so try using them as a decor element around your house. Here, they are used as a beautiful addition to a glamorous gold and white place setting. The earthy color of this featherspotted over atWedding Chicks would be perfect for your Thanksgiving table.
31. Gilded Leaves – Thanksgiving Table Decor Idea
Shiny gold leaves are a great way to add some class to your table. Pair them with a handful of votives to play up the reflective quality of the leaves… the candlelight will flicker and bounce off of the gold in a beautiful way. Make your way over to Interiors Online to check out this and many other gorgeous ideas.
32. Wheat Banister Thanksgiving Decoration
Staircases are a great place to decorate for the holidays – try adding bunches of wheat to your banister. Finish the look by adding colorful ribbons or ties in a Thanksgiving-like color. Head over to Stagetecture to see this and many other creative Thanksgiving decor ideas.
33. Succulent Centerpiece – Thanksgiving Table Decor Idea
Succulents are often thought of as a summertime plant, but they make gorgeous fall centerpieces as well! The use of gold planters and vases gives the table a very holiday sort of feel. The look is finished by adding gold chargers underneath each place setting. Check it out right here.
34. Lanterns – Friendsgiving Decor Idea
This lantern lookis a fresh new take on Thanksgiving decor, adding a rustic touch to an entryway table, buffet, (or any surface really). Gold roses add a sophisticated and unique touch as well… just buy a few artificial flowers at the craft store and spray paint them. See additional ideas here.
35. White Pumpkins Thanksgiving Table Decor Idea
Here we have a collection of white and gold pumpkins – an easy way to give a space that holiday feel without going overboard with oranges, yellows and browns. Head over to the Thistlewood Farms blog to read about this and four other lovely Thanksgiving decorating ideas.
36. Welcome Friends Pumpkins Thanksgiving Outdoor Decorations
Make your guests feel welcome by placing a rustic arrangement of pumpkins and gourds by the front door. Write an inviting message on the pumpkins, as the folks at Better Homes and Gardens have done. Check out this and plenty of other Thanksgiving decor ideas right here.
37. Give Thanks Banner – DIY Thanksgiving Decorations
Hang one of these adorable "Give Thanks" banners above your mantel as a reminder of what the season is all about. This is a great project for any style home… just try different text styles according to your decor. Head over to The Lily Pad Cottage to learn more about Kelly's mantel decor ideas.
38. Feather and Gourd Wreath – Thanksgiving Ornaments
Dress up your front porch by making one of these stunning Thanksgiving wreaths. The white gourds and red berries give it a festive feel, while long feathers add drama. The twigs above are left untouched, for a perfectly rustic feel. Head over to Sue Harris' blog to see more photos of these beautiful wreaths.
39. Gold Dipped Feather Garland – Cheap Thanksgiving Decorations
In keeping with the gold theme, here we have a stunning gold-dipped feather garland. This is a beautiful way to include some natural elements in your decor without it becoming too rustic. Make your way over to Simple Stylings to find out how to make your own gold-dipped feather garland.
40. Rectangular Wreath Thanksgiving Home Decor
If you enjoy modernizing traditional style, then this might be the Thanksgiving wreath for you. The rusty orange color and burlap tie feel very classic, while the rectangular ship is unique and fresh. Check out this and plenty of other great ideas over at The Inspired Room.
41. Leaf Place Cards – Cheap Thanksgiving Decoration
If you're hosting Thanksgiving dinner at your house, give these handwritten leaf place cards a try! They're free… just head out to the local park and grab some fallen leaves. These are done with white calligraphy ink, but you easily do them yourself with a Sharpie and a steady hand. Check it out here.
42. Pumpkins Stairway – Thanksgiving Decoration Idea
Line the edges of every stair with matching white pumpkins for a beautiful monotone look. There's something about repetitive patterns like this that feels modern and elegant. Check this out, along with a few other unique fall decor ideas originally from Delicate Creature here.
43. Muted Color Palette for Thanksgiving Table Decor
Even a color palette of light green and rose can look very "Thanksgiving" if executed properly. The key here is to include a couple of elements that feel quintessentially autumn, and then accent those with the muted green and pink color scheme. Read all about this beautiful centerpiece over at Craftberry Bush.
44. Give Thanks Wreath – Thanksgiving Aesthetic
Make a miniature "Give Thanks" banner for your front door, too! Create the bunting out of natural burlap and paint, and then attach it to a plain old vine wreath from your local craft store. Make your way over to Make It Love It to find out how to make your own give thanks banner wreath.
45. Pinecone Arrangement DIY Thanksgiving Decoration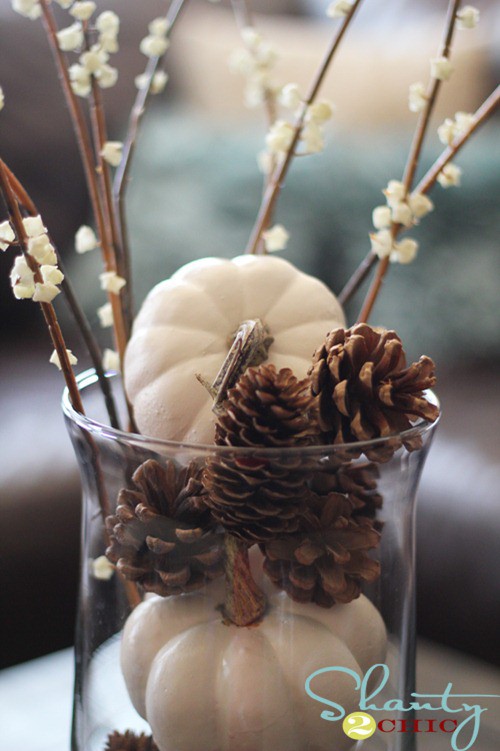 If floral arrangements made with flowers seems too summery to you, give this pinecone and twig arrangement a try. Fill a glass vase with white mini pumpkins and then add a few branches and pinecones for some variety. Head over to Shanty 2 Chic's Instagram page to see this and lots of other amazing decor ideas.
46. Rustic Place Setting – Thanksgiving Home Decor
Place a slab of wood at each place setting (like a charger) to give your Thanksgiving table a rustic, woodland feel. Take it a step further by making place card holders out of smaller wooden slabs cut in half. Check out this and lots of other great table setting ideas over at Country Living.
47. Pumpkin Lanterns Outdoor Thanksgiving Decoration
Here's another great lantern idea… fill a few up with mini pumpkins, gourds, pinecones and other fall-like necessities. And then place the lanterns on your front porch or in your entryway. Head over to here to check out lots of otherfantasticfall decorating ideas.
48. "Thanks" Pumpkins Thanksgiving Decoration Idea
Here's another lovely Thanksgiving decor idea… go buy six artificial foam pumpkins from the craft store and paint them white. Then place letter decals on the pumpkins, spelling out the word "thanks." Check out A Diamond In The Stuff to find out how to recreate this look in your own home.
49. A Mercury Glass Mantel – Thanksgiving Aesthetic
As we've seen before, silver is a lovely thanksgiving accent color… but mercury glass is even better! It adds a hint of a vintage feel to your decor, without feeling old. Make your way over to Setting For Four to find out how this stunning mantel came together, and to see lots of other mantel design ideas.
50. Pumpkin Bouquet – Thanksgiving Home Decor
And last but certainly not least… create a gorgeous flower arrangement inside of a pumpkin to add some elegance to your home this Thanksgiving. This one has a muted, pastel color scheme, but you could easily go with bold oranges and reds too. Get the simple instructions at the One Charming Party blog.
Conclusion
All things considered, we hope you find this article helpful and that it will inspire you not only to create marvelous DIY decorations for your elegant Thanksgiving dinner but to come up with your very own decorations at some point.
Remember, DIY is always a great idea when it comes to home decorating since it's cheaper and allows for a lot of flexibility as well as personalized designs.
Plus, now that you're armed with all these tips and tricks from us, we're sure your friends and family will be more than impressed with how festive your place looks!
Most of the crafts we've included in our guides are easy to make, and you won't need any complicated supplies or equipment. Just remember that the best thing you can do when making your own Thanksgiving decorations is to play with colors, textures, and materials (just like in cooking) – this will guarantee interesting results every time!
If you don't feel like experimenting too much, that's fine too! We wouldn't want you to spend your time messing around with paints and drills when there are so many other fun things to do. Still, our hope is that at least one of these concepts strikes your fancy. Happy Thanksgiving, everyone!