25 Elegant DIY Thanksgiving Decor Ideas
Believe it or not, Thanksgiving will be upon us soon enough… find out how to get your home all dressed up and ready for the lovely fall holiday with pumpkins, flowers, leaves and pinecones – the classy way. Here are 25 of our very favorite unique, elegant and just plain gorgeous ideas.
1. Use A Fresh Color Scheme
Take a cue from this stunning centerpiece that uses a unique color scheme. Most Thanksgiving decor includes various shades of orange and yellow, so this pale green and beige tablescape feels thoroughly modern and elegant. Make your way over to Sand & Sisal to find out how to make your own.
2. DIY Wheat Wreath
Create a beautiful wreath out of wheat for your front door! The wheat has an unmistakable Thanksgiving feel, but in an elegant, understated way. And it's really quite simple to make! Be sure to attach a burlap bow to add a bit of rustic appeal.Head over to Daisy Mae Belle for the full tutorial.
3. Woodland Style Decor
Woodland style is making a comeback, especially in holiday decor. It's a fresh new way to give your home a festive feel without going overboard and risking a cheesy, overdone look. Check out Life, Lockets and Lace to find out how to create a gorgeous woodland Thanksgiving theme on a budget.
4. Pumpkins and Candles
There's nothing particularly earth-shattering about this idea… just a festive, elegant way to decorate for the holidays. Start with some colorful chrysanthemums (they're hardy in cool weather) and then scatter a few pumpkins and lots of candles up and down your walkway. Learn more at the Rattlebridge Farm blog. 
5. Feathers
Feathers are on trend right now, so try using them as a decor element around your house. Here, they are used as a beautiful addition to a glamorous gold and white place setting. The earthy color of this feather spotted over at Wedding Chicks would be perfect for your Thanksgiving table.
6. Gilded Leaves
Shiny gold leaves are a great way to add some class to your table. Pair them with a handful of votives to play up the reflective quality of the leaves… the candlelight will flicker and bounce off of the gold in a beautiful way. Make your way over to Interiors Online to check out this and many other gorgeous ideas.
7. Wheat Banister Decor
Staircases are a great place to decorate for the holidays – try adding bunches of wheat to your banister. Finish the look by adding colorful ribbons or ties in a Thanksgiving-like color. Head over to Stagetecture to see this and many other creative Thanksgiving decor ideas.
8. Succulent Centerpiece
Succulents are often thought of as a summertime plant, but they make gorgeous fall centerpieces as well! The use of gold planters and vases gives the table a very holiday sort of feel. The look is finished by adding gold chargers underneath each place setting. Check it out right here.
9. Lanterns
This lantern look is a fresh new take on Thanksgiving decor, adding a rustic touch to an entryway table, buffet, (or any surface really). Gold roses add a sophisticated and unique touch as well… just buy a few artificial flowers at the craft store and spray paint them. See additional ideas here.
10. White Pumpkins
Here we have a collection of white and gold pumpkins – an easy way to give a space that holiday feel without going overboard with oranges, yellows and browns. Head over to the Thistlewood Farms blog to read about this and four other lovely Thanksgiving decorating ideas.
11. Welcome Friends Pumpkins
Make your guests feel welcome by placing a rustic arrangement of pumpkins and gourds by the front door. Write an inviting message on the pumpkins, as the folks at Better Homes and Gardens have done. Check out this and plenty of other Thanksgiving decor ideas right here.
12. Give Thanks Banner
Hang one of these adorable "Give Thanks" banners above your mantel as a reminder of what the season is all about. This is a great project for any style home… just try different text styles according to your decor. Head over to The Lily Pad Cottage to learn more about Kelly's mantel decor ideas.
13. Feather and Gourd Wreath
Dress up your front porch by making one of these stunning Thanksgiving wreaths. The white gourds and red berries give it a festive feel, while long feathers add drama. The twigs above are left untouched, for a perfectly rustic feel. Head over to Sue Harris' blog to see more photos of these beautiful wreaths.
14. Gold Dipped Feather Garland
In keeping with the gold theme, here we have a stunning gold-dipped feather garland. This is a beautiful way to include some natural elements in your decor without it becoming too rustic. Make your way over to Simple Stylings to find out how to make your own gold-dipped feather garland.
15. Try A Rectangular Wreath
If you enjoy modernizing traditional style, then this might be the Thanksgiving wreath for you. The rusty orange color and burlap tie feel very classic, while the rectangular ship is unique and fresh. Check out this and plenty of other great ideas over at The Inspired Room.
16. Leaf Place Cards
If you're hosting Thanksgiving dinner at your house, give these handwritten leaf place cards a try! They're free… just head out to the local park and grab some fallen leaves. These are done with white calligraphy ink, but you easily do them yourself with a Sharpie and a steady hand. Check it out here.
17. Multiple Pumpkins
Line the edges of every stair with matching white pumpkins for a beautiful monotone look. There's something about repetitive patterns like this that feels modern and elegant. Check this out, along with a few other unique fall decor ideas originally from Delicate Creature here.
18. Muted Color Palette
Even a color palette of light green and rose can look very "Thanksgiving" if executed properly. The key here is to include a couple of elements that feel quintessentially autumn, and then accent those with the muted green and pink color scheme. Read all about this beautiful centerpiece over at Craftberry Bush.
19. Give Thanks Wreath
Make a miniature "Give Thanks" banner for your front door, too! Create the bunting out of natural burlap and paint, and then attach it to a plain old vine wreath from your local craft store. Make your way over to Make It Love It to find out how to make your own give thanks banner wreath.
20. Pinecone Arrangement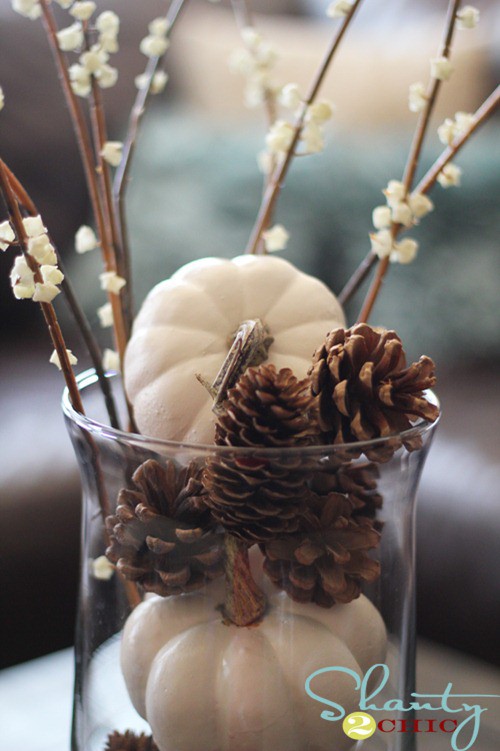 If floral arrangements made with flowers seems too summery to you, give this pinecone and twig arrangement a try. Fill a glass vase with white mini pumpkins and then add a few branches and pinecones for some variety. Head over to Shanty 2 Chic's Instagram page to see this and lots of other amazing decor ideas.
21. Rustic Place Setting
Place a slab of wood at each place setting (like a charger) to give your Thanksgiving table a rustic, woodland feel. Take it a step further by making place card holders out of smaller wooden slabs cut in half. Check out this and lots of other great table setting ideas over at Country Living.
22. Pumpkin Lanterns
Here's another great lantern idea… fill a few up with mini pumpkins, gourds, pinecones and other fall-like necessities. And then place the lanterns on your front porch or in your entryway. Head over to here to check out lots of other fantastic fall decorating ideas.
23. "Thanks" Pumpkins
Here's another lovely Thanksgiving decor idea… go buy six artificial foam pumpkins from the craft store and paint them white. Then place letter decals on the pumpkins, spelling out the word "thanks." Check out A Diamond In The Stuff to find out how to recreate this look in your own home.
24. A Mercury Glass Mantel
As we've seen before, silver is a lovely thanksgiving accent color… but mercury glass is even better! It adds a hint of a vintage feel to your decor, without feeling old. Make your way over to Setting For Four to find out how this stunning mantel came together, and to see lots of other mantel design ideas.
25. Pumpkin Bouquet
And last but certainly not least… create a gorgeous flower arrangement inside of a pumpkin to add some elegance to your home this Thanksgiving. This one has a muted, pastel color scheme, but you could easily go with bold oranges and reds too. Get the simple instructions at the One Charming Party blog.