15 Super Fun Snowman Crafts
Just because Christmas is over doesn't mean our kids are finished with their Christmas spirit yet! In fact, they usually make us listen to Christmas music and help them make holiday themed crafts all the way through until the New Year, if not longer. To them, winter and snow just means Christmas. That's why we've been stocking away holiday themed crafts for them to make any time they please! Lately, they've been real obsessed with making snowmen. Of course, we live where it's snowy and cold, so they've already made plenty of actual snowmen outside in our yard, but some days are just too chilly and sometimes they'd rather just craft. That's why we made sure to find all kinds of awesome snowman themed DIY projects that they could make even on days that they'd rather spend inside.
Just in case your kids love both crafting and snowmen just as much as ours do, if not more, here are 15 awesome snowman themed crafts that will keep them nice and busy while they're off school for the holidays!
1. Embellished foam sphere snowmen
Have your kids always picked up those differently sized crafting balls made of foam at the dollar store and wondered aloud what they're for? Well, thanks to this cute crafting tutorial from Ideally Speaking, now you can finally answer them with an actual example! They show you how to make adorable little foam snowmen by piling three foam balls on top of each other in decreasing size and decorating them with markers and scarves made of ribbon. Get as creative with the embellishment as you please!
2. DIY sock snowmen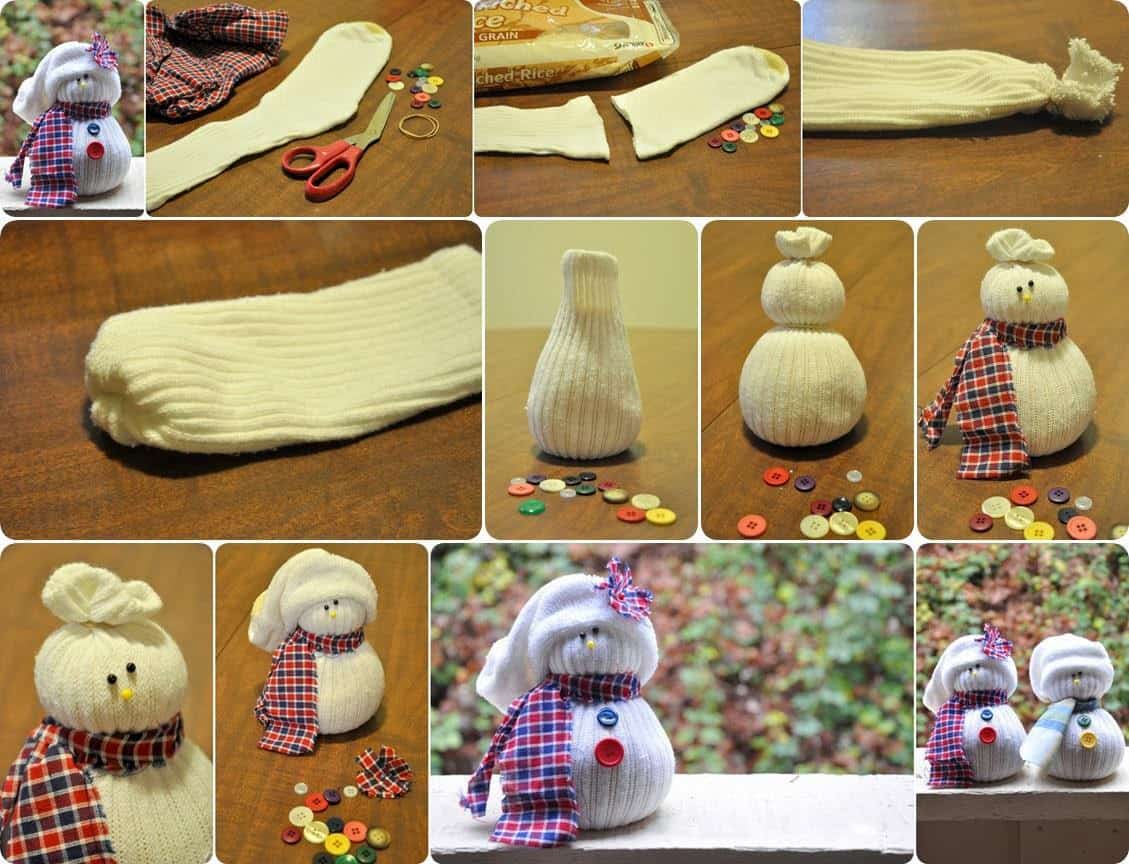 Did you really like the idea of making little standing snowmen, but you prefer working with fabric and soft materials to foam and other crafting supplies, especially if it means you get to upcycle? In that case, we'd suggest saving the next few white socks you decide you're not going to wear anymore, because they're the perfect thing for making adorable, squishy little snowmen around the holidays! Check out how Darkroom & Dearly made them happen with buttons, strips of scrap fabric, stuffing, and some sewing pins.
3. Toilet paper snowman
Perhaps you're the kind of DIY enthusiast who absolutely loves making funny little hand crafted winter décor pieces for your home, swapping them out for each holiday as the seasons roll around? In that case, here's a quick, simple idea that's perfect for you! This Ole Mom shows you how to turn three rolls of toilet paper into a funny standing snowman in such a way that you can still used them when Christmas is over.
4. Felt and button snowman decoration
Perhaps you've been looking for simple fabric and material crafts that you can use as an opportunity to teach your kids a little bit about easy beginner hand stitching techniques? Then these adorable felt snowman tree ornaments are just what you're looking for! Plushka Craft shows you how to cut, stitch, and embellish them just right so they'll last for seasons on your tree.