15 Super Fun Snowman Crafts
Just because Christmas is over doesn't mean our kids are finished with their Christmas spirit yet! In fact, they usually make us listen to Christmas music and help them make holiday themed crafts all the way through until the New Year, if not longer. To them, winter and snow just means Christmas. That's why we've been stocking away holiday themed crafts for them to make any time they please! Lately, they've been real obsessed with making snowmen. Of course, we live where it's snowy and cold, so they've already made plenty of actual snowmen outside in our yard, but some days are just too chilly and sometimes they'd rather just craft. That's why we made sure to find all kinds of awesome snowman themed DIY projects that they could make even on days that they'd rather spend inside.
Just in case your kids love both crafting and snowmen just as much as ours do, if not more, here are 15 awesome snowman themed crafts that will keep them nice and busy while they're off school for the holidays!
1. Embellished foam sphere snowmen
Have your kids always picked up those differently sized crafting balls made of foam at the dollar store and wondered aloud what they're for? Well, thanks to this cute crafting tutorial from Ideally Speaking, now you can finally answer them with an actual example! They show you how to make adorable little foam snowmen by piling three foam balls on top of each other in decreasing size and decorating them with markers and scarves made of ribbon. Get as creative with the embellishment as you please!
2. DIY sock snowmen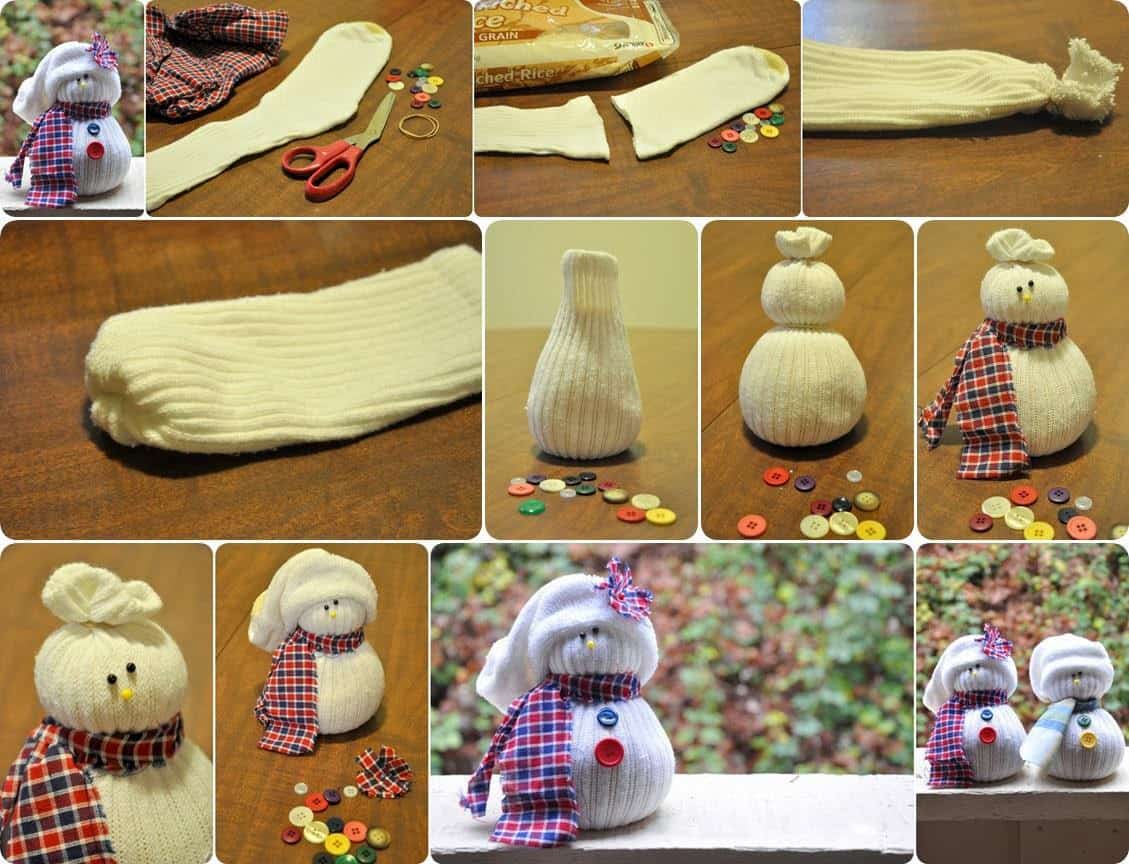 Did you really like the idea of making little standing snowmen, but you prefer working with fabric and soft materials to foam and other crafting supplies, especially if it means you get to upcycle? In that case, we'd suggest saving the next few white socks you decide you're not going to wear anymore, because they're the perfect thing for making adorable, squishy little snowmen around the holidays! Check out how Darkroom & Dearly made them happen with buttons, strips of scrap fabric, stuffing, and some sewing pins.
3. Toilet paper snowman
Perhaps you're the kind of DIY enthusiast who absolutely loves making funny little hand crafted winter décor pieces for your home, swapping them out for each holiday as the seasons roll around? In that case, here's a quick, simple idea that's perfect for you! This Ole Mom shows you how to turn three rolls of toilet paper into a funny standing snowman in such a way that you can still used them when Christmas is over.
4. Felt and button snowman decoration
Perhaps you've been looking for simple fabric and material crafts that you can use as an opportunity to teach your kids a little bit about easy beginner hand stitching techniques? Then these adorable felt snowman tree ornaments are just what you're looking for! Plushka Craft shows you how to cut, stitch, and embellish them just right so they'll last for seasons on your tree.
5. Fingerprint snowmen
Have your kids just been itching for a crafty excuse to get their hands dirty and you already know that finger printing is their absolute favourite thing? Then you're all going to love making these fingerprint snowmen paintings together! We love the way Crafty Morning embellished their snowmen by hand and then put the finishing touches on the picture by lightly splattering white paint from their brush over the snowmen so it looks like they're standard outside while's it's snowing.
6. Embellished juice bottle snowman
Have you always loved the idea of making glass bottle lamps and you've done it before with wine bottles but now you're looking for an idea that's a little more Christmas-y? Then you should definitely check out this tutorial from Celebrations! They show you how to use frosted paint, yarn, ribbon, and buttons to make an empty pomegranate juice bottle look like a snowman before adding simple string lights so the snowman glows.
7. Egg carton snowman
Are you actually kind of low on crafting supplies right now but you know your kids love getting creative in the afternoon, so you're looking for more ways to upcycle through DIY? Then start saving your empty egg cartons! This simple tutorial from Crafty Morning shows you how to turn the rounded cups on the bottom of an egg carton into funny little snowmen with scarves and sparkly buttons.
8. Standing textured paper snowman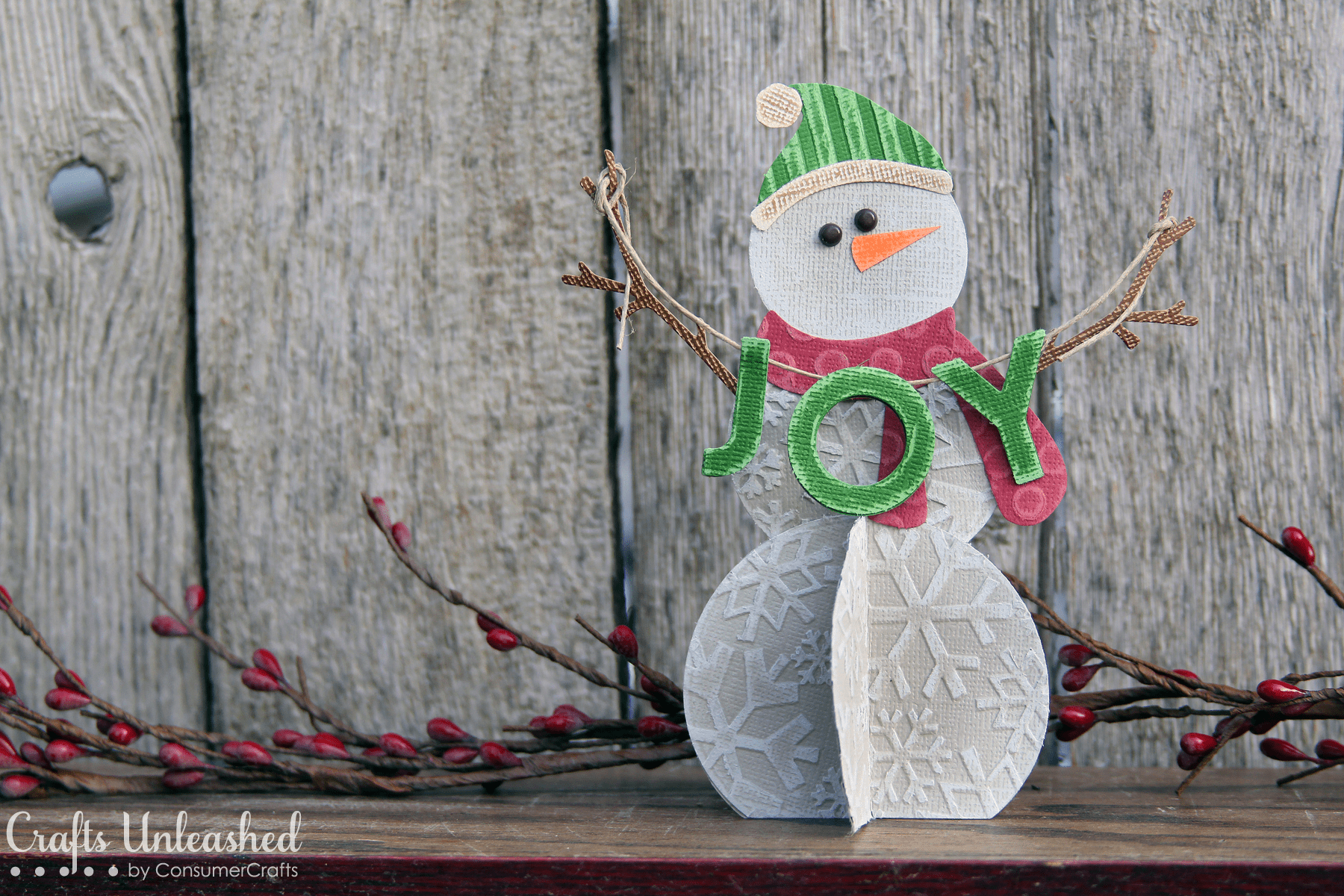 Perhaps cut and paste crafts made with people have always been a huge hit in your house, so you've been stocking up on cool decorative craft papers for each season, like scrapbooking pages made of cardstock? In that case, you have just about everything you need to make these simple but adorable standing snowmen featured on Crafts Unleashed.
9. Plastic bottle printed snowmen
Maybe your kids are in the mood for painting but they still like the idea of working with unconventional materials and you still like the idea of helping them upcycle through art? In that case, this bottle printing idea from Reader's Digest is the perfect idea for you! They show you how to use the bottle like a stamp for making the circles of each little snowman, as well as how to embellish the dried paint with marker features and washi tape scarves.
10. Rustic yarn wrapped snowman
Have you always loved crafts that let you get creative with all kinds of materials at once, especially if the finished product is textured  and has some structure? Then yarn wrapping must be a DIY cream for you! Even better, this fun snowman décor tutorial from Made In a Day shows you how to combine your yarn wrapping skills with burlap and crafting wire made to look like twigs in order to make a piece that's ever so slightly rustic chic but totally cute.
11. Painted flower pot craft
Did you like the idea of having your kids make crafts with structure but you think they've enjoy using their painting skills instead? In that case, give them an experience that's close to painting pottery …but without having to tackle the complicated process of making and firing your own pottery! Classroom DIY suggests flipping terra cotta planting pots upside down and painting them to look like snowmen. Embellish the sides with pom poms so it looks like they're wearing earmuffs!
12. Cute needle felted snowman
Okay, we know we said originally that this was going to be a list of crafts that are easy for kids and needle felting isn't exactly a simple task for little ones, but this little felted snowman from outlined by Bear Creek Design is just so incredibly cute that we couldn't resist putting him on the list anyways! Because he's made from circular shapes, however, he actually is a decently simple project for beginners, so kids could try him out as long as you think they're ready for the care and concentration that needle felting takes.
13. Recycled light bulb snowman
Are you looking for an upcycling idea that's so simple it'll only take a few minutes but that's cute enough to help you really make the place look festive? Well, do you happen to have any old lightbulbs lying around the house that you've been meaning to dispose of properly? Then you're just about ready to make this cute glass snowman from Suzdo! His hat and bowtie can be made from a fuzzy sock.
14. Rustic wooden block snowman
Perhaps your personal style has always been a little bit more minimalist and rustic chic? In that case, maybe you'd prefer this stacked wooden block design from Vintage News Junkie! Get your kids to help you by wrapping the burlap scarf around or gluing the wooden branch arms on. If the blocks you have aren't heavy, the kids can even pile them on top of each other to build the snowman itself!
15. Melted snowman Christmas tree ornament
Are your kids a little bit older and interested in making some awesome decorations for the tree that you can hang every year? Here's an idea that's a whole lot of fun for them to make but that isn't too complicated! My Creative Days shows you how to fill an empty clear glass ornament with white glitter, a curl of orange paper, and beads meant to look like a carrot and coal. That way the ornaments looks like it contains a melted snowman!
Do you know a fellow crafting and DIY enthusiast who loves crafting seasonal things with their kids and needs all the ideas they can possibly get their hands on to keep them busy over the holidays? Share this post with them for a little bit of snowman themed inspiration!