15 DIYs To Help With Your Summertime Barn Wedding
Preparing for your trendy, shabby chic wedding can be stressful, but it can be a whole lot of fun too. Giving attention to the details, colors, and menu for the day is just a pinch of the fun when it comes to planning your big day. If you've chosen a country-inspired venue, like a unique barn and you're getting married among the warmer-weathered months, you've come to the right place! And below, you'll from 15 DIYs that will help with your summertime barn wedding.
1. Picnic Tables
Rustic Wedding Chic has a lot of great ideas that coincide well with a barn wedding. But this idea, in particular, can be easy to recreate and implement. Use picnic tables for your guests to enjoy the night at.
2. Pallet Backdrop
Take a look at this stunning backdrop created at Hill City Bride! Easily recreated with wooden pallets and fresh flowers. It can serve as the beacon for your ceremony and a spot where a lot of guests can snap some photos at throughout the night.
3. Hanging Jar Vases
These hanging jar vases from Country Living make for a wonderful decor and lighting idea for your barn wedding. They can ignite the reception so beautifully and uniquely for the party; adding both romance and ambiance.
4. Burlap Bows
Burlap is the quintessential fabric for shabby chic visions. So, it's no surprise that we took this idea from Pinterest to feature here. Decorate your chairs with some textural bits and finish off the seating in style.
5. Mixed Boutonnieres
Ben Q Photography showcases these adorable mixed boutonnieres and we snatched them up to feature here. Shabby chic, barn style has a tendency to mix well with some eclecticism. Mixing and matching is always a great route to take.
6. Glitter Bottles
Add some extra bits of girlish charms to the tables with some of these glitter bottles. Brandy Hill Farm is where we scooped up the inspiration and love having the option of mixing and matching glam pieces with more casual styles.
7. Apple Pie Pops
There's something really homey and comforting about classic apple pie. And that's exactly why serving them up at the party (in a barn) is a great idea. Check out the recipe for these cuties at Bird's Party.
8. Sunflowers Everywhere
The best flower to delight your wedding with at a barn venue would be sunflowers. Just check out this scene from Pinterest and try to recreate something similar in your own space. It adds color but remains within that farmhouse trend.
9. Birch Guestbook
We found this beauty at Style Me Pretty and loved the easy idea. Again, it easily goes along with the country-inspired vibe of your big day! It's also really unique, acting as a wonderful guestbook for your loved ones to leave fun messages on.
10. Teacups + Books
Infused vintage flavor (which pairs nicely with a barn chic affair) by adding some unique touches to your centerpieces. Teacups and books are always a nice addition. Check out more like this at Rock N Roll Bride.
11. Ladder Cocktail Display
Brit + Co featured a genius cocktail display. Using an older ladder you can recreate this to your liking and tastes at your own venue. It'll become a memorable part of the reception for sure!
12. Pinecone & Wheat
Make a bouquet out of something different from tradition – like this pinecone and wheat treat from Rustic Wedding Chic. Wildflowers are nice but some textural bits could be really fun too. Think about addition cotton or berries as well.
13. Crated Seating Chart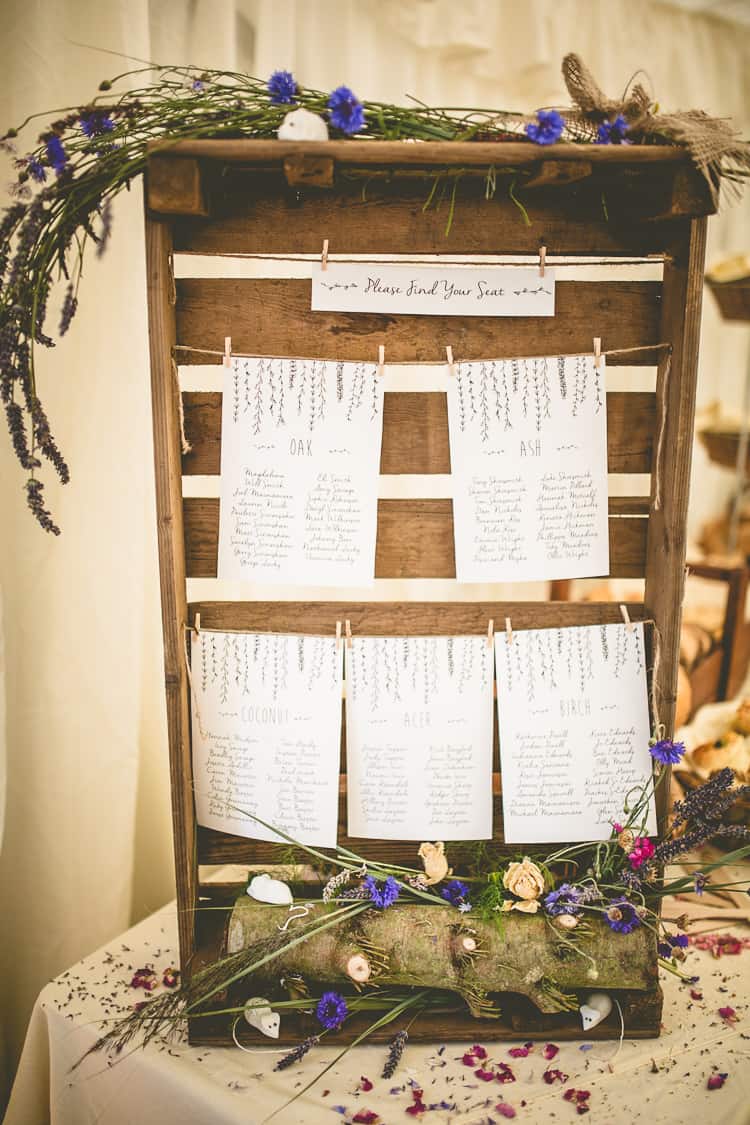 Whimsical Wonderland Weddings had this scene up its sleeves. All you need to do is grab a wooden crate and then line your seating chart as such. Decorate and style it to fit your finish – however boho, country, or natural you'd like to go.
14. Hay Bales
Our friends at Homedit featured this fun idea before so we scooped it up to go with our barn wedding ideas – obviously! This is a great way to decorate or provide unique seating at the ceremony. It's also extremely easy to do yourself!
15. Wooden Signs
A great way to mark the ceremony and reception sites – and fit into that same barn-inspired theme – is to go with wooden signs. Like you see here from Kati Rosado, they are really easy to DIY in your own home and with your own supplies. Just grab some paint and get started!