15 Nice and Simple DIY Wood Projects
Now that spring has arrived, we're finding ourselves wanting to pick up new hobbies and try our hand at new skills. There's just something about the fresh new season that makes us feel invigorated an ready for new challenges. That's probably why we've been so interested in the idea of trying our hand at woodworking lately! Of course, every new hobby has a learning curve, so first we're trying out some very easy projects that are simply made with wood. We've been keeping our eyes peeled for all kinds of beginner friendly wood based projects!
1. Easy wood slice and hairpin leg table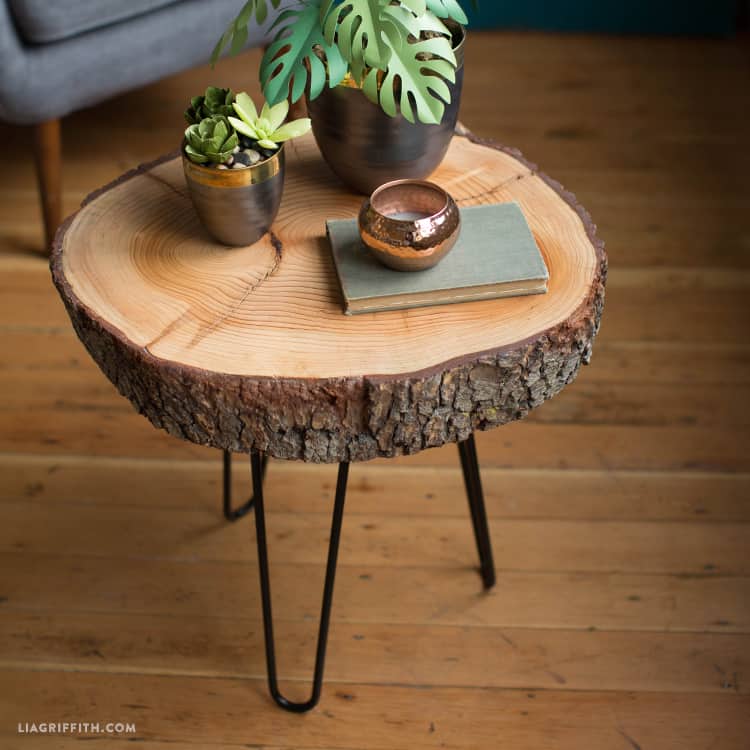 Even though you're a beginner to the world of working with wood, are you slightly practiced and feeling up for a small challenge, like making your very first piece of wooden furniture? In that case, we'd definitely suggest taking a look at the way Lia Griffith used a cut tree stump section to make a lovely rustic tabletop, attaching hairpin legs for a nice mid-century feel.
2. Foldable wooden frame laundry hamper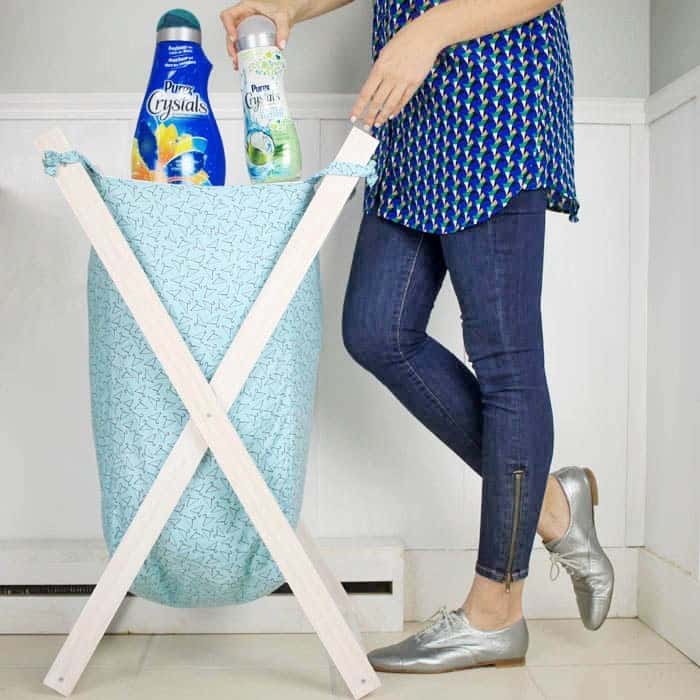 If you're going to put in the time and effort it takes to make yourself a wooden project, would you rather create something that's practical and can actually be used in your house? In that case, maybe you'd get along a little better with something like DIY wooden X-frame laundry basket outlined step by simple step in this tutorial from Gina Michele.
3. Wooden hanging planter stand
Believe it or not, the inside of your house isn't the only place you can make wooden decor and functional pieces for! There are plenty of easy wooden things that you can make for your porch and outdoor area as well. We have a few family members with a bit of a green thumb living in our home, so we were very pleased indeed to come across this lovely wooden standing planter concept from Shanty 2 Chic. Projects that combine two different things we love are always our favourite!
4. DIY floating farmhouse shelves
Did we really catch your attention when we started talking about wooden DIY projects that are also practical and might actually help you out around the house, but you've already got a laundry basket that you love using? In that case, we'd absolutely suggest taking a look at the way Lolly Jane made their very own set of wooden floating shelves with a farmhouse spin on their style!
5. DIY plywood floor mirror with shelves
Perhaps we've piqued your interest in our talk of wooden shelves, but you live in a small rented place where you'd prefer not to actually mount things into the wall? Then maybe you'd prefer a more low maintenance wooden shelf idea that's also a little more multi-functional! We love the way The Merry Thought created this DIY plywood leaning floor mirror with small accompanying shelves.
6. $6 throw blanket ladder for beginners

Perhaps you're intent on making a simple wooden beginner's project but you're working on a very small budget because you're trying to save your money up right now? In that case, especially if you love the look of slightly rustic pieces, we'd definitely suggest taking a look at how Dream A Little Bigger created this lovely leaning blanket ladder that only requires some simple staining and nailing.
7. Scrap wood phone stand with photo clip
Were you quite intrigued by this basic concept of making some kind of wooden based leaning piece that is actually helpful to have in your space and is also multi-functional, but you need something a little smaller than the full length mirror idea we already showed you? Then maybe you'd prefer to take a look at how Anika's DIY Life made this fantastic scrap wood phone stand with a photo clip. It's a great station for charging your devices and leaving notes for your family to find throughout the day!
8. Ultra simple planter pot stand
Have we actually really caught your attention with this idea of making simple framed planter stand but you're looking for something that looks a little less rustic chic and a little more clean lined and minimalist? In that case, perhaps you'd prefer to make something like this ultra simple planter pot stand outlined step by step on Mikaela Puranen.
9. DIY wooden under-sofa storage on wheels
Have you actually been scrolling through our list hoping to find a simple way to use your new found and slowly developing wood working skills to make something that will help you out with storage a little, since you live in a small space? In that case, we think you might prefer to make something like this wooden platform on wheels that lets you easily slide things you use a lot in and out of the space from under the bed! Get the full details for making it happen nice and easily on Passion Shake.
10. DIY wooden poster hanger
Perhaps you've been trying to find much smaller projects to make because you're not the kind of person who has a lot of time for crafting available right now but you're still intent on being creative with wood when you can? Well, especially if you're the kind of person who loves adorning your walls with posters, then we'd be willing to bed something like this DIY wooden poster hanger from A Beautiful Mess might be right up your alley!
11. Easy wooden earring board
Just in case we really caught your attention with the idea of using simple wood working techniques to make storage in your home a little easier but it's the small things you use often that need a bit of organization, here's a fun solution for getting your earrings sorted out and better display! Club Crafted shows you how to make the holes in and paint the design on this fantastic wooden earring stand.
12. DIY wooden bookends with built in organizers
Hey avid readers, this next project is the one for you! Especially if you're the kind of bookworm who loves to keep your books where you can reach them easily but you're in need of a way to keep your desk a little more organized as well, then we think you'll love the way Vikalpah made these simple DIY wooden book ends that actually feature their very own built-in organizers.
13. Easy wooden box bike rack
Have you actually been thinking about the way we mentioned making wooden projects for your outdoor space as well ever since we talked about the wooden stand porch planter, but you've never really been one for taking care of plants? Well, if you have an active family, then we have a feeling you'll get along a little better with something like this easy wooden bike rack box outlined step by step on Twelve on Main.
14. Simple and chic wooden X-frame lamp
We've already talked about one or two X-frame projects on our list, but so far they've all been practical rather than decorative. Maybe that's why we got such a kick out of the way Home Depot used that same concept but this time in a visually pleasing way when they used simple woodworking techniques to make this lovely X-frame style lamp base.
15. Wooden sawhorse side table
Just in case you're still not over the idea of making your very own wooden furniture piece but you just haven't seen a style on our list that quite speaks to you, here's an alternative table idea for your consideration! We love the way Twelve on Main outlines their process for making this sawhorse style side table complete with contrasting metal brackets.
Have you made other kinds of simple, awesome beginner wood projects in your DIY time that you were enjoyed doing but that you don't see here on our list? Tell us all about what you created and how you did it or link us to photos of your finished work in the comments section!