DIY Kitchen Projects That are Useful and Decorative
When it comes to making new DIY projects for our home, we enjoy making decorative things and practical things. Even more than that, however, we really enjoy making things that might be classified as both! This way, we get something new that we'll use often but we can leave it out where it's easily accessible because it looks nice as well. The kitchen is probably our favourite place to create things of this nature, which is why we've had our eyes peeled for useful and decorative DIY kitchen ideas lately.
1. Upcycled rake utensil holder
Have you been taking some time and investing some creativity over the years in making your home into a sort of rustic chic haven with a farmhouse twist? In that case, we think you'll really appreciate the way The Gracious Wife took the head of an old rake and turned it into a decorative holder for cooking utensils, mounting it on the wall right over the stove.
2. Wooden pallet wine rack and glass holder
Upcycling wooden pallets has been quite the trend in interior decor for a while now, but there's just so much you can do with the concept that we feel like we simply can't get enough! That's why we were such big fans of this wall mounted half-pallet wine rack concept outlined step by step on The Kurtz Corner. We love that it gives you a place to put not only the bottles but also the glasses.
3. DIY chalkboard menu board
Not everything that you make for your kitchen that falls under the category of being "practical" has to be a storage based piece! Instead, why not help yourself organize things with your family a little bit? We love the way The Sits Girls made this decorative wood and chalkboard paint menu hanger where you can plan your meals for the week and let your family weigh in on what they'd like to have as well.
4. DIY pallet coffee mug rack
Are you actually really in love with the concept of making some kind of mounted wooden pallet rack that looks rustic and helps you organize things, but you've already got a place for all your cooking utensils so you'd prefer to create something else? Well, if you're a coffee lover, then perhaps you'd get along a little better with something like this pallet mug rack outlined step by step on One Little Bird!
5. Wall mounted pallet pot rack
Just in case you're still thinking about how much you like the pallet rack concept but you don't need utensil or mug storage, here's yet another awesome version of that basic concept for your consideration! We love the way A Greenpoint Kitchen hung their pallet horizontally by the edge to make a shelf and attached hooks along the bottom in order to make extra storage for all of their pots and pans, while still adding a sort of farm chic piece to their kitchen decor.
6. Gold painted mason jar cutlery storage
Of course, not everything you add to your kitchen that's both practical and decorative has to be rustic chic or made of wooden pallets! We're also completely in love with the way Clever Pink Pirate made some nice, simple countertop storage for their cutlery by painting emptied and cleaned glass mason jars in a cheerful metallic gold.
7. Burlap and coffee canister utensil storage
Do you really like the idea of a bit of decorative countertop storage but you'd prefer to put your larger cooking utensils in it, so you'll need something a little bigger than a mason jar? Then we think perhaps you'd get along a little better with something like these cute burlap wrapped coffee can mixer holders outlined step by step on Lately With Katie.
8. DIY string fruit bowls
Perhaps you're looking for something a little simpler and less time consuming than adding an entire shelf to your wall? Maybe you'd rather make something that's visibly crafty so that your guests know you created it yourself. In either case, we'd definitely suggest taking a look at the way Homey Oh My made these fantastic fruit bowls using string wrapping techniques! We adore that they used paint to add a stripe of colour to each one as well.
9. Rustic wood tray coffee station
Maybe the biggest issue in your kitchen is that you have limited counter space in the small room and you're looking for a DIY way to help you better organize the space you do have and make it a little more transformational depending on what you're doing there? This tutorial from Liz Marie that shows you how to make a wooden coffee station tray bearing everything you need (including the coffee maker) is the perfect example of what we mean. Leave it sitting by the plug each day so you can get your morning coffee ready, but attach handles to each end so you can very easily move the supplies elsewhere temporarily while you, say, do the dishes and use that same counter space to let them dry. Simply put it back after you've put the dishes away!
10. Painted closet door leaning kitchen shelf
Are you actually in need of a decorative storage solution that will help you keep quite a number of things organized, but they're all unique shapes and of a size that they don't really make sense anywhere else in your kitchen? In that case, we think you'll get quite a kick out of the way Creating Really Awesome Fun Things turned an old closet door into a leaning storage shelf full of hooks and hanging baskets to hang all kinds of things on! We love that they gave it a bright, eye catching paint job first.
11. DIY kitchen storage pegboard
Just in case you really love the idea of creating some space efficient hanging storage to clear your cupboards and drawers about a bit but you don't have the space to put a leaning closet shelf anywhere in your kitchen, here's a wall mounted alternative that doesn't need any floor space at all! A Beautiful Mess walks you step by step through the process of mounting and filling a peg board instead.
12. Chalkboard strip and rain gutter herb garden
Perhaps you're the kind of greenery enthusiast who has been looking for a nice, practical way to incorporate a little more greenery into your kitchen space? Then we think perhaps you're the perfect person to give this fantastic wall mounted rain gutter and chalkboard herb garden outlined step by step on 1001 Gardens a try.
13. Hanging mason jar storage
Now, we've seen similar ideas to this one from HGTV done with smaller things like spices, but we're actually absolutely in love with the way they decided to get crafty for some bigger dried foods too, using larger jars to create under-the-cupboard storage for things like dried pasta and snacks as well! Simply glue the kids to the cabinets' underside and turn the jars into place once they're filled.
14. Safe and decorative bamboo stick knife storage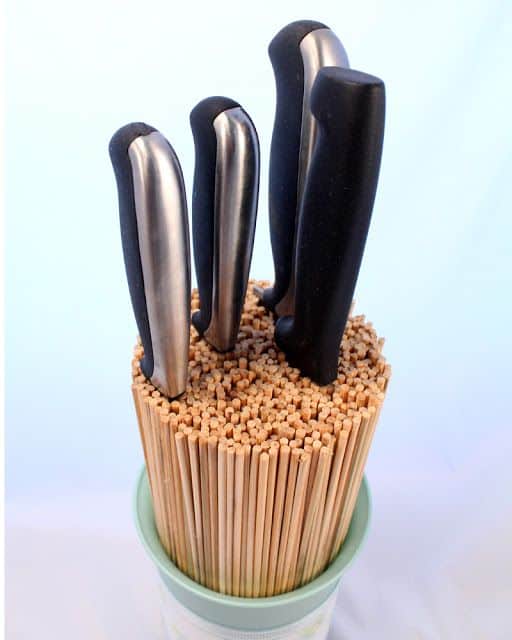 Have you grown tired of the chunky old knife block you've had sitting on your counter for years and, even though you want to make sure you do store your knives safely, you can't help wondering whether there isn't a prettier way to do it? In that case, we think you simply must check out how Another Bright Idea made this fantastic painted and paper jar stand that's filled with bamboo sticks. Slide your knives safely into the bamboo where they'll stay sturdily.
15. Rustic shutter hanging kitchen rack
Maybe you're finding yourself scrolling through our list and still thinking about how much you love the idea of making a closet door storage shelf but you actually only have a piece that's much smaller than the standing one you saw, like the shutter of an old window? Well, believe it or not, you can still make a version of the project you liked! Check out how Love Lindsey turned their shutter sideways, mounted it on the wall, and attached some pegs for hanging different kitchen wares on.
Have you made other kinds of fantastic DIY kitchen pieces that are both decorative and practical but that you don't see anything quite similar to on our list? Tell us all about what you created or link us to photos of your finished work in the comments section!