DIY Any of These 15 Small Dining Room Tables For Your Home
If you can't find the perfect design, make one! You can DIY any of these 15 small dining room tables and fit your home – and its proportion – better than you ever would with something that was store bought. If you've got a studio apartment or a smaller home without too much open space then one of these pieces below can definitely help you out. Take a peek!
1. Farmhouse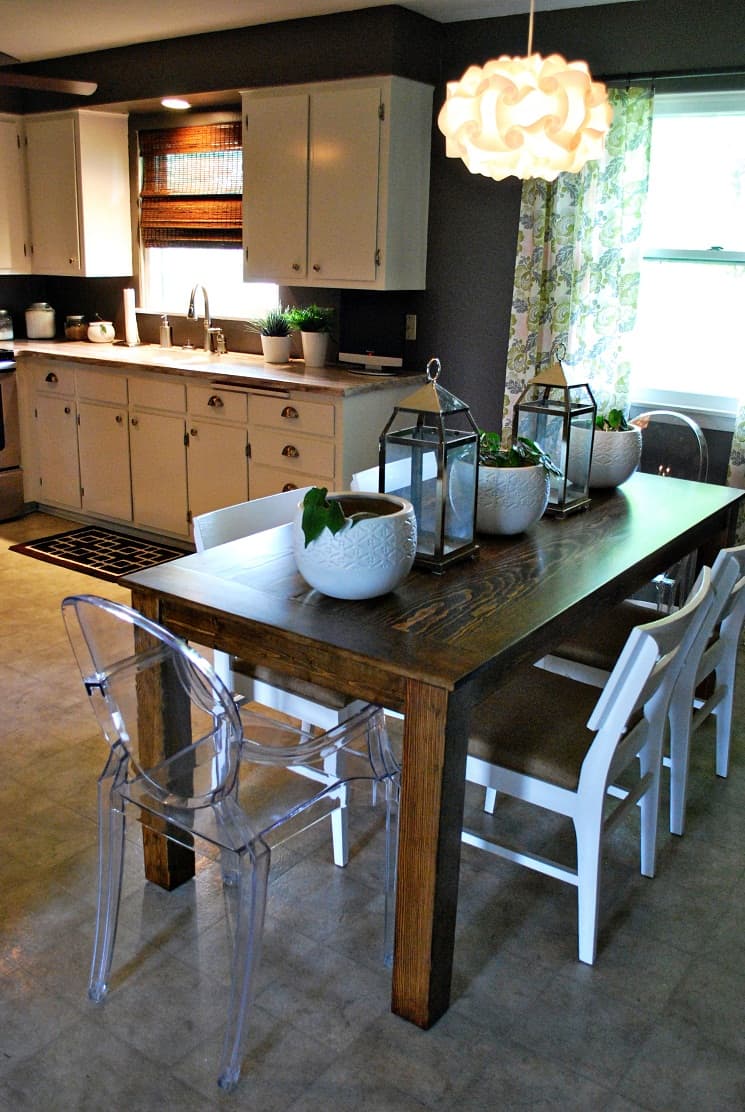 Attempt At Domestication starts us off on this DIY journey with a classic, farmhouse table DIY that's quite easy to follow. This is a simple, straightforward tutorial that's a great first project to get your hands dirty with if you've never done a DIY of this magnitude It's also a versatile design that you'll love for your home!
2. Concrete
Do you feel like diving into some concrete? If that doesn't scare you, visit Crazy Craft Lady and learn how to whip up one of these smaller dining room tables with a concrete topping. It's a more modern design for those that want clean and simple lines.
3. Pallet
Scraphacker put some old pallets to good use with this design. It's got a distinct retro vibe which is great since that's incredibly trendy right now. And it'll fit nice inside homes with that same, eclectic vision.
4. Midcentury Modern
A Beautiful Mess gives us all the details behind this midcentury modern piece. With hairpin legs and ample seating, you'll love the crisp finished project. And you'll love its stylish versatility and how it can blend so well into different households.
5. Steel Base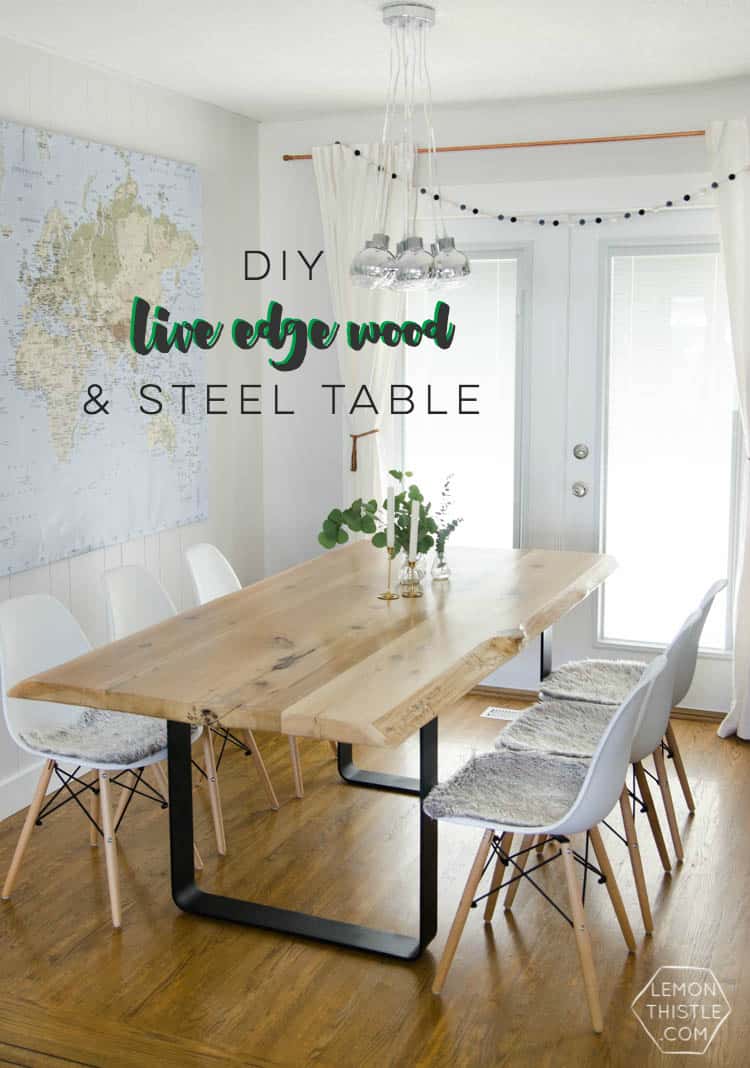 It's certainly hard not to love this design from Thistle. A live edge finish and a steel base, it mixes contemporary charm and rustic texture beautifully. And you'd never guess that it had been DIYed at home!
6. Shabby Chic
Check out this charming, farmhouse styled table from Ana White! It'll slide right into your shabby chic home with ease but you'll also be super surprised at how well you'll be able to make this one yourself. Hop on over now and grab the details.
7. $85
A dining room table of this design is hard to get below $400 and that would still be a steal. And the fact that Shanty 2 Chic can make this for only $89 is impressive. The best part is they show how we can all do it ourselves!
8. Makeover
Sometimes DIYing a table doesn't mean that you have to make it from scratch. Sometimes it's just about a makeover. And that's what you get here with this charming, cottage style setup. A makeover a really make old pieces brand new again.
9. Natural Wood
This finished wood design from House of Wood is quite beautiful and quite impressive too! And the best part about this project is that you can easily take it a step further with personalization. This one would be so easy to paint and add some color to!
10. Country
And over at Charming Imperfections, you'll find another country design that you can learn to DIY at home. Add some color or not, this is a great piece to slide into a smaller dining room. And yes, you can personalize this one too with a coat or two of paint.
11. X-Brace
Cherished Bliss has us swooning for their chunky, X-braced dining room table. It's hard to believe that we can learn how to DIY something so similar at home but we can! And all you have to do is take the leap and check out the details after the jump.
12. With Benches
I Heart Naptime made a DIY kitchen table with a simple, traditional home style. You also get some 411 behind those matching benches! Take the leap and use the finished project in your small dining room or even inside the breakfast nook.
13. Copper Legs
A Beautiful Mess did it again with this copper-leg dining room table and wowed us! We're swooning for the modern, innovative design and how much fun it would be to style it to our own liking. It becomes more than a functional piece for the home, it'll spark conversation and pride!
14. Hexagonal
Here's another DIY dining room table that combines rustic charm with some throwback, contemporary vibes. The natural wood top and the hairpin legs are a wonderful combination. Just take a peek at the tutorial over at Hello Lidy.
15. West Elm-Inspired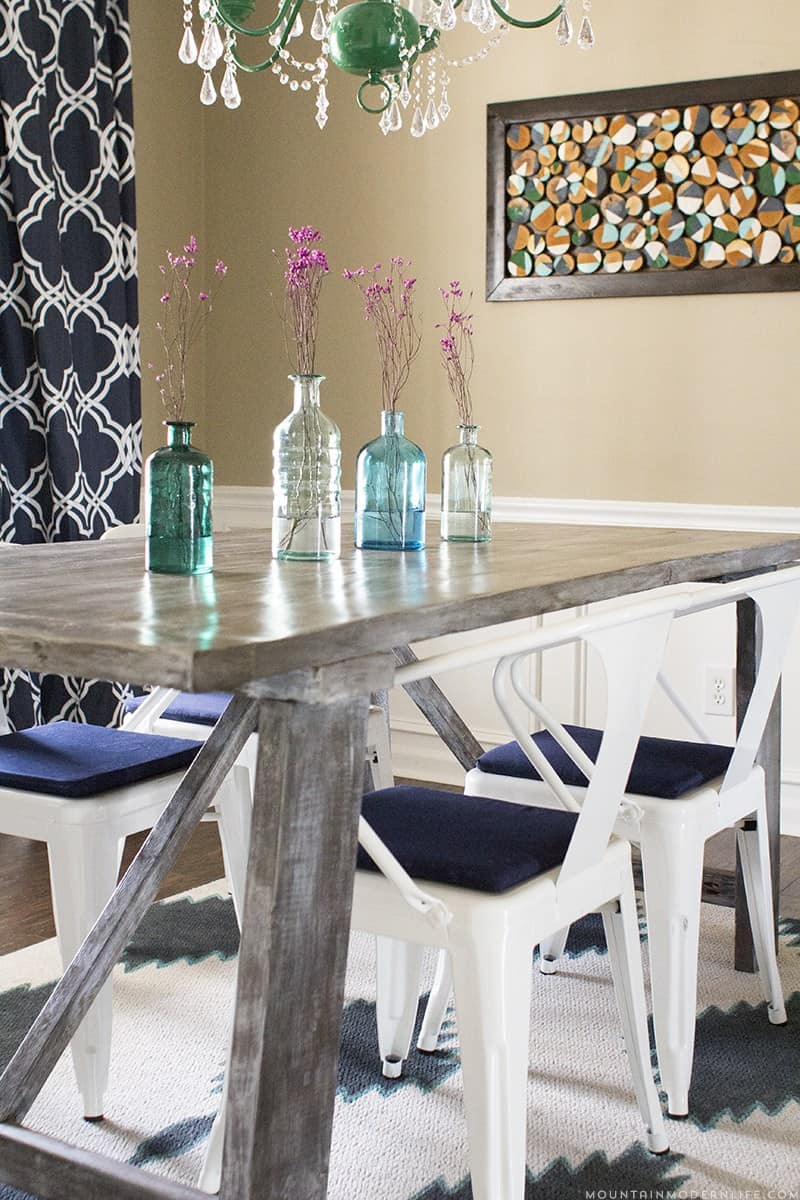 Finally, if you love West Elm and its many charming furniture pieces, then you'll definitely love this project from Mountain Modern Life as it was inspired by one from the store. We love this distressed, gray wood and we love how it's a big chunkier and takes up more space than the more delicate of designs.