15 Juicer Recipes To Experiment With
Grab the fresh fruit and let's get creative in the kitchen! Any one of these 15 juicer recipes will be fun to experiment with. If you like freshly-pressed juicing and all of the delicious ingredients and benefits that come from those kinds of sips, then this is definitely a list you'll want to keep in your back pocket.
1. Beginner's Green Juice
Lettuce Be Healthy shows off a simple, "beginner's" green juice recipe that's a great way to start your healthy new lifestyle. With bouts of greens and some sweetness too, you'll instantly fall in love with the refreshing taste of a good-for-you juice. Hop on over now and see how to put your juicer to good use.
2. Pineapple Cucumber Mint
The pineapple evens out the cucumber and the mint adds a nice zest to the overall flavor. All you have to do is travel over to Linda Wagner and grab the recipe. It'll become your favorite afternoon pick-me-up without any guilt or shameful snacking involved.
3. Carrot Orange
Carrot juice is another go-to recipe you'll want to have up your sleeve if you plan on taking your juicing to a new and serious level. Thankfully, Minimalist Baker had a classic and delicious recipe for us to try out. Don't worry, the sweetness from the fruit will help with the "all-veg" tastes.
4. Cleansing Vitamin C
Are you looking for a delicious way to boost your immunity? All you need is some extra vitamin C to make it happen. And if you visit A Thrifter in Disguise you'll get a juicer recipe that will give you just that.
5. Strawberry Pineapple Lemonade
Who loves lemonade? Who loves strawberry lemonade? Well, take those delicious sips to new heights with this pineapple strawberry lemonade that you can juice and create right at home! Check out Bake It With Love for all the "juicy" details.
6. Watermelon Mint
Mint also compliments the subtle flavors of watermelon quite nicely too. And this recipe you can actually watch come to fruition! Check out this YouTube video and follow along with all your own ingredients in the kitchen!
7. Tomato Basil
If you're a tomato juice lover, then you'll definitely want to try this herbed version from Dr. Axe. It'll provide you with the right kind of afternoon pick-me-up and give you a boost of nutrition at the same time. And did you know that basil is one of the healthiest herbs around?
8. Cranberry Carrot Apple
Lettuce Be Healthy had this recipe up their sleeve as well! Mix some cranberry, carrot and apple for a delicious and healthy treat. The kiddos will want in on this one too and you'll have no guilt when you serve it up to them.
9. Sweet Lemon Ginger Beet
Inspired Taste made a more unique concoction – but one that's just as yummy. Sweet lemon ginger and beet come together to create a smooth shot of fruitiness and nutrition. Wake yourself up in the morning or give yourself a kick in the pants by the afternoon with this one.
10. Kiwi
Delishably didn't forget about kiwi. We normally see it paired with strawberries but here it's able to stand alone and rule the recipe. This time, you'll get apple juice to accompany it and really help to bring out its natural flavor and sweetness.
11. Strawberry Watermelon
Strawberry and watermelon can be quite the nice combination as well. Which Know Your Produce already knew about and created a recipe for us to try. And you don't even need a juicer to make this one happen at home.
12. Sparkling Apple Pear Cider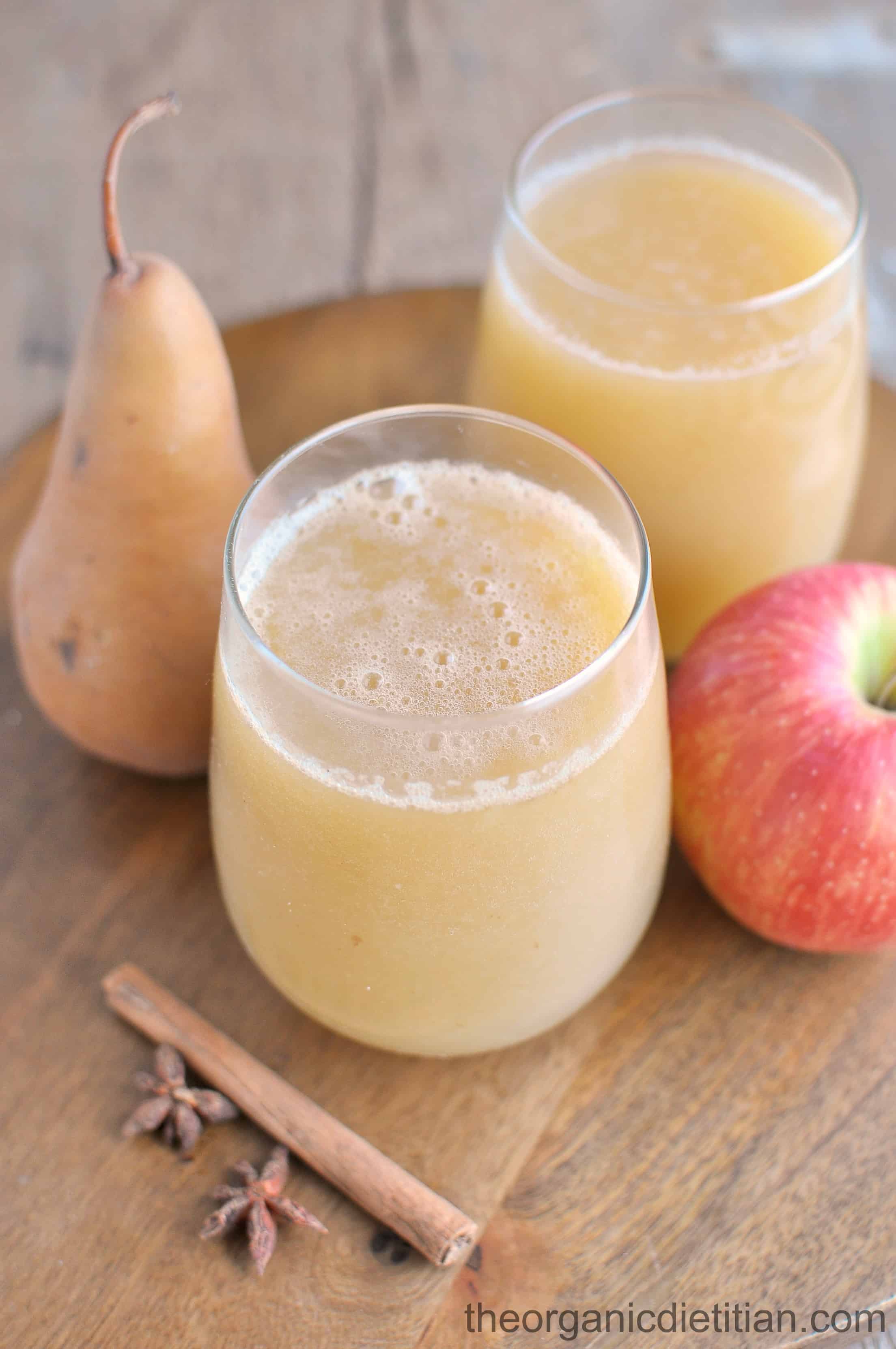 The Organic Dietitian make a fresh juice that can be served up for celebratory reasons or throughout the holidays because of its sparkling addition. This pear cider is sweet, yummy and nixes all the preservation, artificial flavors and extra sugar we're used to buying in the store. Check it out after the jump!
13. Fresh Grape
Grape juice can be too sweet and packed with just too much "bad" when bought in the stores. But what if you learned to make your very own batch of fresh grape juice at home? Well, now you can and you won't feel bad about indulging in a glass of it either. (via)
14. Anti-Aging Blackberry Juice
The Juicing Collection holds the recipe to an anti-aging blackberry juice that we cannot wait to try. This juice is good for you – from the inside out – and thankfully, it's quite delicious as well. Follow along with the recipe and let us know how you like it.
15. Pineapple
And finally, we have the pineapple juice recipe that we're all loving as well. It's one we've tried ourselves and found to be quite successful – and scrumptious! Pair it with some orange as well for a morning start! (via)
SaveSaveSaveSave