DIY Simple Cat Ears Headband
I live in a house full of cat lovers. That's why I'm always trying to come up with fun ways to make cat themed things and cute DIY projects that help my kids and I pay tribute to our favourite animal however we can! I also have young kids who adore playing dress up and are always looking for a way to accessorize their everyday outfits into something that looks more like a costume, even when they're headed to school. That's why the recent trend of adorable ear shaped hairbands that are a whole lot of fun and look like a whimsical animal or critter but that are still toned down enough to be worn to most schools (or even just the grocery store) are such awesome things. Being the crafty parent I am, however, I'm sure it didn't surprised anyone around me to learn that I actually figured out a way to make our own DY cat ears headbands rather than just buying some from the store.
Since I know a lot cat lovers and a lot of little kids who will make just about anything an opportunity to dress up, I figured I'd might as well document the crafting process that went into making these adorable little ears so that other people can more easily give them a try as well! Check out these step by step instructions complete with photos! If you'd rather follow along with a video tutorial instead of written words, scroll to the bottom of this post to find just what you're looking for.
For this project, you'll need:
Felt (black and pink)

A hairband

Hot glue

Scissors

Sparkly silver foam paper
Step 1:
Gather your materials!

Step 2:
Cut a rectangle from your piece of pink felt that's four inches wide and two inches tall. Once you've got that piece, use your scissors to round the top corners off so they curve softly rather than pointing at right angles. This will be the base of your cat ears. Set this aside until a little later.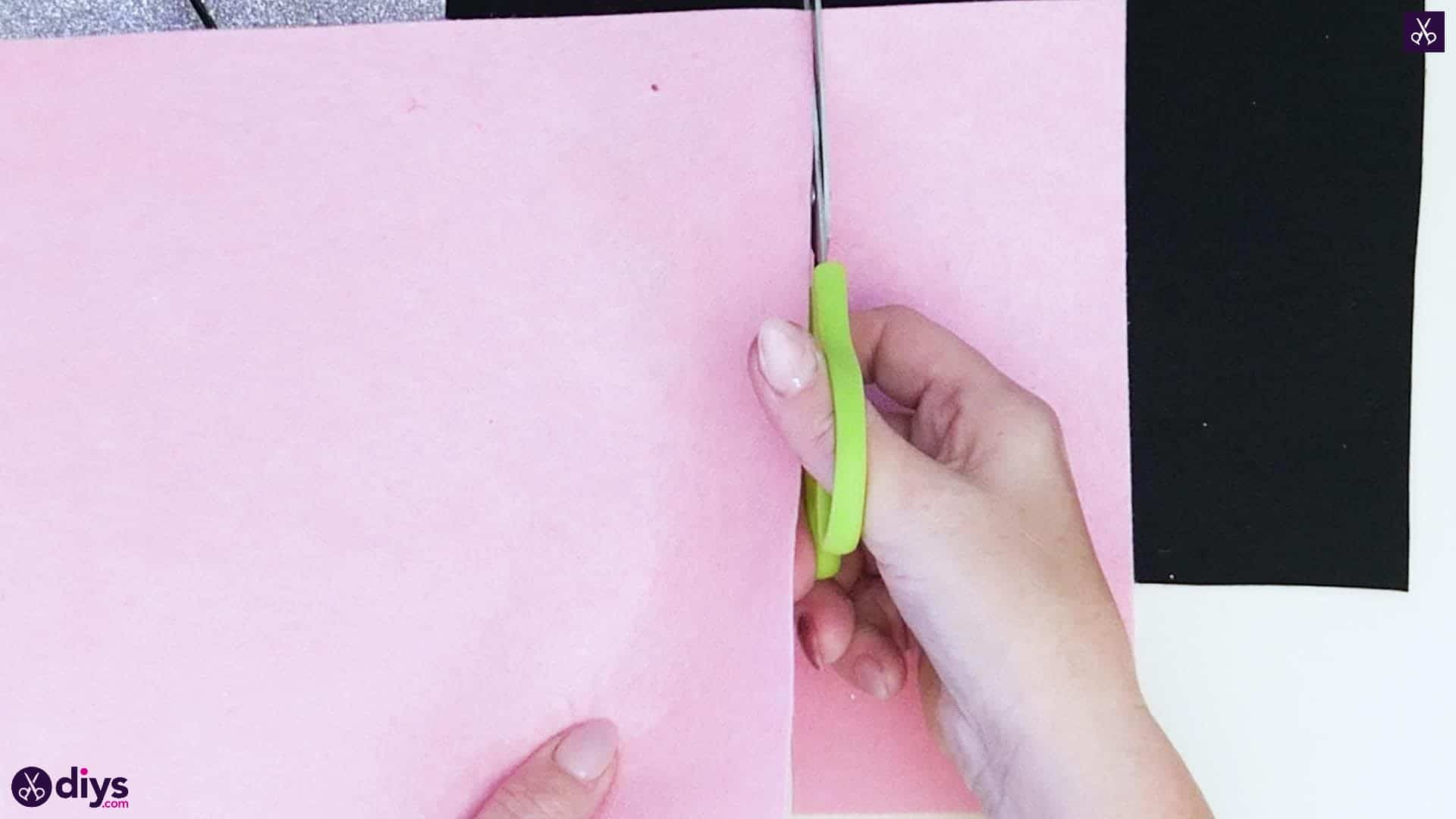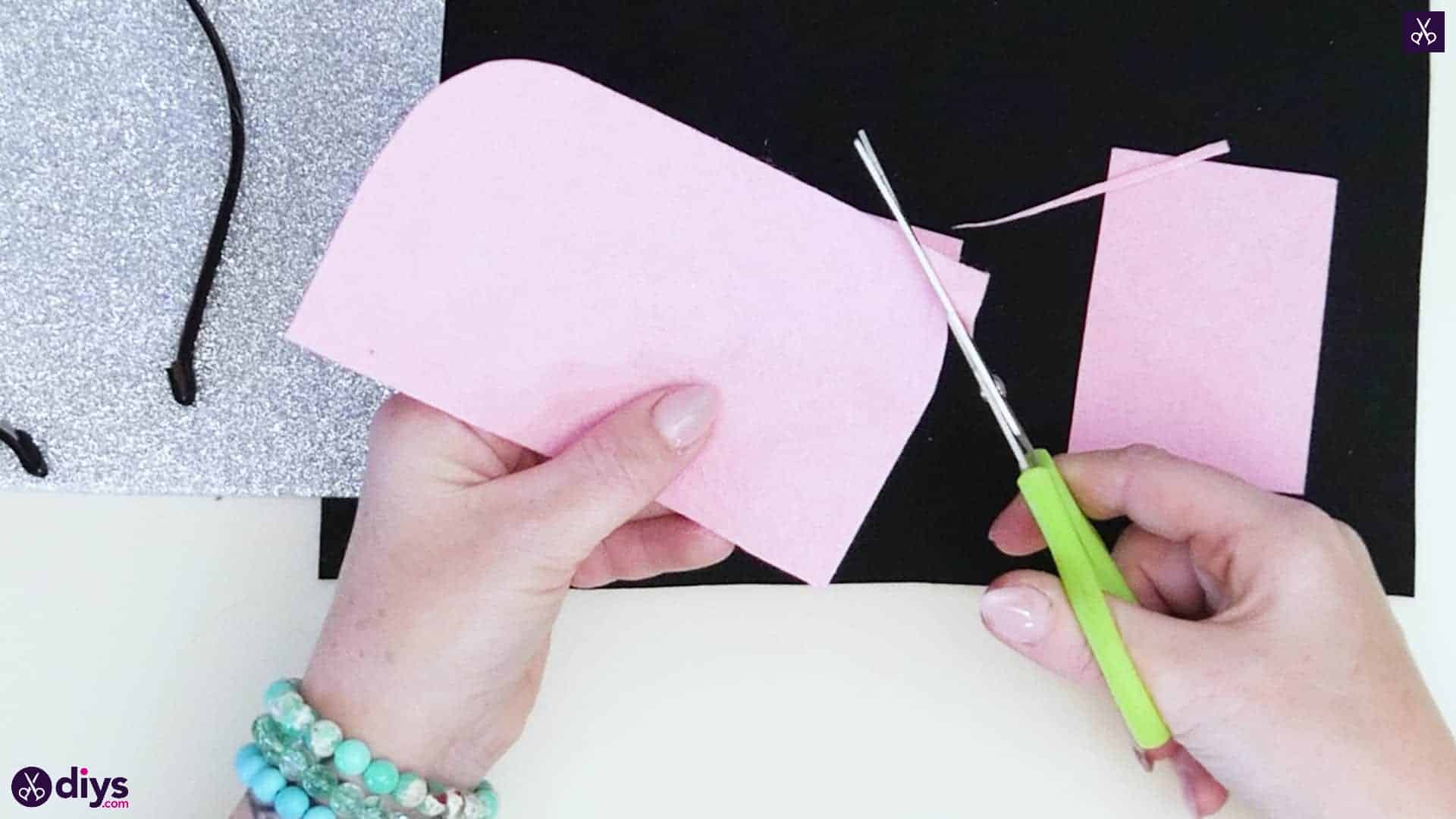 Step 3:
Cut your whisker pieces! Of course, you're only making a headband and not a full costume, so these won't actually go on your face, but they're a cute representative detail that will add some character and get your point across. Along the short side edge of your piece of black felt, cut a thin strip (mine was about a centimetre thick) that is the whole length of the sheet (mine was about four inches long). Cut two of these strips. Then bend each in half, bringing their ends together to make a curve at the point halfway down each strip's length, and cut them in half there. You'll now have four black felt strips that are all the same length! Set these aside for the moment with your pink piece.
Step 4:
Now, from your sheet of sparkly foam paper, cut a strip from the side edge that's about half an inch thick but the whole length of the sheet (mine was about four inches long). From the end of that strip, cut two pieces about half an inch long each, leaving you with a piece about three inches long leftover. Now, use your scissors to trim off the two top corners of each of the smaller squares you cut from your strip, giving you two small, sparkly silver triangles instead. Set these aside with your black strips.
Step 5:
Pick up your pink felt piece and turn it so the rounded pieces are at the bottom and the pointed corners are at the top. Find the centre mark along the bottom and pinch it a little, then grab the centre mark along the top and bring the two together, cinching the piece until your fingers meet in the middle. Now that you've marked out where you want to pinch the felt (make adjustments if you need to), let go at the top and pick up your glue gun. Apply dots of glue down the length of the felt on that centre line where you'll cinch it again so that, when you squeeze to bring the top and the bottom back together again, your pinch stays in place.
Step 6:
Holding the pinched centre in place, apply a dot of glue to the front of the gathering, right in the middle. Now take one of your black felt whisker strips and stick it down in that glue right at the centre point in its own length, placing it horizontally so that half of the black strip's length sticks out to the right and the other half sticks out to the left. Add another dot of glue and stick down a second black strip, keeping them close to the gathered centre so the ends all splay to the side from the same spot. Stick down a third strip in the same way to complete your whiskers (I decided not to use the fourth strip, as three whiskers on each side looked just how I wanted).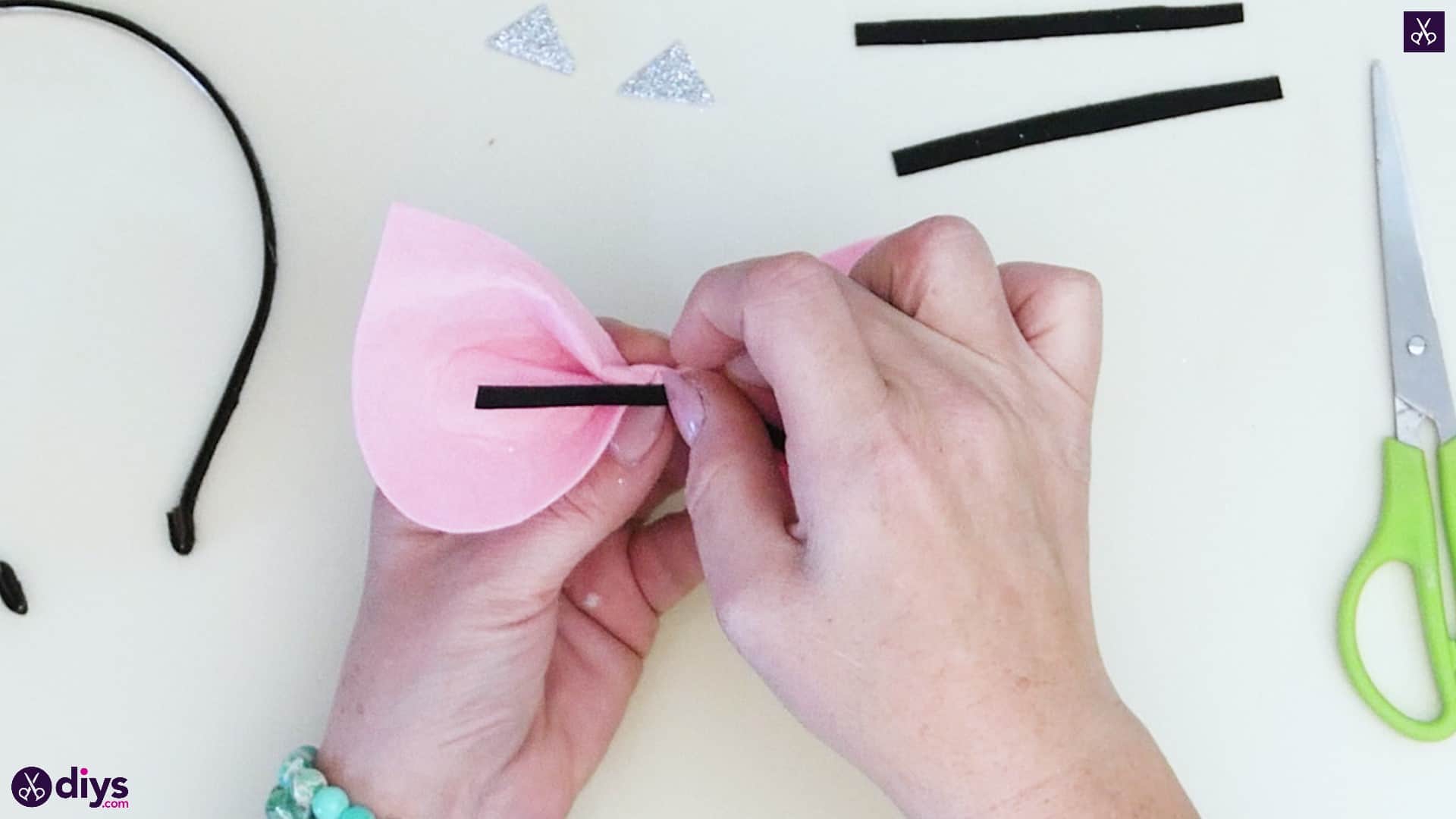 Step 7:
Apply another dot to the centre of where you glued your whiskers down and pick up the sparkly silver strip you cut earlier. At its centre point, stick the strip down here vertically so it can be wrapped around the entire cinched piece, including both the black and pink felt. Turn the whole piece around and apply a dot of glue at the cinched centre on the back, then bend the silver piece at the top downwards to stick it down. Then apply some glue on the very end of that and bend the bottom end up to stick it down there. Your pink ears now have a pretty, sparkly band to keep them pinched in place.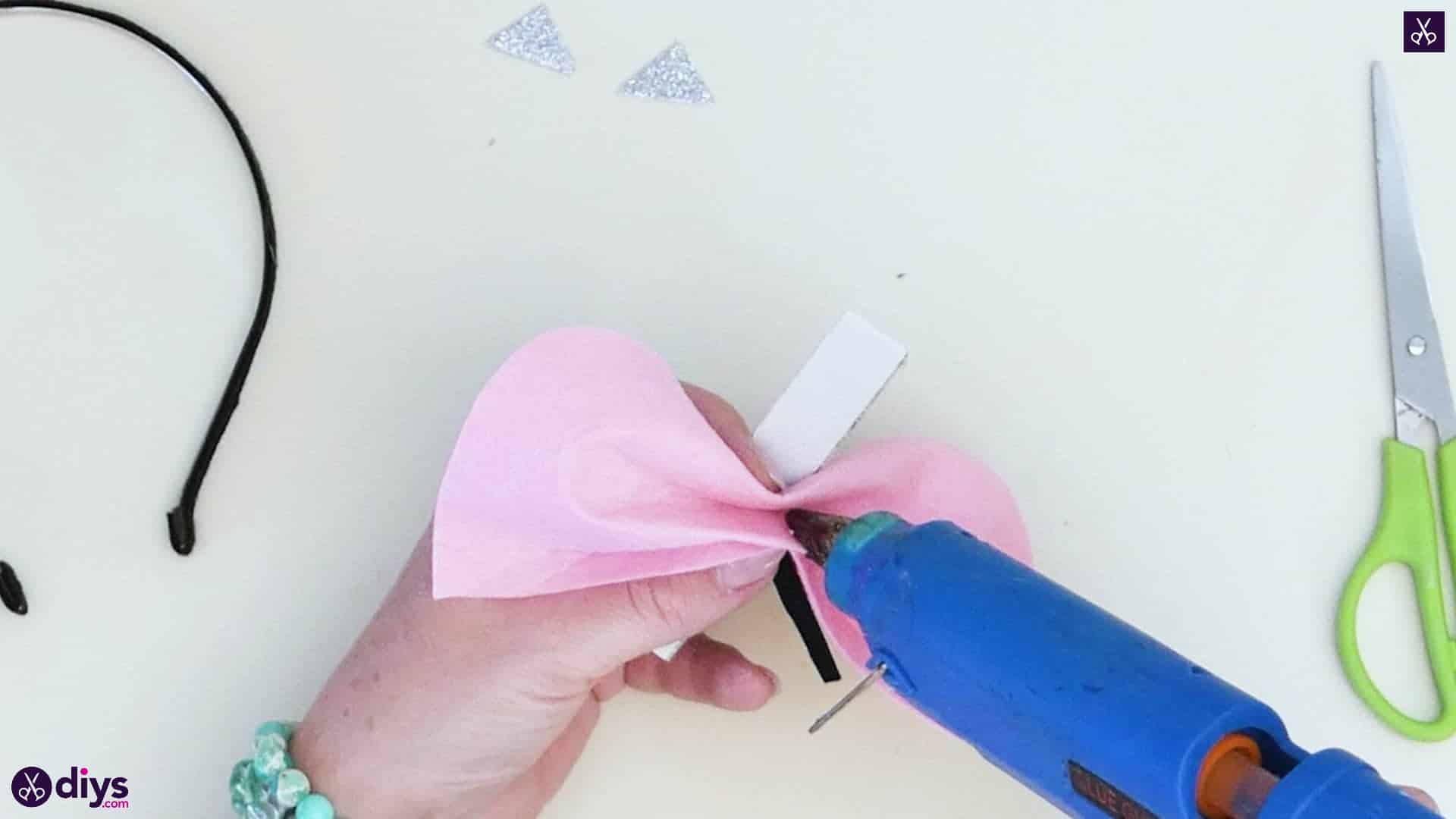 Step 8:
Now turn your whole piece around back to the front. Use your glue gun to add the little sparkly triangles you cut earlier to the front top corners of your cat ears! This adds some cute detail to the tips.
Step 9:
Use your scissors to cut the ends of the black felt whisker strips into little points, angling your scissors slightly to make the whiskers look less blunt.
Step 10:
Now apply some hot glue to the top middle of your hairband and stick the centre of your cat ears, right on the middle of your silver band, into the glue. I angled mine back and up just slightly so the ears don't catch in the hair when the headband is worn.
That's really all there is to it! Just in case you'd like to try this project out for yourself, here's a fantastic tutorial video to help you!