Sharpie markers… they are one of the most basic art supplies around, but also one of the most versatile. And most people have a few lying around the house. They now come in a variety of different colors, even metallics, giving you lots of options. Keep reading to check out fifty of our favorite ways to use Sharpie markers and pens.
1. Sharpie Monogram Art
Transform a plain old wooden letter into a patterned monogram for your wall or book shelf. Here's what you'll need for this project: a wooden letter of your choice, white paint, a foam craft brush and a black Sharpie marker. Make your way over to The Beauty Dojo to find out how to make your own.
2. Sharpie Photo Mats
Dress up your walls with one of these fun Sharpie photo mats. Simply begin with a plain white mat, and use a black Sharpie marker to decorate it with a variety of different patterns. Then fill it with your favorite artwork! Check out the full tutorial over at Make and Tell. 
3. DIY "Gentleman" iPhone Case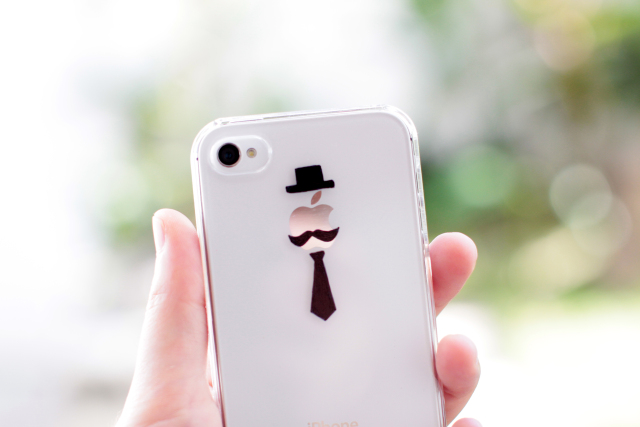 Create your own whimsical iPhone case using a clear case and a fine tip Sharpie marker. Use a piece of tracing paper to add an adorable little outfit to the apple on the back of your phone. Make your way over to Whisk and Maps to find out how to recreate this humorous item.
4. Wooden Slab Quote Art
Here's another easy one (simplicity is a trend with Sharpie projects!). Grab a round slab of wood at the craft store and write your favorite quote on it with a Sharpie. The key is to use a pencil to sketch out the words, and to mix script with all caps. Check out the tutorial at At Home In Love.
5. Sharpie Zentangle
If you haven't tried Zentangle yet, you might want to give it a go! It's a drawing style that's become almost a craft movement of late, thanks to its beginner-friendly technique and stress-reducing properties. Head over to Eryn With A Y to find out more about Zentangle and how to do it.
6. Sharpie Leaves
Sometimes all you need is a little bit of creativity to come up with a unique project. Here we have a dried leaf that is embellished with Sharpie doodles, creating a super unique little objet d'art. Pop it in a frame and hang it on the wall! Check out the tutorial right here.
7. Sharpie Plate Wall
This gorgeous plate wall is inspired by Anthropology's plate art wall, but costs thousands of dollars less! Just grab a couple of sets of plates and a Sharpie and get started using the instructions available over at While They Snooze.  And you can choose whatever pattern you like.
8. Sharpie Rocks
Sometimes the best art materials are available right in your backyard! For this simple project just go grab a few rocks and decorate them with your favorite colorful pattern. They can be used as paper weights, door stops or even just little pieces of art. Check out the full tutorial at Creative In Chicago.
9. Burlap Monogram
Show your family pride by creating one of these lovely rustic chic burlap monograms. You'll need a Sharpie (of course), burlap fabric, a stencil and a picture frame. Make your way over to Sometimes Homemade to find out how to make one of these pretty monograms yourself.
10. Sharpie Fabric Art
Did you know that when combined with rubbing alcohol, Sharpie markers blend into something that looks more like watercolor paint? For the project above, you'll need a piece of fabric, some painters tape and a variety of colored Sharpies. Head over to Curbly to check out the full tutorial.
11. Monogram Ring Dishes
You can even decorate jewelry dishes with Sharpies! Transform a few boring white plates or bowls with Sharpie Oil Paint Pens using the instructions available over at A Kailo Chic Life. And you can customize the design however you like, combining colors or adding different patterns.
12. Sharpie Word Balloons
Are you hosting a birthday party or an event in the near future? Add a custom touch to your party using this clever idea… colorful Sharpie balloons! Begin by inflating the balloon and then start writing your message on the surface. Head to Pink Chai Living to check out the full tutorial.
13. Handmade Gift Wrap
Wrap your gifts in style using this easy and fun idea that incorporates paint with Sharpies to create colorful, stylish custom paper. The design looks great on brown kraft paper, but it would work with plain white paper as well. Head over to Splash of Something to see the full how-to.
14. Handwritten Slogan Bag
Collect your cosmetics in this adorable little slogan bag that's made with – you guessed it – a Sharpie. Sketch out your design on a piece of paper for practice first, and then use your metallic Sharpie to write your chosen phrase. Head over to The Things She Makes to see the tutorial.
15. DIY Sharpie Mugs
Embellish a plain white mug with a Sharpie by adding a monogram in a cool font like you see above. Use transfer paper to create a clean-looking letterform. Check out the full tutorial over at Design Mom. And here's the best part – once you're finished, the mugs are dishwasher safe!
16. Sharpie Ping Pong String Lights
Transform a ho-hum set of string lights using ping pong balls and colored Sharpies! All you'll need to do is cut holes in the ping pong balls and decorate them with the pattern of your choice. Head over to Heart Handmade to find out how to create a set of these string lights yourself.
17. Cork Coasters
Transform plain cork coasters into graphic patterned coaster using Sharpies in this tutorial. For this one you'll need a Silhouette Cameo to create the stencils, and a steady hand to draw the patterns. Head over to 1 Dog Woof to check out the full photo tutorial along with instructions.
18. Sharpie Bead Necklace
This unique chunky beaded necklace is sure to make a statement with any plain tee or sweater. Grab a fine tip Sharpie and some paint to create some of these cross patterned wooden beads. Make your way over to A Beautiful Mess to find out how to make your own patterned beads.
19. Mud Cloth Inspired Votives
These mud cloth inspired votive containers have a beautiful black and white pattern that is sure to add some interest to your countertop or book shelf, with its graphic, energetic look. Make your way over to Today's Creative Life to check out the full photo tutorial.
20. Makeup Storage Jar
Store your cosmetics in a pretty glass jar embellished with a hand drawn face. The closed eyes and rosy cheeks are drawn with black and pink Sharpies. Make your way over to Ling Yeung B to find out how to recreate this adorable little makeup storage jar.
21. Sharpie Quote Pillow
Share your favorite quote with the world by writing it on a throw pillow with a Sharpie! For this one, you'll want to use stencils to form the letters to create a super uniform look. Make your way over to Inspired By This to find out how to execute this lovely (and easy) project.
22. Sharpie Shoes
If you're a fan of Marimekko prints, then you're sure to love these colorful Marimekko inspired floral shoes. First, grab a pair of cheap-o white sneakers and also some Sharpies in your favorite colors. Head over to Just Crafty Enough to find out all of the details of this fun project.
23. Sharpie Printed Starbucks Cups
What happens when you transform something disposable into art? Sharpie printed Starbucks cups! Grab an extra cup the next time you're getting coffee and cover it with Zentangle style designs. Check out this and lots of other pattern inspiration at Danielle Hoyos' Instagram account.
24. Flower Jewelry Dish
Here's another good example of how you can transform a piece of white porcelain with Sharpie markers. All you'll need to do is decide on a pattern, draw it and then bake it in the oven. Make your way over to Pitter and Glink to check out the full tutorial and some helpful notes.
25. Sharpie Sea Shells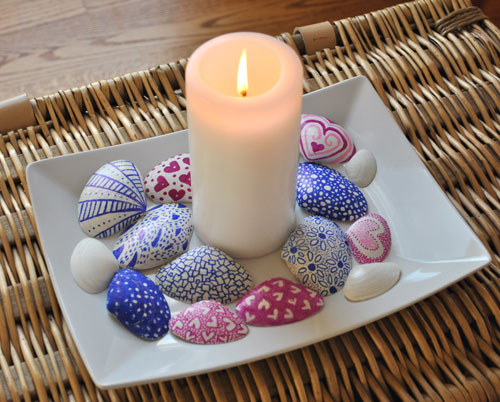 Sea shells from the ocean are another great material to decorate with Sharpies. Lighter colored shells work best for colorful Sharpies, but you could also use metallic oil based markers for darker shells. Head over to Creative In Chicago to find out how to make this pretty centerpiece.
26. Patterned Beer Bottles
Do you have a lot of empty bottles in your recycling bin? Upcycle them instead by spray painting them white and then drawing fun patterns on them with a Sharpie. You can also experiment with different colors and marker thicknesses. Check out all the details over at Creative Jewish Mom.
27. Customized Ziplock Bags
Grab a few Sharpies and some clear plastic bags and go crazy! These fun customized Ziplock bags can be used for anything… upping the fun factor for brown bag lunches, decorative packaging for edible gifts, and more. Make your way over to the Babalisme blog to find out how to create your own colorful bags.
28. Sharpie Chair Hack
Do you have some boring upholstered furniture lying around that you're dying to upgrade? Well, good news… all you need is a Sharpie! Just begin drawing little messy circular shapes all over the fabric. Head over to Little Green Notebook to find out how to do it and to see how it looks once it's finished.
29. Painted Lamp
Dress up a solid colored lamp with a fine tip white Sharpie paint pen! Isn't this just gorgeous? You can cover the whole lamp with an intricate design (if you're super patient) or you can just do a certain part of it. Head over to Better Homes and Gardens to check out this project as well as many others.
30. Tea Towel Art
While there isn't anything earth-shattering about this technique (you really just trace it), it's a really sweet idea that I hadn't thought of. Grab one of your kid's favorite drawings and a Sharpie and make a tea towel out of it so you can see and use the art everyday. Check out the tutorial over at Setting For Four.
31. Sharpie Candle
This pretty polka dotted candle is decorated with a metallic gold Sharpie, and ends up looking very "Kate Spade." Text can also be added to give it an extra special feel. All you'll need is a ceramic container, a gold Sharpie and candle making materials. Head over to Happiness is Homemade to find out how to make one.
32. Sharpie Stained Glass
Here's yet another use for a Sharpie… imitation stained glass! You'll need a piece of wax paper, Sharpies in different colors and perhaps a design to trace over (if you'd like). Make your way over to Wild Crazy Grace to find out how to make your very own colorful "stained glass" to hang in your window.
33. Hand Drawn Shells
Looking for a unique gift that doesn't cost a penny? Try these gorgeous hand drawn shells. Simply head to the nearest beach and grab a handful of these spiral shaped beauties. Then use a fine-tipped Sharpie to draw the patterns. Head over to Alisa Burke's blog to find out all the details about this pretty project.
34. 3-Dimensional Hand Drawing
Have you ever wondered how people make these optical illusions? Well, if you head over to Buzzfeed you can find out how to do it yourself! It's actually easier than it looks to complete. You'll use your own hand as a guide – begin by drawing straight lines outside of your hand, and then take it away and draw curved lines.
35. Wax Paper Candle Transfer
Here's another project that uses wax paper, but this time we're doing a transfer technique to put a drawing or design on the side of a white pillar candle. The key to success is to use a hairdryer! Make your way over to The Frugal Female to find out all the details of this fun transfer technique.
36. Sharpie "Wallpaper"
Boost a plain white wall with Sharpie "wallpaper" made of a series of repeating patterns. This particular design requires quite a bit of measuring, but you could also choose a more organic pattern to avoid the exact measurements required for this one. Check out all the details over at Vintage Revivals.
37. Sharpie Manicure
Give your nails a fun, stylish look with this manicure idea… paint them white the way you normally would using regular nail polish. Let them dry thoroughly, then grab a black Sharpie and a gold one. Draw tiny dots in an arrow pattern as shown above. Check it out over at Prima Creative.
38. Sharpie Rug
Did you know that you can even embellish rugs with Sharpies?! If you have a plain, flat weave rug that needs a bit of excitement, try this technique that Amy Rena shares over at A Nest For All Seasons. The key is to make sure everything is straight and even by using a ruler and a steady hand.
39. Scripted Pillows
Add some text to your pillow cases by trying this fun idea from Victoria over at A Subtle Revelry. Simply pick a phrase (it could be a single sentence repeated over and over, a pillow, an excerpt from your favorite book, etc.) and follow her instructions right over here.
40. Marimekko Style Wallpaper
If you're feeling really ambitious, give this incredible DIY project a try. This "wallpaper" was inspired by a design by Marimekko, but done for a fraction of the price. Make your way over to Apartment Therapy to find out how Kibwe Daisy created this unbelievable wall treatment with a Sharpie.
41. Sharpie Easter Eggs
Though Easter is over for this year, this would be a fun project to save for next year. Simply blow out a few white eggs and grab a Sharpie and get started. The key here is to use two different types of pens – both a fine tipped one and a regular tipped one. Head over to Obviously Sweet to check it out.
42. Pineapple Shoes
If you've jumped on the pineapple bandwagon along with everyone else (myself included), then you may want to make yourself a pair of these impossibly cute pineapple shoes. You'll need a couple of Stained Sharpies and some white shoes. Read the instructions for this tutorial at Flamingo Toes.
43. Sharpie Blocks
If you have kids who like to play with blocks, then this could be a fun project for you and your family to do together. Buy a set of plain wooden blocks and draw windows and doors and roofs and trees on them so your children can build little homes and villages with them. Made by Erin Austen Abbot.
44. Sharpie Shirts
Grab a few Stained Sharpies (they're fabric markers) and start drawing on white t-shirts for a fun alternative to puffy paint or tie-dying. Print out images you'd like to trace to get a more professional look. Make your way over to Living Well Spending Less to find out how to create your own Sharpie shirts.
45. Easy DIY Zentangle
Sure, you can go out and buy a Zentangle book, but you could also just make your own Zentangle using a few household items. First, you'll need something round to trace to create the overlapping circles. Now head over to Craft Whack to find out how to do the rest of your Zentangle design.
46. Raining Cats & Dogs Umbrella
Make one of these genius "it's raining cats and dogs" umbrellas to keep you dry during the next big rainstorm. Pick up a clear acrylic umbrella, a design to trace and a couple of Sharpie markers in different colors. Head over to Paper, Plate, and Plane to find out exactly how to execute this fun project.
47. DIY Sharpie Knobs
These knobs look like they're from Anthropology or some other pricey store, but in fact they are simply white porcelain knobs with a Sharpie design drawn onto them. You could go crazy with the pattern too! Make your way over to Sketchy Styles to find out how to make your own colorful furniture knobs.
48. Sharpie Organizer
Instead of just messily jotting everything down in your planner, get organized with a pretty journal that is created with lots of different colored Sharpies. You'll flex your creative muscles and you'll be more apt to get things done with such pretty lists. By Emily Schwartz, found on Instagram.
49. Gold Embellished Mugs
Here's another way to dress up your plain white porcelain mugs. Grab a metallic gold Sharpie and get to work drawing pretty repeated patterns. Something abstract will work, but something tangible like a feather would be good too. Head over to Sarah Johnson's blog to check out the mug makeover.
50. Imitation Saddle Shoes
And last but certainly not least, one more shoe idea for you…. imitation saddle shoes using a black sharpie! Aren't these just fantastic? Grab a Stained Sharpie in black and get to work coloring in the middle portion of a cheap pair of shoes. Check out the full tutorial by Allison over at Mom Spark.