Fall Is Here! Let's Celebrate With These 16 Pumpkin-Inspired Breakfast Recipes!
Soon the leaves will be falling and the air will be a bit crisper in the morning. It seems like we're all looking forward to the autumnal spirit, especially since those pumpkin spice lattes are already being sipped on and enjoyed. But what are some other ways we can infuse our favorite gourd into our diet? Well, we can start with our morning munchies. Let's celebrate fall with these 16 pumpkin-inspired breakfast recipes!
1. Pumpkin Spice Latte Donuts
Who doesn't love a good donut in the morning? Infuse some fall into that daily bite by going with this recipe from Sarah Bakes Gluten-free Treats. A pumpkin spice latte donut, which includes a sweet icing, will have smiles on the entire family.
2. Pumpkin Bagel Pop-Tarts
Half Baked Harvest combined two favorited quick breakfasts options but leveled it up with bouts of pumpkin flavors and sugary sweetness. These pumpkin bagel poptarts are such a treat in terms of both creating and enjoying. Jump on over and grab the details now.
3. Overnight Cider-Pumpkin Waffles
You'll have to visit Half Baked Harvest again for this one. Some overnight madness needs to happen to bring them to fruition. But a place of these cider-pumpkin waffles will truly light up the room. Bring these to family brunch!
4. Chocolate Chip Pumpkin Pancakes
Pumpkin and chocolate chip go so nicely together. At See and Savor, you'll learn how to whip up a batch of chocolate chip pumpkin pancakes for the fam. These are a great option for those looking for a holiday tradition (we have them for Thanksgiving breakfast every year!).
5. Pumpkin Breakfast Cookies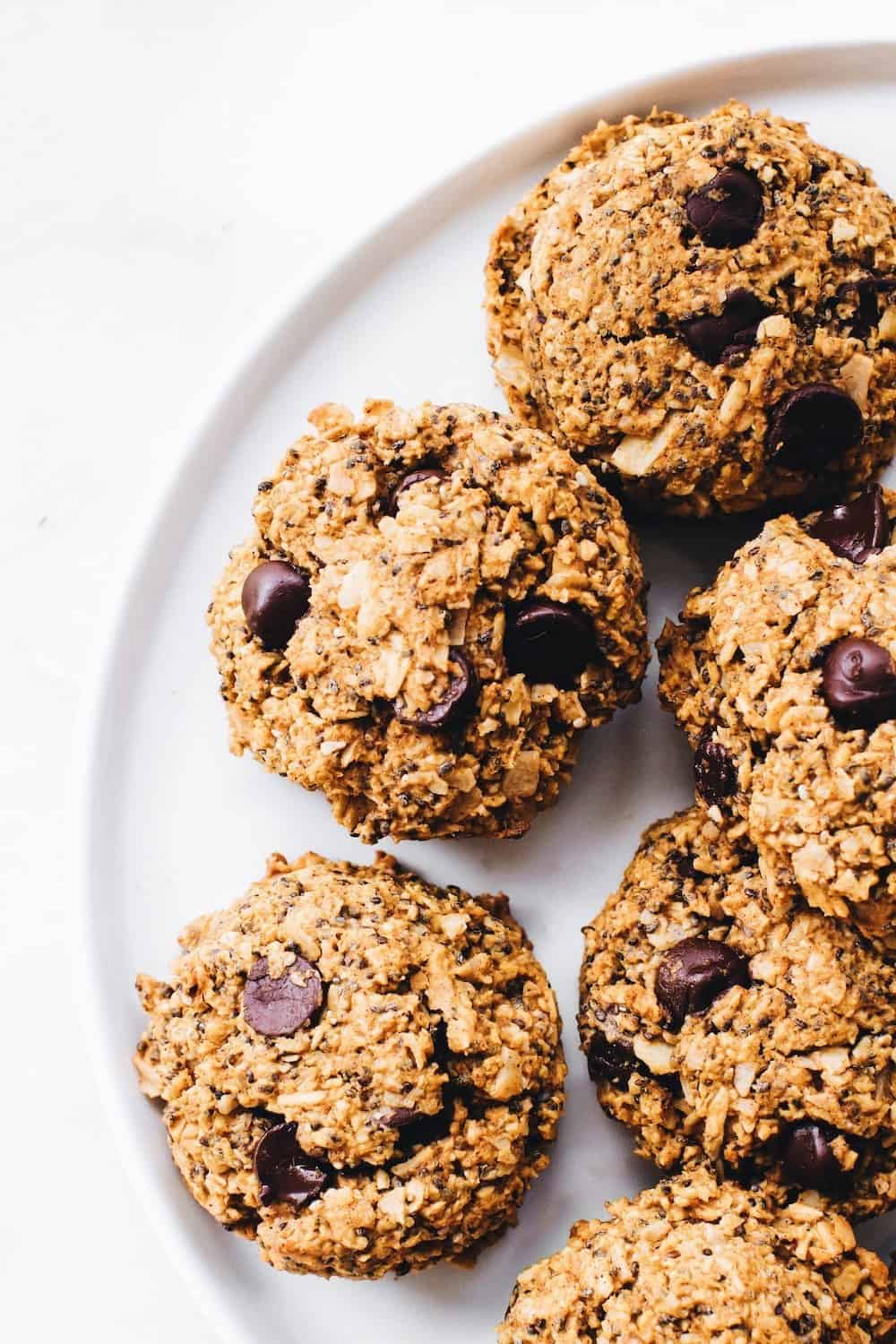 Grab and go options are always welcome. We live in a busy work, with busy schedules, and knowing that everyone in the house got both delicious and nutrional eats is a high priority. And these pumpkin breakfast cookies from Feasting on Fruit hit all the marks.
6. Pumpkin Spice Latte Granola
Some homemade granola can make for a nice addition to the table. Eat this as is as a quick snack or sprinkle it on your fruit and yogurt bowl in the mornings. Recipe can be found while visiting Maebells.
7. Pumpkin Hazelnut Pancakes
If you want something without too much sweetness, then lay off the chocolate chips. You can still whip up a delicious set of pumpkin pancakes but with an infusion of hazelnut. Self Proclaimed Foodie paired these well and made a warm and comforting breakfast dish for everyone to enjoy.
8. Pumpkin Oatmeal Smoothies
A Happy Food Dance knows that a lot of us love a grab and go smoothie option. They can be satisfyingly filling and packed with good-for-you nutrition. And to celebrate the season, they've provided us with the details behind this pumpkin and oatmeal smoothie creation.
9. Pumpkin Cream Cheese French Toast
If you're looking for a larger breakfast option; one that's more of a sit-down experience, then check out Damn Delicious. Cream cheese and pumpkin are the main components to the lovely indulgence of this casserole dish. French toast is fun, but it's even better when it's inspired by fall flavors.
10. Pumpkin French Toast Roll Ups
While we have French toast on our minds, you can sneak a peek at Simply Sated innovative dish. These can be grabbed in the mornings in a hurry or served with a side of syrup for dipping. Pumpkin French toast roll-ups sound like an autumnal dream, don't you think?
11. Pumpkin Pie Yogurt Bowl
The Glowing Fridge knows that yogurt bowls are guilt-free bites that can be super indulgent and delicious at the same time. Use pumpkin pie as the inspiration and create a dish that acts as both breakfast and as a sweet treat for the day.
12. Pumpkin Cinnamon Roll Bake
We can't help but think that this baked option is perfect for holiday breakfasts too. Julie's Eats and Treats make a cinnamon roll casserole but with a bout of pumpkin flavor included. Also, chocolate chip additions wouldn't be a terrible idea either.
13. Pumpkin Breakfast Souffle
So maybe pumpkin pie isn't the best option when it comes to breakfast, but souffle works! The Natural Nurterer knows that a slice of this paired with a warm cup of coffee is truly one of the best ways to start off your fall morning. Keep the recipe kept safe after the jump.
14. Pumpkin Butter & Cream Cheese Danish
Pumpkin and cream cheese pair together nicely inside a danish too. Fall treats are some of the best treats. Check out how to whip up a batch of these flaky, delicious bits at Katie at the Kitchen Door.
15. Pumpkin Spice Overnight Oats
A Pumpkin and a Princess went with the overnight oat trend. Follow the recipe, mix up the ingridients, place them in the fridge and they'll be ready by morning. We love the peanut butter recipes but the pumpkin pie-inspired really evokes the spirit of the season.
16. Pumpkin Streusal Muffins
And finally, learn how to whip up the best kind of crumbly muffins this evening. At Two Peas and Their Pod, you can follow along and bake up a batch of some warm, pumpkin streusal muffins for the entire family to munch on.