Amazing DIY Projects Using Old Cameras
Whether you're a photographer with a passion for old cameras or someone who just has the misfortune of breaking their technology a little too often, there are ways to make spare, old, or broken cameras useful again! With a little but of effort and DIY wisdom, you can transform a camera into all kinds of innovative things.
Check out these awesome DIY tech projects for photography lovers!
1. Vintage camera piggy bank
What better place to save up your spare change for a brand new camera than inside your old one?(Source: Dear Wallet)
2. Vintage camera lamp
Vintage cameras with big, round flashes make amazing tabletop or desktop lamps, especially in your photography studio.(Source: Crafting A Green World)
3. Vintage camera night light
Do you have the kind of camera we described above but you're not in need of a desk lamp? Perhaps the hallway could use a little light at night instead!(Source: Instructables)
4. Broken camera flower pot
Different parts of your camera, and even different types of cameras, can be transformed into wonderfully themed flower pots for every room in the house.(Source: Photo Jojo)
5. Vintage camera book ends
Some wood, a screw, and your most vintage looking cameras are all you need to keep those heavy books in place.(Source: Smile and Wave DIY)
6. Vintage camera painted decor
Do you have an old camera that's in really rough shape but you don't really need the other items on this list? Give it a new coat of paint and make it a piece of pop art instead!(Source: Yellow Brick Home)
7. Framed vintage cameras

Perhaps you're an avid camera, photography, or videography enthusiast with a wide collection of cameras from different years? Mount them and frame them for an amazing 3D art effect.(Source: Apartment Therapy)
8. Vintage camera vase
Chic, kitschy pieces set the tone and style in your room, so why not add a few subtle decorative touches to display your love of photography? This vintage camera vase is the perfect thing.(Source: My Salvaged Treasures)
9. Stacked camera lamp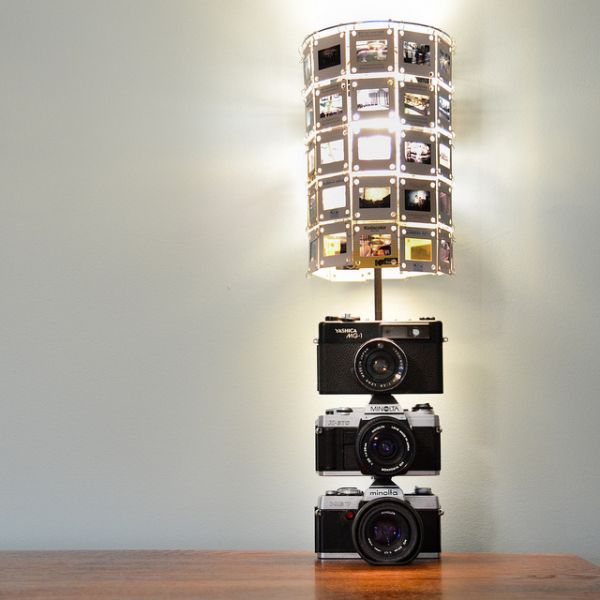 Try creating this lamp with three different generations of camera so the piece becomes like a photography museum and a lamp!(Source: Homedit)
10. Lens night light
Do you like the idea of the camera night light from earlier in this list, but your model of camera doesn't have a big top flash? Create a night light that shines out the the front of the lens instead!(Source: Photo Jojo)
11. Vintage camera iPhone charging dock
What's more novelty than charging your brand new technology using your vintage technology? It's pretty meta!(Source: Petapixel)
12. Vintage camera chandelier
If your favourite ideas on this list are the ones that combine light and photography, you're bound to fall in love with this vintage camera chandelier idea!(Source: Petapixel)
13. Vintage camera photo holder
Wires lodged in the top of an old camera's casing and twisted at the top are an awesomely themed way to display printed pictures or polaroids.(Source: VintageDuck)
14. Camera lens bracelet
Maybe you just have some old camera equipment rather than the whole camera? Turn the different components of your old lenses into kitschy bangles!(Source: Megadeluxe)
 15. Camera lens coffee mug
Perhaps you love photography so much that you'd like a quick reminder of your passion every single day. Try creating this travel coffee mug out of an old DSLR lens so you can enjoy two things you like together every morning!(Source: Makezine)
Do you know a camera and photography enthusiast who has lots of old models lying around? Share this post with them for a little bit of upcycling inspiration!