15 Cocktails for Birthday Girls and Guys
Birthday celebrations call for extra special cocktail recipes! Instead of just choosing a regular martini, why not enjoy one with an actual birthday theme? Check out these super fun birthday recipes that will add some flavour to your celebration!
1. Sprinkle-rimmed birthday martini
This martini is basically a liquid birthday cake in a glass. Rim it with sprinkles for extra fun!(Source: Berries)
2. Birthday cocktail with whipped cream
If creamy drinks are your favourite, then this is the cocktail for you. You'll especially love it with a dollop of whipped cream on top.(Source: Happy Food Healthy Life)
3. Cranberry champagne birthday martini
Would you rather something with a bit of a fruit splash along with its birthday theme? Cranberry flavour gives you good taste while champagne suits your celebratory theme.(Source: Gluten Free We Will Be)
4. Birthday cupcake jello shots
What's more fun looking than a jello shot? One shapes like a mini birthday cupcake!(Source: Jelly Shot Test Kitchen)
5. Bubblegum birthday cocktail
Not only does this cocktail like a delicious wad of bubble gum, but it's also an adorable pink colour that will look great with your party theme.(Source: Elizabeth Doodah)
6. Strawberry cheesecake cocktail
Do you like the idea of a cake flavoured cocktail even though you're not a fan of standard birthday cake? Try this strawberry cheesecake flavour instead!(Source: Cocktailicious)
7. Chocolate cake martini
Chocolate lovers rejoice, there's a cake-themed cocktail for you too!(Source: Picklee)
8. Pink sprinkled birthday cake shots
If you loved the sprinkle rim idea from the first martini recipe but you don't feel like enjoying an entire drink, try one of these adorable pink shots instead!(Source: Tablespoon)
9. Dark chocolate vodka cake shots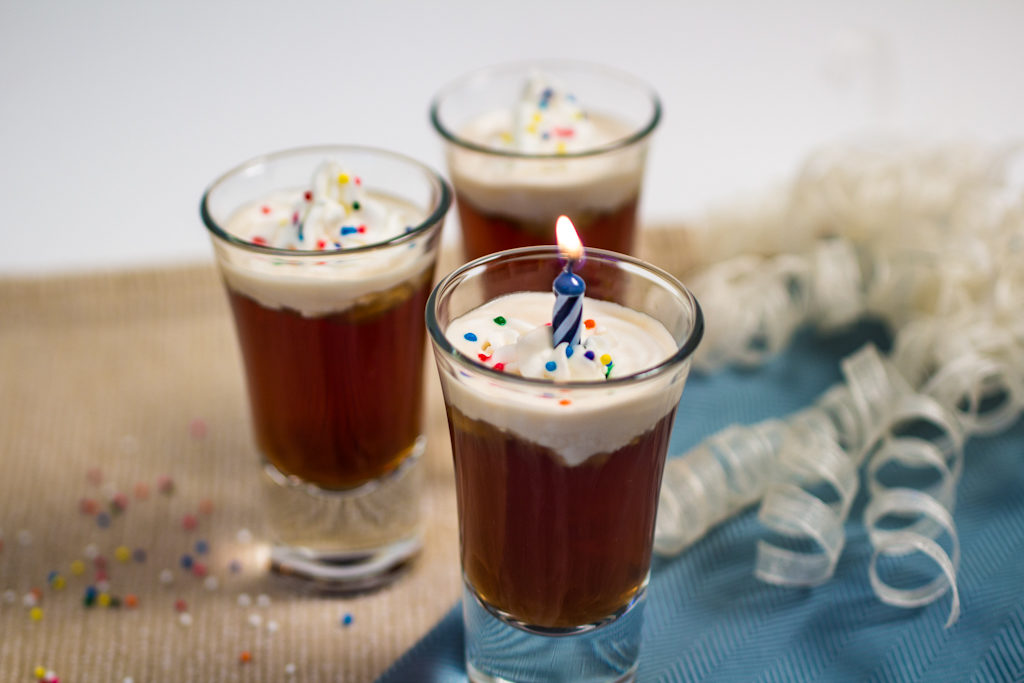 Vodka, dark chocolate, whipped cream, and a couple of sprinkles. Is this one really a drink or a total treat!(Source: The Watering Mouth)
10. Strawberry birthday cake shots
This recipe actually involves cake mix! The delicious strawberry flavour also makes them a cute pink colour.(Source: Tipsy Bartender)
11. Ice cream cake shots
Ice cream cake is a birthday favourite, so this ice cream cake shot might well be your new favourite drink!(Source: Trend Hunter)
12. German chocolate cake cocktail
If you're looking for something rich and creamy, these German chocolate cake cocktails is exactly what you're looking for.(Source: Happy Food Healthy Life)
13. Red velvet martini with a cream cheese rim
Are red velvet cupcakes your favourite treat? This cocktail is everything you love in a glass, right down to the cream cheese frosting!(Source: One Martini)
14. White chocolate cherry martini
This cocktail might not actually be cake-themed, but white chocolate and cherries sure tastes like it!(Source: Cooking Channel)
15. Lemon meringue martini
Some people prefer pie on their birthday to super sweet cakes. If that's how you are, this lemon meringue pie cocktail is the perfect treat for you!(Source: My Suburban Kitchen)
Do you know someone whose birthday is coming up? Share this post with them for a little bit of inspiration!