40 DIY Pergolas You Can Create For Your Own Backyard
Before we start talking about a tutorial or blueprints for these beauties, let's talk about what a pergola is. It's a garden feature that looks a bit like the top of a gazebo or sometimes describes as a covered walkway. It can be a really luxurious addition to a larger backyard and help to transform a space into something magical and brand new. Often made from lattice and wood bits, you can actually learn how to craft your own design and really personal your outdoor area.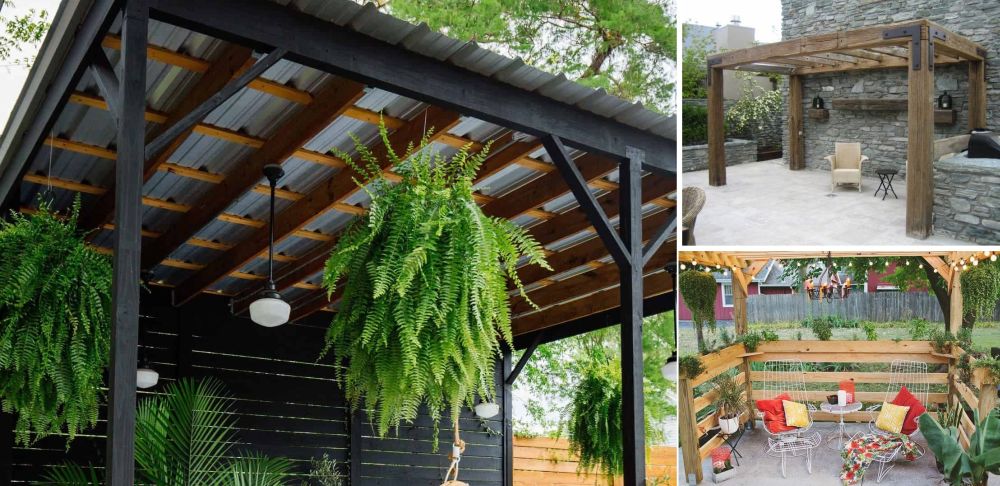 You can obviously hire someone to make one for you, but it's going to cost you about double than what it would to build it yourself. So, if you're handy enough, you can definitely get your pergola up in a couple of days, depending on the level of difficulty you're going for and the size of the project.
1. Classic
Popular Mechanics has a classic pergola design that one can follow. If you're feeling handy and want to create something special and versatile for your backyard this is the one to dive into first. Check out the blueprints after the jump.
2. Slim
If you're looking for a structure that doesn't seem as bulky, then try this one found over at HGTV. Add planter hangers, canopies, and more without causes too much fuss.
3. With Deck
Here's a structure that plays right into a small deck area. If you're looking to really revamp the entire space, you'll want to look at this mini combination we found while looking at trends at DIY Network.
4. Weatherly
Ana Whitefashioned her DIY pergola after a Pottery Barn find. The "Weatherly" has a weathered, rustic inspired design, the addition of the stones as legs is a nice, personalizd touch as well.
5. White
The Handmade Homehas a white piece that we're really loving. It's an inspiring design because it reminds us all that we can add color to our finished product and totally revamp the ethos of the space. Even a nice blue or shade of sage may be lovely.
6. With Lights
Scouring for ideas on Pinterestand we found this gorgeous setup. You can take a classic pergola, made right at home, and then add some lights for extra romance and welcomed appeal for those summertimes nights outside with family and friends.
7. Minimal
If you'd rather watch it happen, check out this YouTube video for an in-depth, easy-to-follow DIY pergola. This one as a more minimal, Swedish appeal that's really on trend in the interior design world.
8. Shaded
DIY Networkhas this pergola that's completely unique to the others. It has a more shaded finished and won't let in much light in as the others which makes it a little better when it comes to entertaining.
9. Bohemian
Again, we found an interesting beauty on Pinterest. This pergola has a slight bohemian style that feels really welcoming and stylish. Paired with the tiled floor and charcoal finish, it's quite a higher step in a fashionable outdoor direction.
10. Contemporary
If you're looking for something more contemporary, then we suggests checking out this design from The Garden Glove. The cherry finish really takes it into a more traditional and family-friendly realm.
11. With Fabric
Cravings Home Trend gives us another great styling direction for our homemade pergolas. Adding fabric gives the area a more romantic and personal vibes. It'd be a great space for having dinner with the beau or an evening of relaxing with a good book while enjoying the outdoors.
12. With Canopy
Wonder Foresthas an entire tutorial on how to add a retracable canopy. Just think of all the possibilities by making this a part of your DIY plans – both for entertaining and for personal needs.
13. Rustic
Finally, we were looking for a more rustic, farmhouse-quality design and this beauty popped up while perusing Pinterest. It's a bit more minimal in style but we love the edgy, mixed-material finish.
14. Small
Over at A Beautiful Mess, you'll find this mini design. This site has tons of great tutorials to use around the house but we love their attention to outdoor detail and this is one of them. Even if you don't have a super large backyard you can make it happen.
15. With Plant Hangers
Stop by Lowe's and take in these directions as well. You'll learn how to build an ultra modern pergola but with the addition of plant hangers!
16. Attached Pergola
Over on Ron Hazelton's DIY Home improvement blog we can find a detailed project on how to make your own pergola, complete with video proof and tips and tricks. Furthermore, this pergola he's building is attached to the building, so if that fits what you're going for, start on it!
17. Modern Pergola Frame
Over on Homedit, we managed to find some instructions on how to frame a modern pergola for your home. It's fairly easy to do and features a ton of detailed steps so you'll be able to follow them to a tee. The result is also quite beautiful.
18. Pergola Plans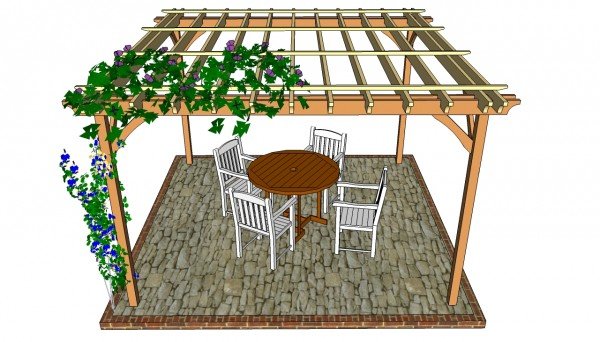 We found detailed pergola plans over on My Outdoor Plans. They'll tell you what wood you need, what screws and braces you need, and so on. They also provide plenty of information about wood stains and other tips you'll want to have before you get started.
19. Classic Pergola
Over on the Old World Garden Farms, we found some really detailed plans on how to make yourself a beautiful pergola. Theirs is pretty spacey, so you may have to adjust the plans to fit your specific needs, but it's a beautiful one nonetheless.
20. Box Type Pergola
Another set of plans you can put in practice come from Build Eazy which features a bunch of cool details, including the materials you'll need, the plans, how to set up the posts, the beams, and the rafters, and so on. It's going to be quite helpful if you follow it properly.
21. DIY Pergola
On the Homedit website, we also found a super useful guide on how to build a pergola from start to finish. They have info about the beams you need, how to set up the frame, how to install the post caps, and then how to give it that beautiful final finish.
22. Pergola and Deck Plans
If you want a two-in-one build plan, then Home Stratosphere has you covered with some really cool ideas on how to make a deck and the pergola. Not only that, but they have downloadable PDF blueprints ready to go so you don't miss out on anything.
23. Dark Wood Pergola
Get inspiration for this really cool pergola from @wonenop1 on Instagram. It's such a beautiful creation and it goes wonderfully with the furniture. Also, notice the strings of lights.
24. Minimalist Pergola
Sometimes, pergolas are these elaborate creations, while other times it's just a few beams. Whatever you choose, take inspiration from this post from @1894home on Insta – such a beautiful and cozy pergola!
25. Pergola and Planter
There's another plan you could be going for, mixing in the pergola with your love for plants. Basically, the four corners of the pergola are anchored with planter boxes which is just awesome! Get the idea from Better Homes & Gardens. Photo from Abpho.
26. DIY Pergola Kit with Canopy
At Lowe's we also found a plan for a pergola with a canopy! It's such a lovely creation and it can offer you more shade than a regular pergola. So, if you want to try this one, try out these plans from Lowe's.
27. Lit Pergola
If you build yourself a pergola, you can definitely make it look however you want to. Check out this beautiful idea from @creativeperg on Instagram – a pergola with planters and miles of lights adorning it. Such an inspiring creation!
28. Geometric Pergola
The top area of the pergola features a lot of open space, but what really makes this design stand out is the presence of the geometric shelving on one of the sides, allowing for some storage space. Such a beautiful idea that you can certainly put into practice at least on one of the sides of the pergola. Get the idea from @eigentuinontwerp.
29. Corner Pergola
If you have a specific corner of your terrace that you want to make a pergola for, you can definitely draw inspiration from @milota.group. It's a beautiful feature that will offer you a corner to retreat from the sun.
30. Round Pergola
Usually, pergolas are rectangular, but sometimes, you can go a bit off the beaten path and create something as wonderful as this. From @factotumworks, above a fire pit, this round pergola makes for a wonderful addition to any yard.
31. Bamboo Pergola
We found this really cool DIY project on insta where a regular pergola is turned into a wonderful shade spot with the help of bamboo privacy screens. How cool is this!? We just love this project shared by @tradetested.
32. Poolside Pergola
If you're building your pergola for the space just near your pool, you can go for wider beams placed horizontally on top. In this way, there's a bit more shade. We just love how this pergola looks on @bajadadelaspiedras.
33. DIY Pergola
Next, we're inspired by this beautiful six-post pergola that you'll want to make as soon as possible. We got the plan and the steps from Family Handyman and we just love how much shade it offers!
34. Frugal Pergola
Pergolas can end up being pretty pricey projects, but sometimes, you can get one done for cheap if you know how to get the right materials. We checked out this tutorial from The Created Home and absolutely loved it!
35. Square Pergola
Inspiration comes in many forms, including geometry. So, this beautiful square pergola from @cobrire also features smaller squares for shading and we just love how it looks. If you follow this idea, you can decorate with hanging flowers, fabric, or lights, turning it into a cozy spot.
36. Lace Pergola
Pergolas are always beautiful, but just check how lovely this one from @florence.outdoor.living is! This flowery pattern on the roof is absolutely stunning! If you have the know-how, it would be a shame not to make yourself one of these!
37. Green Pergola
Sometimes, using a mesh fence as a roof can serve you well if you also use some climbing plants that will eventually help offer you lots of shade. We just love how this design from @villaseen looks and we kind of want to cozy up with a book.
38. Retractable Walls Pergola
If you want to make sure that your pergola offers more protection from the elements, then some retractable areas may be ideal, so you can close it up in no time if the wind picks up. Get the idea from @f_t_group_cam_balkon.
39. Vine Pergola
If you want to add some climbing plants to your pergola, you can go for a metal structure. The result is so beautiful, as shown by @ourmodernshire. Such a lovely idea!
40. Cozy Pergola
This time around, we have a pergola that's not too big, offering just enough coverage for a small table and a couple of chairs. If you have a spot in your garden that could use such an addition, then this idea from @jill_house_home is the right one for you.
DIY Pergola Kits
It's nice to hire someone to build your pergola, and it's even nicer if you make it yourself, since you get to customize it all. But there's a third way to do this too! You could simply get a pergola kit and built it yourself. In this way, you don't have to worry about measuring materials, buying them, and puzzling them up together. Instead, you just get the kit and put it together like you would a lego set.
Here are some cool pergola kits you can buy off Amazon.
Final Thoughts
Whatever way you decide to go about building your pergola, we know that it's going to be a great addition to your yard, just in time for summer. Spend more time outside, while still taking advantage of some shade.