These 20 DIY Area Rugs Will Add A Pop of Color and Texture To Your Home!
When it comes to home decor not everything has to be store bought. Instead of scouring the aisles looking for the exact piece you may want, try making it yourself. These 20 DIY area rugs will add a pop of color and texture to your home and you won't have to stress looking for exactly what you want at every store around town!
1. Hula Hoop Rag
All Parenting has a super fun DIY that involved a hula hoop and some fabric. Make something fun for the playroom or to add a pop of color to the hardwood floors.
2. Tablecloth
Over at Dream Book Design you'll learn how to turn an old tablecloth into a beautiful area rug for your home. The dining room or even your personal office could use a fun addition!
3. Wine Corks
Put your collection of old wine corks to use and make a mat for the bathroom. Crafty Nest has all the major details.
4. Painted Designs
If you want to put your painting skills to good use you can! There are tons of different tutorials to follow if you'd like to "paint" your own design! (via)
5. Sailor
Martha Stewart shows us how to knot up a beautiful little rug for the front or back door. There's a sailor theme here and we're swooning for it.
6. Coffee Bag
Jump on over to Maiden Jane and learn how to take an old coffee bag and turn it into a fun rug for your kitchen! It's quite the unique addition.
7. Climbing Rope
Mountain Project has one of our favorite projects when it comes to new rug making. There's some intricacy behind this one but a lot of function as well.
8. Black & White
A Beautiful Mess always has beautiful projects and this one is no exception. We are loving this swirled, classic design for area part of the home.
9. Rosettes
Grab an old rug and make it even better with the help of Better Together . Some fabric rosettes can really make a huge difference.
10. Bubbles
Awaiting Ada shows us how to make a fun area rug with color but one that the baby loves too. It has so much stimulation as well it becomes a new toy for the little ones.
11. Swirls
Free People shows us how to make a super eclectic design too. Tapestry swirls, fun colors and lots of texture make this one a stand out.
12. Latch Hook
Joelle shows us how to make a latch hook designed area rug that everyone will love. You'll love the texture, baby will love the stimulation and your home will love the comfort.
13. Loom
Learn how to make a loomed effect as well with some help from Viva Le Jar. It's classic, it's money-saving and it's just another way to be more hands on with your home's decor.
14. Patterned
Homemade shows us how to make two patterned designs. This one involved some painting as well – so it's extra fun and creative.
15. Twine
You can even use twine to make a gorgeous area rug for your home. This is just some of the beautiful inspiration we've found and got us brainstorming. (via)
16. Crocheted
Follow along if you want to learn how to crochet your own area rug. This one is full of femininity and charm – perfect for a nursery! (via)
17. Chevron
The House That Lars Built make a chevron design that we're in love with too! Make it bigger or smaller depending on the space it needs to fill up!
18. Braided T-shirt
Don't throw away those old t-shirts! My Poppet will teach you how to put them to good use and turn them into a stylish and large area rug.
19. Pom Poms
So Creative Things has one of the more fun designs on the list. Who wouldn't want a pom pom rug somewhere in their home?!
20. Gold Zebra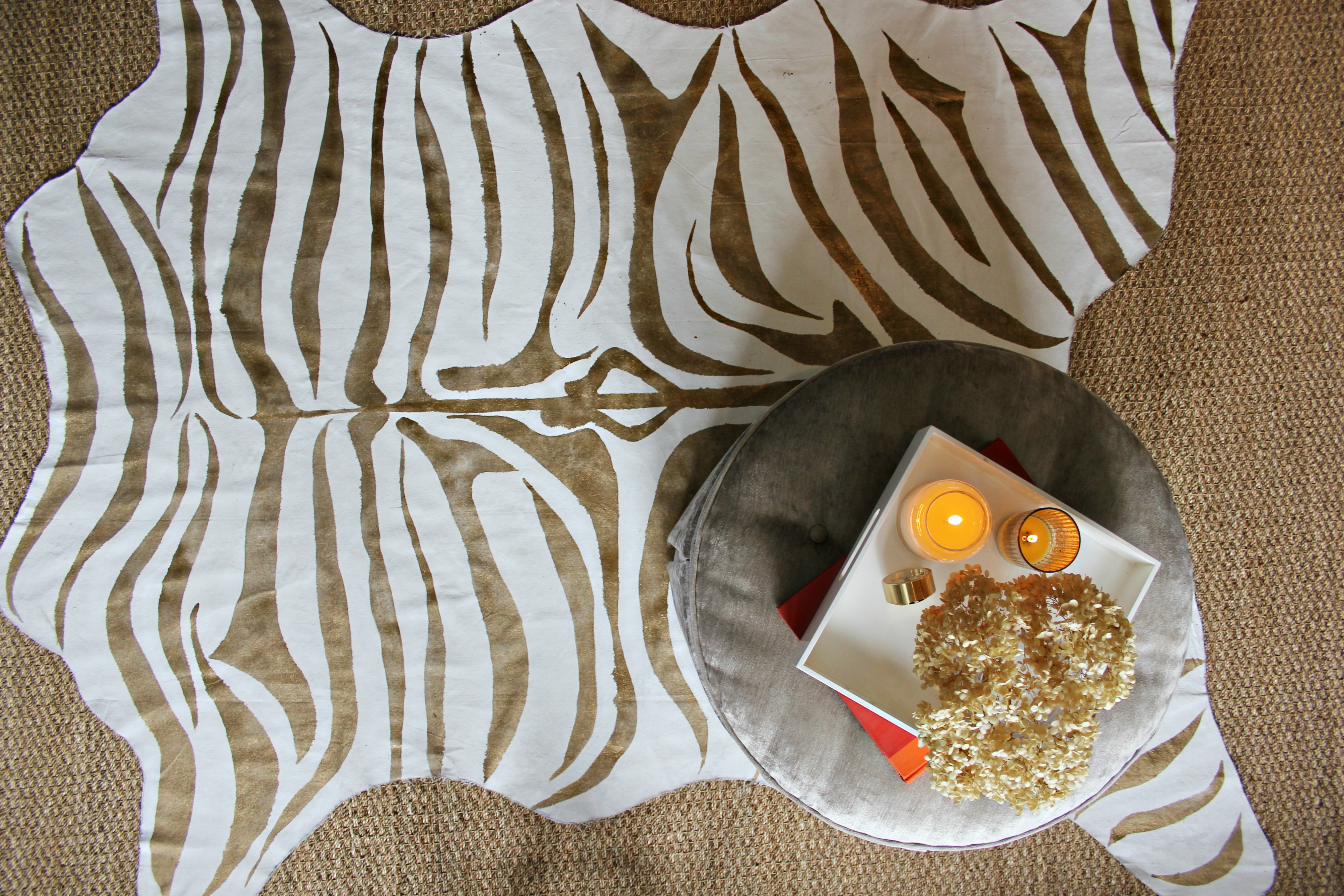 Home Depot knocks us how with this gorgeous, golden zebra design. Follow along and learn how to create one for yourself!